All Out Blitz: Volume 38




10/27/11



Aggressiveness is a characteristic that tends to reward fantasy owners more times than not. In the NFL, an offensive line will sometimes hold up long enough to give the quarterback enough time to beat man coverage down the field and make the defense look foolish against a fierce pass rush. More often than not, though, when a defense brings the heat and forces the action, crisis management becomes the name of the game for the opposing team.

In that same vein, I hope to apply that same kind of pressure to the owners in all of my leagues by beating my opponents to the punch in regards to personnel moves. Sometimes, reaching a conclusion about a player too quickly results in making a bad situation worse. However, coming to a correct conclusion two weeks or two minutes quicker than your opponents is considered foresight and can often lead to fantasy championships.

Fantasy owners can be a uneasy lot, knowing that one two-or-three-game losing streak can wreak irreparable damage to his/her team's chances to make a visit to the fantasy postseason. But just as it is in the NFL and in life, it's hard to land the big prize by playing scared. Thus, I will strive each week to help each of you become a smart blitzer, so to speak.
---
Quite frankly, I don't recall one weekend that resulted in so many game- and/or season-ending injuries to players that were likely drawing starts in fantasy, whether they were every-week starters or bye-week/injury replacements. Thus, it only seems appropriate a phrase I often use in this column – "reshuffling the deck" – should be the subject matter of the week. Reshuffling the deck, at least in my opinion, is a nice, tidy way to characterize the power shift that can occur when major players in the fantasy game fall by the wayside, possibly destroying what was once a dominant hand. In a highly competitive league, the loss of one key fantasy player can expose all the other flaws on your team while it can enhance another owner's team if he/she was carrying the talented backup to that player.
In the three seasons I have been writing this column, I have devoted at least one article each year to an injury-filled week that changes the landscape of fantasy football. Two years ago, I wrote about a rash of injuries in a Blitz column titled "Black Sunday". Last year, it was "An Ever-changing Landscape".
Football is a violent game – injuries will happen. But if last week's "The Winds of Change" wasn't enough of a wake-up call, it is time for owners to realize that important fantasy players are falling at an alarming rate. The problem is that in the previous two years – my injury columns were being written later into the season. We are just now wrapping up the first half of the fantasy regular season.
As someone who believes in "diversifying his portfolio" when it comes to investing in players at draft time, I can assure you that I have never needed to turn to my RB5 and RB6 at any point during the season to be my starters for an upcoming week. On this same money-league teams in Week 7, three of my nine starters left the game early in the first half (Darren McFadden, Percy Harvin and Damian Williams) and another one (Mark Ingram) did not return after a fourth-quarter injury. In another league, all four of my "start-able" RBs have all missed significant game action or full games through seven weeks of the season. In short, all five of my important fantasy teams have now experienced significant injuries at multiple positions. But as I'm well aware, just about every owner is going through the same thing.
With injuries the obvious theme of the week, let's get right to all the notable injuries and the fallout.
Darren McFadden (mid-foot sprain) – It would seem that HC Hue Jackson was just being overly cautious with his offensive centerpiece, but the fact that "Run DMC" showed up to the practice facility on Monday with a pair of crutches is not the greatest sign. The Week 8 bye comes at a perfect time for him, but McFadden owners that have been coasting without Michael Bush now have been given a costly reminder on why Bush – who is a fine stand-alone fantasy RB in his own right even when McFadden is healthy – is such a valuable commodity. McFadden has yet to play more than 13 games in an NFL season, so any injury has to be a slight concern to his owners as he attempts to turn the trick in his fourth season. Granted, most of his injuries as a pro have been hamstring-related. McFadden owners who don't have their league's trade deadline this week should feel free to wait this thing out until we get an injury timetable to work with from the Raiders. If your league's trade deadline is this week and you did not handcuff McFadden, it may a prudent move to see just what the Bush owner wants in return. Foot injuries of any kind – especially for RBs – can rob a player of his explosiveness. In the off-chance that McFadden is forced to miss 1-2 weeks of game action, Bush becomes the feature back in Oakland – and thus a fantasy RB1 candidate – in his absence.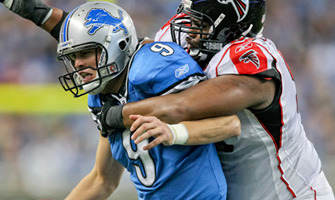 Matthew Stafford owners may want to make some roster space for backup QB Shaun Hill.
Matthew Stafford (ankle) – In a game in which it seemed almost certain that the opposing QB (Matt Ryan) would miss multiple weeks with a knee and ankle injury, it was instead Stafford who may be the more injured of the two. Stafford is set to get a second opinion on his ankle later in the week – since the MRI for his knee came back negative – suggesting that Stafford owners aren't out of the woods quite yet. The prevailing opinion is that Stafford will go against Denver in Week 8, but cautious owners may want to clear a bit of space on their roster for Shaun Hill just in case. Hill proved last season he is more than serviceable as a fantasy QB in this offense and although Stafford's shoulder injuries in his first two seasons are a bit fluky considering his durability as an amateur, Stafford has yet to play more than 10 games in a single season. Like Bush, Hill would instantly become a top 10-15 fantasy option at his position should the player above him on the depth chart be forced to miss multiple games.
Beanie Wells (knee) – Why is it just about the time owners want to fall in love with the Arizona RB, he remembers he is Beanie Wells? In Week 3, it was a hamstring. Now, it's either a bone bruise (if you believe NFL Network's Jason LaCanfora and his initial report) or a badly swollen knee (if you believe Wells and the team). Either way, given his injury history and the fact that no one seems overly confident in producing a timetable, it's probably a safe assumption that he will miss at least one game, if not two. It's also probably safe to say that not many owners were planning on getting much out of him in Week 8 vs. the Ravens, but Week 9 is a juicy matchup vs. the Rams. For that reason alone (the possibility of a RB facing St. Louis), Alfonso Smith needs to be owned in all but the shallowest of leagues. While he may not be a great talent, Smith has certainly done enough with his limited opportunities to be considered flex material when he has a chance at 15-20 touches. The Cardinals hinted they would use a committee attack if Wells cannot go, but the team has yet to allow LaRod Stephens-Howling more than 10 offensive touches in a single game in 2 ½ years in the league. Even after Wells was lost for the game in Week 7, Chester Taylor did not see any action and hasn't even touched the ball since Week 3, so Smith is be a good bet for 15-20 touches in any game Wells is forced to miss from here on out.
Tim Hightower (ACL) – What a wild and crazy ride it has been for Hightower. And now it is over. Perhaps it shouldn't come as a shock that a Mike Shanahan RB gets hurt (it seemingly happens every year), but also that Hightower's season-ending injury actually does very little to clear up the Redskins' backfield. Being the aggressive owner that I feel I am, I will be targeting Roy Helu this week in my leagues (via trade, he really shouldn't be available on all that many waiver wires in any format), even though we have been given no indication that Shanahan wants to use him – or trusts him – in a full-time role. The fact of the matter is that I feel another Ryan Torain injury is an eventuality and not a probability, so unless you are buying that FB Darrel Young or Tristan Davis – who was recently promoted from the practice squad – will eat into Helu's workload at some point, then making a play for the Nebraska alum is a low-cost move that could pay off. I'm well aware that putting any faith in a Shanahan RB is a recipe for disaster, but I feel the fact that he turned back to Hightower only strengthens my long-standing argument that Shanahan will lean on one RB if he feels that player is clearly his best RB. Going forward, however, Helu is the fantasy RB to own, if only because he isn't the injury or passing-game liability that Torain is and because his speed may be the only way Washington generates a consistent rushing attack with so many injuries up front.
Willis McGahee (fractured hand) – The Denver Post suggested Monday McGahee isn't likely for Week 9, which means he is almost assuredly out for 1-2 weeks. On Wednesday, the paper suggested it could be anywhere from a couple of weeks to more than a month. In the meantime, owners can dust off Knowshon Moreno and reacquaint themselves with Lance Ball. An extended layoff for McGahee obviously gives Moreno his best – and maybe final – shot of convincing this coaching staff he deserves at least a committee role with McGahee. Whether or not he will get that shot or be forced into splitting carries with Ball is another story, although it would seem Moreno will get most of the passing-down work and Ball will be tasked with short-yardage. The problem for Moreno is that Tim Tebow hasn't exactly leaned on his RBs in the passing game over his four career starts. As for Ball, Tebow may take even more of the short-yardage work he was projected to get when McGahee was still healthy, so Ball's fantasy appeal may be limited as well.
Santana Moss (fractured hand) – For one of the few true undervalued players in fantasy each year, Moss goes from steady WR2 or very good WR3 in PPR leagues to expendable in shallow leagues. Moss is reportedly being given a 5-7 week timetable, which basically rules him out until the start of the fantasy playoffs in most leagues. Most fantasy teams don't have enough room on their bench to hold a player that long, but think hard about releasing him before you do. Ideally, your league has 1-2 IR slots, but if yours doesn't, he's not such a difference-maker that he worth holding onto that long. As much as it pains me to say that Michael Jenkins and Darrius Heyward-Bey are emerging as a WR3 candidates, I'm of the mind that both have done enough lately to qualify as possible replacements for Moss. Jabar Gaffney now becomes the top receiver in Washington, although Fred Davis is the overwhelming favorite to be the No. 1 option in the passing game going forward. Still, I would not be afraid to use Gaffney as a WR3 in PPR, so his emergence could allow an owner that is WR-heavy to trade one of his three current starters to address a weakness somewhere else.
Mark Ingram (bruised heel) – Congrats if you had the rookie in your league's pool of which Saints' RB would get injured first. With the smallish Darren Sproles and injury-prone Pierre Thomas, it seemed Ingram would be the last of the three to succumb to injury. The play which caused Ingram's injury looked innocent enough, but cameras that followed him up the tunnel into the locker room showed him walking with a pronounced limp. I'd rather not speculate as to what that means – we should have a good idea by Thursday or Friday if he is a go for St. Louis in Week 8 – but in the event the rookie has to sit a game, Pierre Thomas gets a significant spike in fantasy value. However, it is just as possible that 2010 fantasy darling Chris Ivory makes a cameo this week and ends up making everyone except Sproles in this backfield nearly impossible to predict. Without trying to beat a dead horse, I cannot understand why the Saints invested so much in Ingram in order to use him as a glorified version of Ivory, but I digress.
Earnest Graham (torn Achilles') – Graham isn't exactly among the fantasy elite, but his loss is a dramatic one for the Bucs. Not only was he filling in as the starter for LeGarrette Blount, but his contributions as Blount's pass-catching complement made him flex-worthy in medium-to-deep-sized PPR leagues. What this means is that deeper-league owners need to familiarize themselves with Kregg Lumpkin. Assuming the only addition the Bucs make at RB during the bye week is a practice squader like Mossis Madu, Lumpkin should essentially become the new Graham will slightly less appeal as a runner. In other words, he is a flex-worthy PPR player in the event Blount cannot return in time for Week 9, but his true value will be as a receiver out of the backfield in games which Tampa Bay must ditch its conservative offense and throw the ball in an effort to come from behind. That kind of thing is very hard to predict, so there isn't a much to get excited over here. However, the Bucs have been singing Lumpkin's praises off-and-on almost since the time he joined the team last year, so if Blount struggles to stay healthy once he returns, Lumpkin should have a clear path to feature-back status.
Marshawn Lynch (back) – Talk about disappointing. The likely reason most owners probably drafted Lynch was with the idea that he would be a serviceable bye-week replacement. The problem was that most of the country did not know he was a last-minute scratch until 10-15 minutes after the 1 pm games kicked off in Week 7. HC Pete Carroll stated that his back "issue" is something that has been "ongoing since he arrived with us (in the 2010 trade with Buffalo) but today it came up right before game time…his back spasmed up on him and he couldn't get loose". On Monday, Carroll said he was unsure if Lynch would go this week vs. the Bengals. With or without Lynch, there isn't a great deal of value coming out of the Seattle backfield these days, but the Seattle Times has gone on record suggesting Leon Washington is the preferred option in one-back sets when Lynch is out. Back issues are almost always unpredictable and the fact his back has been an issue for more than a year makes it likely that Lynch isn't done missing games. Justin Forsett's YPC is down almost two full yards from last season while Washington is inching closer to the explosive player he was before his horrifying leg injury with the Jets in 2009. More than likely, Forsett and Washington would split carries if Lynch was forced to miss multiple games, but desperate owners – especially those in deep PPR leagues – would be wise to find a spot on the back end of their bench for Washington.
Joseph Addai (hamstring) – The "Year of the Hamstring Injury" continued its cruel path of destruction this week. Addai owners who were pleased to get him back a couple of weeks earlier than expected got a total of four touches from him before he left for good in the first quarter vs. the Saints. Addai later stated he thought he would have been ready by Tuesday, but that he wasn't quite ready on Sunday night. Delone Carter performed well in Addai's absence, one week after Donald Brown outperformed Carter. Addai's hamstring doesn't appear to be a long-term issue, although injuries of any kind have long been a concern for Addai and his owners. Going forward, I would be hard-pressed to put faith in any Colts' RB in all but the deepest of leagues. When everyone is healthy, Addai should get the most touches, but Carter appears to be the favored option in short-yardage situations. Rarely would I advise writing off an entire backfield, but I don't see many opponents going forward that Indianapolis will push around in the running game.
Because there are other topics to discuss (and ones you'd rather read about in all likelihood), I'll make a mention of the other injuries that robbed owners of needed points and/or wins last weekend. The reason most of these names will appear here is because they are not serious injuries or expected to have a pronounced effect on owners:
Matt Ryan (ankle, knee) – His injury looked scary, but he returned quickly and has the bye week to recover.
Ryan Mathews (thumb) – The impressive second-year runner got his thumb bent back when he got it caught in the facemask of a Jets' defender. He is expected to go Week 8. Mike Tolbert (hamstring) could be seen grabbing the back of his leg during the game as well, but is also expected to play vs. the Chiefs.
Percy Harvin (rib) – Harvin missed the entire second half after aggravating the same rib injury that has bothered him most of the season. With a Week 9 bye looming and the Vikings already looking ahead to 2012, Harvin is a good bet to miss this week.
Shonn Greene (ankle) – Talk about a scary non-injury. Greene fell down without contact near the goal line and grabbed his leg as if he was in excruciating pain. However, he missed just two snaps and will have the bye week to rest.
Ben Watson and Mohamed Massaquoi (concussions) – By now, we know the drill with concussions. Both players must pass their baseline tests this week in order to have a chance to play in Week 8. Evan Moore and Greg Little should each receive a small boost in targets if either player or both players are forced to miss time.
Damian Williams (concussion) – Read Watson and Massaquoi above. HC Mike Munchak expects him to go Week 8. If he does, he has a solid matchup against the Colts.
Hines Ward (ankle) – It sure seems as if the Steelers are trying to be classy about easing Ward out of the offense. He's a good bet to post another solid fantasy line or two this season, but his days as a useful every-week starter in fantasy came to an end about this time last season.
Kevin Boss (concussion) – Read Watson, Massaquoi and Damian Williams above. Boss will have the bye week to pass his baseline tests and should be expected to go in Week 9.
Ovie Mughelli (knee) – The accomplished FB went on IR with a serious knee injury, which dims Michael Turner's outlook going forward. After the Falcons visit Indy in Week 9, they face a stretch of tough run defenses, high-scoring offenses (or both) the rest of the way, which may force Atlanta's hand to shift back to the passing team it tried to be early in the season, just as it was returning to its run-heavy ways.
Just in case you didn't believe me last week about the rash of injuries sweeping the fantasy landscape, now you have a better idea. In the FF Today forums last week, I suggested that it wouldn't be long before fantasy owners would need to familiarize themselves with the likes of Alfonso Smith, Dion Lewis, Danny Ware, C.J. Spiller, Chris Ogbonnaya, Jacquizz Rodgers or Jason Snelling. I could have easily added Lumpkin, Washington, Ivory, Ball, Jacob Hester, Curtis Brinkley, Taiwan Jones and Joe McKnight to that list as well. I really hope it doesn't come to this, but for the first time in my fantasy career, there is a chance many fantasy titles this year could actually be decided by which NFL team's third-string RB outperformed another team's third-string RB in the championship game. In the leagues where I have the space, I will now entertain the possibility of adding a talented third-string RB to my bench if I already own the first two RBs on that team. Perhaps this is an example of paranoia at its worst, but if injuries are going to strike at the rate they have been so far, I'd rather be safe than sorry.

---
Next Week's Waiver Wire Stars
Each week, I'll select one player at QB, RB, WR and TE that is available in at least three of my five leagues and make a case as to why they could be important to you the following week or beyond. For those of you who have been loyal readers for some time, you already know I am not concerned with making safe picks; selective and smart aggressiveness is often the name of the game in fantasy.
I cannot emphasize enough these players are not necessarily recommended additions to your fantasy team – I will make sure to make that obvious if that is the case – but have a chance, however small, to make an impact, even if it is only as a potentially valuable reserve down the line.
QB: Christian Ponder, Minnesota. It was quite telling to me that conservative OC Bill Musgrave opened up Week 7 with a deep shot for his rookie QB, resulting in a 72-yard completion to Michael Jenkins. (Talk about two wrongs making a right.) Whether this was Musgrave's realization that he needed to open things up a bit or simply a lack of trust in Donovan McNabb to execute a similar play, it did appear Ponder has inspired enough confidence for the Vikings to be a bit more exciting on offense. With Jenkins showing a hint of playmaking ability and Visanthe Shiancoe delivering three solid games in his last four tries, Ponder could tread water as a low-end QB2 in 12-team leagues. However, his upside will continue to be capped as long as Percy Harvin is not the featured receiver in this offense. Therefore, expect a lot of 170-220 yard passing days for the rookie. As evidenced by his 31 yards rushing, Ponder can run a little bit, which he will need to do frequently with Minnesota's porous offensive line. I don't expect Week 7 to be the rookie's high-water mark this year, but it will probably go down as one of his better fantasy performances. Don't expect great things from him, but I think Ponder can be a better fantasy QB than someone like Andy Dalton for the remainder of the season.
Previous recommendations: Matt Cassel, Week 3; Vince Young, Week 4; Tim Tebow, Week 5; John Beck, Week 6
RB: Phillip Tanner, Dallas. In case you didn't get to see any part of the DeMarco Murray's coming-out party against the Rams, Tanner was the "other guy" that took over after the rookie from Oklahoma had broken the team's single-game rushing record. Tanner is an undrafted rookie RB from Middle Tennessee State that has strikes me as the kind of runner who should serve as the more physical complement to Felix Jones and Murray. Despite playing Tashard Choice sporadically throughout the season, it sure appears to me both player and team are just going through the motions as he isn't running well and getting injured a lot. So, in making this bold call with Tanner, I am assuming Choice will head to the bottom of the depth chart when he is fully healthy and watch as Tanner eventually morphs into the team's short-yardage option. Tanner is not the second coming of a young Marion Barber, but neither Jones nor Murray have shown any kind of durability, so Tanner has an outside shot at fantasy relevance at some point this season.
Previous recommendations: Alfonso Smith, Week 3; Keiland Williams Week 4; Jackie Battle/Jacquizz Rodgers, Week 5; Joe McKnight, Week 6
WR: Roy Williams, Chicago. Typically, I avoid choosing players for this part of the Blitz that are on a bye, but I'll make an exception here. I don't know what sickens me more, feeling like I have to recommend Williams or having watched him "work" himself into game shape over the first half of the season. With the Bears coming to their senses in recent weeks and running the ball with great effectiveness, they have largely abandoned the wide-open passing attack that OC Mike Martz has been known for throughout his career. This has resulted in more two-WR formations and means that Williams and Devin Hester have less competition for the receiving yardage that Matt Forte isn't getting. And since the TE (Kellen Davis) is not a big part of any Martz offense, he is not a realistic threat. I'm still not sure I want Williams as anything more than an end-of-bench fantasy WR since his targets are still low, but we all know Martz is infatuated with him, so it will take something pretty major to knock him out of the lineup.

Previous recommendations: Michael Jenkins/Dane Sanzenbacher, Week 3; Mark Clayton, Week 4, Naaman Roosevelt, Week 5; Arrelious Benn, Week 6
TE: Visanthe Shiancoe, Minnesota / Jeremy Shockey, Carolina. Outside of Week 5's one-catch, 20-yard showing in Minnesota's blowout win over Arizona, Shiancoe hasn't embarrassed himself or his fantasy owners in terms of production. The recent promotion of Ponder makes him a bit more intriguing, albeit as a mid-level TE2 as opposed to a low-end TE2, but his recent target numbers should pique the interest of deeper-league owners. Once you get past the elite ones, a TE that routinely sees 6-8 targets/game (as he has over the four straight games) will be at least moderately productive in fantasy. And as the cliché goes – a tight end is a young quarterback's best friend. The upside here is limited, but the chances that he will be consistent going forward are getting better by the week.
If recommending Williams sickened me, then singing Shockey's praises has me on the verge of passing out. OK, so that is a bit extreme, but fantasy football has a way of making for strange bedfellows. Shockey has been borderline usable all season long, but he stands a great chance of seeing his value rise if Week 7 was any indication of what Greg Olsen's production will be like going forward as he battles a turf toe injury. Foot injuries of any kind are bad news for just about any player and we've seen many instances over the years where turf toe has derailed a promising season. OC Rob Chudzinski's offenses are very tight end-friendly, so Shockey is at least worth a stash and maybe a start in PPR leagues this week for desperate owners who need a quick fix at TE.
Previous recommendations: Ben Watson, Week 3; Jake Ballard, Week 4; Joel Dreessen, Week 5; Lance Kendricks, Week 6

Suggestions, comments, musings about the article or fantasy football in general? E-mail me.

---
Doug Orth has written for FF Today since 2006, appeared in USA Today's Fantasy Football Preview magazine in each of the last two seasons and served as a weekly fantasy football analyst for 106.7 The Fan in Washington, D.C. this past season. He is also a member of the Fantasy Sports Writers Association. You can also follow him on Twitter.