All Out Blitz: Volume 37




10/20/11



Aggressiveness is a characteristic that tends to reward fantasy owners more times than not. In the NFL, an offensive line will sometimes hold up long enough to give the quarterback enough time to beat man coverage down the field and make the defense look foolish against a fierce pass rush. More often than not, though, when a defense brings the heat and forces the action, crisis management becomes the name of the game for the opposing team.

In that same vein, I hope to apply that same kind of pressure to the owners in all of my leagues by beating my opponents to the punch in regards to personnel moves. Sometimes, reaching a conclusion about a player too quickly results in making a bad situation worse. However, coming to a correct conclusion two weeks or two minutes quicker than your opponents is considered foresight and can often lead to fantasy championships.

Fantasy owners can be a uneasy lot, knowing that one two-or-three-game losing streak can wreak irreparable damage to his/her team's chances to make a visit to the fantasy postseason. But just as it is in the NFL and in life, it's hard to land the big prize by playing scared. Thus, I will strive each week to help each of you become a smart blitzer, so to speak.
---
There used to be a day in the NFL when the trade deadline would come and go with very little fanfare. Oh, how the times are-a-changing.
In just over 24 hours at the tail end of Week 6 and beginning of Week 7, two trades took place that undoubtedly changed the fortunes of four teams and countless fantasy teams. Let's take a quick look at both.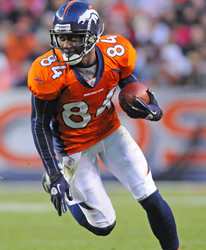 Lloyd is headed to St. Louis in what should be a perfect marriage.
Brandon Lloyd to the Rams for a conditional sixth-round pick. In what should be a perfect marriage, Lloyd flees a situation where his fantasy stock was about to plummet in Denver to go to a Rams' team that not only needs a healthy, dependable receiver, but one that can stretch a defense and make difference-making plays. The fact that Lloyd is joining an offense he already knows is just an incredible bonus. At first glance, Lloyd's skill set would seem to diminish Danario Alexander's potential fantasy impact since both have established themselves as deep threats. If this is a correct assessment, then the return of Mark Clayton means he should be free to make more of the short-to-intermediate plays in this offense – ala Jabar Gaffney in Denver last season – although it would be unreasonable to expect immediate contributions from him given the long layoff and the nature of his knee injury. Steven Jackson can only benefit from this influx of talent and has been producing reasonably well in spite of a passing game that has done virtually nothing in 2011. The last benefactor is obviously Sam Bradford. Most owners do not have the luxury of waiting two weeks for a QB who may be on the upswing, but assuming his high ankle sprain (to his plant foot) is not the kind that sidelines him for more than a week or two, Bradford is a player that owners with a little patience should roll the dice on as a QB2 again. Bradford isn't going to learn Lloyd's idiosyncrasies overnight. But unlike most situations in which a player joining a new team must learn a new offense, Lloyd knows this offense as well if not better than any receiver on his new team. Therefore, the quicker Bradford can recover from his injury, the quicker both players can start the long climb back to the lofty standards they set in 2010. It's too late for either player to match last year's numbers, but a strong second half from each player is now a definite possibility.
For Denver, it's hard to justify why the Broncos would settle for such a low pick when Lloyd could have easily netted a third- or fourth-round compensatory pick. (Of course, accepting such a low pick for Lloyd could also be a strong hint that Denver will be very active in free agency this offseason.) With that said, the Broncos are clearly thinking about 2012 and beyond. It's hard to love much about the offense now, but Tim Tebow should still have substantial fantasy value as the less-accurate, more-inclined-to run version of Cam Newton. Willis McGahee should retain most of his workload in a run-heavy attack for as long as he can handle it, but Tebow can and will steal a great deal of the scoring potential he had. Knowshon Moreno – somewhat to my dismay – is not being given a chance to re-establish his role in the offense, so he's a desperate bye-week option at best in fantasy. Eric Decker should move into the lead WR role in this offense, but considering Tebow's career-high for a single game is 16 completions, it's safe to say he's moved from fantasy WR2 to low-end WR3 status. DeMaryius Thomas will likely assume the starting role Lloyd leaves behind at some point in the next month. Given his incredible talent/size and recent injury, Thomas is the quintessential boom-or-bust candidate. On one hand, Thomas' size and athleticism make him a good fit for Tebow simply because he allows his QB a greater margin for error. On the other hand, it's a lot to ask such a young, raw receiver coming off an Achilles' injury to have any kind of impact in the near-to-distant future. No receiver or tight end comes out as an immediate winner in Denver.
Carson Palmer to the Raiders for a first-round pick in 2012 and conditional first-round pick in 2013. In an absolutely mind-blowing haul for the Bengals, the faux-retiree Palmer can put up his golf clubs for a couple months and help Oakland in its quest for a playoff run. It's impossible to tell at this very moment which WR benefits the most from the arrival of Palmer, but it is safe to say they are all holds now instead of the roster albatrosses they would have been with Kyle Boller or (gasp) Terrelle Pryor leading the way. What we do know is that Palmer will have the best rushing attack he's had in years, a play-caller who is familiar with him in HC Hue Jackson and receivers more disciplined than the ones he had in Cincinnati in his final years in the "Queen City". While it's easy to bash Palmer for all of his "soft" tosses in recent years, it's also possible some of his questionable decision-making over that same time had to do with the lack of trust he had in two of the least-reliable receivers in the league (Chad Ochocinco and Terrell Owens). Palmer will probably not be asked to do much more than Jason Campbell was, but it's a good bet that he'll be doing it more efficiently than Campbell before the end of the season.
As for the Bengals, it took a lot of luck for them to get to this point. First of all, they took an incredible chance during the draft hoping Andy Dalton would fall into their lap. Second, it took an injury to Jason Campbell this weekend (and not next) and Jackson's familiarity with Palmer and the Cincinnati organization. It's also a safe bet that no other team besides Oakland would have entertained the thought of trading the Bengals anything more a second- or third-round pick simply because Palmer's upside at this point isn't worth one first-round pick, let alone two. There is little doubt that the Raiders, still dealing with the passing of Al Davis, probably now view this season as a win-one-for-Al campaign. But with Oakland's need for any starting-caliber QB to play for today, desperation won out over reason. Congratulations Mike Brown, you finally did what New England has done for several years – take advantage of the Raiders. And maybe, just maybe, with this trade, Bengals fans can finally let go of the days when Brown passed up on the Saints' entire complement of draft picks in 1999 (and multiple picks in future years) in order to select Akili Smith. And let's not forget the message Brown sent Chad Ochocinco when he turned down two first-rounders (reportedly) from Washington a few years ago because he didn't like any player forcing his hand.
---
I must admit I contemplated sitting out money leagues this season due in large part to the concern I had over the rash of injuries I expected from players coming out of the lockout and the new CBA that limits the amount of padded practices a team can have during the course of the season, which I feared would contribute to more bad offensive line play and another drop-off in tackling fundamentals. While I cannot say those two reasons are the cause of what has transpired so far, I am convinced they have greatly contributed to the poor line play on some teams, awful defensive showings on others and the overall poor quality of football from yet more teams.
As is the case with just about anything in this world, the people who have been relatively unaffected by the onslaught of injuries and incompetence so far will suggest 2011 is like any other year in the NFL. But I think most of you will agree it is not. It has been equal parts funny and sad to see the number of fantasy teams that are fielding poor bye-week starting lineups. In some cases, owners are already relying on players like Jackie Battle as a flex or every-week RB2. I've been playing fantasy football for nearly 15 years and I can say without hesitation this is the worst I have ever seen it. Perhaps as a way to deal with the amount of incompetence (and number of injuries in particular) that has ravaged each one of my fantasy teams, I decided to take a look at the top 75 players from my last Big Board (PPR) to give each of you a closer look at how ridiculous it has become.

The Carnage
OVR
Player
Team
Comment (s)
1
Arian Foster
HOU
Hamstring issues caused him to miss most of the first three games.
2
Ray Rice
BAL
No injuries of note.
3
Adrian Peterson
MIN
No injuries of note, conservative offense has been worse than expected.
4
LeSean McCoy
PHI
No injuries of note.
5
Darren McFadden
OAK
No injuries of note.
6
Chris Johnson
TEN
Holdout led to slow start, run blocking has been atrocious.
7
Jamaal Charles
KC
Lost for season in Week 2.
8
Andre Johnson
HOU
Suffered hamstring injury in Week 4, return date unknown.
9
Larry Fitzgerald
ARI
Lack of threat opposite him plus shaky play from Kevin Kolb has kept Fitz bottled up.
10
Aaron Rodgers
GB
No injuries of note.
11
Michael Vick
PHI
Has dealt with a bruised hand and a concussion, but has yet to miss a game.
12
Calvin Johnson
DET
No injuries of note.
13
Roddy White
ATL
Seriousness of preseason thigh bruise flew under the radar; has not looked remotely close to the same WR.
14
Hakeem Nicks
NYG
Knee injury in Week 2, has played every game.
15
Matt Forte
CHI
No injuries of note.
16
Vincent Jackson
SD
Dealt with early abdominal strain and suffered hamstring injury in Week 4.
17
Jahvid Best
DET
Reportedly suffered second concussion of the year in Week 6.
18
Maurice Jones-Drew
JAC
No injuries of note.
19
Peyton Hillis
CLE
Strep throat in Week 3, uncertain contract/playing time status.
20
Felix Jones
DAL
Suffered separated shoulder in Week 2, high ankle sprain in Week 6.
21
Rashard Mendenhall
PIT
Suffered hamstring injury in Week 4, returned in Week 6.
22
Mike Wallace
PIT
No injuries of note.
23
Miles Austin
DAL
Suffered hamstring injury in Week 2, returned in Week 6.
24
Steven Jackson
STL
Suffered quad injury in Week 1, returned to full-time work in Week 4.
25
Frank Gore
SF
No injuries of note now, although he was hampered by an ankle injury last month.
26
Greg Jennings
GB
No injuries of note.
27
Drew Brees
NO
No injuries of note.
28
Philip Rivers
SD
No injuries of note, but his numbers have suffered in Gates' absence.
29
Tom Brady
NE
No injuries of note.
30
Michael Turner
ATL
No injuries of note.
31
Wes Welker
NE
No injuries of note.
32
Brandon Marshall
MIA
No injuries of note, although QB was lost for season in Week 4.
33
Mario Manningham
NYG
Missed Week 3 (concussion). His biggest issue has been bad luck as he has just missed out on at least six TDs.
34
Santonio Holmes
NYJ
Dealt with early quad injury, but has seen Mark Sanchez's play drop off significantly in recent weeks.
35
Percy Harvin
MIN
Playing through rib issue; misuse and conservative offense have been biggest issues.
36
Antonio Gates
SD
Sidelined since Week 2 with lingering foot issue.
37
Dez Bryant
DAL
Missed Week 2 with a thigh bruise and is still not fully recovered.
38
Jermichael Finley
GB
A conscious effort by defenses to take him out of game has led to disappointing numbers.
39
Mike Williams
TB
Conservative offense, constant double teams have kept Williams from following up 2010.
40
Jason Witten
DAL
Suffered early rib injury, but has not missed a game.
41
Brandon Lloyd
DEN
Significant drop-off following departure of Josh McDaniels, who he will join again in St. Louis.
42
Tony Romo
DAL
Suffered early rib/lung injury, but has not missed a game.
43
Matt Ryan
ATL
No injuries of note, but hasn't had a healthy Roddy White to throw to all season long.
44
Tim Hightower
WAS
Suffered an early shoulder injury, didn't tell his coach and will be rested until he is fully recovered.
45
Reggie Wayne
IND
No injuries of note, but lost Peyton Manning before the season.
46
Dwayne Bowe
KC
No injuries of note, but the loss of Jamaal Charles hurts.
47
Mark Ingram
NO
No injuries of note, but stuck in lead-back role of three-man committee.
48
Anquan Boldin
BAL
No injuries of note.
49
Steve Johnson
BUF
Has played through a lingering groin injury.
50
DeSean Jackson
PHI
No injuries of note.
51
Owen Daniels
HOU
No injuries of note.
52
Jimmy Graham
NO
No injuries of note.
53
Chris Wells
ARI
Missed Week 3 with a hamstring injury.
54
Ahmad Bradshaw
NYG
No injuries of note.
55
DeAngelo Williams
CAR
No injuries of note, but has seen his workload severely diminished by Cam Newton.
56
Knowshon Moreno
DEN
Suffered hamstring injury in Week1; pushed aside by Willis McGahee into third-down role since his return.
57
Shonn Greene
NYJ
No injuries of note.
58
Ben Roethlisberger
PIT
Dealt with an early knee injury and is playing through a sprained foot; has only produced one great game so far.
59
Matthew Stafford
DET
No injuries of note.
60
Ryan Mathews
SD
Has sustained calf, wrist and foot injuries – and missed a bye-week practice due to a root canal.
61
LeGarrette Blount
TB
Missed Week 6 with an MCL injury, expected to miss 1-2 more weeks.
62
Joseph Addai
IND
Suffered hamstring injury, expected to miss 1-2 more weeks.
63
Dallas Clark
IND
No injuries of note, but lost Peyton Manning before the season.
64
Vernon Davis
SF
No injuries of note.
65
Jeremy Maclin
PHI
Missed most of the preseason with an illness, has been in fine form since Week 2.
66
Kenny Britt
TEN
Lost for the season in Week 3.
67
Julio Jones
ATL
Missed Week 6 with a hamstring injury, questionable for Week 7.
68
Reggie Bush
MIA
Bothered by a groin injury apparently suffered in Week 2, left Week 6 early due to a neck injury.
69
Cedric Benson
CIN
No injuries of note, but will likely serve his suspension (reduced to one game) in Week 8 after this week's bye.
70
Darren Sproles
NO
No injuries of note.
71
Mike Tolbert
SD
Has dealt with knee and calf issues in addition to the concussion he suffered in Week 6.
72
James Starks
GB
No injuries of note.
73
Willis McGahee
DEN
No injuries of note.
74
Santana Moss
WAS
No injuries of note.
75
Robert Meachem
NO
No injuries of note.
Every season will bring surprises and disappointments in fantasy football – that much has been proven over the years. What is not expected is complete and utter chaos that has occurred in 2011. Here are some observations I made from the list above:
Ten of top 20 (50%), 14 of top 25 (56%), 21 of top 50 (42%) and 31 of the top 75 (41%) players have been directly affected by injury. This means the player has knowingly missed significant snaps in a game due to injury, missed entire games or is out for the season. (Those players' comments are in italics.)
By my count, 19 of the 75 (25%) players have been negatively affected by some kind of unexpected change in the depth chart/role and are seeing less work than we could have rightfully expected in August as a result. (These players' comments are highlighted in blue.) This can include the failure of an entire position group, a more conservative offense than what was expected, a clear lack of usage or a significant role change from what we expected before Week 1. While this is a real fear every year, it's hard to believe that one of every four players over the first six rounds of the draft can see a rather significant role in their offense taken from them before the season is even half-over.
Seven of the 75 (8%) players have been negatively affected by the injury of a teammate. A number of those players belong to the Colts, although the Chiefs and Falcons can also claim some of the members in this group. (These players' names are highlighted in green.)
Thirteen of top 50 (26%) and 21 of 75 (28%) players have stayed healthy (or not missed significant snaps), not seen a major negative change in their role or lost a key member on their side of the ball and generally lived up to or exceeded expectations. Those players' names are bolded.
A few things to note before I wrap up:
the point of the research above is to provide some level of insight as to the sheer volume of players who are not meeting expectations or can no longer be expected to do so. Every season sees a number of injuries strike the fantasy elite, so that in itself is not the shocker. It's the percentage of quantifiable "failures" to the building blocks of most fantasy teams that is striking to me this season.
I do not believe in excuses nor do I care to haphazardly throw blame around, but I do search for reasons as to why certain things happen. In general, roughly 50% of a typical 12-team league's first-round picks do not meet expectations for one reason or another and the percentage of "failure" only increases after that. But I can't possibly imagine a season in which there has been so much disappointment in the early rounds as we near the halfway point of the fantasy season. If each of my findings/percentages above can be considered fact for the purposes of this article, there is a significant chance that at least two of your first four picks have disappointed and a fairly decent chance that all four are underperforming.
I acknowledge this review is not entirely objective and that some of the "affected players" could be considered otherwise by someone else. It's also entirely possible there are more injuries on this list we don't know about, but it's doesn't do us any good to speculate who may and who may not be playing in significant pain.
For those fortunate owners who drafted kicked off their draft with Rice, McCoy or McFadden, followed it up with Wallace or Jennings, selected Brees or Brady next and finished off with Welker, Bradshaw and Fred Jackson in Rounds 4-6, congrats. Perhaps you should also feel free to buy a lottery ticket when it is convenient. Fantasy football is often won by the owner who deals the best with a flawed situation because virtually no one can or will draft "the perfect team". It just appears this year is more flawed than any other one in recent memory.
Considering all the chaos up to this point, it would not surprise me in the least if we are discussing the merits of starting RBs like Jacob Hester, Jason Snelling, Dion Lewis, Chris Ogbannaya, C.J. Spiller, Joe McKnight or (shockingly) Tim Hightower in less than a month because of massive injuries or a lack of production from the current starter. If there ever was a year to take a chance and scoop up a player that you think may see an increased role soon – as opposed to waiting for it to happen – this might be that year. Change is coming so fast this season and there is little reason to believe it will change in the coming weeks as players' bodies begin to wear down even more. One has to believe that if the first six weeks have offered up this much on the injury/role change front, why would the final seven weeks of the fantasy regular season be much different?
---
Next Week's Waiver Wire Stars
Each week, I'll select one player at QB, RB, WR and TE that is available in at least three of my five leagues and make a case as to why they could be important to you the following week or beyond. For those of you who have been loyal readers for some time, you already know I am not concerned with making safe picks; selective and smart aggressiveness is often the name of the game in fantasy.
I cannot emphasize enough these players are not necessarily recommended additions to your fantasy team – I will make sure to make that obvious if that is the case – but have a chance, however small, to make an impact, even if it is only as a potentially valuable reserve down the line.
QB: John Beck, Washington. I discussed Carson Palmer above, so I'll discuss a less-heralded new starting QB here. Quite frankly, I was more impressed with Beck in the preseason and thought he was the better Redskins' quarterback all along because he offers more mobility and struck me as a better decision-maker than Rex Grossman. Granted, there is only so much preseason action a person can base solid opinions on, but as far as fits go in the Redskins' offense, Beck was always the better option in my opinion, which was why I projected him to make between 13-14 starts in my PSAs this summer. Considering Redskins' QBs have been averaging 36 pass attempts so far through five games, there's potential for decent upside since Beck will have some pretty decent playmakers to work with in Santana Moss, Fred Davis and Jabar Gaffney. If the pass attempts remain roughly the same, it's hard to believe Beck won't improve on Grossman's 56% completion rate or his two-plus turnovers/game average.
Previous recommendations: Matt Cassel, Week 3; Vince Young, Week 4; Tim Tebow, Week 5
RB: Joe McKnight, NY Jets. With a mind-boggling 68-70 RBs rostered in many of my leagues, an owner has little choice but to speculate at the position. Maurice Morris is an obvious waiver-wire add, but there is still no telling at this point if Jahvid Best will even miss more than one week. Therefore, the next step is to identify a talented RB that is stuck behind an underperforming one. In my mind, no one fits that description better right now than McKnight, who is getting worked into the offense ever so slightly as the Jets continue to use Shonn Greene as the bellcow RB despite the fact he has yet to eclipse 4.0 YPC in any game this season. While Greene did catch seven passes in Week 3, he doesn't strike fear into defenses as a pass catcher nor does he create big plays on the ground (his longest run is 20 yards). While some of those struggles can be blamed on Mark Sanchez's recent ineffectiveness, the fact of the matter is that Sanchez's play-action fakes aren't going to work as well if a defense doesn't respect his big-play ability or that of his RB, so something has to give if this offense is going to do anything this season. HC Rex Ryan promised a bigger role for McKnight before the start of the season, but his special-teams prowess and the presence of LaDainian Tomlinson makes any change a difficult one. However, LT seems like a poor bet to be moved into a more prominent role after being overused last season. Thus, after one more lackluster showing by Greene vs. San Diego this week – followed by a bye in Week 8 – Ryan may be feel obligated to go in another direction at RB if his team falls to 3-4.
Previous recommendations: Alfonso Smith, Week 3; Keiland Williams, Week 4; Jackie Battle/Jazquizz Rodgers, Week 5
WR: Arrelious Benn, Tampa Bay. I don't generally make a habit of stashing WR2s from conservative offenses, but I'll make an exception in this case. Most of the defenses on the Bucs' schedule so far have been able to take Mike Williams out of the game with a CB and S over the top or with an obvious double team. Kellen Winslow admitted this week he is "playing on one leg", so with RB LeGarrette Blount out a little while longer, QB Josh Freeman may need to turn to "zone buster" Preston Parker and Benn. The talent upside is huge with Benn, so while Parker may be a slightly better bet this week vs. Chicago, Benn is the clear starter in Tampa and is the only other big-play threat this team has. He'll have another chance to shine against the Saints in Week 9 and the Texans in Week 10 when CB Johnathan Joseph is shadowing Williams. Given the nature of the Bucs' offense, I doubt Benn approaches fantasy WR3 status in 12-team leagues. What he should be able to do though is serve as a solid bye-week option that will take advantage of more one-on-one matchups as the season progresses.

Previous recommendations: Michael Jenkins/Dane Sanzenbacher, Week 3; Mark Clayton, Week 4, Naaman Roosevelt, Week 5
TE: Lance Kendricks, St. Louis. My preferred choice would be the Niners' Delanie Walker, but he's on a bye this week. Regular readers may remember Kendricks as my favorite mid-to-late round TE who would come at a TE2 cost but play at a TE1 level. Until last week, the rookie hadn't really come close to delivering on that promise. But there are encouraging signs. Over the last two games, Kendricks has seen 15 targets and made a few noteworthy plays in the process. On the downside, his catch rate is still only 44%, which is a terrible number for any receiver, but especially a tight end. While Sam Bradford deserves some of the blame for a few poor throws early on, Kendricks is to blame as well, dropping at least two sure touchdown passes. Perhaps his nerves got the better of him or maybe he was feeling pressure to make plays for a struggling offense, but whatever the reason, the rookie has looked nothing like the confident playmaker he was back in August. Perhaps with the influx of receiver talent that will be joining him in the coming weeks (Brandon Lloyd and Mark Clayton), Kendricks will relax and simply take advantage of the matchups he has in front of him, knowing he will not be asked to carry the passing game. Assuming I am correct in my belief that he has simply been pressing since the start of the regular season, Kendricks should possess Ed Dickson-upside going forward.
Previous recommendations: Ben Watson, Week 3; Jake Ballard, Week 4; Joel Dreessen, Week 5

Suggestions, comments, musings about the article or fantasy football in general? E-mail me.

---
Doug Orth has written for FF Today since 2006, appeared in USA Today's Fantasy Football Preview magazine in each of the last two seasons and served as a weekly fantasy football analyst for 106.7 The Fan in Washington, D.C. this past season. He is also a member of the Fantasy Sports Writers Association. You can also follow him on Twitter.