In about one week's time, the fantasy landscape has been altered.

Remember that night in late August or early September when you left the draft room knowing you nailed it? You may have been right, but there's a good chance Week 2 left you feeling a little bit less optimistic about your chances at dominating your league, at least over the next month or so. And there's a good chance that Wednesday's mind-blowing trade of Trent Richardson is going to affect more than a few folks as well.

Rarely does one week provide so much change that the vast majority of owners in just about every league are affected in some way, shape or form. Thankfully, none of the fantasy elite were lost for the season, but enough key players were hit with short-term injuries that owners need to re-evaluate the walking wounded. All of this and a player like Darren McFadden is coming off one of his best games in years and is still healthy…need I say more about the oddities of this hobby?

Just to be clear in the paragraphs that follow, the categories each player falls under reflects my opinion more than the amount of time they are expected to miss. Season-ending injuries obviously will fall under the serious-concern category. As for the other players, the seriousness of the injury will be factored in with the player's track record for staying healthy or playing through pain. With any luck, we can get back to the business of breaking down trends and do some number-crunching next week. But as the sheer number of entries below will attest, injuries defined the Week 2 landscape.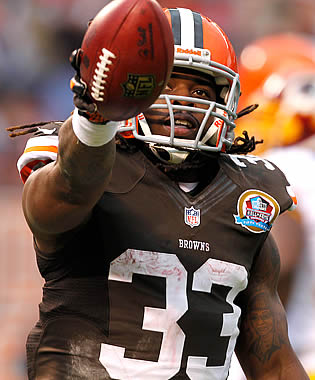 Richardson will get as much work as he can handle.
The Trade Fallout
Trent Richardson (traded from the Browns to the Colts)
Generally speaking, when an important NFL player begins his season with one team, he ends it with the same team. Kudos to Colts GM Ryan Grigson for acquiring a player that not only sets his offense up for success over the next 4-5 years, but also for swinging a deal that could be the biggest in-season trade we've seen in the NFL since the late 1980s (Eric Dickerson, Herschel Walker) in terms of the talent that is being acquired and the most noteworthy trade of such a player so early in his career that I can remember. In less than two weeks' time, Indianapolis has turned a middling running back situation to one of the league's best.
Reaction: I'm not usually surprised by much, but I'm pretty certain my jaw dropped when this news hit the wire. While I'm on board with much of what new Browns GM Mike Lombardi has done to this point in Cleveland, trading the No. 3 overall pick from a season ago that is one of the few blue-chip running backs to come out of the draft in years for what will likely be a mid-20s selection in the 2014 draft cannot be considered progress. What makes this trade even more odd from the Browns' perspective is that Indianapolis appeared content going through the season with Vick Ballard and Ahmad Bradshaw before Ballard's injury, so the talks almost had to be started by Cleveland even though Colts' brass was said to be on the lookout for a power back. Richardson isn't going to be able to take the likes of LT Joe Thomas or C Alex Mack with him to Indianapolis, but the step up in surrounding talent makes Richardson more of a potential fantasy superstar than already was and the Colts a team to be reckoned with. It's not fair to expect Richardson to put up top-five RB numbers over the next 2-4 weeks as he learns a new offense, but don't forget he played in Pat Shurmur's West Coast offense as a rookie, so the transition to Pep Hamilton's WCO could actually happen quicker than expected. Once he is up to speed, he could have few rivals at his position. Ballard, who has already been lost for the season, has virtually no value now in dynasty leagues. Bradshaw might remain on the redraft radar for a week or two, but figures to quickly move to mere handcuff status in a week or two.

Willis McGahee (will reportedly sign with Browns following Richardson trade)
Bobby Rainey and Chris Ogbonnaya (only healthy running backs remaining in Cleveland)
If we can give credit to the Browns for one thing on Wednesday, it would be landing the best free-agent back available. For those wondering why McGahee, here's a shot in the dark: new HC Rob Chudzinski was his play-caller at Miami (FL). Quite often, even the worst trades in any sport can be defended to some degree and the Richardson deal is no exception. Chudzinski wants his backs to be breakaway threats and, to this point of his young career, Richardson had only two 20-yard and 14 10-yard runs in 298 carries. (Obviously, McGahee, Rainey and Ogbonnaya are not three-down breakaway threats either, but Cleveland is taking the long-term approach here.) If a team knows it will not compete in a given year, doesn't that team owe it to the player and to itself to pick up an asset that fits its long-term vision? In short, the trade can be defended (and even applauded to a degree), but NFL general managers do not know how their draft board stacks up now, so can it make the case that a player drafted in the mid-20s next spring will have the same impact that Richardson could? Moreover, if the new regime didn't believe that Richardson is/was a breakaway threat, that's fine. However, trading him away opened up another hole that didn't exist before. Although running backs have been easier to find in mid-to-late rounds than a lot of other positions, front offices cannot automatically assume they will get their man in the upcoming draft – especially if a team is looking for a potential gamebreaker at the position.
Reaction: I'm pretty certain that signing a 31-year-old back (32 in October) coming off a broken leg is the definition of a stop-gap option since it can't be called a youth movement or even addition by subtraction. Given the early nature of this trade, it probably helps to look at it as if it happened during the preseason and figure out where to stack McGahee on the Big Board (shameless plug). Given his age and the injury he is returning from, I'd venture to put him in the same area I did Fred Jackson (10th-11th round). With that said, I'm not entirely certain Ogbonnaya - who has enjoyed limited success as a running back in the NFL but has since been turned into a fullback – doesn't get a shot at the lead-back role given the fact he is more than serviceable as a blocker and receiver in the passing game. At the moment, Rainey – a player I really liked in Baltimore's camp during the 2012 preseason – is listed as Cleveland's starter on the team's official website despite the fact he hasn't seen any game action. Then again, common sense dictates that if McGahee is truly as healthy as CBS' Jason La Canfora heard he was in August, then he will be the low-upside RB2/flex option that running back-needy owners will want to pursue. In 12-team (or bigger) leagues with deep benches, a strong case can be made that all three backs warrant a roster spot until further notice.
The Serious-Concern Injuries
Ryan Clady (Lisfranc – left foot, out for season)
Clady, a three-time Pro Bowler and two-time first-team All-Pro, surrendered one sack last season in more than 1,100 snaps and was flagged for holding only four times during the 2012 regular season. He'll undergo surgery at some point in the near future, but the hit will undoubtedly be a large one since Clady is among the league's best pass protectors. The No. 12 overall pick of the 2008 draft graded out as Pro Football Focus' fourth-best tackle in 2012 as well as its fourth-best pass blocker.
Reaction: Four-veteran Chris Clark, a 2010 undrafted free agent with six career starts, will fill in on Manning's blindside while newly-signed Winston Justice will be the swing tackle. As can be the case when key offensive linemen are lost for long stretches, the running backs and tight ends may be asked to pick up the slack. Knowshon Moreno, who has clearly established himself as the most trusted blocker of the three running backs vying for touches in Denver's backfield, could actually see a higher percentage of snaps than he has already (86-of-150; 57.3%) – at least until Montee Ball gets the Peyton Manning seal of approval. At tight end, it gets a bit more dicey since Julius Thomas is a receiving tight end only and has graded out negatively over the 57 times he has been asked to run block in 2013. Although Manning is noted for his ability to unload the ball quickly, owners need to be aware of the possibility that either Thomas or Welker (likely Thomas) could see their snaps reduced if Clark struggles over the next few weeks. With that said, it is also noteworthy that Thomas is the only Broncos' skill-position player besides Manning that hasn't missed a snap.
Dwayne Allen (hip, out for season)
Allen's status was quickly downgraded from questionable to doubtful (and eventually out) despite an MRI that came back negative in advance of Week 2. Somehow, he was given a day-to-day tag on Monday and told less than 48 hours later he would need season-ending hip surgery.
Reaction: Allen's impact in fantasy this season didn't figure to be all that great, at least not for those who owned him. However, his loss has far-reaching implications for the owners of his teammates. The Colts wanted to use more two-tight formations this season, but there's no way Dominique Jones will see nearly the snaps Allen did. Coby Fleener – as we witnessed in Week 2 – has a great shot at becoming much more fantasy-relevant and is a pretty good bet to match the 61 snaps he saw last week on a more regular basis (as opposed to the 42 he was credited with in Week 1). Fewer two-tight formations means more playing time for either FB Stanley Havili or third receiver T.Y. Hilton (take your guess on the winner in that battle). Hilton was already making it difficult for the coaches to keep him on the sideline, so a base three-wide formation should pretty well lock him into high-end fantasy WR3 production at the very worst. Trent Richardson would have also benefited from Allen's blocking ability, but the fact that Hilton should be on the field more often should lead to more space in the box for the newest Colt, making Allen's loss more manageable from the running game's perspective.
Danny Amendola (groin, 2-6 weeks)
Given his history and the uncertain nature of his injury, I'll include Amendola here. We already knew about Amendola was hurt before Week 1 ended, but we still can't seem to get an ironclad answer as to what the injury is. Some reports have suggested he is dealing with a sports hernia while others have speculated he has torn adductor muscles. The most recent reports suggest the former and that he will miss 2-6 weeks (which is a rather broad estimate and one that should make us somewhat skeptical). Fantasy owners knew Amendola was a high-risk, high-reward option when they drafted him, but most were willing to use a third- or fourth-round choice in order to snag the next Wes Welker and those same owners certainly didn't expect to get less than a game out of him before his injury history caught up to him.
Reaction: As most of us already know, Julian Edelman is the player that benefits the most from Amendola's injury. What is less certain is how long Edelman himself will last since his durability basically matches that of his predecessor's. As a result, Edelman is both a short-term and long-term hold as well as a fairly valuable trade chip, depending on your perspective. I have little faith that Amendola will be ready to go in two weeks and if he elects not to have surgery on a sports hernia, I don't like his chances of consistently being effective when he does return. Edelman figures to be Welker- or Amendola-lite for as long as he can stay healthy, which means he can buy his owners some time if they waited on receivers in the draft, serve as a carrot for the Amendola owner or be used to help another owner with receiver issues. As much as I am enjoying a lead Patriots receiver in my offense for the first time in years in both of my experts' leagues, I'm leaning towards trading him away in the near future.
Other "serious" injuries of note:
Tyvon Branch (fractured fibula, out indefinitely) – NFL Network analyst Mike Mayock believed a season ago that Branch could be the best tackling safety in the league. He has graded out well against the run and pass in each of the past two seasons, so a Raiders' defense that didn't need to take a personnel hit lost perhaps its best all-around player. Ex-Saint Usama Young will get the call to replace him, but it is a fairly severe downgrade at strong safety.
Sean Weatherspoon (Lisfranc, IR – designated to return) and Kroy Biermann (Achilles, out for season) – Weatherspoon didn't grade out nearly as well in 2012 or the first two games of 2013 as he did in 2011, but he was the Falcons' best coverage linebacker. As a result, opposing tight ends need to be upgraded over the next two months or so. As big as Weatherspoon's loss is to the Falcons' defense, Biermann's loss is potentially devastating. Biermann has amazing versatility for a 6-3, 255-pound defensive end and was one of most important pieces of DC Mike Nolan's multiple defense. Although he has yet to produce eye-popping numbers, Biermann's absence figures to give opposing quarterbacks more time in the pocket than they already had against a defense with average talent.
Josh Thomas (concussion, return unknown), Josh Norman (sprained MCL, multiple weeks), D.J. Moore (sprained knee, multiple weeks), Quintin Mikell (ankle, return unknown), Charles Godfrey (Achilles, out for season) – Amazingly, some members of the Panthers' secondary managed to walk off the field without assistance from a trainer. That's right, five teammates from one positional group missed significant time because of injuries sustained in Week 2, which probably goes a long way in explaining the busted coverage that led to the Bills' game-winning score. Owners shouldn't need me to tell them that if a team with a questionable secondary entering the season loses five players, it should be a plus matchup for opposing quarterbacks, receivers and tight ends.
The Moderate-Concern Injuries
Steven Jackson (thigh, 2-3 weeks)
As strongly as I felt about Jackson this summer, he serves as a reminder why owners that play in multiple leagues are wise to "diversify their portfolio" if at all possible at draft time. Jackson appeared to suffer his injury while stretching to score on his only reception of Week 2 and has already been ruled out for Week 3, although Falcons HC Mike Smith called the injury "short-term". Some may remember the 30-year-old ex-Ram also injured his quad in the 2011 opener, only to miss one week and struggle in the next game before finishing the season strong. While there is no word as to how similar the 2011 injury is to his current one, Jackson is no stranger to playing through pain and a good bet to return before the Falcons' Week 6 bye.
Reaction: Jackson's ailments have tended to be of the soft-tissue variety – quadriceps, groin, hip flexor – but nothing has been severe enough to sideline him for long. He has played in at least 15 games in each of his previous four seasons and has plenty to play for in 2013, so the odds are strong he'll return sooner than later – unless Atlanta chooses to rest him as long as it wins. In other words, a loss at Miami this week could push his (as well the team's) timetable up whereas a win against the Dolphins and at home in Week 4 against New England could embolden the Falcons to let him rest through the bye. It is interesting to note that Jacquizz Rodgers only saw 10 more offensive snaps than Jason Snelling in Week 2 (40-30) and the latter was significantly more productive despite receiving most of his touches over the final 5:37 of the game. A similar workload split should be expected for as long as Jackson is sidelined, although neither replacement figures to be all that productive against the Dolphins, Patriots or Jets (if he is still out in Week 5) anyway.
Eddie Lacy (concussion, probable Week 5 return)
The rookie that ran away with the Packers' feature-back job in the preseason entered the league with plenty of injury concerns, but there wasn't much he could have done to avoid a helmet-to-helmet collision with Redskins SS Brandon Meriweather. It was a shame for Packers fans and Lacy's owners alike as NFL Network's Albert Breer had reported earlier Sunday that HC Mike McCarthy wanted to get him 20-22 carries in Week 2. Instead, he managed just one rushing attempt before leaving the game for good.
Reaction: Forgetting for now about the senseless hit by Meriweather, it seems a bit appropriate that an oft-injured running back like James Starks would replace the player chosen to replace him and end the Packers' 44-game streak (regular season) of failing to put a rusher over 100 yards. It also established that Starks would likely be featured in the event of another injury, although I have my doubts how long such an arrangement would last. There are a number of evaluators – myself included – who were fairly high on Johnathan Franklin during the draft process and it seems a bit odd he has done nothing to distinguish himself. (Usually in these cases, there is more to the story than we are being told.) Either way, any owner investing in Starks is likely doing so for one week only – this week in a difficult matchup against the Bengals' stout defense. Perhaps owners of Steven Jackson can buy themselves a bit of time by picking Starks up off waivers, although the upside is not very high.
Reggie Bush (left knee, questionable for Week 3)
PPR owners who took the plunge with Bush in the second round of their drafts had to be feeling pretty good following his explosive Detroit debut. Even though he came out of Week 1 awfully beat up (dislocated thumb, tweaked groin and hyperextended knee), HC Jim Schwartz said he had no plans to limit his touches. One week later, Bush took a helmet to the knee in the first half of the Lions' loss to Arizona. Although he did return to the game, he re-tweaked the knee and fumbled in the second half during a stretch where he admitted, "I probably shouldn't have been in there."
Reaction: Unlike some of the situations that have already been discussed, this one will probably need to be monitored throughout the rest of the season. That is not to say that his knee injury is that serious, but rather that Bush's track record says we should. Then again, Schwartz did nothing to ease the fears of Bush owners by saying, "I guess (the injury) could be medium-term," when asked if was going to be a long-term concern. As tempting as it was to call him a potential fantasy RB1 entering the season, any owner that has followed Bush throughout his career knew it could be a less-than-smooth ride given his knee issues from his days in New Orleans. However, Bush's presence/absence has far-reaching consequences for fantasy owners. Calvin Johnson was on his way to a huge day before Bush's injury, but was kept in check thereafter. Joique Bell would likely absorb the majority of Bush's workload and be a fine RB2 option in his absence, but isn't the electric playmaker Bush is. Mikel Leshoure would likely see some touches while a player like Brandon Pettigrew could see more opportunities with Bush not around to steal all the work in the short-passing game.
The Mild- Concern Injuries
Ray Rice (left hip flexor, day-to-day)
A curious case in redraft leagues due to the presence of an emerging Bernard Pierce, Rice was already a bit more risky entering this season than he had been since his rookie season. However, RB1 value was a virtual lock because Rice has been one of the league's most durable backs…until Week 2. For those that didn't see Ravens-Browns, Rice went down without contact on an outside run in the fourth quarter and appeared to be in considerable pain although he walked off under his own power. HC Jim Harbaugh stated Rice is unlikely to practice this week, but that his top back could play against the Texans without practice. With a number of injuries to key personnel already, however, the Ravens would be foolish to play Rice this week if he is anything less than 100%.
Reaction: Pierce isn't going to be available in any leagues with 10 or more teams, which makes this something of an either-you-have-him-or-you-don't situation. In other words, a Rice owner that has Pierce can plug him in without hesitation if Rice is forced to miss Week 3 and has no reason to trade his handcuff in the first place. Non-Rice owners that own Pierce can't even bank on Rice missing the game and this week's matchup isn't all that good anyway (Houston). Finally, owners that don't have either player aren't going to deal for Pierce now when his value is probably as high as it will be all season while Rice's value isn't likely to drop all that much. As a result, this injury may be one of those cases where the Rice owner may want to start thinking about backing up his/her first-round investment a week or two after this threat passes.
Maurice Jones-Drew (left ankle tendon sprain, may play Week 3)
Suffice it to say the last 12 months have not been good to MJD. After becoming the latest high-profile running back to fall victim to the dreaded Lisfranc injury and missing 10 games last season, he played only 46 of 74 snaps in the opening-week blowout loss to the Chiefs. Not surprisingly, Jones-Drew made it 20 plays into Week 2 before Raiders S Charles Woodson flew through the air with the greatest of ease near the goal line to tackle him by the side of his neck, forcing him down awkwardly out-of-bounds. The injury came at a bad time as Jacksonville had just begun to establish some semblance of an offensive attack against a Raiders' defense that had controlled the game over the first 1 ½ quarters.
Reaction: The Jags provided owners some hope in the preseason by resting MJD and giving some of their dynamic rookie playmakers a chance to impress, which they did for the most part. Unfortunately, they have lacked creativity throughout their first two games and failed to use "offensive weapon" Denard Robinson (nine total snaps) in order to make defenses respect somebody else besides Jones-Drew. There's no guarantee MJD will even miss Week 3, but a Jacksonville offense that posted 248 yards against a weaker Oakland defense and has scored one touchdown (in garbage-time) through two games will probably struggle to score anything more than a field goal against the Seahawks in Seattle. HC Gus Bradley has stated that Justin Forsett and Jordan Todman would share time if Jones-Drew is forced to sit out, but neither back is worth a start this week anyway.
Larry Fitzgerald (hamstring, day-to-day)
Fresh off an eight-catch, 80-yard, two-touchdown performance in the season opener, it appeared Fitzgerald was ready to re-emerge as a top fantasy option once again with the arrival of Carson Palmer and HC Bruce Arians. That still might be the case, but sometime between Week 1 and his first practice of Week 2, Fitzgerald quickly went from having what seemed like a minor hamstring pull to an injury the seven-time Pro Bowler said, "I wish it was at 80 percent."
Reaction: Fitzgerald has already stated he doesn't plan on missing any games because of the hamstring, but owners need to be a bit concerned because he "wore down" (according to a team spokesman) during Week 2's loss against Detroit. Michael Floyd (71 snaps) and even Andre Roberts (57) saw more snaps than Fitzgerald, who isn't expected to practice again until at least Friday. Owners also should be concerned about his injury since hamstring pulls can be nagging when they are not allowed to heal properly and rest is not an option. Whether or not this is a Roddy White-like situation is debatable, but as we sit here in during the middle of the week, it is hard to like Fitzgerald nearly as much as we'd like to against the Saints in Week 3. Unless we receive much different news about his availability or practice participation between now and Sunday, owners would be wise to bump up Floyd and Roberts and treat Fitzgerald as a WR3 at best.
Vernon Davis (hamstring, day-to-day)
On the same play that summed up how far the NFL has come in recent years, Davis got hurt and Seahawks CB Richard Sherman highlighted why he is an elite NFL defensive back. With 13:15 left in the game, Davis began to slow down as the camera followed the ball. Sherman, who did a brilliant job at shutting down Anquan Boldin, was playing trail-technique on Davis' go route and plucked Colin Kaepernick's deep throw out of the air. Although Davis appeared to suffer the injury right before the interception, it became apparent as he made little attempt to track down Sherman before grabbing the back of his left leg. He was quickly ruled out for the remainder of the game and ceded most of his remaining snaps to rookie backup Vance McDonald.
Reaction: Davis tweeted earlier in the week, "No need to worry y'all…My leg is feeling great just need a little rest til kickoff according to the docs." From someone who experienced a hamstring pull for the first time in his life this summer, I'm going to go on a limb and say Davis' leg probably isn't "feeling great" 2-3 days after the injury, although he is right in that rest will do it well. The bigger issue – as is the case with Fitzgerald above – is how quickly his hamstring can actually heal to the point where it will not be an ongoing issue. Perhaps the world-class therapy Davis will receive on his hamstring this week will enable him to play Sunday without incident, but hamstring injuries for a speed merchant like Davis should not be discounted either. Obviously, McDonald isn't the nearly the player Davis is at this point of his career, but he is not short on athleticism either. As a result, he could fill in nicely for the Niners in a pinch if Davis has to sit. The fact that Davis' injury is not a long-term one makes McDonald something of a fringe waiver-wire addition, however.
Other "mild" injuries of note:
Andre Johnson (concussion) – Had AJ not been cleared for physical activity on Monday, there may be more reason for concern. As it is, it appears he avoided a potential multi-week layoff. If he doesn't practice much (or at all) this week and plays Sunday, I would go with another receiver this week. However, he should be fine beyond this week.
Shonn Greene (knee) – Injured in the season opener, the new Titans' pounder underwent a knee scope and is expected to be back no later than Week 5. His upside isn't huge, but the Titans' backs have averaged 34 carries thus far. It is unlikely Tennessee wants to keep dialing up Chris Johnson for 25 carries per game, so there is potential 10-15 upside for Greene when he returns.
Martellus Bennett (shoulder) – Bennett made one of the all-time great catches for naught in Week 2, snatching a high throw out of midair with one hand in the back of the end zone. Unfortunately, he couldn't keep his feet inbounds and injured his shoulder on the landing thanks to a well-placed (or not-so-well-placed) cameraman. Even though he told reporters he "messed up" his shoulder, he's expected to play in Week 3.
Brandon Myers (ribs, day-to-day) – Although the New York Daily News reported that Myers had his "ribs and abdominals heavily bandaged", he is expected to play in Week 3. Considering the state of the Panthers' secondary entering this week, he's probably a good start if he plays.

Suggestions, comments, about the article or fantasy football in general? E-mail me or follow me on Twitter.

---
Doug Orth has written for FF Today since 2006 and appeared in USA Today's Fantasy Football Preview magazine in 2010 and 2011.He is also the host of USA Today's hour-long, pre-kickoff fantasy football internet chat every Sunday. Doug regularly appears as a fantasy football analyst on Sirius XM's "Fantasy Drive" and for 106.7 The Fan (WJFK – Washington, D.C). He is also a member of the Fantasy Sports Writers Association.