"You think you know, but you don't know … and you never will."

Anytime is a good time to listen to a classic Mora rant, but I think it applies to fantasy football this year. If 2014 isn't the fantasy football equivalent of Bizarro World, I'm not sure what is. For example, I cannot ever recall a player (Antone Smith) with 23 touches through six weeks coming anywhere close to being a top-20 running back, much less a top-10 back in standard leagues and a top-13 back in PPR formats. Darren Sproles has been a disappointing flex play for the last four weeks, yet is RB16 in standard and RB12 in PPR. That really is just the tip of the iceberg…

Certainly, some of the old guard is performing at about the level expected of them, but the majority of top players after six weeks are players that are overcoming fairly daunting odds given their recent track records for durability (at least to this point of their careers) to be ranked as highly as they are right now.

Let's take a look at the top five in overall PPR scoring at each of the four major fantasy positions and recall what some of the major concerns were about each one entering this season.

Quarterbacks

1. Andrew Luck – Offensive coordinator Pep Hamilton was stubborn with an unproductive running game last year, top target Reggie Wayne was coming off a major knee injury and dynamic mighty mite T.Y. Hilton would remain a part-time player after the Colts added Hakeem Nicks.

2. Philip Rivers – The Chargers lost OC Ken Whisenhunt and replaced him with first-time play-caller Frank Reich, TE Antonio Gates aged another year and appeared to be breaking down toward the end of last season, the insistence of the Mike McCoy regime to play WR Eddie Royal over TE Ladarius Green and San Diego facing the fearsome defenses of the NFC West.

3. Aaron Rodgers – Although he missed half of last season, there wasn't really any other reason to worry about Rodgers entering this season. Moving on…

4. Jay Cutler – The ex-Bronco has long made a number of poor decisions as a passer and was outperformed in many ways by journeyman Josh McCown last season. Furthermore, Cutler is almost always a good bet to miss time due to injury.

5. Peyton Manning – The five-time NFL MVP was the consensus No. 1 player at the position and arguably entered 2014 with more talented offensive personnel than during his record-breaking 2013 campaign. Moving on…

Running Backs

1. DeMarco Murray – The 2013 season represented a breakout of sorts for the fourth-year pro, who only missed a career-low two games last year after missing a combined nine contests over his first two seasons. Additionally, the Cowboys' defense was going to be historically bad since the team lost DE DeMarcus Ware in free agency and LB Sean Lee to injury before the start of the season, meaning Dallas would have to abandon the run early in just about every game.

2. Matt Forte – Other than turning 29 before the end of the 2014 season, there wasn't much question about Forte's ability to finish among the top five at his position. Moving on…

3. Le'Veon Bell – The second-year back out of Michigan State was arrested prior to a preseason game with his new backfield buddy (LeGarrette Blount), who was signed with the idea that he would handle short-yardage and goal-line duties. Furthermore, Blount entered the season with the belief he would play a fair amount and even HC Mike Tomlin himself suggested that Blount was going to be more than a short-yardage and goal-line back late in the summer.

4. Arian Foster – No one questioned Foster's role in the Texans' offense, only the ability of his back and hamstrings to hold up under what was going to be a massive workload.

5. Marshawn Lynch – The likelihood that a power back who embraces contact like Lynch and has 1,753 career carries to his credit entering the season was a prime candidate to break down. Furthermore, talented second-year Christine Michael was turning heads all offseason.

7. Ahmad Bradshaw (BONUS) – The ex-Giant lasted only three games last season with the Colts before succumbing to a neck injury and has dealt with chronic foot problems for most of his career. Bradshaw's first and only full season – even as a committee back in New York – was 2010.

Wide Receivers

1. Jordy Nelson – Rodgers' favorite target was expected to push the established top-five players at the position. Nothing to see here.

2. Antonio Brown – Like Rodgers, Brown was ranked just outside the top five at his position. Nothing to see here.

3. Julio Jones – Jones was considered a top-five receiver in just about every set of rankings available to man. Moving on…

4. Steve Smith – Upon signing with the Ravens, Smith told the team's official website that he saw himself as the "complementary dude" in new OC Gary Kubiak's offense, comparing his projected role to that of Kevin Walter, who served as a low-upside sidekick to Andre Johnson under Kubiak in Houston.

5. T.Y. Hilton – Few have ever questioned Hilton's explosiveness or his ability to get open, but there were plenty of concerns about the Colts' commitment to making him more of a full-time player and his ability to stay healthy if that happened.

Tight Ends

1. Julius Thomas – For the most part, Thomas was considered either the No. 2 or No. 3 fantasy prospect at tight end. Moving on…

2. Greg Olsen – The departure of Steve Smith would leave Olsen as the player defenses would focus their attention on, at least until rookie Kelvin Benjamin proved himself.

3. Martellus Bennett – As the fourth option in the Bears' passing attack, "Mr. September" would be an inconsistent contributor at best while Brandon Marshall, Alshon Jeffery and Matt Forte each caught 70-100 balls.

4. Antonio Gates – It became clear in the second half of last season that Gates was starting to "feel his age", while second-year WR Keenan Allen was beginning to step up as the clear top option for Rivers.

5. Delanie Walker – The departure of QB Ryan Fitzpatrick, who has shown a tendency to lock on to certain receivers in his career (and proved it by doing so with Kendall Wright and Walker last year), was going to lead to fewer targets, especially because more emphasis was going to be put on getting Justin Hunter more involved.

Should we expect to see most of these same names at season's end? Of course not. I'd probably go so far as to say that probably no more than 60 percent (roughly 13 of the 21 mentioned above) will remain near or on their lofty perches. It's not a shot at any of the aforementioned players, but the running back list in particular is one in which logic has been defied so far. Pretty much every running back that owners worried about breaking down due to past injury history or career workload has held up to this point (Foster missed Week 3).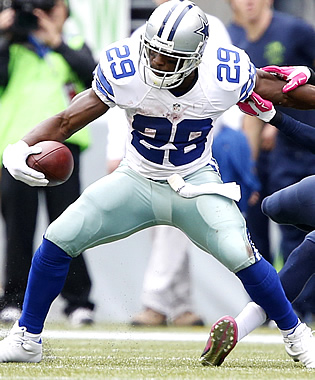 Murray continues to stay out of the trainer's room.
For example, if Murray (illness) plays this week, it will be the first time since 2011 – his rookie year – that he actually made it to his team's seventh game of the season uninjured. This year, he is averaging 26.5 carries (and 30 touches!) and has seen his workload increase ever since the Cowboys began suggesting it was going to be a priority to scale back his workload. On pace for a NFL-record 424 carries and 480 touches – 12 off the record set by James Wilder back in 1984 – in the regular season alone, history is not on his side – especially considering his running style invites contact. Until Joseph Randle's ownership starts approaching something closer to 100 percent (before the likely and probably inevitable injury to Murray), there is a good chance you will see his name in this column every week. Foster (21.2 carries and 24.4 touches per game, including an eight-carry and 15-touch game in his first week back from a hamstring injury) is another case in which an owner should be making at least a half-hearted attempt to secure his backup (Alfred Blue). Fantasy seasons can often be turned around in a week's time if/when an owner is holding the handcuff of a fantasy stud at the moment he suffers a multi-week injury.
Just like the Cowboys are unlikely to change what is working so well for them right now whether they have Murray available or not, Houston isn't going to go pass-heavy with Ryan Fitzpatrick at quarterback if Foster was sidelined. I'm not suggesting Blue's upside would match Randle's if both were Murray and Foster missed time (because I think Blue would be a low-end RB2 at best while Randle would be a mid-level RB1), but the point is the reward is potentially so much greater to stash either one of those two players than a player such as Devonta Freeman, Maurice Jones-Drew or Bernard Pierce (players that might be getting a bit of work now but seemingly have no upside for any number of reasons). It is incomprehensible to me that such high-upside backups are so readily available.
If I had any idea before the draft that Murray and Foster's handcuffs could be scooped up so inexpensively in the middle of the season, I would have placed both players in the top 10 of all of my Big Boards without hesitation – that is how much I believe they will not last the season. Six weeks hasn't changed my mind about their ability to hold up, but it appears the majority of owners are more than happy to take the risk and believe this year will be the exception. The flip side is that even in the unlikely event Murray and Foster stay healthy, the odds of them maintaining their current workloads are slim. For example, Dallas' running backs have averaged 33.3 rushes and five catches through six weeks. If Murray's per-game touch and attempt numbers fall off to Foster's current level, there is a strong chance either Randle or Lance Dunbar could have considerable standalone value.
Sticking with likely-to-be-injured theme at the running back position, I have sincere doubts Bradshaw can make it through a 16-game schedule either. Perhaps the fact he was limited to three games last year gave his foot more time to heal than at any point in his pro career. The Colts are doing their best to preserve him by generally keeping him around 10 carries and 15 total touches per game (and using him as red-zone threat in the passing game), although his carry and touch numbers have grown a bit over the last two weeks. Bradshaw averaged 16 touches last season and broke down quickly. In the two years prior, he averaged 17.4 (2012) and 17.1 (2011) and missed a total of six games. Much like Murray and Foster above, it might be a good time to consider seeing what it will take to acquire Trent Richardson. (Pause for collective groan.) For all of his shortcomings to this point of his NFL career, Richardson can catch the ball and eat up carries, even if he isn't exactly efficient. Third-stringer Dan "Boom" Herron is a replacement-level talent at best and probably wouldn't be asked to be anything more than a "breather back" in the event of an injury to Bradshaw. It's just as likely that more of the offensive load would fall on QB Andrew Luck in such a scenario. However, I doubt Luck would absorb many of Bradshaw's voided carries, meaning Richardson would be a decent volume play with a fairly high ceiling in terms of scoring potential at or near the goal line. Further helping his cause is the fact the Colts face Cleveland and Houston in the first two weeks of the fantasy playoffs.

------------------------------

Given the somewhat high-profile injuries of Week 6, I think it makes a lot of sense to spend the rest of my time this week talking about them and the impact their departures could have on the rest of this season.
Stevan Ridley – While the injury itself was sad (torn ACL and MCL), it probably only ended Ridley's career with the Patriots about 10 or so games early. As a running back in the last year of his contract on a team that probably hasn't offered a contract extension to a player at the position since Kevin Faulk (I'm half-kidding, folks), it seemed like a longshot at best that he would return to New England in 2015 if he made it through this season healthy.
It seems reasonable to assume that Shane Vereen is the best Patriots' back to own going forward and I'm sure that sentiment comes as a surprise to no one. However, Ridley's 2011 draft classmate has exceeded 20 touches in a game once in his career (Week 1 of last season) and subsequently did not play for another nine weeks. Furthermore, if the Patriots thought as highly of Vereen as fantasy owners seem to, it seems likely that: 1) he would have received more than two fourth-quarter carries (following Ridley's third-quarter injury) and three targets overall in a pass-heavy attack against Buffalo and 2) the Patriots would not have drafted James White.
If I know the fantasy industry like I think I do, people will quickly say Brandon Bolden needs to be added across the board as Ridley's likely grunt-work successor. I'd be stunned if the potential low-end fantasy RB3 add here isn't White, especially since Bolden is a core special teamer that hasn't really put together much consistent success as a runner in three years with the team. HC Bill Belichick gushed about White over the summer (which is quite notable in and of itself) and the Patriots appeared to be on the verge of using him to steal some – if not most – of Ridley's work during training camp. Per the Boston Herald, Belichick also said White did "a good job in the passing game and in the running game -- both inside and outside" and had the ability to "compete on all three downs". RB coach Ivan Fears seconded Belichick's praise, telling the Herald, "He runs like a big guy for a little guy (5-foot-10, 195 pounds). He plays big. ... Right now, he's doing everything right. It's hard not to be in love with him." White admittedly didn't stand out in the preseason, but I highly doubt two of the more respected men in their current posts (Belichick and Fears) let exhibition play taint their perception of their fourth-round rookie.
Knowshon Moreno – This one seems rather cut-and-dry, with the biggest mystery coming out of the situation being how and when he suffered his ACL injury. In fact, the story is that no one in the Dolphins' organization was made aware the injury until a day or two after Miami's loss to Green Bay and that Moreno continued to play even after suffering the injury. In fact, I cannot find a website that confirms which knee was injured. After viewing his last touch on NFL Game Rewind, Moreno appeared to favor his right knee following a screen pass in which CB Tramon Williams pushed him in such a way that forced his knee to move inward. After coming to a stop, Moreno's knee appeared to buckle a bit and he could be seen grabbing at his knee for a brief moment before waving off a replacement.
Regardless of whether or not I correctly identified the injury and how it happened, fantasy owners must move on. Is it notable Lamar Miller, who is expected to become the featured back, didn't exceed 15 carries in any of the four games Moreno missed prior to Week 6? I think it is, but that was also done with the idea that Moreno would be returning. In other words, Miami's coaching staff could have rationalized that if the ex-Bronco was going to return in a month after his Week 2 elbow injury, why expand Miller's role? If the Dolphins truly think the somewhat injury-prone third-year runner is willing to be as physical as they want him to be, there's a good chance he can be the feature back. I don't think it is a foregone conclusion, but I do think he has more than enough ability to take the job and run with it if his body allows him to do so.
Darren Sproles – The ex-Saint and Charger got pretty lucky to be handed a sprained MCL diagnosis on a play that could have resulted in something much worse. The timetable for his return is 1-2 weeks and the Eagles have yet to make a roster move despite the fact third-stringer Chris Polk is also sidelined (hamstring). If neither Sproles nor Polk are ready for the Eagles' Week 8 showdown at Arizona, it is conceivable that practice squader Matthew Tucker, who averaged eight yards per carry on 24 preseason rushing attempts, would spell LeSean McCoy.
Victor Cruz – Of the 195 snaps Cruz took this season before tearing his right patellar tendon, 174 of them came in the slot. To put that number in some context, Preston Parker ranks second on the team with 26 such snaps, meaning the Randall Cobb aspect from this Green Bay East offense is missing for now. It's unlikely the Giants will abandon the three-wide set as their base formation just because Cruz is gone, so the question becomes how much the roles will change among the remaining receivers. It seems likely that Rueben Randle will remain primarily an outside receiver (in the Jordy Nelson role), but all bets are off after that in my opinion. Odell Beckham Jr. is capable of moving into the slot, but it seems a bit much to ask a rookie in his third career game to learn everything that goes along with being a slot receiver while also mastering his craft outside the hashes. Parker has the third-most snaps among the players at his position on the team and has been a NFL slot receiver for a while, so that appears to be the most likely short-term fix.
However, the Giants have other options in the slot, although new addition Kevin Ogletree (he signed on Wednesday) probably isn't a realistic one anytime soon. New York could be tempted to move Beckham in the slot and see what preseason standout Corey Washington is capable of, especially given the fact he is 6-4 and 214 pounds with 4.5 speed in an offense that typically likes big receivers. There's also a remote chance the Giants could flex out Larry Donnell from time to time and keep fellow TE Daniel Fells in-line (or vice versa), thereby giving the defense the look of run-game personnel with potential mismatches in between the hashes.
Ultimately, I expect New York to keep Beckham and Randle on the outside and use Parker out of the slot for the foreseeable future, at least until the point where Washington does enough with his limited opportunities to make the Giants reconsider going with experience over upside. With that said, deep-league dynasty leaguers would be advised to add Washington at this time, assuming they haven't done so already.

Suggestions, comments, about the article or fantasy football in general? E-mail me or follow me on Twitter.

---
Doug Orth has written for FF Today since 2006 and has been featured in USA Today's Fantasy Football Preview magazine since 2010. He has hosted USA Today's hour-long, pre-kickoff fantasy football internet chat every Sunday over the past two seasons and appears as a guest analyst before and during the season on Sirius XM's "Fantasy Drive" as well as 106.7 The Fan (WJFK – Washington, D.C). Doug is also a member of the Fantasy Sports Writers Association.