One of the most important jobs of any self-respecting fantasy analyst is introducing an audience to owners well before they "break out". Just like the stock market, prospecting can be largely a hit-or-miss proposition. However, hitting on more than one stock doesn't necessarily make somebody an expert just like missing on more than one stock doesn't make them a moron. And perhaps most importantly, multiple misses doesn't mean that we shouldn't keep trying to find the next big thing.

For the diehard football fan, the names that follow won't necessarily be new, but I'll attempt to draw up a scenario – some more likely than others – by which they could become relevant. The purpose of this article is not to identify each team's fifth receiver or third running back, but rather pick out those players I think has a semi-realistic shot of making a difference in fantasy by the end of the fantasy season. I will also avoid players such as Christine Michael and Stefon Diggs – players who have already been on your radar for some time if you've been a loyal reader – as they have already started to produce or on the verge of doing so. In short, it is my hope this is a true sleeper article.

QB Chase Daniel, Chiefs – The true inspiration for this year's piece. Alex Smith deserves a job in the NFL and it's hard to knock a quarterback who has completed 62.8 percent of his passes and posted a 47-to-16 touchdown-to-interception ratio and two-plus years with Kansas City. The biggest problem is while he does the one thing any good NFL quarterback must do (value the football), it is almost as if his time with former HC Jim Harbaugh in San Francisco has left him unwilling to take the chances most NFL quarterbacks must take, perhaps out of fear that he could get benched at any time for the next Colin Kaepernick.

In no way, shape or form is Daniel the next Kaepernick, so let's make that clear right away. One of the things I look for during preseason action is a quarterback's ability to lead an offense down the field as if it was a seven-on-seven drill (I call it a quarterback giving the defense "the hot-knife-through-butter treatment"). Drew Brees' former backup was incredibly impressive this summer, going 41-of-53 for 388 yards with five touchdowns and one interception, but it wasn't his numbers that impressed me the most. Daniel showed me the arm strength and the willingness to go down the field this summer that Smith never has.

There hasn't been much talk in regards to Smith losing his job anytime soon (quite possibly due to his large contract), but there is going to come a time in this season when Smith draws the ire of the coaching staff for the umpteenth time for his unwillingness to hit Travis Kelce on a post or Jeremy Maclin on a go route. Without Jamaal Charles around to supply the big plays, Kansas City is going to need its quarterback to help in that regard. Daniel can do that and I, for one, would like to see him get his shot before the end of what appears to be a lost season for the Chiefs.

RB Rex Burkhead, Bengals - Outside of Cincinnati and University of Nebraska fans, most NFL followers might think of Burkhead as a slot receiver and special teamer. With 20 career offensive regular-season touches to his name, it's hard to blame them. However, the fact of the matter is that he is next in line at running back behind Jeremy Hill and Giovani Bernard. What's more is that he's actually a nice blend of the two, possessing the ability to run with power (although not nearly as much as Hill) and quickness (not nearly as much of Bernard, although the Bengals' willingness to use him in the slot in their playoff loss last year should speak to his natural gifts in that area). Cincinnati is very well-stocked at running back and receiver this year, so as long as the team remain somewhat healthy, the third-year pro isn't going to see much of the field. That doesn't take away from the fact that Burkhead would probably be seeing regular offensive snaps for roughly half of the teams in the league if he was on their roster. He's closer to fantasy relevancy than you think.

RB Marcus Murphy, Saints – By all accounts, Mark Ingram has been a great fantasy back this season. However, he has been largely inefficient everywhere but the goal line. Khiry Robinson has been a slightly more effective runner and C.J. Spiller is one of the NFL's most explosive backs and very good in the passing game, although you wouldn't know the latter based on playing time (Ingram – 58 percent; Robinson – 23.6; Spiller – 17.9). Surprisingly, the Saints are paying Spiller the same amount they are Ingram, which begs the question why Spiller hasn't been busier than Ingram considering how often New Orleans has been trailing in games this season. HC Sean Payton seems to be sticking by the notion that he has to find more opportunities to get Spiller the ball and continues to say "he's a guy that can make a lot of things happen with the ball in his hands", but there within lies the problem. In a mismatch league that Payton helped create, his offense now is a ball-control offense – almost to a fault – as if he's trying to prove something to himself or the league. Owners of Spiller seeking some comfort for using a relatively high draft choice on him this summer should check out this link, beginning with the subsection entitled "Cooks and Spiller". There are plenty of people in the know that can't understand why Spiller isn't seeing the field.

While the paragraph above may look like a rant against New Orleans' backfield, I think it serves as a useful backdrop as to how a fourth running back could find his way into fantasy relevancy this year. Ingram has not been effective, no matter what his fantasy numbers might suggest, and has made it through only one full season in four-plus years in the league. Robinson would probably step into Ingram's role should Ingram get hurt again, but is unlikely to take on his role in the passing game (27 catches). Spiller would probably reprise the Darren Sproles role that many of us envisioned he would, but he has a checkered injury history as well. This brings us to Murphy, who would likely be getting all the snaps Spiller is currently seeing had he not signed as a free agent. Murphy has been restricted to return duties so far in his rookie season, but I expect him to make a name for himself in the NFL over the next 2-3 years with his open-field abilities. For him to do so this year, he would probably need Ingram and Spiller to miss multiple weeks at the same time, which – as I have already detailed – is probably not as unlikely as it seems.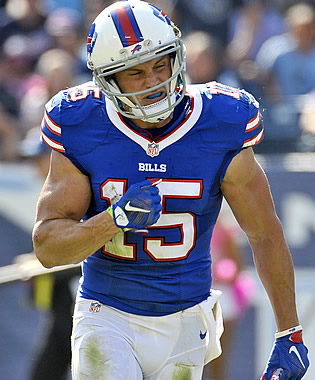 Wide receiver Chris Hogan: The Bills buried treasure.

WR Chris Hogan, Bills - This one shouldn't be hard to figure out and could pay off sooner than later, particularly because Sammy Watkins (ankle) figures to be limited at best for the next week or two and Percy Harvin (hip, personal) could be out a while. There's also the small matter that the Monmouth product has already produced in limited action this year, not to mention when he was given a chance last year. Hogan isn't all that inspiring from a big-play perspective – only one of his 65 career catches has produced a play longer than 31 yards – but he typically catches much of what is thrown his way (67.7 connection rate on his 96 career targets, including 14-of-18 this season). For a team that wants to focus on the run and play defense, chain-moving receivers like Hogan can often produce a 5-for-50 game. That may not sound like much to owners in shallower standard leagues, but works nicely for those in deeper PPR leagues looking to fill a WR3 spot during a bye week.

WR Chris Givens, Ravens – Someday, rookie Breshad Perriman will actually be healthy enough to take the field. Until that time, Givens is about the only receiver Baltimore has that can be labeled a deep threat. He's also going to have a head start on the first-round draft pick (if/when he returns) even though he just arrived via trade from St. Louis a couple weeks ago since Perriman has only participated in a handful of practices since July. The ex-Ram hauled in both of his targets last week for 18 yards, although owners can probably start expecting his activity to get ramped up in relatively short order since the Ravens are 1-5 and need to utilize whatever big-play weapons they have. Joe Flacco may be little more than a league-average quarterback, but that's still better than the collection of journeymen Givens had to catch balls from in St. Louis. The beauty of this pairing is that for all of Flacco's shortcomings, one of his best strengths (his big arm) matches well with the one thing Givens has proven he can do as a pro (get deep). It would surprise me if Givens doesn't take advantage of this opportunity and becomes a low-end fantasy option before the end of the year.

WR Bennie Fowler, Broncos – I mentioned Fowler as a potential breakout player a couple of weeks ago in "Second Quarter Projections" because I'm fairly certain Denver considers him its third-best outside receiver behind Demaryius Thomas and Emmanuel Sanders. While we all can see that Peyton Manning isn't what he used to be, it still hasn't stopped Thomas and Sanders from producing in fantasy. Admittedly, Fowler would be a drop-off from both of those receivers, but I've seen enough of him in the preseason and regular season to feel comfortable trusting him as a potential low-end fantasy option should Thomas or Sanders need to sit out a week or more (Thomas heads into the bye week with a neck issue and Sanders with a shoulder strain). Unfortunately, Fowler probably can't be expected to run the same kind of short and intermediate routes that Thomas and Sanders make a living on these days, so his upside would be capped in that regard.

WR Kevin White, Bears – As unlikely as it is that most of the players I've mentioned so far will sniff fantasy relevancy this year, White is perhaps the most unlikely given the fact he underwent a surgery for a stress fracture in August. He was placed on the PUP list shortly thereafter and is probably more than a month away from any real likelihood of playing in a game. However, he hasn't been ruled out for the season yet, so let this serve as a reminder he still has a small chance to contribute this year.

TE Clive Walford, Raiders – Rookie tight ends are notoriously slow developers (for good reason, I might add) and rarely have much, if any, impact in fantasy leagues. However, that doesn't mean we can just ignore them either, especially on teams that figure to pass the ball a fair amount like Oakland. Walford already has the ability to stretch defenses and that should play well considering he'll be working in tandem with Amari Cooper for the foreseeable future. The third-round pick from Miami saw his development delayed somewhat by a hamstring and a knee injury in training camp, which obviously has played a big role in capping his playing time and production (three catches through five games). HC Jack Del Rio recently told the San Francisco Chronicle that Walford is "a good size guy that is a very capable blocker, who is also a guy who has the athleticism to be a real threat as a route runner". Earning a coach's trust by being a good blocker is one of the easiest ways for a young tight end to see the field, so expect Walford to continue to see more time going forward at the expense of Mychal Rivera. The odds are strong that even with increased playing time, Walford will top out around 20 catches this season, but owners need to realize he possesses significant upside in what is already an up-and-coming offense.
________________________

It's no secret that featured running backs have become a thing of the past. I'm not sure that point really hit home with me until this past week, when Eddie Lacy was essentially benched for being "a little beat up". I suppose a coach sitting at 5-0 with one of the best quarterbacks in NFL history can send whatever message he wants to send to a player at another position, but make no mistake about it: HC Mike McCarthy was sending a message to Lacy. It's a nice notion that James Starks is finally finding his way at 29, but extremely unlikely, so I'd like you to dismiss McCarthy's characterization that Green Bay is a committee backfield until further notice.

At any rate, if a two-time 1,100-yard rusher's job status with 24 total touchdowns in 31 career games can be up for debate, then I guess just about every NFL head coach views the idea of a featured back as a luxury. By my count, the following backs are probably the only ones that can truly be considered "featured" (list includes injured players):

1) Le'Veon Bell
2) Arian Foster
3) T.J. Yeldon
4) Jamaal Charles
5) Matt Forte
6) Adrian Peterson
7) Todd Gurley

Obviously, this list is purely subjective and could easily change over the next month or so (for example, I still expect Devonta Freeman and Tevin Coleman to be in a committee before all is said and done; if that doesn't happen, Freeman belongs on the list). Yeldon (five) and Gurley (two) have played a total of seven NFL games, so it feels premature to count on them as offensive pillars. As a fantasy owner, it concerns me that over half of this list will be 29 or older at the start of next season. As something of a football purist, it hurts to see the complete lack of loyalty coaches now have with the one position that probably sacrifices more physically than any other. Spare me the story that coaches are trying to preserve their players; few coaches are guaranteed anything past the end of the current season and most of them could care less about anything that doesn't affect the upcoming game.

There will be readers that say the shift towards receivers has been in motion for years; believe me, I have noticed. I have always believed coaches would prefer to feature one back if the gap in talent between the top one and every other one on the depth chart dictated it. (Committee backs might keep the main runner fresh, but it often limits what the play-caller can call and tips off the defense.) On a similar but related note, what kind of message are coaches sending when backs are benched for fumbling, but receivers who run a wrong route that results in an interception don't see their snaps reduced?

In my two-part "Finding an Identity" pieces (Part 1 and Part 2), I alluded to the role that offensive line play – and specifically the lack of time linemen have to hone their craft nowadays – as a main reason why running back production was plummeting. It's still quite bad for a number of teams and probably won't improve for some of them until the second half of the season. Combine poor blocking with little to no patience for running the ball and limiting his backs' ability to find a rhythm – something just about every back says is important to him – and coaches are creating a formula that makes it nearly impossible for that position to succeed.

I felt it was important to express my feelings on the matter because I need to "get it" before I can make a philosophical change. If receivers are allowed a greater margin for error (not benched for making mistakes like a running back), put in a better position to create big plays (passing plays usually result in one-on-one opportunities), get as many – if not more – chances to create plays (targets versus touches) and aren't considered nearly as expendable/replaceable, then why should I fight it as a fantasy owner? Until more coaches and administrators in the league "get it" and attempt to level the playing field a bit more for runners, count me among the masses now that believe building a fantasy team around elite receivers is the most foolproof way to achieve success. Just know that it pains me to say that…


---
Doug Orth has written for FF Today since 2006 and been featured in USA Today's Fantasy Football Preview magazine since 2010. He hosted USA Today's hour-long, pre-kickoff fantasy football internet chat every Sunday in 2012-13 and appears as a guest analyst on a number of national sports radio shows, including Sirius XM's "Fantasy Drive". Doug is also a member of the Fantasy Sports Writers Association.