As I have for the past seven-plus years, I will share my thoughts on my NFL.com Playoff Challenge entry and playoff money leagues with Fuzzy's Fantasy Football as we head into the third week of our postseason odyssey. Last year, I combined the latter with DraftKings to provide an even more comprehensive NFL Playoff resource. Let's get right to it:



NFL.com



For a complete rundown of how players will score fantasy points for your team, click on the "Rules & Prizing" link on the NFL.com entry page. Much of the content immediately below is included on the "How to Play" page, although the information I provide below should be more than enough to follow along easily.

NFL.com Playoff Challenge scoring system



The requirements: one QB, two RBs, two WRs, one TE, one K and one D/ST. You will earn fantasy points based on their on-field performance during their game, and if your player's team wins, you will have the option to carry that player over to the next round, where he will earn a bonus point modifier to his score (which will be referred to as 2x, 3x and 4x from here on out).

For example, if you pick Aaron Rodgers in the Wild Card round and the Packers win, you can carry him over to the Divisional Round, and earn two times (2x) the points he earns in his divisional round game. If Green Bay wins again, you can carry Rodgers into the Conference Championship round for 3x the points and, if the Packers make the Super Bowl, you can earn 4x the points. In addition, a user can select a player/defense in the Wild Card round even if their team has a bye into the Divisional Round. In this case, the user would not earn any points for the Wild Card round, but be eligible to earn 2x points in the Divisional round, since the player was on the teamís roster for two weekly scoring periods. Further bonus point modifiers would also apply as long as that playerís team continues to advance in the NFL Playoffs.

Before we get into the picks, let's briefly review the rules and how we may use them to our advantage: 1) passing TDs are worth four points, so passing yards are valued more highly here than in the Fuzzy's leagues I'll discuss later; 2) all field goals under 50 yards are worth three points, which means we are more concerned about volume of field goals than distance – unless we can find a kicker who regularly converts from 50-plus (DraftKings does not use kickers); 3) this is a non-PPR format, which obviously favors the big-play threats (both Fuzzy's and DraftKings are PPR); and 4) team wins are worth five points, so picking a "winning" defense is worth almost a touchdown prior to factoring in the modifiers.

Let's get the No. 1 rule of this game out of the way right now: if you have a good feeling about which two teams will meet in the Super Bowl, build your lineup exclusively from players from those two teams. Most previous playoff challenge champions' lineups are made up entirely of Super Bowl participants. (In other words, it is important to project the Super Bowl entrants first and figure out what players from those teams to use second.) The multipliers are everything in this contest, so playing the week-to-week matchups is nearly meaningless. Think about it this way: if I told you that your regular-season fantasy team's scoring would double in Week 2, triple in Week 3 and quadruple in Week 4 if you simply left it the same, would it affect your draft strategy? Of course it would. The big week your team might post in the first week of this challenge - in the somewhat unlikely event you played the matchups to a tee - is going to seem rather insignificant in early February when every passing touchdown is worth 16 points and every other TD is worth 24 and the top teams in this competition are scoring 200-300 (or perhaps more) points per week.

Three out of the four teams I predicted to make it this far two weeks ago are still alive, including my two Super Bowl picks. While there is one player pick in particular I might end up regretting, I'm still not entirely sure I didn't get it right. Anyway, I think that mystery player will become obvious soon enough, but I was not so swayed by what I saw from the player I may have whiffed on last weekend that I am going to change my lineup and risk losing out on a complete 4x lineup in the Super Bowl.

Quarterbacks

Tom Brady/Ben Roethlisberger/Matt Ryan/Aaron Rodgers

The call: Matt Ryan (x3). Soon enough, Ryan will be considered among the best quarterbacks in the league. (Hopefully sooner, especially if OC Kyle Shanahan bolts for the 49ers head-coaching job in a week or so.) Until then, Ryan goes from tearing up an Earl Thomas-less secondary last week to one this week which does not have a cornerback who graded higher than 45th in the league, according to Pro Football Focus (converted nickel CB Micah Hyde). Green Bay has no defender with anything close to the size/speed combination necessary to stop Julio Jones, nor does it have a player capable of running with Taylor Gabriel consistently. Heck, it's even questionable if the Packers have linebackers capable of tracking Devonta Freeman and/or Tevin Coleman.

In short, the Atlanta offense versus the Green Bay defense is a huge mismatch almost across the board, and Shanahan knows it will be in his best interest to put as many touchdowns on the board as possible to provide the Falcons' defense a bit of cushion against Rodgers & Co. As you will see in the DK/Fuzzy's section, it will be a huge upset (in my opinion) if Ryan doesn't post at least 300 yards and three scores this weekend. Rodgers is probably the only other option that will need to approach that kind of production, but I'm not sure he's going to get there without Jordy Nelson AND with Davante Adams nursing injuries to both ankles.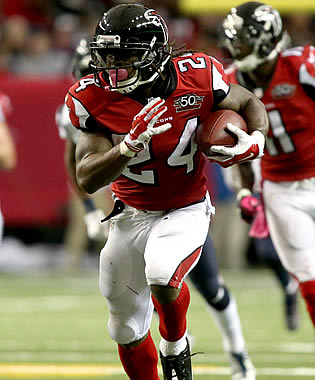 Freeman's dual-threat ability makes him a no-brainer.
Running Backs
LeGarrette Blount/James White/Dion Lewis/Le'Veon Bell/Devonta Freeman/Tevin Coleman/Ty Montgomery/Christine Michael/Aaron Ripkowski
The call: LeGarrette Blount (x3) and Devonta Freeman (x3). There were reports during the regular season New England was saving Lewis for the playoffs; it sure looked to be the case against the Houston Texans in the Divisional Round. While folks will be tempted to ride that wave in this challenge as well in DFS, I'm not entirely sure we've seen the last of high-end production from Blount this postseason. I wish I knew how much more weight I am supposed to put Lewis' "promotion" than Blount's poorly timed illness last week, but I don't. Lewis has undoubtedly earned at least an even split of the carries going forward (and then some), but running backs who rushed for a franchise-record 18 touchdowns during the regular season usually don't get shelved for a potential Super Bowl run. Owners who have stuck with Blount to this point should go ahead and stay the course not only because the upside remains so high, but also because the Patriots are probably going to want to rely on a more physical running game the rest of the way in order to "ground" the high-scoring offenses they will face will face each of the next two games (assuming they get by Pittsburgh).
Prior to the start of the postseason, I seriously debated whether I should pick Coleman over Freeman in order to be contrarian. I also considered playing both Falcons' backs as a way to double-down on my Atlanta pick to make the Super Bowl. The reason had nothing to do with Freeman's talent or production, but because Coleman is a better bet to break a huge scoring run, which can make a huge difference in this non-PPR format. In the end, it is simply too hard to go against Freeman's consistent workload and dual-threat ability, which makes him the play yet again here. A consistent bet for at least 18 touches every week, Freeman already posted a serviceable 17.8 fantasy-point total against the Packers in Week 8 in this scoring format on 11 carries and four catches. Atlanta's defense has played at a much higher level over the second half of the season, so a larger workload could be in his future this time around. The Falcons are one of the few teams capable of trading offensive blows with Green Bay for 60 minutes and should find the red zone at least a handful of times Sunday. It's a good bet one (if not two or more) of those trips will end with Freeman converting from a few yards out.
Wide Receivers

Julian Edelman/Chris Hogan/Michael Floyd/Antonio Brown/Eli Rogers/Julio Jones/Taylor Gabriel/Mohamed Sanu/Davante Adams/Randall Cobb
The call: Julian Edelman (x3) and Julio Jones (x3). Pittsburgh slot CB William Gay graded out as PFF's 10th-best corner this season, so Edelman may have to work harder than his fellow receivers to live up to his usual standards. Nevertheless, Edelman is the one constant in the Patriots' passing game with Rob Gronkowski on the shelf and the only New England player who can be counted on for at least 10 targets. Despite this infrequency in which he scores touchdowns, the slot machine has been targeted fewer than 11 times only once since Week 10, while his YPC has been over 10 in every game since Week 12 (seven single-digit YPC efforts prior to then). With that kind of yardage production from Edelman, scoring touchdowns is a bonus, even in a standard scoring format such as this one.
Jones' toe injury is a bit of a concern, but he's going to get his shot at the same defense that had no prayer stopping Dez Bryant last week. Let's not forget Jones has more viable threats surrounding him then Bryant and is one of the few receivers in this league who has an edge on the Cowboys' wideout in terms of talent. Barring a complete sellout by the Packers to keep him in check (something Green Bay can't afford to do with all of Atlanta's weapons), there isn't a likely game script this week that doesn't favor Jones in some way. Ladarius Gunter has shadowed both Odell Beckham Jr. and Bryant thus far in the playoffs, so it'd be an upset if he doesn't do the same with Julio. (OBJ could have easily had a big game if it wasn't for drops, while Bryant exploded.) A 100-yard day should be considered Jones' floor (assuming the Falcons' running game doesn't dominate), while his ceiling is sky-high - even a 15-catch game would not surprise me.
Tight Ends

Martellus Bennett/Jared Cook
The call: Martellus Bennett (x3). Bennett has been nearly impossible to use for most of this season because he hasn't been healthy. Having said that, all the multipliers in the world aren't going to help owners in this challenge if he can't provide more than one catch for four yards. Cook's big day last weekend alone may have given him more fantasy points than Bennett will score over the remainder of the postseason. Still, the promise of a 3x and 4x from Bennett makes it hard to change now, as a touchdown this week is worth 18 points to me, while a score in two weeks will be worth 24.
Kickers

Stephen Gostkowski/Chris Boswell/Matt Bryant/Mason Crosby
The call: Matt Bryant (x3). No change here either. Pittsburgh's red zone struggles against the Chiefs make Boswell an appealing option against another good scoring defense this weekend. Gostkowski's status as a heavy favorite to make the Super Bowl is alluring. However, I'll stick with a home kicker for a potent offense in a dome over the other alternatives just about every time.
Defense/Special Teams

Patriots/Steelers/Falcons
The call: Patriots (x3). New England isn't likely to shoot itself in the foot this week after last week's surprising turnover-filled performance. The Patriots rarely be themselves and are a good bet to score 30-plus points again this week, so there aren't many ways the Steelers are going to score fantasy points. Similarly, there is no reason to believe Green Bay will suddenly commit a ton of mistakes with Rodgers playing some of the best football in his life. The Falcons may get a few sacks on him, but that might be about it. Similarly, the Packers' defense is not an option against the best and most well-rounded offense in the league. Roethlisberger's penchant for throwing interceptions and playing poorly on the road is probably the one hope owners have for a decent D/ST option this week, so the Patriots should remain the obvious choice.
Weekly totals
Wildcard Weekend: 0 points
Divisional Round: 206 points
DraftKings/Fuzzy's
Since the pick-your-studs competition with Fuzzy's and the salary cap game of DraftKings essentially use the same PPR scoring (six points for passing touchdowns with Fuzzy's versus four fantasy points with DraftKings; three bonus points for 300 yards passing or 100 yards rushing/receiving versus no such bonus with Fuzzy's being the biggest differences), I'm going to essentially combine the two again this postseason. I think by projecting each remaining team one week at a time, I will be able to kill two birds with one stone in this regard.
Below you will find my position-by-position projections. The players I have highlighted in red are ones I feel should be roster staples. Please note I have included DraftKings' dollar value to each player I have projected, followed by their projected point total in that format (DraftKings and then Fuzzy's). Because I went into some detail above, I won't spend a great deal of time explaining each projection here - only some of the more notable ones. Each position is sorted by my DraftKings' projected point total.
Key for quarterbacks, running backs, receivers and tight ends:
P Yds - Passing Yards
P TD - Passing Touchdowns
INT - Interceptions
Ru Yds - Rushing Yards
Ru TD - Rushing Touchdowns
Rec Yds - Receiving Yards
Rec TD - Receiving Touchdowns
Rec - Receptions
Quarterbacks
Player
DK $
DK Pt Total
Fuzzy's Pt Total
P Yds
P TD
INT
Ru Yds
Ru TD
Matt Ryan
7,700
32.6
37.6
315
4
0
10
0
Aaron Rodgers
8,100
28.3
31.3
320
2
1
25
1
Tom Brady
7,100
22.9
22.9
310
2
1
5
0
Ben Roethlisberger
5,800
12.7
12.7
255
1
2
5
0

As much as Big Ben looks like a potential value play here, he's not. Over his last 26 regular-season games, Roethlisberger has thrown 29 interceptions. If you include his four playoff games over the last two years, he's thrown 32 in 30 games. Of those 32 picks, 17 have come on the road. This season, Big Ben is averaging 238 yards passing on the road. His only two elite road fantasy efforts this season came in Week 1 against the Washington Redskins and in Week 12 versus a shorthanded Indianapolis Colts defense. I could easily go much deeper than this to make a point, but I won't. There is virtually no evidence to suggest this will be a blowup spot for Roethlisberger.

I'm fairly certain Brady will have a high ownership based on his price point, but he is the one quarterback of this bunch who will most likely not need to air it out 40-plus times. When you consider the likelihood Ryan and Rodgers may be in a race to see what team can score 40 points first, that alone means it is worth paying up for either quarterback in DFS this week. I believe the line between the two NFC signal-callers is thin, with the main differences being the Packers' woefully thin defense working in Ryan's favor and a number of receiver injuries in Green Bay working against Rodgers. Ryan and Rodgers will serve as my quarterbacks in probably 75 percent of my DFS leagues this weekend, with Ryan leading a few more lineups than Rodgers.
Running Backs
Player
DK $
DK Pt Total
Fuzzy's Pt Total
Ru Yds
Ru TD
Re Yds
Re TD
Rec
Le'Veon Bell
10,300
26.5
23.5
105
0
60
0
7
Devonta Freeman
7,200
22.5
22.5
60
1
55
0
5
Ty Montgomery
5,600
20.5
20.5
40
1
55
0
5
Dion Lewis
5,300
18.5
18.5
45
1
40
0
4
Tevin Coleman
4,800
18.0
18.0
75
0
25
1
2
LeGarrette Blount
4,400
9.5
9.5
35
1
0
0
0
James White
3,200
4.5
4.5
5
0
20
0
2
Aaron Ripkowski
3,000
3.5
3.5
20
0
5
0
1
DeAngelo Williams
3,000
0.5
0.5
5
0
0
0
0
Christine Michael
3,300
0.5
0.5
5
0
0
0
0
Patrick DiMarco
3,000
0.5
0.5
5
0
0
0
0

It goes without saying if Bell is going to come with a $10,300 price tag, he needs to hit big (and probably score at least two touchdowns) in order to be worth starting in DFS. Last week, that did not happen. New England did not give up multiple touchdowns to any running back this season and allowed seven scores to the position all season long, which is probably enough reason to shy away from Bell in DFS this week. Obviously, he remains a top-two play in PPR formats regardless, as the Steelers seem to have no problem feeding him the ball 30 times. The player of this group most likely to exceed expectations is Freeman, who scored twice in the Week 8 meeting (albeit with Coleman out due to injury). Atlanta's rushing attack is in synch more now than it was then, and it seems a pretty good bet Freeman will surpass the 58 total yards he amassed against the Packers more than two months ago.

Montgomery played 51 snaps last week, suggesting he has a pretty good grasp on the lead-back role in Green Bay. The problem with that, however, is he has exactly 11 carries in each of his two playoff games and exceeded that threshold only once during the regular season. As such, he is a bit of a knockoff version of Freeman in that he usually makes up for it in the passing game but lacks the same big-play ability. Nevertheless, $5,600 is a nice price for someone with 20-point upside. As noted above, I'm skeptical of Lewis' "promotion" (RBBC has long been the hallmark of Patriots' offenses). New England knew it had little reason to be frightened by the Texans' offense and probably had no desire to slug it out - if it didn't have to - with the league's top defense, so letting Lewis dominate snaps made sense last week. Limiting possessions may take on more importance going forward, however, as Pittsburgh, Atlanta and Green Bay are all legitimate threats to keep pace with the Patriots on offense. For that reason, I wouldn't blame owners if they want to fade Lewis in favor of Blount this week. With that said, I plan on starting Lewis in about a quarter of my DFS lineups to protect myself against the whims of "The Hoodie". For the reasons I've already mentioned earlier in this piece (and because of their price point), there's a good chance I will start Coleman and Blount in as many leagues as I do Bell.

Wide Receivers
Player
DK $
DK Pt Total
Fuzzy's Pt Total
Ru Yds
Ru TD
Re Yds
Re TD
Rec
Randall Cobb
5,900
27.0
24.0
100
1
8
Julio Jones
8,200
26.5
23.5
105
1
7
Antonio Brown
8,800
25.0
22.0
100
1
6
Julian Edelman
7,300
23.5
23.5
10†
0
85
1
8
Malcolm Mitchell
3,700
15.5
15.5
55
1
4
Taylor Gabriel
4,900
15.5
15.5
65
1
3
Geronimo Allison
3,800
14.0
14.0
40
1
4
Mohamed Sanu
4,500
8.0
8.0
40
0
4
Davante Adams
6,600
7.0
7.0
40
0
3
Chris Hogan
3,900
7.0
7.0
40
0
3
Eli Rogers
3,400
6.5
6.5
35
0
3
Danny Amendola
3,100
4.0
4.0
20
0
2
Michael Floyd
3,300
3.0
3.0
20
0
1
Cobi Hamilton
3,000
2.5
2.5
15
0
1
DeMarcus Ayers
3,000
2.0
2.0
10
0
1
Justin Hardy
3,000
2.0
2.0
10
0
1

The playoffs have been given me a bit of delayed gratification in that my preseason faith in Cobb has been justified, albeit due to a ton of injuries. He is not only shaping up to be the only reasonably healthy receiver of Green Bay's top four wideouts, but he could also potentially be the best play of the week at his position because of it. I cannot bring myself to back off Jones despite his toe injury, while I have a bad feeling the Patriots will keep Brown out of the end zone. No matter, as Brown has posted lines of 9-133-1 and 7-106-0 against the Patriots over the last two meetings. His $8,800 price tag makes him a better buy than usual, but Big Ben's road woes point to him probably throwing no more than one touchdown this weekend. Do you want to put all your chips on that score going to AB?

Edelman is probably the safest bet of this group for 20 PPR fantasy points, but he doesn't find the end zone with enough frequency to give owners much hope he'll take a good day and make it a great one. As noted above, he may have the toughest matchup of all the Patriot receivers in William Gay. He'll get his numbers like he usually does, but this is probably not a blowup spot for him. After Floyd nearly laid an egg last week in Mitchell's absence, I think it is conceivable Tom Brady tries to rekindle the spark he had with Mitchell late in the season. At $3,700, he could easily turn out to be the best value play at the position. With Martellus Bennett hurt and Pittsburgh certain to pay attention to Dion Lewis, I could easily see the rookie converting a score inside the 10. ESPN's Mike Clay tweeted Wednesday (Jan. 18) Green Bay allowed the most fantasy football points to players who lined up on the right side of the formation than any other team in the league this season. That is the spot Gabriel runs roughly half of his routes. (Clay's tweet also suggests owners should be as optimistic about Cobb and pessimistic about Brown as I was in the above paragraph, albeit for a slightly different but no less important reasons.)

There are only two other receivers I will consider using in DFS given the injury information we have now: Allison and Sanu. Allison is dealing with a hamstring injury as we speak, but he is poised to be no worse than Aaron Rodgers' third option on Sunday, behind only Cobb and Jared Cook. If Allison cannot go, I will probably invest in a few shares of Jeff Janis just to see if playoff lightning can strike twice. I'm less certain how I feel about Sanu, who I projected to score before reconsidering. I think it is very possible each of Atlanta's top three receivers score - leaving Ryan with five for the day - but that's a tall order for any quarterback in even the most ideal matchups. (Besides, I think 315 yards and four touchdowns captures how I feel about Ryan's upside.)

The apocalypse may be upon us and hell might actually be freezing over. When else in his career has Cook been the clear-cut top play of the week at his position? (I have long been a Cook fan, but it has been a while, no?) Atlanta hasn't been nearly the sieve against tight ends it was early in the season, but it has still showed some vulnerability against the position during its second-half surge. With Nelson likely out again and Adams likely a bit hobbled from dual ankle injuries, Cook may be asked to take on a bigger role again. Hooper had a serviceable game (five catches, 41 yards) in the Week 8 meeting and is probably my favorite non-Cook option at the position. I would want some exposure to James and Bennett this week just to protect myself against the fluke touchdown either one might score, but I think I would cap my exposure to both players at 10 percent.

Key for kickers and defense/special teams units:
XP - Extra point
FG - Field goal
PA - Points allowed
TO - Total turnovers
TD - Defensive/return touchdowns



Defense / Special Teams
Player
DK $
DK Pt Total
Fuzzy's Pt Total
PA
Sacks
TO
TD
Patriots
4,000
8.0
7.0
16
2
2
0
Falcons
2,200
5.0
5.0
34
3
1
0
Steelers
2,300
3.0
3.0
34
1
1
0
Packers
2,000
2.0
2.0
38
2
0
0

With four strong offenses playing this weekend, there doesn't figure to be much in the way of fantasy points from D/ST units. Unsurprisingly, the best bet of the bunch is the Patriots, who will remain a threat for a kick-return touchdown as long as Dion Lewis remains in that role. Antonio Brown is obviously a playmaker and has been returning punts for a while, but it appears to me he has been told to be very "safe" doing so, as I don't get the sense he is looking to score with the same zest as most returners. In short, pay up for the Patriots D/ST in DFS this week when possible, but don't stress the decision too long. As far as I'm concerned, New England or Atlanta should see the highest ownership percentage this week, and it really shouldn't be all that close.


---
Doug Orth has written for FF Today since 2006 and been featured in USA Today's Fantasy Football Preview magazine since 2010. He hosted USA Today's hour-long, pre-kickoff fantasy football internet chat every Sunday in 2012-13 and appears as a guest analyst on a number of national sports radio shows, including Sirius XM's "Fantasy Drive". Doug is also a member of the Fantasy Sports Writers Association.