With all due respect to waiver columns all across this great fantasy land, too many of them are more reactive than predictive. That's OK for the vast majority of folks in free leagues who are playing for office bragging rights, but just about everyone who is playing for more than that can pick out the 8-105-1 line a receiver posted in last week's game from a box score and recommend him as a worthwhile addition.

I've played in money leagues for more than 15 years, many of them using free agent acquisition budget (FAAB) to claim players off waivers. Most of those same leagues require owners to spend part of their FAAB for any move whether owners claim players off waivers or after it has finished for the week (usually $10 in the latter case), so it is much more favorable to pick up players for a $1 when possible in order to save as much as possible for the high-ticket items that sometimes find their way in the free-agent pool.

The first step to bidding $1 on players is to identify those who are potentially two or three weeks away from making their impact. (In some cases, one week of foresight is enough.) How does one do this? Well, the easy answer is not everybody can do it, nor is very easy. Owners also need to understand there is much more failure than success when trying to accomplish this goal, so disappointment comes with the territory. It's easy to say owners need to look for obvious talent, but it goes much deeper than that. How much did the team invest in that player? Is the role he was drafted/acquired for still available? How great of a need does the team have at his position? These are just a handful of questions owners need to ask themselves.

Every season, I like to challenge myself to find some potential second-half difference-makers who should be available in all but the deepest of leagues. Some players were dropped due to injury, while others have been stuck behind a workhorse for the majority of the season. Whatever the reason may be for their lack of impact up to now, owners should always be willing to expand their knowledge base when it comes to players they either haven't heard of or don't get to see for whatever reason. One of the best feelings owners can have is turning a $1 FAAB bid into a regular starter for your team or trading him to another team so you can fill a position of need.

The following is a list of readily available players I believe can (and, in some cases, will) make an impact in November and December. Players are listed in the order I would recommend picking them up.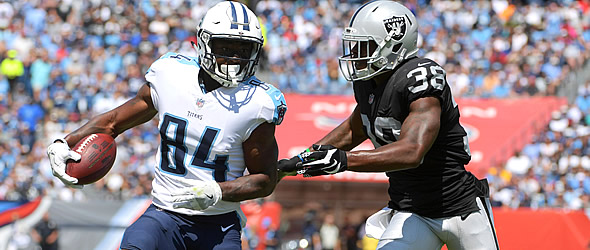 Davis is the best receiver on the roster. Expect him to see signficant playing time down the stretch.

The Somewhat Obvious
(Players who stand a solid chance of becoming a regular fantasy starter if/when they return from injury or find themselves as the next-in-line should the player ahead of them on the depth chart succumb to injury.)
WR Corey Davis, Tennessee
Remember all that depth Tennessee had at receiver this summer? Well, last week's 12-9 anti-climactic overtime victory over the winless Cleveland Browns provided just about all the information we needed in terms of why Davis can (and probably will be) important after the team's Week 8 bye. Tennessee tight ends and running backs (14) had twice as many catches as its wide receivers (seven) against a secondary missing Pro Football Focus' highest-graded cornerback (Jason McCourty). Need more damning evidence? Per NFL Next Gen stats, WR Rishard Matthews (2.6 yards) ranks 62nd, TE Delanie Walker (2.3) ranks 97th and Eric Decker (2.1) ranks 119th among 127 wide receivers and tight ends with at least 18 targets in the league in terms of how much separation they are creating at the time of catch or incompletion. (For the sake of reference, Decker did not qualify last year due to injury while Matthews' average separation was 2.2, while Walker's was 2.9.) While none of these players can be considered elite in terms of creating space for themselves, the fact that three teammates all rank so low in this metric suggests the coaching staff needs to be a bit more creative with scheming players open, be it via motion, using bunch formations or utilizing more "rub" concepts. Furthermore, the running game has been disappointing for the bulk of the season, so defenses aren't nearly as afraid of keeping defenders in coverage as they might have been last year.
Davis is not a burner and was not drafted to be one, so he isn't going to do much better separating from defenders than his teammates currently are. He is, however, a physical receiver in the Brandon Marshall mode who is big enough to win more than his fair share of contested catches and someone the coaching staff still has big plans for, even with him missing the entire preseason and five regular-season games (up to now). In other words, Davis can overcome a lack of offensive creativity. Considering the fact he missed so much preparation time, it was extremely impressive Davis not only started Week 1 but also attracted 10 targets. Think about that for a second: a small-school rookie barely practices with the team all offseason and is immediately inserted into the lineup. He sees targets on 13 of the 65 plays he participated in before aggravating his hamstring. It suggests the Titans think (know?) he is something special. The fact the team has been so cautious with his rehab and recovery is yet another good sign.
While his first three matchups coming out of the bye are far from ideal (Ravens, Bengals and Steelers), none of those three AFC North teams shadow nor do they have two corners consistently capable of going toe-to-toe physically with Davis. Of course, there will be bumps along the way as there is with any rookie, but Davis needs to be added in whatever leagues he is available. He could easily be a top-25 fantasy receiver in the second half of the season if he can stay healthy.
RB James Conner, Pittsburgh
Remember these numbers: 35, 15, 32 and 35. (If your memorization skills are really good, store these numbers away as well: 39, 25, 35 and 38. In case it wasn't fairly obvious to most, the two sets of numbers are the carry and touch totals, respectively, for Le'Veon Bell over the last four weeks. Perhaps unsurprisingly, Bell is one of only four players over the last 30 seasons to record 200-plus touches over the first seven weeks of the season.
Believe it or not, Conner is still getting a few touches each week and has been productive with those limited reps. With that said, the rookie is not a recommended add because he is all-world talent (although he doesn't get enough credit for the talent he does have), but rather because Bell is averaging 28.9 touches despite a slow day at the office in Week 1. (If we throw out the opener, Bell is averaging 31.5 touches over his last six contests.) The first average I cited puts him on track for over 462 touches - a mark topped by only one running back in league history (James Wilder had 480 in 1984). As great as that is for his fantasy owners, it is almost inevitable Bell is going to break down or wear out - if not both - at that rate.
A critic might suggest if Bell is such an easy target for me to attack, why don't I mention Leonard Fournette and Chris Ivory too, you know, since the former is running through brick walls too? To be fair, Fournette is about at as much of a risk to wear down in December as Bell is. With that said, the rookie is averaging almost 20 percent less work than Bell (24.2 touches) and will have enjoyed a two-week break by the time he sees the field again in Week 9. Getting back to the Steelers and their backfield, swinging a trade or picking up Conner - he should not be on the waiver wire in any competitive league - is simply playing the odds on a player with an injury history - through no fault of his own, I might add - and using a bit of common sense. Pittsburgh has been a one-back (speaking from a fantasy perspective) offense for about as long as OC Todd Haley has been calling the shot, and there's no reason to believe that would change since Conner himself was a workhorse in college. Furthermore, it's not as if third-stringer Terrell Watson (all 6-1 and 242-pounds of him) is a scatback who could serve as Conner's change-of-pace. While it may take a while for an investment into Conner to pay off, the odds are strong he will make at least one or two starts for his owners in fantasy before the end of the season.
WR Corey Coleman, Cleveland
Besides asking the obvious question as to why I have two young receivers with the first name of "Corey" - both injured in Week 2, no less - on this list, Coleman is another "Corey" who needs to be added in deeper leagues pretty soon. Like Davis, Coleman was very impressive in Week 1, scoring one of the four touchdowns Pittsburgh has surrendered to receivers through seven games. I suppose it is fashionable to suggest Cleveland's revolving door at quarterback nixes whatever chance the second-year receiver has of making a second-half impact, but let's first consider most of America probably can't name more than one Browns' receiver who has been a decent fantasy start for multiple weeks in 2017. Coleman is 1-for-1 in that regard, and the best thing about him is we already know he has the speed and athleticism to get open.
Whereas I believe Davis has a chance to be a league-winning type of player if he sees the number of targets I expect upon his return, I view Coleman as a high-upside WR3 type who can be a more than serviceable flex when he is eligible to play again in Week 11. Much like I started to do with Davis last week (in the few leagues of mine in which he was dropped), I am proactively adding Coleman this week and next in some of my leagues with 20-man rosters or IR spots. In those deeper leagues, potential waiver-wire gold does not usually fall into the laps of owners very often, so a 3-4 week stash is par for the course.
WR Dede Westbrook, Jacksonville
Much like Davis, Westbrook is a highly touted rookie in the AFC South who may be able to ascend to the top of his team's depth chart almost immediately if he remains healthy upon his return (Westbrook had surgery on a sports hernia on Sept. 12). In case you don't remember, the Oklahoma product led all players with 288 receiving yards during the preseason in spite of his injury. Also like Davis, the 2016 Biletnikoff Award winner and Heisman Trophy finalist fills a critical need, as the Jaguars lost their best downfield threat when Allen Robinson tore his ACL in Week 1.
While it has been well-established Jacksonville isn't going to throw the ball a lot (the Jags are averaging 28.3 pass attempts) or very effectively (team completion percentage of 58 percent), Westbrook is a big-play vertical threat who should complement the running game more than Allen Hurns or Marqise Lee. To give you some idea on how much someone with his skill set is needed, Jacksonville connected on two pass plays of 30 or more yards through six games before hitting on three against the Indianapolis Colts' struggling defense in Week 7. It goes without saying any offense with Fournette in the backfield should be able to create big plays in the passing game on a fairly regular basis. It's not realistic to expect Robinson-like numbers from Westbrook when he is able to return from IR in Week 9 just because he should inherit a similar role, but it is not unthinkable to suggest he could become the team's most productive receiver in relatively short order. Lack of consistent volume will be his biggest obstacle, but it is reasonable to think he could be the focal point of the Jacksonville passing game before the end of the season if he shows well early. I hesitate to say he'll see enough targets consistently to emerge as an every-week starter, but there's enough talent here to believe it is a possibility.
The Less Obvious
(Complementary players who may be able to achieve flex value in deeper leagues if they simply continue to improve in their current role.)
RB Austin Ekeler, LA Chargers
Back in early September, I'm going to assume I introduced many of you to Ekeler. Less than two months later, it appears he is on the verge of overtaking Branden Oliver on the depth chart (if he hasn't done so already since Oliver was a healthy scratch in Week 7). Ekeler flashed in a big way during the preseason by looking like a faster and more athletic version of Danny Woodhead. Here's a bit of the background I provided on him last month:
"Before we can get to why Ekeler could have an impact on your season, we must first look at what he has already accomplished. The 5-9, 195-pounder was an absolute workhorse at Division II Western State, breaking a number of school records by logging 932 carries for 5,857 yards and 55 touchdowns. He signed as an undrafted free agent in mid-May and proceeded to finish the exhibition season with 87 yards on 15 carries and 72 yards on five catches."
Let's be clear about this: Ekeler is not stealing Melvin Gordon's job or someone who he will split carries with in 2017. The reason Ekeler is included here is because Gordon has yet to play a full season, and the undrafted rookie has already shown enough in limited action to believe he is worth scooping up as a handcuff. All anyone can ask of a reserve is to be productive with his opportunities when he is behind an established starter, and that is exactly what he has done to this point (13 carries for 74 yards and a touchdown, 13 catches for 89 yards and a touchdown). I believe a Woodhead-like role is perfectly reasonable for what owners should expect if Gordon misses game action.
TE C.J. Fiedorowicz, Houston
At the very moment Brock Osweiler was traded to Cleveland this spring, Fiedorowicz was a player I no longer wanted in fantasy because I knew owners would draft him higher than he should go based on last year's numbers. Unfortunately, he suffered a concussion in Week 1 and was promptly dropped in most leagues. While my opinion of him as a regular contributor in our little hobby hasn't changed all that much, he is still a complete player in the real game and someone who will attract targets as the regular starter at his position in Houston. The variable that has changed the most, however, is Deshaun Watson has made this offense relevant again.
Fiedorowicz is practicing again and eligible to come off IR in Week 10. Houston tight ends haven't been overly productive in his absence, and I don't expect Fiedorowicz's return to change that fact all that much. What I am sure of is the Iowa product will see the bulk of playing time, and once defenses begin to back up their safeties and start using a linebacker or extra safety to spy on Watson, the middle of the field should open up. Owners obviously shouldn't expect last year's production, but there is potential for him to be a matchup-based TE2 down the stretch if my logic about how defenses will play Houston moving forward holds up.
WR Dontrelle Inman, Chicago
Less than 24 hours before this article will hit the internet, Inman was not even remotely on the fantasy radar or even a candidate to be included in this piece. Considering the fact he ended up with a team coming off a game in which it attempted seven passes, his fantasy stock may not be improving all that much. With that said, the 6-3, 205-pound Inman gives the Bears' receiving corps some much-needed size, and he has proven to be productive when given the opportunity. It should go without saying Inman isn't a player most owners need to concern themselves with this season, if only because it is always a lot to ask for a player to learn enough of a playbook (much less build chemistry with the starting quarterback) following a midseason trade. However, it could be argued Inman goes from being the fifth-best receiver with the Los Angeles Chargers to the top receiver in Chicago. That alone makes him at least worth some consideration in the deepest of leagues.
WR Demarcus Robinson, Kansas City
Without fail, injuries open doors for talented backups every NFL season. Robinson started to make a name for himself in Week 7 after Chris Conley was lost for the season in Week 5. Conley is immensely talented but wasn't exactly carving himself out a fantasy-friendly role before his injury, so it would be unrealistic to expect Robinson to do so given this opportunity. With that said, the 2016 fourth-round pick played a season-high 61 snaps in Week 7 and bested any level of production Conley achieved over his five games last week, posting five catches for 66 yards. Since Conley's injury, Robinson has been on the field for 107 of the team's 112 offensive snaps. Perhaps by themselves, those numbers aren't particularly special, but HC Andy Reid also praised the Florida product during the offseason for his physicality and ability to "go after (the ball)" while also noting he was "the young one that has come up here a little bit and had a pretty good offseason."
Maybe this is another case where a coach's praise amounts to nothing in the fantasy world. Robinson also isn't going to crack the top three pass-catchers on the roster this year (Travis Kelce, Tyreek Hill and Kareem Hunt), so there's not a ton of upside here. But while his size and athletic profile also aren't the greatest, he manages to generate yards after the catch, which makes him a nice complement to the aforementioned "Big Three" in Kansas City. Owners in most leagues don't need to add him anytime soon, but his name is one to keep in mind as someone capable of providing 10 PPR fantasy points in any given week when the waiver wire in deep leagues starts to look really barren.
QB Teddy Bridgewater, Minnesota
Much like life, the NFL has a way of coming full-circle. Last season, it was a devastating knee injury to Bridgewater that opened the door for Sam Bradford to enjoy a career year. This season, it is Bradford's knee injury that may open the door for Bridgewater to prove he is a long-term answer for some team, be it the Vikings or someone else. What is fairly obvious at this point - in case it wasn't before this season - is that Case Keenum is no more than a backup quarterback in the league. Bridgewater is remembered by most as an unspectacular low-end starting quarterback, but that's a tough label to slap on a player who had a miscast Mike Wallace and then-rookie in Stefon Diggs as his top options in 2015 and much less to work with in 2014. Will he ever be an elite option? Probably not. But if quarterback is as much of a mental and leadership position as I believe it is, Bridgewater is going to be a serviceable quarterback at the very least in the near future, especially if he gets to play with Diggs, Adam Thielen, Kyle Rudolph and Dalvin Cook (assuming Teddy remains in Minnesota past this season).
At this point, it's getting harder to believe Bradford is going to contribute very much - if at all - this season, and Keenum is doing just enough to get by while the defense is making it stand up. With the best supporting cast he's had (again, assuming he is cleared at some point soon), Bridgewater can give the offense the same quick decision-maker at quarterback Bradford proved to be in 2016. Will it lead to fantasy relevancy at some point? I can't tell you for sure; I have access to the same information most of my readers do in terms of his recovery. I'll simply say if he is a full-go at some point, he could very easily take and keep the starting job in Minnesota. Assuming that happens, I think it is entirely possible he could be useful in fantasy before the end of the season.
The Less-Than-Less Obvious
(Players whose chances of making a fantasy impact are slim but not necessarily nonexistent.)
TE Vance McDonald, Pittsburgh
McDonald has become a bit of a forgotten man, as Jesse James' Week 1 two-touchdown explosion is the first thing that comes to mind when most owners think about any Steelers tight end. While James is still seeing the majority of snaps at the position (no fewer than 50 in any week), McDonald's playing time is trending upwards lately. More notably, James has not been targeted over the last two games while McDonald has seen five. While five targets over two games hardly qualifies as big news, he was acquired right before the start of the season for a reason. Unlike James (who profiles more like Heath Miller in that he is a serviceable short-range option), the ex-49er is more a field-stretching tight end in the Ladarius Green mode. As we saw toward the end of last season, there is room for that kind of player in this offense, particularly if Martavis Bryant cannot be counted upon anytime soon.
Similar to the case I laid out for Inman earlier (only in this case, our subject has had the benefit of being with his new team for two months already), McDonald needed time to learn the playbook and earn the trust of his quarterback. Another point to be made here that most owners don't consider: teams evolve over the course of the season. They self-scout during their bye weeks and roles grow/diminish as players sharpen their skills or fail to deliver on their promise. An offense that relies so heavily on Bell and Brown in Week 8 may be less inclined to do so in December if players like JuJu Smith-Schuster and/or McDonald prove to be trustworthy.
WR Trent Taylor, San Francisco
As deep PPR options go, Taylor is almost a poor man's Adam Humphries, who is a poor man's Danny Amendola, so we're digging fairly deep here. The upcoming schedule after this week sets up to be very difficult for the Niners, and for Pierre Garcon in particular. After Philadelphia in Week 8, Garcon should see plenty of Patrick Peterson, Janoris Jenkins and Richard Sherman over his next three games. Chicago and Houston in Weeks 13 and 14 are no slouches either, and Garcon concludes the fantasy regular season with the Jacksonville Jaguars' elite secondary. What it all means is that Marquise Goodwin, Aldrick Robinson and Taylor should be plenty busy with San Francisco likely facing a number of negative game scripts. Taylor spends a lot of his time in the slot, so he is the most likely candidate to see the best matchups on a regular basis. When approached from that perspective, his road to fantasy relevance isn't all that improbable. He has seen at least five targets in three of the last four weeks, including 11 in Week 4.
Honorable mentions: RB Matt Dayes, Cleveland; RB Rod Smith, Dallas; WR Cody Core, Cincinnati; WR Keelan Cole, Jacksonville; TE Logan Thomas, Buffalo
---
Doug Orth has written for FF Today since 2006 and been featured in USA Today's Fantasy Football Preview magazine since 2010. He hosted USA Today's hour-long, pre-kickoff fantasy football internet chat every Sunday in 2012-13 and appears as a guest analyst on a number of national sports radio shows, including Sirius XM's "Fantasy Drive". Doug is also a member of the Fantasy Sports Writers Association.