It's Week 6 and we are almost at the halfway point of the 2015 fantasy regular season. Now is not the time to sit back and relax. Trends are becoming recognizable and the smart fantasy owner adjusts as early as possible so their changes will have more time to produce significant results.

Truths

Truth, when not sought after, rarely comes to light.

- Oliver Wendell Holmes

1) Eli Manning is a better fantasy QB than older brother Peyton Manning.

I posted that bold prediction in the first week of August and it's turned out to be 100-percent true. Even without a healthy Victor Cruz, the younger Manning is averaging 283.4 ypg through the air and has amassed 10 touchdowns against just two interceptions. Meanwhile, 39-year-old Peyton has gone from five-time MVP to "game manager" despite staying relatively healthy (246.8 ypg, six TDs, seven INTs). Peyton is no longer a plug and play option though after the team's bye in Week 7 Denver has a favorable schedule so don't trade him away for cents on the dollar.

2) Now is the perfect time to "sell high" on Cleveland's Josh McCown.

Josh McCown led all quarterbacks with 40 fantasy points last weekend and has thrown for more than 300-yards in each of the past three games along with seven touchdown passes. His numbers look great, but check out his next three opponents and you won't want to start him in any of the games. He'll face Denver, St. Louis and Arizona. They have combined to pick off 23 passes while yielding just 15 touchdown passes and are all top-6 against opposing fantasy quarterbacks. "Sell" McCown while his value is at the highest point of his 13-year career.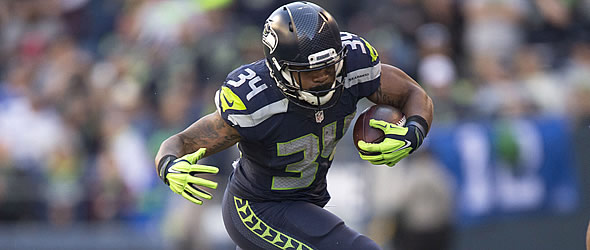 Back to the bench: Thomas Rawls will likely take a back seat when Marshawn Lynch returns in Week 6.

3) Seattle's Thomas Rawls will be the next DeAngelo Williams.

After his second 100-yard rushing game of the season, Thomas Rawls will likely take a back seat to returning Marshawn Lynch just as Williams did upon the return of superstar Le'Veon Bell. Though Todd Haley promised to keep Williams involved in the offense, it hasn't happened and Rawls will see the same treatment if Lynch returns from his hamstring injury on Sunday as expected. Rawls will become the next Robert Turbin - who as backup to Lynch from 2012-14 never saw more than 80 rushing attempts in any season. Plus, Fred Jackson is there to pick up the receiving work.

4) Kickers do matter.

It's hard to predict which place-kickers will emerge each season, but it does matter. If you chose Adam Vinatieri on draft day you are averaging 7.9 ppg less than if you selected Stephen Gostkowski and 5.8 ppg less than Brandon McManus. How many weeks have you lost by five points or less? Don't be afraid to jettison the "name" kicker for a hot kicker. Chandler Catanzaro is owned in less than 50-percent of all leagues, but is a top-10 kicker this season. So is Cairo Santos and Graham Gano. Why are you still holding onto Vinatieri, Greg Zuerlein and Dan Carpenter?

5) Over the past three weeks, the best fantasy TE has been Gary Barnidge.

Gary Barnidge has caught 20 balls for 319 yards and three scores over the span, including one between his legs for a touchdown against Baltimore. The Browns tight end is only owned in about half of all fantasy leagues, but don't go overboard trying to acquire him. Just as Josh McCown will have a tough time against his next three opponents, so will Barnidge. The Broncos, Rams and Cardinals are all top teams against opposing tight ends too.

Lies

Beware of the "half-truth." You may have gotten hold of the wrong half.

- Unknown source

1) Calvin Johnson is still Megatron.

Even considering he's faced two of the toughest cornerbacks in the league over the past two games (Richard Sherman and Patrick Peterson), Calvin Johnson hasn't looked like the wideout who has averaged 1,429 yards and 10 touchdowns from 2008-13. Part of that is the addition of a quality receiver across from him (Golden Tate) and part is the dramatic fall in production from his quarterback (Matthew Stafford), but Johnson simply hasn't looked like an upper-echelon fantasy receiver. He's currently ranked 20th in total points (70.20) and 25th in fantasy points per game (14.04). That's WR2 production … at best. The Lions schedule gets a lot easier, so Johnson's value should improve, but I doubt it will rise to elite status.

2) Devonta Freeman will continue to produce at his current level.

Nobody can keep up the pace Devonta Freeman has produced over the past three games – 37.6 fantasy ppg. In Chris Johnson's magical 2009 season he rang up 421 fantasy points (26.3 ppg). In 2012 Adrian Peterson produced 23.5 ppg. Hey, in 1942 the great Don Hutson was not only a wide receiver but the Green Bay Packers' place-kicker and he could only average 24.45 ppg (assuming anyone had played fantasy football 73 years ago). Freeman has a favorable schedule, but the return of Tevin Coleman could eat into his total as could the team deciding to ease Freeman's workload as they think about a deep playoff run.

3) Matt Forte's struggles in the passing game are due to the offensive coordinator.

In Week 4, I blamed OC Adam Gase for Matt Forte's reduced role in the passing game. That turned out to be one of those "half-truths." The problem was also Jimmy Clausen at quarterback. Since Jay Cutler returned from his hamstring injury in Week 4, Forte's role in the passing game has risen significantly. He averaged 3.4 targets per game under Clausen and 6.5 targets with Cutler at the helm this season. That's still below last season's 8.1 targets per game, but not horrible. Forte has three above average matchups on the schedule over the next four weeks (he's on bye in Week 7).

4) Jameis Winston is a turnover machine who is killing the Bucs and fantasy owners.

OK, it's true he's a turnover waiting to happen (seven interceptions, three fumbles in five games), but he's also producing better numbers than McCown and Mike Glennon did last season or Glennon and Josh Freeman in 2013. The rookie is averaging 7.7 yards per attempt and 234.8 ypg through the air. Winston is ranked 15th in fantasy points ahead of the likes of Sam Bradford, Derek Carr, Stafford and Peyton Manning. And the threat of Winston seems to have opened up the running game for Doug Martin, who is having his best season since 2012.

5) Charcandrick West will be the most popular pickup in Week 6.

Don't get caught up in the hype. Charcandrick West, a second-year back out of Abilene Christian, has been the backup to Jamaal Charles over the past few games. He inherited the backup job when Knile Davis suffered an injured knee in the season opener. West may be the starter in Week 6 and if you only need a back for one week he's your guy, but there are many, this writer included, who think Davis (career 5.8 ypc) is the better fit for the Chiefs' offense and will eventually win out.


---
Steve Schwarz served as the fantasy sports editor of The Sports Network and is the 2014 FSWA Football Writer of the Year.