It has been a tough few weeks for fantasy owners as the injury bug has bitten a large number of highly-valued targets. But the season goes on and fantasy owners will have to adjust to life without Le'Veon Bell, Arian Foster, Steve Smith and Keenan Allen.

Truths

Truth lives on in the midst of deception.

- Friedrich Schiller


1) No offense in 2015 has been as consistent as the New England Patriots.
There is nothing deceptive about this statement. Since going scoreless in the opening quarter against the Pittsburgh Steelers, the Pats have scored in 27 consecutive quarters. In fact, they have scored double-digit points in the second quarter of all seven games to date. Bill Belichick and Tom Brady obviously know how to make the correct in-game adjustments. Don't expect their next three opponents to slow them down (Washington, New York Giants, Buffalo Bills).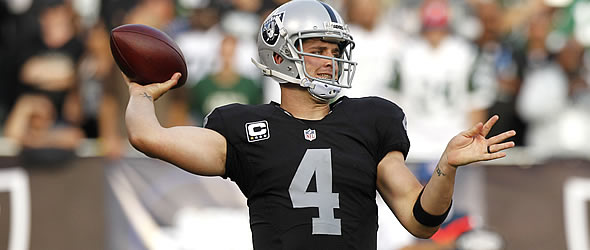 Derek Carr is sporting a 15:3 TD-to-INT ratio and has seven touchdowns in his last two games.
2) Derek Carr is quickly turning into a top fantasy quarterback.
It's amazing what a little help will do for a talented young quarterback. In his last six games, Carr is averaging 288.6 ypg and has thrown 15 touchdowns against three interceptions. Opening day 2014 his starting running back was an over-the-hill Maurice Jones-Drew and his receivers were Denarius Moore, Rod Streater and James Jones. He lost 19-14 to the New York Jets. Last Sunday, surrounded by better talent in running back Latavius Murray, a budding star in wideout Amari Cooper and veteran Michael Crabtree, Carr threw for 333 yards and four touchdowns to beat the same Jets 34-20. Carr should be "untradeable" in dynasty leagues
3) Speaking of untradeable, do I have to tell you that Todd Gurley should also be on that list?
As a starter over the last four games, Gurley is averaging 141.5 ypg and has scored six times (three receiving). He's averaging 20.2 FPts/G over the four-game stretch. That's better than Devonta Freeman. We knew Gurley was the most talented running back coming out of this year's draft, but he was recovering from ACL surgery, so his rise to the elite running back level has been much faster than expected. With Le'Veon Bell sidelined for the remainder of the season, there is no current running back that I would rather have in my lineup. Gurley's explosiveness reminds me of a former Rams running back - Eric Dickerson.
4) In the last two weeks, four running backs have become starters due to injury and I rate DeAngelo Williams the best of the group.

The four in my evaluation are; Williams, Charcandrick West, Alfred Blue and Jeremy Langford. Williams already proved his worth when with Bell suspended for the first two weekends he rushed for a combined 204 yards and three touchdowns. West is a close second and I now understand why head coach Andy Reid likes him better than backup Knile Davis. West is as good a runner and a better receiver than Davis. Blue is the lead back in an RBBC and Langford likely only has the job in Chicago for a couple of weeks.
5) No one would blame you if you "sold high" on Stefon Diggs.

Diggs has put together three good games and is averaging almost 111 ypg over that span. His teammate, Mike Wallace, said he reminded him of a former teammate and current fantasy stud - Antonio Brown. That has Diggs' perceived value through the roof and his trade value will probably never be higher than it is this week. He'll face a tough Rams defense on Sunday and likely be getting a lot more attention from defensive coordinators down the stretch. The added attention at the wideout should open up things for Adrian Peterson. Plus, I was expecting better production from Teddy Bridgewater who seems to have a limited upside as he's only scored over 20 fantasy points one time this season.

Lies

Popular opinion is the greatest lie in the world.

- Thomas Carlyle

1) Popular opinion says that Aaron Rodgers is the best quarterback in the NFL (or at worst second to Brady) and a fantasy stud.
Not without Jordy Nelson he's not. Rodgers is not putting up the passing yards we have come to expect and as a fantasy quarterback he's been deceptively mediocre in 2015. From 2008 through 2014, Rodgers averaged 282.5 ypg and never passed for less than 252.4 ypg. This season he's averaging just 224.0 ypg through the air. Rodgers is currently ranked 11th in fantasy quarterback production at 22.5 ppg which is behind such fantasy "stars" as Blake Bortles and Tyrod Taylor. It's not a coincidence that this is the first season he's been without Nelson. The last time Nelson missed significant time (four games in 2012), Rodgers averaged just 248 ypg in his absence. It appears Rodgers needs Nelson to put up great fantasy numbers and unfortunately that won't happen again until 2016.
2) Tight end Ben Watson's best years were with Brady in New England.

Watson was certainly most visible when he was with the Patriots, but heading into this season two of his top three reception and yardage totals were with the Browns. Unfortunately, when you play football in Cleveland you are, for the most part, invisible to fans. Grabbing the starting role in New Orleans and having Drew Brees at quarterback this season, Watson has reappeared on fantasy radar screens and is on pace to post career highs on receptions, yards and touchdowns. He's ranked ninth in FPts/G (8.2) and sixth in total points at the tight end position. Watson is only owned in about 50 percent of all leagues.

3) The addition of Jimmy Graham to the Seattle Seahawks will make them a dynamic offense.

Not so much. To date this move hasn't helped Graham owners or the Seahawks. Sure, we thought Graham's fantasy value would be reduced, and it is (55-450-2), but the damage to the Seahawks offense was unexpected. The Seahawks are averaging 3.7 ppg less in 2015 than 2014 and 5.2 ppg less than 2013. Their passing yards per attempt has fallen from 6.6 to 6.5. Quarterback Russell Wilson has been sacked a league-high 31 times against 234 passing attempts. Meanwhile, their rushing average has dropped more significantly - from 5.3 ypc to 4.6. Perhaps the loss of center Max Unger (sent to New Orleans in the Graham deal) is much greater than expected. It's hard to picture the Seahawks offense significantly improving over the final eight games.
4) The New York Jets are a great defense.

In real life they are, but not for fantasy owners. Sure, they are yielding a league-low 78.1 ypg on the ground and are sixth in passing yards allowed per game (240.1), but they rank an ugly 27th in FPts/G (3.7). Despite 15 turnovers, which ranks sixth-best, the Jets have yet to convert any of them into a touchdown and have no kick returns for a score. They also rank 29th in sacks (11) through seven games. By contrast, the Denver Broncos lead the D/ST category earning 9.9 FPts/G having manufactured four touchdowns from their defense and a league-leading 28 sacks.
5) Steve Smith will return to the Ravens next season.

He's saying the right things publicly, but I don't believe down deep he thinks he will return to the field in 2016. Smith has been a great fantasy player over the years with both Carolina and Baltimore and on Sunday cracked the top-10 all-time in receiving yards (13,932), but at 36-years-old with 15 years of wear and tear on his 5-foot-9 frame, I think it's the end of the road. Fantasy owners wish every player would have his heart and his inner fire.


---
Steve Schwarz served as the fantasy sports editor of The Sports Network and is the 2014 FSWA Football Writer of the Year.