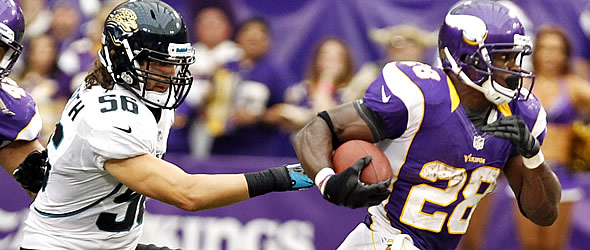 Catching a significant number of passes is a requirement for elite fantasy RB status, except for AP.


I once called Minnesota Vikings star running back Adrian Peterson, Superman, after his unbelievable nine-month return from an ACL injury and subsequent magnificent 2000-yard 2012 season, but what he really is … is a dinosaur. A relic of a bygone era. Because Adrian Peterson doesn't catch a football very well.

In fact, most of the time when it's thrown his way, it's because the Vikings' quarterback is in panic mode and in desperation just chucked it to the last guy he could find with an eligible number. Over his last four full seasons (we aren't counting his one-game 2014 season) he's caught 117 passes and rushed the ball 1,183 times. Which means his rushing attempts-to-receptions is a 91%-to-9% ratio.

Yet "AP" still makes it work. His RB fantasy rankings over the last four seasons are; second, first, sixth and eighth.

For most every other non-Krypton born running back, however, catching a significant number of passes is a requirement for elite status in the fantasy world.

Analyzing the last five seasons, a back who finishes as a top-20 fantasy running back has an average ratio of 85.5-to-14.5. And in PPR leagues that ratio drops to 82.9-to-17.1.

Of course, there are a few players who skew the numbers … like Peterson. Last season, four players in the top-20 had a reception percentage of under 10 percent – AP, Todd Gurley (5th), Jeremy Hill (14th) and Jonathan Stewart (16th). Which means 80 percent of the top-20 fantasy backs are above that 10-percent floor number, including the 2015 No. 1 fantasy running back Devonta Freeman at 21.6%.

Let's see who will be the top pass-catching backs among the elite contenders in 2016. One-dimensional backs like Theo Riddick, Charles Sims and Darren Sproles, who don't see enough running opportunities, need not apply.

1) Jamaal Charles, Kansas City – Over the past three seasons, Charles has averaged 109.8 yards, 3.7 receptions and 1.1 TDs per game. As long as "risk averse" Alex Smith is his quarterback, Charles will continue to see a heavy workload both on the ground and through the air. Charcandrick West and Spencer Ware could see plenty of preseason action, but Andy Reid has always been a one-back coach.

2) Lamar Miller, Houston – Miller might have been the most underused talent in 2015 at Miami and still posted 1,269 yards from scrimmage, including 47 catches for 397 yards. Now with the Texans, he figures to reprise the Arian Foster role and when Foster was healthy that was frequently a top-five value.

3) Le'Veon Bell, Pittsburgh – Bell was in the process of becoming the league's best back (he was No. 1 in 2014 PPR leagues, No. 2 in standard leagues) until an MCL/PCL injury forced him to the sidelines early in 2015. Before I hand him the top spot again, he must prove he's back to 100 percent, because his hard-cutting style will be the ultimate test to the repaired right knee. The Steelers might be conservative with Bell early in 2016 because they can rely on a quality backup in DeAngelo Williams.

4) Devonta Freeman, Atlanta – Freeman led the running back position in 2015 averaging 16.5 FPts/G, but most of the production was over the first eight games (709 yards rushing, 353 yards receiving, 10 TDs). His league-leading 10 red zone TDs in 49 attempts hid a mediocre catch percentage (75.3%).

5) David Johnson, Arizona – The rookie out of N. Iowa turned out to be a dynamic offensive talent. In his second season he'll have to prove that what we saw over the final five games (658 combined yards, 5 TDs) can be reproduced over 16 games with defenses game-planning against him. His 63.2-catch percentage was second-lowest among 2015 top-20 backs.

6) Todd Gurley, St. Louis – Gurley and Peterson were both top-five fantasy backs in 2015 while not very proficient in the receiving department. In fact, over the past five seasons, Gurley (2015), Peterson (2015), Marshawn Lynch (2011, 2012) and Alfred Morris (2012) are the only runners to finish top-five with less than 10% of their touches in the passing game. However, at Georgia, Gurley was a fairly good receiver (65 receptions in 30 games) and figures to improve in this area in season two. The addition of a talented quarterback, rookie Jared Goff, won't hurt either.

7) Mark Ingram, New Orleans – It must be fun having Drew Brees as your quarterback. Despite a torn rotator cuff in his shoulder which cost him the final four games of 2015, Ingram caught a career-best 50 balls and rushed for 769 yards and six scores. In 2016 he'll likely see more rushing work with backup Khiry Robinson gone, but at the expense of some of the receiving load to C.J. Spiller and Travaris Cadet.

8) Duke Johnson, Cleveland – Did anyone outside of Cuyahoga County, Ohio see how good Johnson was last season? Probably not. The Browns' RB caught 61-of-74 targets (82.4%) for 534 yards and a pair of scores. If Isaiah Crowell falters and falls into a red zone role, Hue Jackson could turn Johnson into a three-down back making him a top sleeper. It's worth watching during the exhibition season.

9) Jeremy Langford, Chicago – Langford caught 22 passes last season, but he was playing behind the best in the business - Matt Forte. Hopefully, he learned something because with Forte in New York, Langford has a chance to become a workhorse back. First, however, he'll have to fix a couple of problems. He led all running backs in drops last season (8) and didn't pass block very well. Good thing the Bears don't have many other viable options so Langford could be allowed to develop into a 50-catch back.

10) Matt Forte, New York Jets – Wideouts Brandon Marshall and Eric Decker caught a league-high 52% of the team's passes, showing a huge need for Forte's abilities. A premier pass-catcher out of the backfield for eight seasons, Forte has a lot of wear and tear on his 30-year old body. That's the magic number when backs usually begin to decline. I'm expecting another newcomer to New York, Khiry Robinson to take some of the running workload away from Forte, but the former Bear should continue to be a top receiver which the Jets desperately needed.

11) Justin Forsett, Baltimore – Even before the broken arm ended Forsett's 2015 season, fantasy owners were disappointed with his results. But not because of his receiving ability, he was averaging 3.1 receptions per game. It was the low touchdown total which caused his fantasy downfall. He turns 31 in October and will likely be in a fight for his job with Buck Allen and talented rookie Kenneth Dixon so consider him on a short leash.

12) Doug Martin, Tampa Bay – We saw Martin rebound in 2015, looking a lot more like his rookie season than 2013 and 2014. His 33 receptions in 2015 were respectable, but the team has a much better receiving back in Charles Sims (51-561-4). Also concerning is Martin's fumbling issues.

13) Danny Woodhead, San Diego – Consider just how good a receiver Woodhead must be to finish 12th in fantasy scoring despite rushing for just 335 yards and three touchdowns. Still, the expected improvement from second-year RB Melvin Gordon could cut into Woodhead's statistics and leave him struggling to get back into the top-20 in 2016.

14) Dion Lewis, New England – Lewis practiced without a brace during the second week of June, but still has a long way to go before we can declare him ready to help your fantasy lineup in Week 1. His November ACL surgery means we likely won't see him at all in preseason. He was a dynamic offensive weapon for the first seven games last season and when finally healthy should be one again in 2016. Think around Week 5 when Tom Brady returns. Coincidence? I think not.

15) T.J. Yeldon, Jacksonville – Yeldon only needed to improve his red zone production (2-for-24) to become a RB1 for fantasy owners. Alas, the Jaguars either didn't see it happening or weren't willing to wait. The addition of 6-foot, 222 lbs. Chris Ivory (6-for-39 in the red zone) to Jacksonville's backfield will result in turning Yeldon into a third-down receiving option. Goodbye fantasy value.

---
Steve Schwarz served as the fantasy sports editor of The Sports Network and is the 2014 FSWA Football Writer of the Year.