In the "early days" of fantasy football, the most popular plan was to get your backfield set before looking elsewhere. But we're not in Kansas anymore, ToTo. Actually some still are, right Boss?

The 21st-century game of football has evolved into an aerial show. No longer do teams "run to set up the pass." The passing game has become the key to victory and the running game feeds off of the pass. And runs out the clock.

Here's why.

Rules changes, enacted by the league, are a big part of it. They've made passing easier than running the ball. The no-contact rule on receivers beyond five yards from the line of scrimmage was finally enforced. Hand-check a receiver, sometimes just touch him and the flag comes out. Protection of receivers going over the middle in 2009 helped too. Head-hunting is being legislated out of the game.

Coaching staffs have changed as well. They are more aggressive. More willing to take a chance on the big play. It helped that the proliferation of the spread offense in high schools and colleges have made quarterbacks better at reading defenses and more ready to play when they enter the league.

All these changes helped the passing game league-wide. Just how much? See the first chart below. From 2006 to 2015 passing yards are up 19 percent and still rising. Passing touchdowns have jumped 29.9 percent. Rushing yards have been dropping while rushing TDs stayed consistently around the 400-mark until the last two seasons.


Passing vs. Rushing: 2006 - 2015
Year
Pass Yds
Pass TDs
Rush Yds
Rush TDs
2015
124,839
842
55,724
365
2014
121,247
807
57,002
380
2013
120,626
804
57,795
410
2012
118,418
757
59,349
401
2011
117,601
745
59,978
400
2010
113,450
751
58,607
399
2009
111,851
710
59,739
429
2008
108,177
646
59,370
476
2007
109,722
720
56,790
386
2006
104,861
648
60,061
424

Individually, it's easy to see in chart No. 2 that 4,000-yard, 30-TD throwing quarterbacks, once a luxury, are now available to every fantasy owner in a 10-team league. So obviously, there is no need to rush to get your quarterback at the expense of other positions.

Quarterbacks
Wide Receivers
Running Backs
Year
≥ 4000 Yds
≥ 30 TDs
≥ 1000 Yds
≥ 10 TDs
≥ 1000 Yds
≥ 10 TDs
2015
12
11
22
10
7
5
2014
11
9
21
11
13
2
2013
9
5
23
10
13
5
2012
11
5
19
9
16
8
2011
10
5
17
3
15
8
2010
5
5
16
10
17
8
2009
10
4
20
6
15
12
2008
6
3
21
6
16
12
2007
7
4
20
9
17
6
2006
5
1
19
5
22
9
2005
2
1
19
7
16
9
2004
5
4
23
10
18
10
2003
2
1
14
8
18
10
2002
4
0
22
4
17
10
2001
2
3
25
4
15
7
2000
2
3
16
5
21
9

Thousand-yard rushers are still out there, but look how hard it is to find a running back who will rush for 10 touchdowns. Shouldnít they be your priority?

Thatís where fantasy leagues themselves have made a difference. The proliferation of PPR leagues (points-per-reception) has given another big boost to the value of receivers and tight ends at the expense of running backs, except for those with really good hands.

Itís easier to find two 1,000-yard receivers than two running backs. And for the risk-averse, itís more likely that you will be right when you select a receiver.

Based on the numbers, fantasy owners should select two receivers and one running back in the first three rounds, ignoring quarterbacks, tight ends (except for Rob Gronkowski) and obviously kickers and defenses.

Hey itís easy to draft Antonio Brown and expect big things, itís another to expect a 1,000 yards from a guy who hasnít done it before. Or hasnít done it lately. So the million dollar question is: Which receivers will join the elite list and who will drop out?

First off, I donít believe any rookie receiver will hit the plateau. Corey Coleman (Cleveland) and Sterling Shepard (New York Giants) might get the closest, but neither will hit the mark.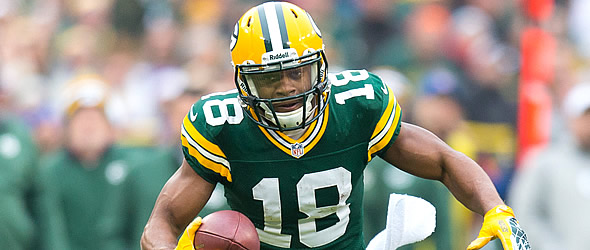 Back in his role as the Packers' No.2 wideout, Randall Cobb is a good bet to crack the 1000-yd mark.
2015 sub 1,000-yard receivers who will crack the mark in 2016

1) Randall Cobb, Green Bay (79-829-6)

Cobb wasnít up to be ďthe man, in 2015Ē but now that Batman (Jordy Nelson) is back, he can once again be a great Robin. As the second option, Cobb is tough to stop and even if Nelson isnít 100%, just the threat of him going deep will open up the field for the shifty Cobb.

2) Marvin Jones, Detroit (65-816-4 in Cincinnati)

Jones isnít Calvin Johnson, who averaged 81-1291-9 for his career, but heís a better receiver than Golden Tate and will show it this season. Heís a touchdown maker and a better deep threat and will push Tate into the possession receiver role. I think his 74.1 ADP is vastly undervalued.

3) Alshon Jeffery, Chicago (54-807-4)

This one is simply about health. If he plays 16 games at his current pace heíll post 79-1169-8. And that was while sharing the spotlight with Brandon Marshall for three of four seasons.

4) Keenan Allen, San Diego (67-725-4)

This is another easy one. He was blowing up scoreboards before his season-ending lacerated kidney. He only played eight games so doubling last season would produce an incredible 134-1450-8. He wonít hit those lofty totals after the addition of Travis Benjamin in the off-season, but he should be a top-10 fantasy receiver.

5) Dez Bryant, Dallas (31-401-3)

Bryant had a double whammy Ė he hurt his foot and the only viable quarterback on the Dallas roster also missed time. In fact, he and Tony Romo only played in three games together last season. Bryant should be healthy this season. More importantly, the Cowboys have found what appears to be a decent backup in rookie Dak Prescott (Mississippi State) should/when something happens to Romo.

2015 1,000-yard receivers who will miss the mark in 2016

1) Demaryius Thomas, Denver (105-1304-6)

Itís not going to be pretty in Denver. At least not when the Broncos are on offense. Thomas struggled with the inferior quarterback play of Peyton Manning and Brock Osweiler last season and under Trevor Siemian/Mark Sanchez/Paxton Lynch itís likely to be worse. The newly run-oriented Broncos will not target him 177 times and if he wants any chance to reach the 1,000-yard mark he better break a lot of wide-receiver screen passes for big yards.

2) Emmanuel Sanders, Denver (76-1135-6)

See above.

3) Larry Fitzgerald, Arizona (109-1215-9)

Fitzgerald produced monster numbers last season, being the short-yardage, stick-moving, touchdown-making option that the Cardinals relied on constantly. But it took its toll on his 32-year-old body. Check his final six games and you will see he didnít crack 66 yards in any of the games and scored just twice. If I was the Arizona coaching staff Iíd be trying to keep him fresh for the inevitable playoffs. Iím expecting a drastically reduced workload because the team has a lot of other talent at the wideout position (Michael Floyd, J.J. Nelson, John Brown, and Jaron Brown).

4) Doug Baldwin, Seattle (78-1069-14)

Baldwin went crazy down the stretch, amassing 724 yards and 12 touchdowns over the final eight games. Baldwin was the teamís best option in the second half of the season Ö actually more like their only reliable option with injuries in the backfield and tight end. The emergence of Tyler Lockett, the return of Thomas Rawls at tailback and the eventual return of Jimmy Graham (knee - questionable for Week 1) will all work against Baldwin reproducing his 2015 season.

5) Eric Decker, New York Jets (80-1027-12)

Decker and Marshall made quite a duo last season. The two combined for 189 receptions, 2,529 receiving yards and 26 touchdown catches on 305 targets. Had Ryan Fitzpatrick not signed, both receivers might have made this list, but the addition of the best receiving back in the league, Matt Forte, will steal targets and receptions from the possession receiver. Decker will probably get to run deep more often this season, but the deep ball has never been a Fitzpatrick strong point and Deckerís overall production should dip below the magic 1,000-yard total in 2016.
---
Steve Schwarz served as the fantasy sports editor of The Sports Network and is the 2014 FSWA Football Writer of the Year.