It's been a crazy first two weekends with injuries significantly changing the fantasy landscape. The running back position has been particularly hard hit, but quarterbacks and wideouts haven't escaped the wrath. Just figuring out who will be on the field is getting harder and harder.

Truths

"Better a cruel truth than a comfortable delusion." (Edward Abbey, A Voice Crying in the Wilderness)

1) The Oakland Raiders defense is on its way to historic highs.

True. The Raiders are on pace to give up 8,280 yards having yielded 1,035 yards through the first two games, including 808 yards via the pass. Mental errors and physical errors, Oakland has mastered the art of giving up yards and points. They made Matt Ryan look like an All-Pro after doing the same for Drew Brees in Week 1 (OK, Brees was a first-team All-Pro once but that was in 2006). Marcus Mariota, rookie Tajae Sharpe and Delanie Walker should produce big numbers this Sunday and has anybody noticed that DeMarco Murray has been very active in the passing game with 14 targets and 12 receptions for 91 yards and two scores? Stack them all!

2) Patriots wideout Julian Edelman is a must start in Week 3?

It's a trick question. Edelman has caught seven balls in each of the first two games, though he's yet to reach the end zone. Still, his value in Week 3 could come in the form of passing yards. With Jimmy Garoppolo almost assuredly sidelined and Tom Brady still suspended, Edelman, who played quarterback at Kent State, will likely be the Patriots backup at quarterback behind rookie Jacoby Brissett. Ian Rapoport is even hearing rumors of a package of plays with Edelman's name on it. Passing yards in addition to his receiving work could mean a huge payday.

3) The Pittsburgh Steelers will likely be sitting the NFL's leading rusher in Week 4.

It's true. DeAngelo Williams is the league's leading rusher (237 yards through two games) and leading fantasy running back (48.3 points), but star Le'Veon Bell returns from suspension next weekend. In 2015 after Williams rushed for 204 yards and three scores in the first two games of the season, Bell returned to out-touch Williams 55-3 over the next two games. Enjoy D-Will for one last game before he reverts to "handcuff" status.

4) Pass-catching is a young man's game.

Mostly true. Through two weeks, the average age of the top-10 fantasy receivers is 25.4 years old and that includes 33-year-old Larry Fitzgerald and 30-year-old Mike Wallace. The other eight top-10 fantasy receivers have a total combined 23 years of experience or an average of 3.5 years. The top-three fantasy wideouts are all in their second year of action (Kelvin Benjamin, Willie Snead, and Stefon Diggs).

5) Through two games Cam Newton has more rushing yards than Mark Ingram, Jeremy Langford, Doug Martin, Adrian Peterson and Jeremy Hill.

True. Gotta love dual-threat quarterbacks. In his first five seasons Newton has averaged 641 rushing yards and 8.6 touchdowns or 115.7 points per year from his feet. That's more than Ingram or Langford average in both categories.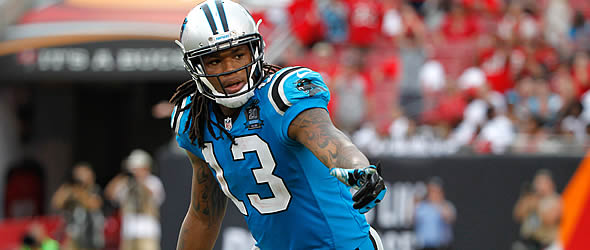 Remember when head coach Ron Rivera stated he'd like to limit the snaps for WR Kevlin Benjamin?




Lies



"One lie has the power to tarnish a thousand truths." (Al David)

1) The Philadelphia Eagles defense is the second-best defense in the NFL averaging 12.0 ppg and behind only the Seahawks (9.5 ppg).

Your high school team might be ranked No. 2 if they got to play against the 2016 Cleveland Browns and Chicago Bears in their first two games. RGIII was rusty and Jay Cutler was … well, he was typical Jay Cutler – a turnover machine. The Eagles secondary, despite being better than last season, is suspect and that's not a good thing when facing Week 3 opponents Ben Roethlisberger and Antonio Brown.



2) Acknowledged dissention in the Washington locker room could lead to a change at quarterback.



Not going to happen when the other option is mediocre journeyman Colt McCoy. It's true that Cousins has thrown some really ugly passes and missed wide open receivers, but they aren't going to win more games with McCoy under center. The team will hope Cousins reverts to his 2015 playing level. In the meantime, with a mediocre running game, and their best talent in the receiving corps, the Redskins will continue to throw the ball 40 times a game and that's good news for fantasy owners. Cousins is averaging 346.5 ypg this season despite his slow start.



3) Something still must be wrong with the Green Bay offense if Aaron Rodgers is averaging just 206 passing ypg.



False. He dealt with 110-degree heat in Jacksonville then took on an excellent Minnesota defense in their home opener and debut of Sam Bradford and the U.S. Bank Stadium. Rodgers should break out of his slump against Detroit this weekend, a team he's dominated over his career going 11-3 with 26 touchdown passes against six interceptions.



4) Anyone who says they had more than four of the current top-10 tight ends in their preseason top-10 is lying.



Here are the top-10 tight ends through two games: Greg Olsen, Vance McDonald, Julius Thomas, Jack Doyle, Martellus Bennett, Jacob Tamme, Delanie Walker, Eric Ebron, Kyle Rudolph and Dennis Pitta. No Gronk. No Jordan Reed or Travis Kelce. I'll give fantasy owners credit for Olsen, Thomas, Walker and maybe Bennett.



5) Back on Tuesday, Sept. 6, Panthers coach Ron Rivera said "(Kelvin) Benjamin's injury and the development of other players in the passing game are contributing factors to reducing his playing time."



Rivera then went on to say he'd "like all of his receivers to play between 25-35 snaps." Liar, liar pants on fire. Benjamin participated in 52 snaps in both Week 1 and Week 2 for a total of 104-of-156 snaps (66.7%) and he's the No. 1 fantasy wideout through two games (37.9 points).


---
Steve Schwarz served as the fantasy sports editor of The Sports Network and is the 2014 FSWA Football Writer of the Year.