The quality of your bench will be tested again this weekend. Weeks 9 sees Arizona, Chicago, Cincinnati, Houston, New England and Washington on byes. Thatís a lot of talent sitting on the sofa, particularly at quarterback, where Tom Brady, Kirk Cousins, Andy Dalton and Carson Palmer all average over 20 FPts/G.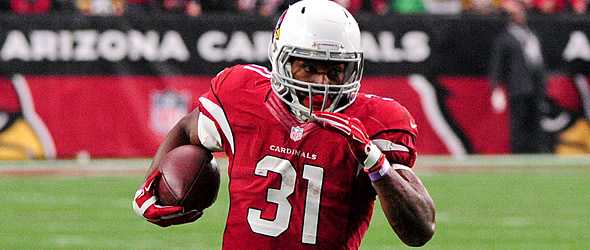 David Johnson has dominated the RB position including 407 receiving yards through 8 games.




Truths



"Denying the truth doesn't change the facts, it just makes you look foolish and blind." Myndee Joan Garrett



1) No big surprises at the top.



At the halfway point of the season the top-rated player at each position are: Brady (29.6 FPts/G), David Johnson (19.9), Julio Jones (14.7), Rob Gronkowski (11.1), Matt Bryant (9.8) and the Minnesota D/ST (8.9). (Minimum three games played.) In fact, if you evaluate the top-five at each position, there arenít many surprises. The least likely name in the top-five is DeMarco Murray. His bounce-back season in Tennessee after being handcuffed in Philadelphia by a bad offensive scheme, is stunning as he ranks second among all backs (17.9 FPts/G).



2) Worst non-injury disappointments includeÖ



Russell Wilson (16.4 FPts/G), Todd Gurley (10.7), Allen Robinson (7.8), Zach Ertz (3.0), Stephen Gostkowski (7.1) and the Houston Texans (3.6). Wilson doesnít run anymore, Gurley canít run without any holes, Robinson (2016 preseason ADP 11.0) is ranked 40th among wideouts to barely ďedge outĒ DeAndre Hopkins (11.2 ADP, 44th ranked WR), the Texans donít sack quarterbacks without J.J. Watt and the best kicker over the past four seasons, Gostkowski, ranks just 18th-best in 2016.



3) The Vikingsí 5-0 start was a mirage and we are now seeing the ďrealĒ Minnesota.



True. Injuries are taking a toll on their offense. No Adrian Peterson and injuries across the offensive line (Matt Kalil, Andre Smith and Alex Boone) have reduced the Vikings running game to almost nothing. Additionally, the Eagles showed the league what they already knew Ö that Sam Bradford wasnít very good when pressured. The result is zero offense over the last two games and that has even effected the Vikings defense. There arenít any viable fantasy options on this 5-2 team after Stefon Diggs and even he is just a WR2 at best because even when open, Bradford canít consistently hit him.



4) Darrius Heyward-Bey has been installed as the Steelers starting receiver opposite Antonio Brown.



So much for Markus Wheaton, Sammie Coates and Eli Rogers, each of whom has teased fantasy owners. Rogers caught six balls for 59 yards and a score in the season opener, Coatesí big day was a six-catch, 139-yard, two touchdown game in Week 5 (which demolished my fantasy team that Sunday) and Wheaton has simply been ineffective. DHB (5-68-2 in 2016) hasnít done anything since 2011 to warrant the promotion so beware of jumping on this bandwagon.



5) Jay Cutler looks like a low-end fantasy option Monday night in his first game since Week 2.



Cutler is always a fantasy option, but just as frequently is a fantasy disappointment. Heís the second coming of Jeff George Ė million-dollar arm, 10-cent head. I do like his two receivers (Alshon Jeffery and Cameron Meredith) and he has a favorable schedule moving forward (Tampa Bay, New York Giants, Tennessee and San Francisco), so he is a viable low-end, bye-week option.



Lies



ďHalf the lies they tell about me aren't true.Ē Yogi Berra

1) Dak Prescott, facing the winless Cleveland Browns, is the best QB option in Week 9.

Prescott is a very good option, but not the top one because the Cowboys will likely have a big lead and run behind Ezekiel Elliott for most of the second half. Plus, the Browns defense is not the worst in the NFL. The Cleveland pass defense is yielding 25.1 fantasy points per game which is better than Detroit (25.7), Carolina (26.0) and Atlanta (26.2). Jameis Winston hosting the Falcons on Thursday night should be a better option (he went 23-of-33 for 281 yards, 4 TDs, 1 INT in Week 1) as should the other quarterback in that game Ė Matt Ryan vs. the Bucs secondary.



2) The recent signing of Percy Harvin will have value for fantasy owners.



At one time Harvin had fantasy value, but that time was 2011. He had no preseason (off-season knee scope) and hasnít done anything over the first eight weeks. While the Bills definitely need receiving help with Sammy Watkins (foot) and Marquise Goodwin (concussion) watching from the sidelines, Harvin isnít the answer. Heíll likely injure himself, or get a migraine headache, while trying to get into shape this week.



3) Tim Hightower is the guy to have in the New Orleans backfield.



False. Itís a mirage. Sure, Hightower ran 26 times for 102 yards in Week 8, but here are some reasons to think itís unlikely to happen again. 1) Hightower only got his opportunity after Mark Ingram fumbled the ball early in the game against Seattle and Ingram is not a fumbler with nine fumbles in six seasons (962 touches). 2) Hightower saw five chances inside the 5-yard line and couldnít score on any of them. 3) His 3.9 ypc in Week 8 isnít exactly ground-breaking. Itís likely an evenly-shared situation moving forward.



4) Cam Newtonís running ability and Mike Tolbert have always made Jonathan Stewart a weaker fantasy option.



Thatís so 2012. Stewart, when healthy, is a very good running back and has scored four times in his last two starts. Tolbert hasnít been a factor since 2012-13 and Newton, who was stuffed repeatedly on run plays inside the red zone last Sunday, has just one rushing touchdown in his last three games. Perhaps heís worried about another concussion. Stewart, meanwhile, has averaged 22.2 FPts/G since his return from a hamstring injury.



5) Never trade Tom Brady.



The Patriots will never ever trade Mr. Brady, rightfully so, but fantasy owners might consider it. Whether itís related to a worsening New England weather factor or he just gets tired, Bradyís career QB rating drops after hitting its peak in October (101.2). His November QB rating is 98.6, December is 92.5 and in January his rating is his worst of any month (90.9). Admittedly, thatís still good and Iím not ready to trade TB12, but I will likely be sitting him in Week 10 against the Seahawks pass defense (fifth-best in QB points allowed) and will be an avid watcher of Foxborough weather over the next two months.



---
Steve Schwarz served as the fantasy sports editor of The Sports Network and is the 2014 FSWA Football Writer of the Year.