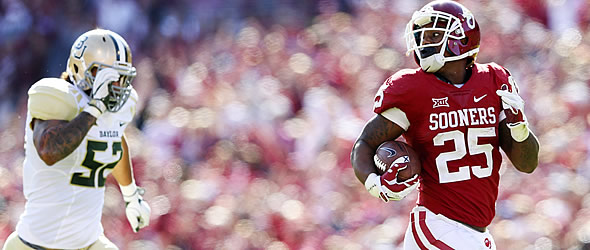 Joe Mixon, Fournette, Cook, McCaffrey... it won't be easy for these rookies to hit RB1 status in 2017.
You have been waiting for this day for nine months … no, not the birth of a child, it's much more important than that. It's the construction of your 2017 winning fantasy football roster!

Fantasy owners have been planning and strategizing for this day since Tom Brady and the Patriots' stunning comeback against the Falcons.

As the NFL has become a passing league, imagine your first three player selections included two wide receivers and an elite quarterback.

But here you are in round four and all the top running backs are gone. What to do?

You could pick a veteran back who you hope will finally reach the potential everyone says he has, but has yet to produce. Or, you could invest the pick in a rookie running back from the draft class of 2017.

There were 30 guys selected, with great fanfare for some of them, at the April draft in Philadelphia this spring.

Since then they will have gone through OTAs and July training camps. Features will have been written about what they can do when the season begins. But will they be able to help your yet-to-be-determined fantasy backfield?

To answer the question perhaps we should look back at the recent history of rookie running backs, because as many have said throughout the ages, "those who don't know history are doomed to repeat it."

I've chosen to evaluate the past 10 seasons of drafted rookie backs. Since 2007 there have been 238 backs selected on draft days. Unfortunately, for every Ezekiel Elliott (322-1,631-15), Doug Martin (319-1,454-11) and Chris Johnson (251-1,228-9) there were also more than their fair share of Kenny Irons, Ryan Williams' and Isaiah Pead-type results.

Below is the year-by-year production for all drafted rookie backs –
Average Production for all Rookie RBs
Year
Players
Rush Att.
Rush Yds
Rush TDs
Rec Yds
Rec TDs
2016
23
63.8
286.0
2.26
91.9
0.17
2015
22
81.1
323.7
2.00
144.5
0.72
2014
22
76.9
291.4
1.86
81.4
0.18
2013
26
57.9
234.1
1.77
85.4
0.19
2012
21
86.4
382.1
2.38
84.7
0.19
2011
31
31.3
136.6
0.24
43.6
0.10
2010
16
42.1
162.3
0.94
63.8
0.19
2009
23
45.6
185.2
1.08
55.8
0.17
2008
28
69.7
308.8
2.50
111.3
0.32
2007
26
40.7
172.3
1.19
58.2
0.07
Totals
238
58.7
245.5
1.64
81.4
0.23
Even if we only use players from the top three rounds of the 10-year study, the average results are not "start-worthy." The average top-three round drafted running backs only produce 104.4 fantasy points. That would have ranked 33rd last season, right between Tim Hightower and Rashad Jennings.
Rookie RBs Drafted in Rds 1-3
Year
Players
Rush Att.
Rush Yds
Rush TDs
Rec Yds
Rec TDs
2016
4
123.0
618.0
5.75
188.0
0.25
2015
8
149.0
615.7
3.25
268.9
1.13
2014
8
124.5
528.4
3.00
122.0
0.25
2013
6
151.0
602.0
5.33
231.6
0.50
2012
7
126.7
543.3
4.00
146.7
0.43
2011
5
78.2
376.0
1.80
49.6
0.00
2010
4
121.0
459.5
3.00
239.0
0.75
2009
6
141.1
570.0
4.00
151.5
0.33
2008
11
146.5
662.6
4.72
218.6
0.72
2007
9
86.5
374.5
2.55
130.2
0.11
Totals
63 played
136.2
584.7
4.01
190.2
0.50

Which means using the rookie running back strategy is a huge gamble … unless you can hit one "magic" number. If your back hits this number he is guaranteed to be a top-20 fantasy back.

The number is 222 rushing attempts.

There have been just 17 rookie backs to run the ball 222 times or-more over the past 10 seasons. Using FFToday's default scoring, they averaged 209.58 FPts. That would have ranked ninth last season, making them an RB1, right between Melvin Gordon (213.6) and Jordan Howard (203.1). Even the worst of the 17, Zac Stacy in 2013 (250-973-7) produced 159.4 FPts which would have placed him at No. 19 last season.


Rookie RBs With 222+ Rushing Attempts
Player
Team
Rush Att.
Rush Yds
Rush TDs
Rec Yds
Rec TDs
FPts
Elliott, Ezekiel
DAL
322
1631
15
363
1
295.4
Martin, Doug
TB
319
1454
11
472
1
264.6
Morris, Alfred
WAS
335
1613
13
77
0
247.0
Forte, Matt
CHI
316
1238
8
477
4
243.5
Peterson, Adrian
MIN
238
1341
12
268
1
238.9
Slaton, Steve
HOU
268
1282
9
377
1
225.9
Lacy, Eddie
GB
284
1178
11
257
0
209.5
Johnson, Chris
TEN
251
1228
9
260
1
208.8
Richardson, Trent
CLE
267
950
11
367
1
203.7
Howard, Jordan
CHI
252
1313
6
298
1
203.1
Gurley, Todd
STL
229
1106
10
188
0
189.4
Hill, Jeremy
CIN
222
1124
9
215
0
187.9
Smith, Kevin
DET
238
976
8
286
0
174.2
Bell, Le'Veon
PIT
244
860
8
399
0
173.9
Lynch, Marshawn
BUF
280
1115
7
184
0
171.9
Moreno, Knowshon
DEN
247
947
7
213
2
170.0
Stacy, Zac
STL
250
973
7
141
1
159.4

So how does a rookie get to run the ball at least 222 times?

First, he's not involved in an RBBC (running-back-by-committee) situation.

Second, he's smart enough to pick up the offense quickly and reliable enough in blitz pickups that the coach won't be afraid of getting his star quarterback killed.

Thirdly, he can't be injury prone. To produce at least 222 carries over a 16-game schedule requires 13.9 carries per game. The 17 runners listed above actually averaged 268 carries along with 1195 rushing yards, 9.47 rushing TDs, 285 receiving yards and .78 receiving TDs.

And finally, he has to run behind a solid offensive line. It doesn't do much good if your best moves are used just to get back to the line of scrimmage.

Of the 30 rookie backs in 2017, listed below, who best fits those parameters?


Although a few elite performances have come from late round selections (Alfred Morris and Jordan Howard come to mind), the majority of the top rookie seasons have come from the first few rounds.

Let's look at those guys.

The controversial Joe Mixon is my pick for "most likely" to lead this 2017 rookie RB class given the state of the Bengals' backfield. Giovani Bernard is trying to return from an ACL injury and early-down back Jeremy Hill, off back-to-back disappointing seasons and in the final year of his contract could end up being a non-factor or out the door. That would give Mixon plenty of carries behind a pretty good run-blocking offensive line. He's also a solid pass receiver and could end up being a three-down back.

The first running back off the board was Leonard Fournette to the Jaguars. In his favor is a rare combination of size, speed and power. He'll be the primary running back with T.J. Yeldon the change-of-pace option and Chris Ivory likely out of the loop. No RBBC here. But he had injury issues in 2016 after racking up a ton of mileage in the rough and tough SEC. He's also running behind an offensive line which ranked just 22nd last season according to Pro Football Focus.

One of the biggest movers up the board in the days before the draft, Christian McCaffrey went No. 8 to Carolina. The multi-talented Stanford alum eventually will unseat veteran Jonathan Stewart, but it might not be right away. Stewart is still a quality runner, when healthy, and a smart head coach can use McCaffrey's other skills in the receiving and return games.

If you think Fournette will have trouble running behind the Jacksonville offensive line, then you aren't going to like Dalvin Cook's situation at all. The Minnesota Vikings o-line was ranked 29th by PFF. That line lost Matt Kalil to injury last season and free agency in 2017. Cook's best options may be as a receiver unless the Vikings find a way to strengthen the guys up front.

Kansas City traded up in the third round to get Kareem Hunt and he could be a surprise if he comes to training camp ready to compete with Spencer Ware and Charcandrick West. Still, this backfield is likely the dreaded RBBC and even has to yield a few carries to wideout Tyreek Hill.

Alvin Kamara landed in New Orleans, which might be good in the long-term, but for now he has very little chance to do much in 2017. He finds a crowded backfield in the Crescent City as he joins last year's starter Mark Ingram and free-agent signee Adrian Peterson.

Texans rookie D'Onta Foreman won't be the starter, barring injury, that job belongs to Lamar Miller. But Foreman should get most of the backup work and possibly goal line action given his size (6-feet, 233 lbs.).

Samaje Perine joins a crowded backfield in our nation's capital which included Rob Kelley, Matt Jones and Chris Thompson. Perine is a bruiser, not a dancer. The good news is that if he were to win the starting job he'd be running behind a top-10 offensive line.

There you have it and I'm sorry to say I don't see a 2017 version of "Zeke" among the drafted backs. Better make alternate plans on draft day.


---
Steve Schwarz served as the fantasy sports editor of The Sports Network and is the 2014 FSWA Football Writer of the Year.