The season has ended for most of us, but a hardy few continue to the very end. For them, this is championship week, and it brings new difficulties to tackle.

A little snow in Chicago, rain in Baltimore and temperatures below freezing in six of the games could make offenses more difficult to predict. Add in lame duck coaching staffs and teams locked into a seed and lineup construction won't be easy for fantasy owners in Week 17.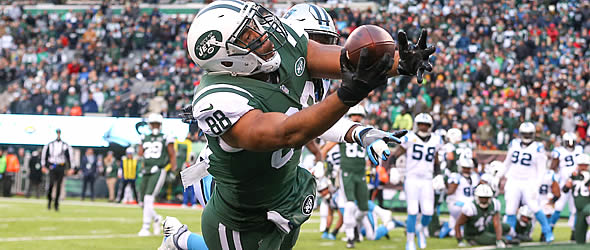 Does anyone have any idea what a catch is? Someone please fix this prior to the 2018 season.

Truths

"Truth is like the sun. You can shut it out for a time, but it ain't goin' away." - Elvis Presley

1) It's unlikely that Eagles, Jaguars or Chiefs stars will play in Week 17.

True. Many of the names that got you to the title game won't be out there to help you win it. It's likely you will have to sit Alex Smith, Kareem Hunt, Tyreek Hill, Blake Bortles, Leonard Fournette, Jay Ajayi, Alshon Jeffery and other starters on these three teams. Defensive starters could also sit - giving their opponents (Dallas, Tennessee and Denver) an advantage.

2) If you own Rob Gronkowski you will have a huge advantage in the title game.

Definitely. It's a larger advantage than normal because the No. 2 and No. 3 tight ends likely won't be playing in the final weekend. Travis Kelce (83-1,038-8) and Zach Ertz's (72-800-8) teams have nothing to play for having already locked in their playoff seeds. It means that "Gronk", who has been on a roll averaging 16.1 FPts/G over the last month, should give his owners a head start on claiming the title. He went 6-83-2 against the Jets in their first meeting this season.

3) Tom Brady hasn't cracked 20 fantasy points in a month.

Yes, the 40-year-old has shown a few signs of aging. Still, I wouldn't want anyone else under center if I was a Patriots fan. A fantasy owner, however, only cares about statistics and he's ranked 25th among QBs over the past three weekends. In Week 6, he posted a moderate 20.8 fantasy points against his Week 17 opponent, the New York Jets. Brady has averaged 22.8 against the Jets since 2015 and 24.5 against the rest of the NFL.

4) Rookie running backs can be big-time contributors in their first season.

With one game remaining, four rookies running backs rank among the top-nine in FPts/G; Kareem Hunt (15.6), Leonard Fournette (15.1), Alvin Kamara (14.3) and Dalvin Cook (14.1). And in PPR leagues Christian McCaffrey is ranked 13th. Remember this when you draft next season and Saquon Barkley, Bryce Love, Derrius Guice or Nick Chubb are available and you are looking at veterans who averaged 10 FPts/G or less.
5) Giovani Bernard is a solid play against Baltimore.

Assuming Joe Mixon's ankle prevents him from playing in Week 17, his replacement is a viable play given that the Ravens are much better against the pass than the run. Baltimore is third against opposing QBs, second against WRs, but just 21st against RBs. Bernard is only 45% owned in Yahoo leagues.
Lies

"Any fool can tell the truth, but it requires a man of some sense to know how to lie well." – Samuel Butler

1) Receivers know what a catch is.

"I don't know," said Austin Seferian-Jenkins on GMFB Monday morning. Join the club. The Jets tight end "lost" two touchdown catches to controversial reversals this season - against New England and Carolina. Jesse James lost a touchdown against New England. Sunday, Kelvin Benjamin lost a touchdown against New England. We already knew that Calvin Johnson and Dez Bryant don't know, or agree with, the "current definition" of a catch. Someone please fix this for 2018.

2) Joe Flacco isn't a viable fantasy option in Week 17.

False. Despite an offense ranked 26th in total yards and 25th in touchdowns, Flacco has been pretty good the past few games, averaging 21.9 FPts/G over the past three (ranks 6th among QBs who played three games). Baltimore plays Cincinnati in Week 17 and Flacco is available in almost 80% of all Yahoo leagues.

3) Antonio Brown is the best receiver in the NFL.

Maybe. But, while "A.B." has been catching passes from dependable Ben Roethlisberger this season and his entire career, DeAndre Hopkins had Deshaun Watson for just six starts and has had to overcome Tom Savage, T.J. Yates and Taylor Heinicke (who?) in the other nine games. In the six games Watson started, Hopkins averaged 15.35 FPts/G compared to the Ben-to-Brown hookup which has averaged 14.8 FPts/G this season. I love Brown, but all other things being equal, Hopkins might just be the better receiver. Next year when Watson returns from injury, things should be "more equal."

4) Davante Adams is a good, but not yet elite, fantasy wide receiver.

Actually, Adams is one of only four receivers who will finish in the top-10 in FPts/G for both 2016 and 2017 (min 10 games). I think you will agree that the other three are elite (Brown, Julio Jones, A.J. Green) so why not Adams?

5) The Minnesota Vikings are a great fantasy defense.

Wrong. The Vikings are a great defense, but a subpar fantasy defense in 2017. Yes, Minnesota is first in points allowed (242), first in yards allowed (4,214) and first in yards per play (4.7), but as a fantasy defense/special team they rank 26th. With 36 sacks, 19 turnovers, one defensive TD and zero kick return touchdowns they are averaging just 4.1 FPts/G, less than half the Jaguars' league-leading average (8.4).

---
Steve Schwarz served as the fantasy sports editor of The Sports Network and is the 2014 FSWA Football Writer of the Year.