The Thanksgiving holiday is a time for families to spend quality time together and give thanks, while gorging on turkey and watching football between tryptophan-educed cat naps. For NFL teams, Thanksgiving is a time when season starts to heat up and the contenders separate themselves away from the pretenders. Although I am not a fan of Bill Belichick and the Patriots, I do agree with him and his philosophy that the season really begins on Thanksgiving.

The Thanksgiving holiday is also a critical time for season-long fantasy owners, as most trade deadlines are expiring around the end of November, and those owners who are struggling around the .500 mark are faced with the tough task of winning out in the remaining few weeks to keep their playoff hopes alive.

Although daily fantasy owners do not have the same constraints of season-long owners when it comes to making the playoffs, the fact that there is a limited number of weeks remaining in the regular season can cause some struggling DFS owners to press to make up for previous losses.

As a firm believer in playing multiple cash games and a slow and steady approach to DFS, my advice to those owners looking for that big score is to keep to your original strategy. Many of us were burned last weeks by injuries to top plays like Charcandrick West and Devonta Freeman, and crappy performances from Derek Carr, Tyrod Taylor and Blake Bortles killed the hopes of many owners looking for value plays. My plan is to stay the course and continue building solid rosters of consistent core players and upside guys with advantageous matchups.

The following is a breakdown of one of my DraftKings lineups from Week 11. Like many of us, I was burned by Westís injury and I did not make the last-minute move to add Thomas Rawls. Despite these critical errors, I was close to earning $100 on my $10 entry.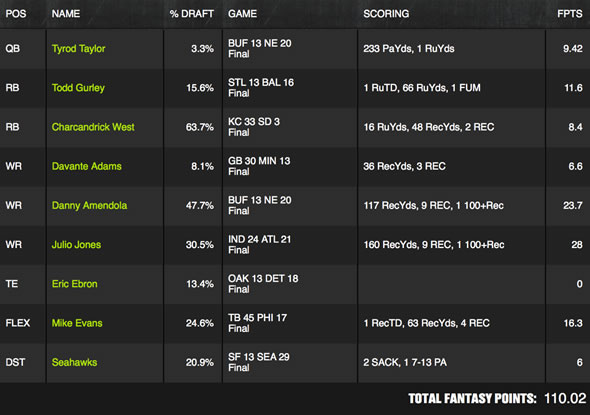 Quarterback: Tyrod Taylor
Draftkings Points: 9.42
Grade: D
In my article last week I wrote about my strategy of using three layered lineups with three different cost-tier quarterbacks for each roster. For my cheap quarterback play in Week 11, I chose Tyrod Taylor against the Patriots in Foxboro, with the hope that he would be able to have similar success to the 28.8 point game he had against them in Buffalo.
My expectations were tempered somewhat because of the fact that they were playing in New England and Belichick would be able to make adjustments from the first game. Despite this fact, I had a feeling Taylorís running ability would open up the field for a possible two-touchdown performance. Nothing great, but enough production to give my other high-cost players a chance to put me in the cash.
With only 9.42 points and zero TDís, Taylor was obviously a disappointment and one of the three reasons why I did not cash with this lineup.
Running Backs: Todd Gurley and Charcandrick West
DraftKings combined points: 20
Grade: F
West and Julio Jones were my foundation plays this week and the two players who were added to all three of my rosters. After torching the Broncos for 31.1 points on the road in Denver, it seemed like a no-brainer that West would do some damage against a suspect San Diego defense.
His $4,500 salary and choice matchup made him a trendy pick as evident of his 63% ownership level. Unfortunately, West left the game early and Spencer Ware scored two touchdowns in relief. Injuries are a part of the NFL and something all season-long and DFS owners must deal with. It just stinks when an injury to your top player costs you a chance at $100.
I thought about fading Gurley due to the fact that the Ravens have been solid against the run this year. But I ended up picking him anyway, primarily because I was able to build the remainder of my roster with inexpensive players that I thought were great values, like Danny Amendola and Mike Evans.
Gurley gave me a touchdown, but his fumble and pedestrian yardage total of 66 yards was not quite what I was expecting from a $7,400 running back.
Wide Receivers: Danny Amendola, Julio Jones and Davante Adams
DraftKings combined points: 58.3
Grade C+
Although I was only 1.7 points away from my weekly goal of averaging 20 points from each of my three wide receivers, I decided to give myself a C+ because I expected more from Jones and Adams.
As I mentioned earlier, Jones was my foundation pick this week and a core piece of all of my cash games. His 28 points from 9 catches and 160 yards were great, but I was excepting at least one score against the Colts.
Adams on the other hand was a complete bust with only three catches for 36 yards. I decided to ride this target train one more week, hoping he would continue his pace of averaging 16 targets over his previous two games. Evidently Rodgers got tired of peppering Adams and receiving very little production from the second year wideout.
Amendola made sense on many levels and was a no-brainer pick for owners like me looking for cheap targets. At only $4,000 he was a popular pick for nearly 50% of players last week, and he came through with 9 grabs for 117 yards. I will continue to look his way assuming that his knee injury is minor.
Looking forward to week 12, DeAndre Hopkins and his $9,100 salary against the Saints at home is the clear-cut foundation play. Although he may set the ownership record for the week, he is about as close to a sure thing as you can get. You can be certain he will be one my two foundation picks on all three of my rosters.
Tight End: Eric Ebron
DraftKings points: 0
Grade: F -
I am kicking myself over this pick for the simple fact that I went against my own philosophy of looking for high-target players in favor of Ebron, a tight-end who is touchdown dependent. The tight end position is somewhat touchdown dependent across the board, but there are some guys who are a lock for at least a few catches each week.
I went for the home run play in Ebron and he gave me a goose egg. It will take a heck of a matchup for me to use this guy again.
Flex: Mike Evans
DraftKings points: 16.3
Grade: A
Evans is a player who continues to be undervalued by the guys at DraftKings.com, and subsequently, he continues to be a mainstay in my lineups. He has averaged just over 20 points in each of his last three games, as Jameis Winston continues to grow as a passer.
Vincent Jackson returned to action and took some of his targets, but Evans came through with four catches for 63 yards and a score. Excellent flex production from a wide receiver with a $7,400 salary.
Defense: Seattle
DraftKings points: 6.0
Grade: D
Six points from the most expensive defense playing against Blaine Gabbert and the 49ers was unacceptable. Despite having one of the better defenses in the league, the Seahawks have not been the ball-hawking unit of years past and they have not delivered many defensive scores.
The exception to this is when they play crappy teams at home like the Bears (18 points) or poor teams on the road like the Rams. Considering the fact that they scored 11 point on the road against San Francisco, it seemed logical they would do even better at home against an injury depleted Niner offense. My logic was certainly flawed on this one, as Gabbert and Shawn Draughn managed to score 13 points against the legion of boom.