Week 1 of the 2016 season proved two indisputable facts about the NFL. First, with numerous exciting shootouts and more than a few games going down to the final play, the NFL once again staked its claim as the most exciting and compelling sport on television.

With more than a few upsets and surprises, like the injury depleted and Tom Brady-less Patriots going into Glendale to defeat the Cardinals, or the 49ers shutting out Todd Gurley and the visiting L.A. Rams on Monday Night Football, we were all reminded that predicting the outcome of games can be an arduous task.

Predicting the outcome of individual players for daily fantasy can also be a challenge, as picks that seem to be strong plays like Gurley against the 49ers, Dez Bryant at home vs. the Giants, or Adrian Peterson against the Titans do not always pay off, while players like Jack Doyle and Theo Riddick come through with two touchdowns apiece with low ownership percentages.

That unpredictability is what makes the NFL and DFS fun, although it can be infuriating at times. You can do hours of research, watch every snap of the previous week's games, and read DFS articles like this one to get a leg up on the competition.

But despite all of your hard work, the significant unpredictable variables involved in all NFL games will throw a wrench into even the best looking lineups. Hang in there if you had a rough beginning. One of the best things about DFS is the clean slate you are given each week, allowing you to learn from your mistakes and move on to an entirely new roster.

For this week's lineup review, I will examine my winning ticket from a DraftKings.com massive $5 double up contest. I found this lineup to be particularly interesting due to the fact that I cashed with three of my most confident or "safe" picks delivering poor performances.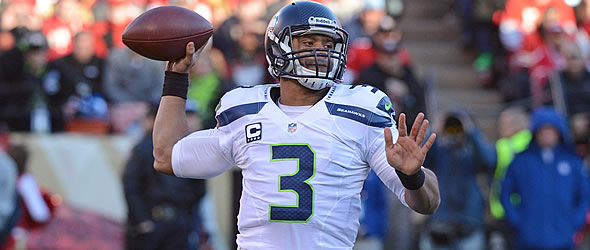 Russell Wilson was an unexpected dud finishing in the bottom half among DFS quarterbacks.
Quarterback:

Russell Wilson vs. Miami ($7,900 DK Salary)
Ownership Percentage: 5.2%
Fantasy Points: 13.92
Grade: F
In a week where seven quarterbacks had excellent games, including Drew Brees and Andrew Luck each posting over 400 total yards and four touchdowns, Wilson proved to be a disaster play against the Dolphins.
The irony is that I chose Wilson over some cheaper options like Stafford or Winston because I perceived him to be the safer play, as I assumed that the poor Miami secondary would be picked apart by Wilson and the Seahawks.
Of course I could not have predicted Wilson would be the latest of a long line of players to fall victim to Ndamukong Suh's vicious stomp, leaving Russ hobbled an ineffective.
The main error that I should have considered was the fact that other games like Oakland vs. New Orleans and Detroit vs. Indy had much higher projected points by the odds makers in Vegas, and both games had cheaper quarterbacks in Stafford and Carr who would have been better options. I recommend reviewing my article from last season on Vegas spreads and how they can help you identify solid plays in DFS for more insight on my gaffe.

Running Backs:

Spencer Ware vs. San Diego (55.7% ownership) $4,400
T.J. Yeldon vs. Green Bay (25.6% ownership) $4,100
Combined Points 52.8 points
Grade: A-
Everyone and their mother was buying shares of Ware against the poor Chargers defense this weekend. And rightfully so, as his $4,400 was almost as enticing as the number of touches he was going to get at home against San Diego.
I assumed that a large portion of the owners in the contest would have the same thought process as me, but because it was a multiplier where the first overall winner receives the same $10 as I did by placing 6025, I wasn't concerned with having a contrarian lineup of players with low ownership rates like in a GPP. I felt like Ware had a shot of being the top RB and I needed him on my lineup to ensure a solid base of points to keep me in the running for the cash.
Chris Ivory's bizarre medical issue that required a stay in the hospital meant that Yeldon would be the main running back for the Jags against the Packers. With a salary of only $4,100 and the projected workload as both the every-down and passing down back, he seemed like a nice play. Although he did score a TD, I thought his performance was underwhelming and I think he should have produced more fantasy points based on the situation.
I may return to the Yeldon well again this week if Ivory is unable to play, but I am certainly tempering my expectations.
Wide Receivers:

Amari Cooper vs. New Orleans (24.8% ownership) - $7,200
Brandon Marshall vs. Bengals (7.0% ownership) - $7,800
Donte Moncrief vs. Lions (15.9% ownership) - $6,000
Combined Points 49.3 points
Grade: B-
Nearly 50 points from your receiving corps is not terrible, although the benchmark that I look for in cash games is 60 from my three wideouts.
The disappointing guy in this lineup was Marshall and his 32 yards on 3 receptions, as I was betting on at least one touchdown from him. Remember, Marshall tied for the league lead in TD receptions last year. In his defense he did get a few red zone targets and did almost score a TD, but in hindsight I think I am going to target receivers with more PPR value this week. Three catches from a $7,800 wide out is unacceptable.
Cooper did exactly what I was hoping by catching six balls for over 100 yards against a terrible Saints defense. It was a bummer that he did not add a TD to his scoring line, but at least he topped the 100-yard mark for the bonus points on DK. At just under 25 points, he was a solid pick over more expensive plays like Odell Beckham Jr. and Allen Robinson.
At only $6,000 Moncrief seemed like a bargain considering the fact that everyone, including Vegas, felt like this was going to be a high scoring game between two above average offenses and two poor defensive units. Moncrief paid off well with six catches for 64 yards and a score, but he wasn't exact the big play guy I was anticipating.
Tight End:

Martellus Bennett vs. Arizona (35.3% ownership) - $3,400
Points: 4.4
Grade D
Chris Harris of the Harris Football Podcast likes to use a term "crutch argument" when we as fantasy analysts and fans try to say why a player may or may not be good each week, using a narrative that could either be true or false.
For example, a common theory on Bennett this week was he would be good because Jimmy Garoppolo is a young QB and young QBs like to rely on their safety net tight ends to complete short and intermediate passes.
Another crutch argument is that the best way for a young QB to get into a game flow is to run the ball, thus making Bennett less valuable as he will not get targeted as much in a run-heavy scheme.
The third crutch argument that I failed to consider, and frankly, so did millions of other people, is that with an injured offensive line and a rookie QB, Belichick would run the ball a ton and keep Bennett in as a blocker more than usual to protect Jimmy G. Of course the third crutch argument was right and I paid the price by the three-catch turd from big Martellus.
At least I wasn't alone, and hundreds of my competition also fell into this trap.
Flex Play:

Willie Snead vs. Oakland (6.9% ownership) - $4,900
Fantasy Points 35.2
Grade: A+
I am still trying to figure out why so few people targeted Snead this week based on the matchup, salary, and how well he looked in the preseason.
To me he seemed like a no-brainer option in a PPR format like Draftings considering I was pretty confident he would catch at least 5 balls in a high-scoring matchup against the Raiders.
Instead of just five catches, Mr. Snead (read it in a Captain Hook voice) gave me nine for a whopping 172 yards and a score.
Snead won the week for me, which is something you need when you drop a terrible game from two of your more expensive plays like Wilson and Marshall.
Defense:

Seattle vs. Miami (13.9% ownership) $3,900
Fantasy Points 11
Grade: C+
In a cash game where I am trying to simply place in the money and not necessarily go for the stars with a home run play, I like to stick with a defense that will get me sacks and turnovers.
The idea here is that sack and turnover prone defenses will give me something, even if they are not like Minnesota this week with two TDs.
Had I chosen the Vikings I would have placed in the top 100 of this contest, which would have netted me the same $10 as my 6025 spot. However, had I guessed for more of a homer play like Green Bay or Cleveland against a rookie QB, I would have fallen out of the money.