The final few games of the regular season schedule present interesting options for DFS owners as NFL teams out of playoff contention often turn to young and unproven players to see what future talent may be hiding in their roster.

Take for example the New York Jets, now officially out of playoff contention after a disappointing 2016 campaign, are turning the reigns over to second-year quarterback Bryce Petty while benching ineffective veteran Ryan Fitzpatrick.

Petty was less than impressive in reserve of Fitzpatrick in Monday Night's debacle against the Colts, but he did appear to have a rapport with rookie wide receiver Robby Anderson, an undrafted 6 foot 3, 190 pound wide receiver from Temple who worked with Petty all season on the practice squad.

With the Jets heading out to Santa Clara to take on the 27th ranked 49er pass defense that has allowed the most fantasy points to opposing wide receivers, Anderson could be an interesting play considering the fact that Petty gave Anderson 12 second half targets last week.

In a game where targets and catches are paramount to success, a $3000 receiver like Anderson could be the difference between winning or losing this week.

On the other hand, starting Petty might be too much of a risk for my liking, as it would not surprise me if the former Baylor Bear throws a few picks.

As we close out the final few weeks of DFS play, I highly recommend keeping an eye out on other no-name players like Anderson when rounding out you tickets. Low-cost players that are playing on teams looking to the future may be the key to daily fantasy success.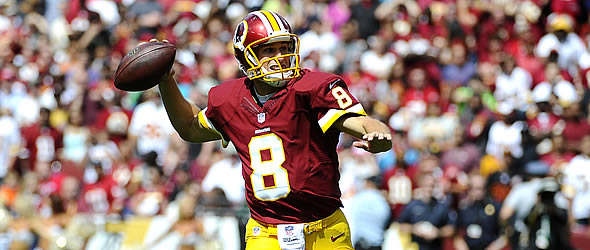 The Eagles have allowed the 8th most fantasy points to quarterbacks over the past five weeks.
Quarterbacks
H2H/Cash - Kirk Cousins ($6,300 on DraftKings)
I took more than a few body blows last week with my quarterback picks as all three of my QB recommendations fell victim to the quarterbackmaggedon in Week 13.
Week 14 may be equally as bad of an outcome as there is not a clear option for owners looking to maximize production while limiting risk.
The closest option and a decent salary is Kirk Cousins on the road against the Eagles in a must-win game for the Redskins. After back-to-back 30 plus games against the Cowboys and Packers, Cousins came back down to earth last week with an 18 point game against the Cardinals.
I look for him to bounce back against a Philly defense that has allowed the 8th most fantasy points to quarterbacks over the past five weeks after starting the year off stout against the pass.
The return of Trent Williams from suspension will bolster the offense and give Cousins time to find DeSean Jackson on deep 9-routes and Jamison Crowder underneath.
Other options to consider - Philip Rivers @ Carolina & Andy Dalton @ Cleveland
GPP - Jameis Winston vs. New Orleans ($6,700 on DraftKings)
With only one game over 30 fantasy points on the year, Winston has not had many huge games in 2016. But he has managed to score well even against tough opponents, as evident by his 21 point game against the Chiefs Week 11 and his 17 points at home against Seattle two weeks ago.
Despite having a less than stellar defensive unit, the Saints have been surprisingly stingy this season against opposing quarterbacks, allowing only rookie Jared Goff to throw for three or more touchdowns in a game.
Look for that to change this week as Winston should be able to score well at home in what could be a shootout. Drew Brees enters the game on the heels of one of his worst games as a Saint and should get the New Orleans offense back on track, forcing Winston to trade scores through the air.
Other options to consider - Colin Kaepernick vs. NY Jets & Carson Palmer @ Miami
Fade - Ben Roethlisberger @ Buffalo ($7,000 on DraftKings)
A talented quarterback with drastic gaps in his home and away splits, Big Ben has only one road game this year in which he topped 20 fantasy points.
Despite allowing 38 points on the road against the Raiders last week, the Bills have been tough against quarterbacks at home this season, with only Tom Brady managing to throw more than two passing touchdowns at Ralph Wilson stadium.
Big Ben could have a big game, but his history of poor play and the Bills success at limiting quarterbacks makes him a bit of a gamble this week.

Running Backs
H2H/Cash - David Johnson @ Miami ($9,800 on DraftKings)
Cash game owners are always looking for that guaranteed floor with a high upside ceiling at an economical price.
With a salary of $9,800, David Johnson is anything but economical, but he has been the definition of constant with 28.2 fantasy points per game.
His skill set as a runner and receiver makes him a must start regardless of matchup, and his high usage in the red zone gives him the ability to deliver a 30-point game every week.
The Dolphins did not allow a rushing touchdown until Week 7 against Buffalo, but they have been softening up as the season goes on, with an opposing running back scoring a TD or topping 100 total yards in each of the last eight games.
Other options to consider - Rob Kelley @ Philadelphia & LeSean McCoy vs. Pittsburgh
GPP - Jeremy Hill @ Cleveland ($6,100 on DraftKings)
Jeremy Hill has made a career of beating up on the Cleveland Browns, with 25% of his yards on the season coming on just nine carries against Cleveland this year.
In Week 15 of his 2014 season, Hill rushed for 148 yards and a touchdown on 25 carries in 30-0 shellacking of the Browns at Paul Brown stadium.
If you took out the 168 yards Hill had against the Browns this year and replaced it with his average game of 45 yards, Hill would average barely over 3 yards a carry with 6 touchdowns, not exactly the type of production you want in a GPP game.
Have no fear, Hill will get work early and often and will continue his destruction of the Browns. Just be sure not to read too much into this and start Hill again this season. You will be disappointed.
Other options to consider - Jacquizz Rodgers vs. New Orleans & Bilal Powell @ San Francisco
Fade - Jay Ajayi vs. Arizona ($5,900 on DraftKings)
The Jay Ajayi experiment was fun while it lasted. With a fully healthy offensive line and three home games against mediocre run defenses, Ajayi averaged 30 points per game in weeks 6,7 & 8, giving fantasy owners a breakout performance for the ages.
Against better run defenses and without a healthy offensive line, Ajay has been mediocre at best.
The Cardinals own the number run rush defense and the offensive line is not back to full strength. Connect the dots, and you have a matchup that I would avoid.
Wide Receivers
H2H/Cash - Jamison Crowder @ Philadelphia ($5,600 on DraftKings)
Crowder has been one of the most consistent sub-$6000 fantasy wide receivers this season, with double-digit points in every single game except Week 4 at Cleveland.
A favorite target for captain Kirk Cousins in both deep and intermediate routes, Crowder's high floor of 10 points is almost a guarantee while his ability to score on a deep post makes his ceiling high as well.
The Eagles defense has taken a big step back over the last five weeks after a strong start to the year. The secondary is allowing the second-most points to receivers during that period, with Odell Beckham Jr., Davante Adams, and Brandon LaFell all posting big games.
My only concerns with this game is the fact that DeSean Jackson may be the main target this week, and the possible return of Jordan Reed could eat into Crowder's targets.
Other options to consider - Mike Evans vs. New Orleans & Tyrell Williams @ Carolina
GPP - Sterling Shepard vs. Dallas ($4,600 on DraftKings)
Although injuries have decimated the Dallas secondary this year, the Cowboys have been respectable against the pass by allowing the 13th-most fantasy points against wide receivers.
The area that they due struggle, and a way that I anticipate the Giants exploiting this Sunday Night, is in the slot against nickel corners and linebackers.
Eli Rogers, Randall Cobb, Jamison Crowder, Jordan Matthews, and Sterling Shepard have all caught touchdowns out of the slot this season against the Cowboys, and I think Shepard will do it once again on Sunday Night Football.
Other options to consider - Ted Ginn Jr. vs. San Diego & Dontrelle Inman vs. Carolina
Fade - Julio Jones @ Los Angeles $8,500 on DraftKings)
Season-long owners will be forced to start Jones due to the upside for a big game against the Rams, but daily owners may want to look elsewhere as Jones is limited with a turf-toe injury.
It is not out of the question for the Falcons to have Jones active and line him up as a decoy against Trumaine Johnson on the outside, opening up the defense for the running game and secondary options in the passing attack.
Jones could blow up, and for the sake of my season-long league of record I hope he does, but my gut tells me he will not have a big game and DFS owners should look for another option.
Tight Ends
H2H/Cash - C.J. Fiedorowicz @ Indy ($3,900 on DraftKings)
With predicting touchdowns an exercise in futility, especially at the tight end position where so many players are TD-dependent, I like to focus on players that receive volume in the passing game, even if they do not reach the end zone.
The Fedora is one such player, with 25 targets in his last three games, including a stellar 10-target game Week 11 against Oakland.
The Colts allow the 10th-most fantasy points to opposing tight ends, with the Fedora posting his best game against Indy when the two teams placed in Houston in Week 6 (7/85/1).
Other options to consider - Antonio Gates @ Carolina & Jason Witten @ New York Giants
GPP - Jermaine Gresham @ Miami ($2,500 on DraftKings)
A non-factor for more than half of the regular season, Gresham has quietly been a solid tight end play recently with three-consecutive double-digit point performances, including touchdowns against Atlanta and Minnesota.
The Dolphins have been downright terrible against the tight ends lately, with Hunter Henry, Antonio Gates, Garret Celek and Dennis Pitta all scoring touchdowns in the last five weeks.
Gresham is the perfect GPP play for owners looking or a home run play at the tight end position.
Other options to consider – Kyle Rudolph @ Jacksonville & Zach Ertz vs. Washington
Fade - Eric Ebron vs. Chicago ($3,800 on DraftKings)
After three-consecutive double digit point weeks from Week 8 to Week 11, Ebron gave fantasy owners two turds against New Orleans and Minnesota.
The Bears have allowed only five touchdowns all season against the tight end position, and I look for a game script where Chicago will look to control the clock and keep this a low scoring game.

Defensive Play of the Week
Vikings vs. Jags ($3,900 on DraftKings)
The loss of Harrison Smith in the secondary will be a big hit for the Vikings secondary, but the fact that they are playing the pick-six machine in Blake Bortles more than makes up for his absence.
Bortles has thrown an interception in all but three of his games this year and a pick-six in three of his last five games.