An excellent tool for DFS players looking for value plays each week is the waiver wire activity log for season-long leagues on sites like Yahoo, CBS, and ESPN.

These logs show ownership changes for players who have been recently added and dropped due to ancillary changes to their team, like injuries to starters, advantageous matchups, and improved play over the past few games.

If a large percentage of season-long league owners are willing to drop a player to add Dennis Pitta, Dwayne Washington, or the Miami defense, chances are those players have a recent increase in value that the salary makers on DraftKings and Fanduel have yet to account for.

This may sound kind of obvious, but I don't think that enough fantasy players utilize free and easily accessible tools like this when building their lineups.

DFS owners like to scour the internet for articles like this one for insight on who to start or value plays each week, and many people pay for premium sites that provide DFS team building apps to help them build an optimal lineup.

Although I do think premium lineup building sites have merit and I am most appreciative of you taking the time to read this piece, I do think you can find a player or two on your own by taking the time to review your waiver wire log after waivers have posted each week.

Here are a few plays for Week 3: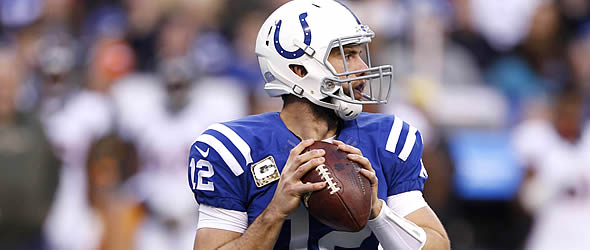 Luck may need to keep up with Rivers in what could be a shootout between the Colts and Chargers.
Quarterbacks
H2H/Cash - Andrew Luck vs. San Diego ($7,600 on DraftKings)
The Chargers have given up the sixth-most fantasy points to opposing quarterbacks this season, with Alex Smith lighting them up for 25 points Week 1 at Arrowhead. Although San Diego did hold Blake Bortles in check last week, keeping Andrew Luck and the Colts off the score board will be a much more difficult in Week 3.
Luck scored 38.5 points Week 1 at home against the Lions in what turned out to be a shootout. I anticipate this game will be similar to the one against Detroit, as Philip Rivers and the Chargers will likely have success against a suspect Colts defense.
My biggest concern on Luck his is lingering shoulder injury. He was limited in practice on Thursday, but I believe he will start and will produce on Sunday. Monitor the injury report on game day and make sure he is active before finalizing your lineup.
Other options to consider - Ben Roethlisberger vs. Philly, Matthew Stafford @ Green Bay
GPP - Philip Rivers vs. Indianapolis ($6,600 on DraftKings)
Rivers at his $6,600 price tag is an enticing play this week against a Colts secondary that was torched Week 1 by Matthew Stafford and the Lions. Ted Monachino's defense did hold Trevor Siemien to zero touchdowns last week, but I believe that was more of a result of game flow with Denver's defense scoring two TD's and C.J. Anderson having success on the ground.
I project the game script to be more advantageous for Rivers and the Chargers offense. I also like this play in GPP formats because many owners will shy away from Rivers due to the fact that he is without Danny Woodhead and Keenan Allen, and Antonio Gates may miss this week with an injury.
A projected low ownership level mixed with a high ceiling could make Rivers a tournament winning play this week.
Other options to consider - Marcus Mariota vs. Oakland, Ryan Tannehill vs. Cleveland
Fade - Carson Palmer @ Buffalo ($7,200 on DraftKings)
The Bills defense has been awful this season, allowing 50 total points and just over 400 yards a game through Week 2.
Ryan Fitzpatrick picked apart the Bills for 374 yards and a score last week, including an impressive 11 yard per pass average that is indicative of how many deep balls he was able to complete against a suspect secondary.
Although Carson Palmer is one of the best downfield passers is the league and the Cardinals like to stretch the field with Michael Floyd and John Brown, I think this game is going to have a negative game script for Palmer, as the defense will shut down the Bills and the Cardinals will likely run the ball heavily in the second half.
Other options to consider - Russell Wilson vs. San Francisco
Running Backs
H2H/Cash - David Johnson vs. Buffalo ($7,700 on DraftKings)
In keeping with the theme of game script against the Bills, David Johnson will receive a heavy workload on the ground and the air this week.
While I don't typically recommend playing top dollar for the most expensive running back in GPP games, a consistent performer like Johnson is worth the investment in cash games, especially a head-to-head format where you are only trying to beat one opponent.
The Bills have allowed the eighth-most fantasy points to opposing wide receivers and the sixth-most to opposing running back. Buffalo has been terrible as a defensive unit this season and Johnson should dominate, especially in the second half when the Cardinals own a double-digit lead.
Other options to consider - Melvin Gordon vs. Indy and DeMarco Murray vs. Oakland
GPP - Giovani Bernard vs. Denver ($4,300 on DraftKings)
A contrarian play for GPP players in Week 3 against a tough Denver-D, Gio is a sneaky low-ownership play that could pay dividends.
There is no doubt that the Broncos defense is stout after holding the Colts and Panthers to just 144 total yards and one rushing touchdown in the first two weeks. I have little doubt that they will limit Jeremy Hill to his sub-three yard per carry average, forcing Andy Dalton to attack via the air to wide receivers, tight ends, and running backs out of the backfield.
This is where Gio will earn his money for fantasy owners. Bernard caught nine balls for 100 yards and a score against a tough run defense in Pittsburgh, and I think he will have similar success at home against the Broncos.
Other options to consider - Kenyan Drake vs. Cleveland, Derrick Henry vs. Oakland
Fade - Todd Gurley @ Buffalo ($7,100 on DraftKings)
After failing to produce double digit fantasy points in either of his first two games, it is easy to see why fading Gurley on the road against Tampa Bay is a smart move.
Although the Bucs have allowed the 11th most fantasy points to running backs this season, the majority of the yards and points scored have come in the form of receiving yards by opposing backs, not rushing yards.
Gurley has yet to score a receiving touchdown in his NFL career and has not topped more than 44 receiving yards in any game. Counting on him developing into a pass catching back this week on the road against the Bucs seems like a poor play.
Other options to consider - Ryan Mathews vs. Pittsburgh
Wide Receivers
H2H/Cash - Jarvis Landry vs. Cleveland ($6,600 on DraftKings)
A target monster with 23 targets and 17 receptions in his first two games, Landry is clearly Ryan Tannehill's security blanket and a nice low floor, relatively high ceiling play this week against the Browns.
Landry posted 25.5 points last week against the Patriots, despite the fact that he did not score a touchdown. His volume provides a high floor that cash players like, but with the upside of him scoring a touchdown present to make him a top play of the week.
Cleveland has allowed the sixth most fantasy points to opposing defenses, with Mike Wallace and Jordan Mathews each posting double digit games. At just $6,600, Landry is a solid value and should continue the trend of double digit performances against the lowly Browns.
Other options to consider - Marvin Jones @ Green Bay, Larry Fitzgerald @ Buffalo
GPP - Kenny Britt vs. Tamp Bay ($3,600 on DraftKings)
Britt is an unsexy option and a player that has burned too many fantasy owners in the past. He is also a player who caught six passes on 10 targets for 94 yards last week against Seattle, and is matched up this week against defense that struggles against the pass and excels against the run.
For these two reasons, along with the fact that he is dirt cheap at $3,600, Kenny Britt is an excellent home run play for GPP players looking to hit pay dirt.
Other options to consider - Quincy Enunwa @ Kansas City, Phillip Dorsett vs. San Diego
Fade - A.J. Green vs. Denver ($8,100 on DraftKings)
Some DFS players might consider Green a contrarian play considering not many people will own him with his tough matchup against the Broncos. I see the logic here, but at $8,100 his price is too high should he in fact struggle against Denver.
Other options to consider - Alshon Jeffery @ Dallas, Brandon Marshall @ KC
Tight Ends
H2H/Cash - Eric Ebron @ Green Bay ($3,700 on DraftKings)
Eric Ebron posted five catches for 46 yards and a touchdown Week 1, and then followed up that performance with four catches for 53 yards and a touchdown that was called back on a phantom OPI call.
In a week where tight end plays are less than attractive, Ebron playing against a Packers team that has allowed the third-most fantasy points to the position is a nice play for cash game players.
Other options to consider - Delanie Walker vs. Tennessee, Jason Witten vs. Chicago
GPP - Hunter Henry @ Indy ($2,500 on DraftKings)
Antonio Gates is officially doubtful this week against the Colts, opening the door for Henry to get that start for the Chargers at tight end.
Henry, a 6-5 rookie from Arkansas taken in the second round of the NFL draft, has earned the praise of Rivers and offensive coordinator Ken Whisenhunt.
"We feel like he's a tremendous receiver," Whisehunt said in an article by Tom Krasovic of the San Diego Union Tribune. "But when you've got a guy like Gates that's a pretty good receiver, too, it doesn't give you as many opportunities."
With Gates likely out on Sunday, Henry should get his opportunity.
Other options to consider - Jared Cook vs. Detroit, Clive Walford @ Tennessee
Fade - Jordan Reed @ NYG ($6,500 on DraftKings)
Reed has posted two straight double digit games to start the season, but he has failed to reach the end zone as the Redskins passing game continues to struggle.
In Week 3 Reed faces off against a Giants defense that shut down Drew Brees and the Saints at home.
I am fading Reed until Kirk Cousins and the Redskins passing attack get on track.
Other options to consider - Gary Barnidge @ Miami, Charles Clay vs. Arizona
Defense/Special Teams
H2H/Cash - Cardinals @ Buffalo ($3,600 on DraftKings)
The Bills offense is anemic and Sammy Watkins is likely going to miss this game because of his lingering foot injury. I look for the Cardinals to roll in this one.
Other options to consider - Bucs vs. Rams, Steelers vs. Eagles
GPP - Miami vs. Cleveland ($3,000 on DraftKings)
The Dolphins were exposed by New England week to on the road at Foxboro to the tune of 31 points allowed for three fantasy points.
At home, against the Browns and a rookie quarterback, the Dolphins have excellent value in GPP contests.
The Ravens and Eagles, to less than stellar defenses, managed seven and nine fantasy points respectively against the Browns first team offense. With rookie Cody Kessler under center, I predict the Dolphins to reach double digit fantasy points this week.
Other options to consider - Giants vs. Redskins
Fade - Green Bay vs. Detroit ($3,000 on DraftKings)
Although the Packers have posted seven sacks on one interception their first two games of the season, they face off against Matthew Stafford and the fifth ranked Detroit offense this week.
Stafford threw for 462 yards and four touchdowns in his two games against the Pack in 2015. I think there are better defensive plays this week for the price.
Other options to consider - Chiefs vs. Jets