The month of September in the NFL season is a four week period where teams look to establish their identity on the field and figure out which offensive and defensive schemes work best with their personnel.

For DFS owners, the first four weeks of the season can be a difficult time because the feeling out period of NFL teams presents a quagmire for owners looking to predict usage levels of offensive skill position players.

It is also difficult to predict the strength of defensive units, as we donít have a clear idea of which D/STís have improved and which ones have declined from the previous season.

For example, the New York Giants and Philadelphia Eagles finished second and third to last respectively in points allowed to opposing quarterbacks in 2015. Only the historically terrible New Orleans Saints gave up more points last season than the Giants and Eagles, making them likely poor defenses to target in the early weeks of 2016.

Of course new free agent acquisitions and coaching changes for the two squads would likely improve them from last season, but without the ability to see into the future, speculating on just how much better the addition of Jim Schwartz at DC in Philly and the high-priced free agent signings of the Giants was just that, speculating.

With four weeks in the books it is clear that these two dreadful teams that were picked on by DFS owners are no longer DFS units to attack. The Giants have allowed the fifth-fewest points to opposing QBs, including holding Drew Brees to just one passing TD Week 2.

And the once lowly Philly DFS unit that allowed just under 26 points per game to opposing quarterbacks has yet to allow a passing TD this season.

Many DFS owners have lost money by playing players against these defenses in September simply because we did not have enough information on which DFS units were weak and which ones where strong.

Now that we have four weeks of data in the books, that problem is no longer an issue and we as a fantasy industry have a much better idea of who the contenders and pretenders are this season. Sure, injuries and changes in schemes will make some DFS units better down the stretch, but at least we are not flying blind now as we embark to the second quarter of the season.

Here are some DFS plays that I am targeting in Week 5Ö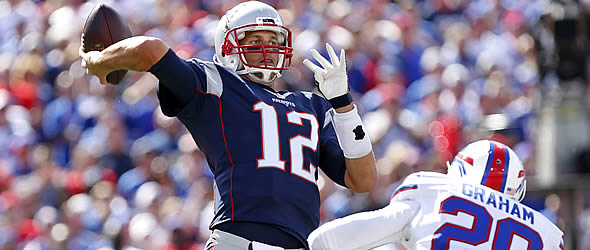 Tom Brady's first game back from suspension and he's got a juicy matchup against the Browns.
Quarterbacks
H2H/Cash - Tom Brady @ Cleveland ($7,500 on DraftKings)
Tom Brady returns to action this week after a four-game suspension from the ridiculous deflate-gate scandal. Regardless of your personal views on Brady, Belichick, and the whole fiasco, there is no doubting the fact that Brady has a choice matchup in his first week back to action against the lowly Browns.
Cleveland has given up the third-most touchdowns to opposing quarterbacks, with Carson Wentz, Joe Flacco, Ryan Tannehill, and Kirk Cousins all managing at least two passing TDís this season.
There is the possibility that Brady might be rusty, and the game script might be unfavorable with the New England defense scoring and the Patriots ground game pilfering TDs. But my money is on Brady and OC Josh McDaniel using this cake matchup to establish the passing game and get Brady back into form.
Other options to consider - Philip Rivers @ Oakland & Derek Carr vs. San Diego
GPP - Carson Wentz @ Detroit ($6,400 on DraftKings)
The injury-riddled Lions defensive unit has struggled this season, allowing the second-most points to opposing quarterbacks. Carson Wentz and the Eagles come to town this week after a bye week to get healthy and scheme against Jim Caldwellís defensive unit.
Add in the fact that offensively the Lions have struggled as of late and the aforementioned Eagles defense is one of the best in the league, and you have a positive game script for Wentz to have a nice game against Detroit.
It should also be noted that running back Ryan Mathews is not listed on the injury report and tight end Zach Ertz is back from his displaced rib injury: Two factors that make Wentz even more attractive this week.
Other options to consider - Brian Hoyer @ Indy
Fade - Matt Ryan vs. Carolina ($7,100 on DraftKings)
Last week I made the mistake of recommending Matt Ryan as a fade against a Panthers team he had struggled with over the course of this career. That pick burned me to the tune of 500 passing yards and a few scores.
I am going back to the well this week on Ryan as the Falcons head to the Mile High City to take on the Broncos. If Matty Ice does well against the Broncos this week, he will be considered a must start going forward regardless of the matchup.
Running Backs
H2H/Cash - C.J. Anderson ($6,900 on DraftKings)
After two solid weeks to start the year, including 29.9 fantasy points Week 1 against Carolina, Anderson has tailed off with two mediocre games against Tampa Bay and Cincinnati.
The Broncos host a Falcons defense that has allowed the 10th most fantasy points this season, despite the fact that they have played four teams with middle of the pack rushing attacks in Oakland, Tampa Bay, New Orleans and Carolina.
Taking on the Broncos and Anderson will be the toughest task to date for the Falcons, and I think Anderson and the revamped Bronco offensive line will come through.
Anderson isnít a sexy boom or bust play this week, but he is a solid high-floor guy that should be on cash game rosters.
Other options to consider - Melvin Gordon @ Oakland & DeMarco Murray @ Miami*
Weather concerns from Hurricane Matthew
GPP - DeAndre Washington @ Oakland ($3,400 on DraftKings)
A turf toe injury to Latavius Murray opens the door for rookie DeAndre Washington to secure the starting tailback role this week against San Diego.
At only $3,400, Washington is the perfect home run play for GPP players this week as the Chargers have allowed the third-most fantasy points to opposing RBís, including three TDs last week to the Saints.
The concern for TD pilfering from Jalen Richard is real and Derek Carr and the passing game could present a somewhat negative game script for Washington. Despite these factors, Washingtonís upside and low salary make him a must start in GPPís for owners allocating their funds to other skill positions.
Other options to consider - Wendell Smallwood @ Detroit & Bilal Powell @ Pittsburgh
Fade - Lamar Miller @ Minnesota ($6,300 on DraftKings)
Millerís shocking inability to reach the end zone on 102 touches has burned more than a few season-long owners this year. With the Texans traveling north to take on the mighty Vikings defensive unit that has allowed only one rushing TD this season, I canít imagine Miller getting over the hump this week.
A receiving TD is possible, but I am avoiding Miller in all of my tickets this week.
Other options to consider - Matt Forte @ Pittsburgh & LeSean McCoy @ Los Angeles
Wide Receivers
H2H/Cash - Michael Crabtree ($6,900 on DraftKings)
Crabtree continues to prove week in and week out that he is the number one wide receiver in Oakland and quarterback Derek Carrís favorite target.
For some reason the salary makers at DraftKings have yet to come around on this fact, with Amari Cooper continuing to be slotted with a higher salary.
Exploiting valuation mistakes like these is a key to winning at DFS. Put King Crab in your lineup and reap the benefits of a nice matchup against an injury depleted Chargers secondary.
Other options to consider - Julian Edelman @ Cleveland & Demaryius Thomas vs. Atlanta

GPP - Chris Hogan ($3,400 on DraftKings)
This might be a bit of a stretch considering the fact that Hogan posted a goose egg last week against Buffalo.
GPP owners look for home run plays, and Hogan with Brady back and the poor Cleveland secondary is an equation that equals a possible breakout game.
It should also be noted that Julian Edelman was a late add to the injury report on Thursday with an apparent foot injury. Predicting injuries on the Patriots is an exercise in futility, but if Edelman is a late scratch, Hoganís value soars against the Browns.
Other options to consider - Dontrelle Inman @ Oakland
Fade - Alshon Jeffery @ Indy ($7,800 on DraftKings)
Part of me hopes this is a positive jinx for my season long team as I own too many shares of Jeffery in 2016. But honestly, I think he is an injury decoy and does not have rapport with Hoyer.
Avoid Jeffery until he starts proving on the field that he is once again a top-12 wideout.
Other options to consider - DeAndre Hopkins @ Minnesota & Amari Cooper vs. San Diego
Tight Ends
H2H/Cash - Zach Ertz ($3,500 on DraftKings)
Detroitís injuries to Levy and the linebacking corps has created a sieve in the middle of the Lions defense. Opposing offenses have exploited this void to the tune of 257 yards and six touchdowns, and I anticipate the Eagles will continue the trend.
Other options to consider - Delanie Walker @ Miami & Zach Miller @ Indy
GPP - Clive Walford ($2,700 on DraftKings)
With an over-under of 51 by the odds makers in Vegas, fantasy owners should be expecting a high scoring game this week in Oakland.
As a complete boom or bust play, Walford could find the end zone for a second time this season against a San Diego defense that ranks in the bottom third against tight ends. Walford has succeeded this season against teams like Atlanta that struggle against opposing TEís, leading me to believe he could do well at home against the Chargers Week 5.
Other options to consider - Charles Clay @ Los Angeles & Will Tye @ Green Bay
Fade - Rob Gronkowski @ Cleveland ($6,500 on DraftKings)
There is no doubt that Gronk has a great matchup this week against the Browns, but I am still worried about his hamstring and I think this game is going to be over by halftime. If that is the case, I can see the big man getting limited action in the second half.
Other options to consider - Gary Barnidge vs. New England & Dwayne Allen vs. Chicago
Defense/Special Teams
Play of the Week: New England vs. Cleveland ($3,700 on DraftKings)
The Browns are going bear the brunt of the Patriots' frustrations from losing 17-0 at home against the Bills Week 4.
Look for the mad genius to take away Terrelle Pryor and force the Browns to win on the ground with Crowell, and Cody Kessler making more than one turnover.