It's that time of year again when dynasty league owners partake in a rookie only draft, where future success (or failure) can hinge on just a few picks. One of my dynasty leagues recently did our draft so I thought I would share it to give you a feel of how players are being valued and where they are being drafted. Because this is still fairly early in the offseason, a lot could change, especially during training camp, but many dynasty leagues hold their drafts much earlier in the year so it's always good to be prepared.

This particular league is fairly traditional (No PPR, 12 teams, 1 QB, 2 RB, 3WR, 1 TE, 1 Flex) except we get 2 taxi squad spots on our bench to develop longer term prospects. Going into the draft I counted 15 or so players I liked to make an immediate impact and/or have a high ceiling long-term. Beyond those players, the draft seemed like a bit of a crapshoot, so I tried to focus on the top 15-18 picks as much as I could. Let's take a look to see the results!



Round 1



1. Saquon Barkley (RB, New York Giants)
2. Derrius Guice (RB, Washington)
3. Ronald Jones (RB, Tampa Bay)
4. Rashaad Penny (RB, Seattle)
5. Sony Michel (RB, New England)
6. Nick Chubb (RB, Cleveland)
7. D.J. Moore (WR, Carolina)
8. Calvin Ridley (WR, Atlanta)
9. Royce Freeman (RB, Denver)
10. Kerryon Johnson (RB, Detroit)
11. Courtland Sutton (WR, Denver)
12. Baker Mayfield (QB, Cleveland)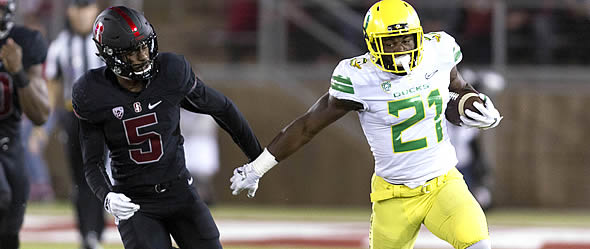 With only Devontae Booker ahead of him, Royce Freeman has a chance to be a contributor in Year 1.




Best Pick of the Round:

While I think the 4-5 picks after Barkley could go in several different directions, and I wouldnít argue much with any of them, the best value in this round was Royce Freeman. Freeman has as much upside (talent-wise) as the backs selected 2-6 but lands in perhaps a better situation than any of them. Freeman could easily begin the year as the starter in Denver and become a true three-down back in a short time.

With a solid corps of talent around him, Freeman wonít have a ton of pressure and has the skill-set to hold up to a heavy workload. At the very least he should get goal line work and split duties with Devontae Booker starting Week 1, making his floor relatively high and safe.

While Freeman may not have the sexy name or the super high draft capital, his blend of talent, lack of competition, and supporting cast make him a very safe pick in the late first round, with plenty of upside to get you excited in year one. I have a feeling Freeman will be one of the players whose stock rises considerably in the next two months, so late first might be an absolute bargain here.

Worst Pick of the Round: I actually donít have a major problem with any of the guys taken in round 1 but the player I like the least here is Ridley. He seems like a player who will be very helpful and valuable to his NFL team but frustrating to his fantasy owners. With or without Julio Jones in Atlanta, Ridley is not an alpha dog stud receiver who can command a ton of targets and rack up fantasy points consistently.

Ridley is a solid route runner with speed but he is undersized and not elite in any aspect of his craft. He may be a very strong second receiver on an NFL team for his whole career, and Iím not saying there is no value in that for fantasy purposes, but in the first round of rookie drafts I want to swing for the fences, not hit singles.

In the spot he was drafted, Iíd prefer Sutton, the aforementioned Freeman, or even your favorite QB if you really feel strongly about one. Personally, if Iím on the clock and someone wants to trade up for Ridley Iím perfectly willing to trade back and make a higher upside play, even at the risk of losing a ďsafeĒ player like Ridley.

Round 2

13. Christian Kirk (WR, Arizona)
14. Josh Rosen (QB, Arizona)
15. Anthony Miller (WR, Chicago)
16. Mike Gesicki (TE, Miami)
17. Michael Gallup (WR, Dallas)
18. Lamar Jackson (QB, Baltimore)
19. Nyheim Hines (RB, Indianapolis)
20. James Washington (WR, Pittsburgh)
21. Sam Darnold (New York Jets)
22. Kalen Ballage (RB, Miami)
23. Josh Allen (QB, Buffalo)
24. Hayden Hurst (TE, Baltimore)

Best Pick of the Round: I like quite a few players in this round including Lamar Jackson but the best value was Michael Gallup. Gallup did not get as much attention as some of the higher profile receivers in this draft but he is no slouch as a talent either, showing well in the intermediate level of the field with reliable hands and above average athleticism.

Beyond his talent though, Gallup might have landed in the very best situation of any receiver for fantasy purposes, as Dallas has a ton of targets up for grabs after releasing Dez Bryant and Jason Witten retiring this offseason. With a strong run game to take the pressure off and a young, emerging quarterback, Gallup could produce early and often in his rookie year, something most other receivers in this class will probably not do.

While Gallup may not have the flashy name, or the top-level ceiling that some other rookies possess, he should have guaranteed targets and a chance to shine early, meaning he might see your starting lineup in year 1 or, at the very least, accumulate trade value early so you can move him for some more valuable assets.

Worst Pick of the Round: I donít love the Hurst pick in this round but the pick I really canít stand is Josh Allen. I get the theory behind why he was taken here, we have a taxi squad position so teams like to ďhideĒ developmental players like Allen, and heís the last of ďthe big 5Ē QBís in this draft, so it makes sense from those perspectives.

On the flip side, I believe Allen will be a total bust due to being inaccurate even against below average competition in college. In addition, he has one of the very worst receiving corps in the league, an offensive line that will be below average, and a running back that may be on his last legs, and you have the recipe for disaster here. I would literally take any player drafted over Allen, thatís how much I feel strongly about his bust potential.

Round 3

25. DaeSean Hamilton (WR, Denver)
26. Dante Pettis (WR, San Fransisco)
27. TreQuan Smith (WR, New Orleans)
28. JíMon Moore (WR, Green Bay)
29. D.J. Chark (WR, Jacksonville)
30. Dallas Goedert (TE, Philadelphia)
31. Mark Walton (RB, Cincinnati)
32. Ian Thomas (TE, Carolina)
33. Jordan Wilkins (RB, Indianapolis)
34. Antonio Callaway (WR, Cleveland)
35. Keke Coutee (WR, Houston)
36. John Kelly (RB, Los Angeles Rams)

Best Pick of the Round: I really like the long-term potential of Dallas Goedert, who may have been an early 2nd round pick if he had a better landing spot, but the best value in this round to me is Dante Pettis.

Pettis does not stand out in any one area of his game but he has the feel for being a successful receiver and possesses adequate size, speed, and burst to play at the NFL level.

What I also love about Pettis is the combination of his draft capital (2nd round) and landing spot. In San Francisco, Pettis should earn snaps right away (as there is no true No.1 receiver), has a great upcoming quarterback throwing the ball, a creative offensive-minded coach calling plays, and a struggling defense that should force the offense into a pass-heavy ratio.

While they are different players, I look at Pettis and Calvin Ridley as players who should have high floors and consistent, long careers, even if neither ever becomes a fantasy stud. The big difference of course being you can get Pettis at a bigger discount in rookie drafts. He is a screaming value in rookie drafts anywhere after the early 2nd round.

Worst Pick of the Round: I donít hate any of the picks in this round but to me D.J. Chark is a player Iím passing on, even at the end of the draft.

Chark blew up the Combine with his combination of size, speed, and agility, no doubt making NFL owners and fantasy players alike drool over his potential. I get that, but if you look deeper you see an inconsistent player who is basically a one-trick pony with a ton of work to do in his route running and the finer points of being an NFL wide receiver.

If he landed in the perfect situation maybe heíd have a chance of fantasy stardom after a year or two, but Jacksonville is far from an ideal landing spot. Not only does Jacksonville have a bunch of young receivers already on the roster, who they seem committed to developing, but they may be the leagueís most run-heavy attack for the foreseeable future. Add this to the fact that Blake Bortles is still the Jaguars starting QB, and you have the makings of a nightmare landing spot for an unpolished rookie receiver.

Chark looks like he will take a few years to make an impact, if he ever does at all, and by that time most fantasy owners will have already moved on from him. There are better options available with a more immediate impact or that have a higher upside.

Post-Draft Overview

We talk about tiers a lot in fantasy football rankings and there were some fairly clear tier breaks in this year's rookie draft.

I put Barkley in his own tier and then the next five running backs in Tier 2, although I believe Freeman could move up there by Week 1.

The next tier takes you through pick 11 with Sutton having elite upside, even though you will have to wait at least a year.

Tier 4 takes you to about pick 22, filled with guys that easily make a fantasy impact in year 1, even if their ceiling is a bit lower than player drafted in Tiers 1-3.

The last tier takes you through the rest of the draft and other than a couple standouts (Pettis, Goedert), it's filled with long-term projects and guys whose fantasy success probably relies on others getting injured or falling off the map.

My takeaway: I would look to move my 3rd round picks to try and jump into a higher tier because, unlike some other years, this season does not offer a deep pool of fantasy prospects.