One of the most important parts of winning your league is winning your draft. One of the most important parts of winning your draft is maximizing value at whatever draft position you find yourself in. Getting "your" guy is always fun and, in some cases, smart, but over-reaching has a negative ripple effect on your entire draft.

The following 9 players are what I consider land mines at and around their current ADP. I don't necessarily dislike all these players but at the spots they are being taken I feel they are all over-valued. For reference the ADP's listed here are for 12-team PPR leagues.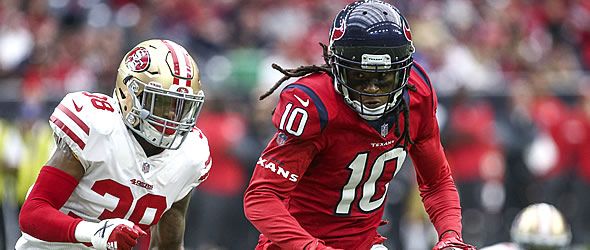 1. WR DeAndre Hopkins, HOU (ADP 2.05)

Hopkins is one of the most skilled and productive receivers of the past decade, averaging over 100 receptions and 1,300 yards per season over the past five years. Still in the physical prime of his career, he is being drafted as the 5th WR off the board, just a couple picks after Julio Jones.

While I don't doubt Hopkins has the tools to be a top 5 receiver still, I don't think this is a good year to bet on it. The change of scenery is drastic for Hopkins, having to adjust to a new city, coach, QB, and offense, all of which are fairly big changes from his previous stint in Houston. For several years the offense ran exclusively through Hopkins, dominating target share with passes forced his way. In Arizona they tend to spread the ball around more and run four-wide sets, often targeting quick routes rather than throwing up deep jump balls, where Hopkins has dominated.

This is not to say Hopkins won't be productive but in a shortened off season with limited time to establish a connection with QB Kyler Murray, chances are good that the duo will take at least a few games to really get going. I look for Murray to spread the ball around more than what Hopkins is used to, the run game to be efficient, and Murray himself running a bit more than last year. All this adds up to less opportunity for Hopkins, and I see him falling in the 120-130 target range rather than the 150+ he was used to.

In the early rounds you should be aiming for extreme upside and Hopkins is just too risky this year to expect anything but regression from last season.

2. WR Michael Thomas, NO (ADP 1.05)

Thomas is coming off one of the best seasons ever for a receiver, racking up over 1,700 yards and hauling in 149 receptions. In practically every format, Thomas is going as a top 8 pick and while there's almost no reason to believe he will be a total bust, he's one of the worst values in drafts this year.

Thomas' 2019 season was good for 7th best all time in receiving yards. The six players that have had better seasons, dropped off considerably the following year, most by 400+ yards and over 25 receptions. Even the great Jerry Rice dropped off by over 600 yards despite playing all 16 games and receiving only 23 less targets. The bottom line here is it is very likely regression is coming, even if Thomas has another great year.

With Drew Brees entering his age 41 season, the addition of Emmanuel Sanders, and a healthy Kamara, a dip in targets is likely. Add this to the fact that Thomas has never reached double-digit touchdowns in his four- year career and you begin to get a picture of his upside being much less than what his ADP would suggest.

With a shortage of difference-making RB's available past the first two rounds and great depth of upside wide receivers, the smart drafter is passing on Thomas in Round 1 in favor of a potential bell-cow back.

3. QB Lamar Jackson, BAL (ADP 2.09)

The argument for Jackson being a bad pick at his ADP is fairly simple. His 2019 season was historically one of the most efficient and explosive seasons ever for a NFL QB and that is highly unlikely to happen again. Jackson's TD rate was 9.0% while the league average was closer to half that. To put this another way, Jackson attempted 401 passes and threw for 36 touchdowns. According to the league average TD percentage, Jackson should've thrown around 19 or so touchdowns (17 less). Let that sink in for a minute. Even if Jackson was better than league average by a "normal" amount, he likely would've thrown 10 less touchdowns last season and I fully expect that to be the case this season.

But what about his rushing? Jackson broke the all-time quarterback season rushing record last year, by over 150 yards and finished 6th in the NFL among all players in rushing yards. To put it bluntly, this is an anomaly. Is Jackson an amazing runner? Absolutely. Will he likely have another great year running the football? Sure. The chances though, that he has such success two seasons in a row (or again in his career) is very unlikely especially after defensive adjustments are made.

The bottom line is that just about everything went perfectly for him last year and the odds of that repeating in the NFL is highly unlikely. The range at which Jackson is being drafted is full of potential studs at shallow positions so do yourself a favor and wait on jumping the gun at quarterback.

4. RB Clyde Edwards-Helaire, KC (ADP 1.07)

I get it, it's so tempting; the starting running back for the best offense in the NFL. It's not hard to see why CEH could be a legit fantasy stud this season, as a first round draft pick and one of college football's best receiving backs in 2019.

Let me throw a little water on the flame for a minute here. First off, CEH is a rookie, and not just any rookie but a rookie during Covid-19 with limited training camp practices and less time in pads than most years. With limited reps will he be given a large load the first third of the season? The first half of the season? Even with limited depth behind him, there are several veteran backs on the roster that Andy Reid may trust more to churn out yards until CEH is up to speed.

Second, we know CEH can catch the ball, but he is neither a short-yardage power back, nor a legit break-away threat, and he will definitely need some work in pass protection, so at least to start his career he does not project as a workhorse-type back. Of course in the Chiefs offense he may be so efficient that he will not need to be, but banking on that efficiency as a rookie at a mid-first round ADP is a very hard sell.

Currently, CEH is being taken ahead of backs that are guaranteed large workloads and have posted big numbers at the NFL level. The first round or two of a draft is where you cannot afford to take big risks and CEH, while a "sexy" pick, has risk written all over him. Your team's first selection should always be a rock to build around and CEH simply does not fit this definition.

5. RB Chris Carson, SEA (ADP 3.05)

I had not taken, or paid much attention to Carson in any drafts this offseason so I was shocked to see he was going off the board in the early to mid-third round, as a top 18 RB. Carson is the ultimate JAG (Just A Guy), who is not particularly good at any specific skill but found himself in the right place at the right time and has made the most of his run-heavy situation in Seattle.

Carson's numbers last year were solid, although his yards per carry and rushing touchdown numbers actually dropped despite 31 more carries and an extra game played. Carson did show better involvement in the passing game (37/266/2) but does not project as a traditional receiving back and may be replaced in this role by 4th round rookie DeeJay Dallas, who is a naturally more versatile back.

Add this to the signing of Carlos Hyde, who had a similar 2019 season to Carson on the ground, and the potential return of former first round pick Rashaad Penny, and you suddenly have the makings of a full-blown committee situation. Will Carson lead the committee? Sure, but he's not talented enough to hold everyone off if he has a couple bad games or if his fumbling issues continue (7 in 2019).

With Russell Wilson publicly pleading for the offense to be more aggressive, and a talented receiving corps to throw to, the Seahawks may throw more than many expect, further diminishing the touches for Carson. In the middle of the third round the wide receivers available are so juicy that taking Carson is a total waste to me. Guys like Allen Robinson, D.J. Moore, Mike Evans, and Odell Beckham Jr. are often available and offer much more upside with higher floors as well. Taking Carson in the third screams desperation and that is not how you win a draft.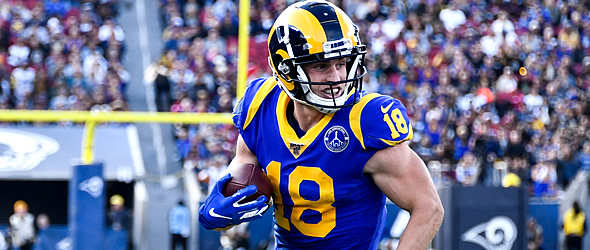 6. WR Cooper Kupp, LAR (ADP 4.04)

Kupp has had an excellent career thus far and has over-achieved in many people's eyes as a target hog who has certainly earned Jared Goff's trust. Most of Kupp's fantasy value is based on volume, much like Jarvis Landry or Julian Edelman in his prime. Kupp does not offer much in big-play ability run after catch, or red-zone ability.

The trap I believe is that his volume will likely go down, taking away some of his floor and consistency that makes him a "safe" fantasy pick. The Rams shifted in the second half of the 2019 season, from a mostly three-wide offense, which often favors the slot receiver, to more of a 12 personnel team, which highlights the tight ends and outside receivers. Once the team started this trend, Kupp's snaps dropped from well over 80 percent to just 64 percent, as the team was hesitant to play him on the outside. In 2019, 75 percent of Kupp's 134 targets came from the slot, but most of those came in the first half of the season when the team was running 12 personnel less than 25% of the time, compared to running it nearly 40% of the time the final four games of the season. Kupp averaged 6 targets a game those final four weeks, compared to over 9 per over the first 12 games.

With two talented tight ends competing for targets, as well as Robert Woods and Josh Reynolds (both better at playing on the outside), Kupp could easily see a 25%+ decrease in targets this year and without elite athleticism it would be hard to expect big yardage games with that kind of target reduction.

Kupp should be viewed more as a mid-range WR3 but he is currently being drafted as an early to mid-range WR2. This is a waste of value to me, especially when rounds 4 and 5 are chock full of high-upside receivers that could match Kupp in targets but easily beat him in yardage and touchdowns.

7. TE Darren Waller, LV (ADP 5.12)

Waller burst on the scene last year with PPR drool-worthy stats of 90 receptions and 1,145 yards. A late bloomer thanks to some off the field issues, the tight end found success as the Raiders top target hog on a team desperately lacking legit receiving options.

This offseason the Raiders looked to remedy the situation, signing veteran TE Jason Witten and drafting two high profile rookie receivers in Henry Ruggs III and Bryan Edwards. Add to this the development of productive 2019 rookie Hunter Renfrow, buzz about getting RB Josh Jacobs more involved in the pass game, Tyrell Williams still hanging around, and Waller could easily go from the Raiders weekly number one option, to third or fourth in targets in any given week. For a guy that only caught 3 touchdowns on 117 targets, a significant drop in targets is not going to go well for Waller, who was one of the most reliable PPR options at the position last year.

Waller is in, what I'd call "no-man's land" for the tight end position, meaning, he's stuck being the first TE drafted after the big four (Kelce, Kittle, Ertz, Andrews), grouped in with the next tier of guys that are all similar. There is not a lot of difference between drafting Waller or Hunter Henry, Evan Engram, or even Hayden Hurst, yet these guys are separated by two-three rounds.

The play at TE this year is spending up for one of the Big 4 or waiting till after Round 7 to snag one of the handful of higher upside, but perhaps less proven guys, at the position. Drafting Waller in the 5th or early 6th puts you in a rough spot by missing out on better value at other positions for a player that has nowhere to go but down based on last year's numbers.

8. TE Rob Gronkowski, TB (ADP 6.11)

Everybody loves Gronk. Everybody wants to own Gronk and cheer him on as he spikes the ball after a touchdown and then gives the sideline reporter a hilarious interview, I get it. The chance to text your league-mates a hilarious Gronk gif or meme after he scores or makes a big play is tempting, and to me it is the only explanation why he is being drafted in the 6th round as the TE6.

Gronk has had an all-time great career, no doubt, but has not played a full season since 2011 and looked like he was running in wet cement the last time we saw him play in 2018. Yes, he's had time off to theoretically recover, and yes he's reuniting with Tom Brady, but he's also going to a brand new team for the first time in his career and will be surrounded by, perhaps, the best weapons he's ever had all competing for targets.

Can Gronk still be a dangerous redzone weapon and catch 7 or 8 touchdowns? Sure he can, but so can eight other tight ends being drafted a few rounds later. In his prime, Gronk was Brady's top target but would it be a stretch to say he might not even finish as a top 3 target on the Bucs this year? I don't think so. With O.J. Howard and Cameron Brate both in the prime's of their career I'm not even sure Gronk will be the best tight end on the team from a fantasy standpoint. At this point in his career Gronk has done just about everything to cement his legacy so to me I would not be surprised if he came to Tampa to just have fun, teach the young guys, and eat some avocado ice cream with Brady one last time.

In the 6th or 7th round there are too many other options with both higher ceilings and floors than Gronk at literally every other skill position. Let your league-mates win the gif or meme war, you just focus on winning your draft by avoiding Gronk.

9. QB Drew Brees, NO (ADP 7.07)

Drew Brees failed to play at least 15 games in a season last year for the first time in 16 years. Despite an injury to the thumb in his throwing hand and missing five games, Brees was ultra-efficient last season, especially throwing touchdowns, finishing 3rd best in TD percentage (7.1%), which was his career high and up a full 1.5% off his career average. Relying on a strong run game and a suddenly near-elite defense, Brees did not throw for a ton of yards, finishing with the second-fewest per game average in his New Orleans career, just ahead of his 2018 average and just barely below his 2017 average.

The past three seasons have shown a trend for Brees, as his run game and defense improved, Brees has become more of a game manager, attempting far fewer passes on average than he did during his first decade as a Saint. With Taysom Hill stealing snaps and a more conservative game plan in place, Brees, going into his age 41 season, is still a great NFL QB but on the downslope of his career as an elite fantasy asset.

With regression in the touchdown percentage department nearly certain, Brees could look more like a middle of the road option rather than the top 8 fantasy asset he is being drafted as. Much like Waller, I look at Brees as being in "no-man's land" in terms of ADP for fantasy quarterbacks, currently being taken as the QB7. There are six quarterbacks worthy of being selected in the first 7 or 8 rounds, all with various degrees of upside, mostly based on their extra ability to run or their extremely explosive offenses. Brees, at this point does not fit this description and therefore should be lumped in with the next tier that could go as many as seven deep. As the first QB in this tier, Brees represents a terrible value, especially when similar QB's are not going off the board until the 9th or 10th rounds. With tantalizing talent available at other positions in the 7th and 8th rounds there is no need to reach for a QB in this range, especially one like Brees who could experience some real fantasy regression this season.

Much like the tight end position, I'm either taking a top 6 QB in the first 7 rounds or simply waiting closer to the end of my drafts where there is solid upside paired with better value. Enjoy watching an all-time great in again this year, but leave Brees off your fantasy squad anywhere near the 7th round.