Last Weekís Question: Are you glad about that QB you traded for?



I heard from several readers who are quite satisfied with the trades they made for a QB. Nick, for instance, didnít mind giving up Matthew Stafford, John Brown, and Aaron Jones for Tom Brady. Thatís more than I would have paid for what I consider a trivial upgrade at QB, but the deal made sense from Nickís point of view (since neither Brown nor Jones was breaking into his starting lineup anyway). With Melvin Gordon, Christian McCaffrey, Sony Michel and Tevin Coleman still on his roster, I can see why he wouldnít be bothered about Jonesí impressive (and promising) productivity in Week 10. (I had Jones on my own bench in Week 10, which was fine, since Gordon and CMC came through like the studs they are. So maybe converting Jones into an upgrade at QB would make more sense than watching him accumulate points that donít matter.)

James (whose team bears a striking resemblance to Nickís) was able to snag Brady for Kenyan Drake:
Iím in a 14-team league and stupidly dropped Ryan after his terrible Week 1 performance, so I streamed QBs the first several weeks of the season before picking up Winston after his suspension. I thought I had my QB situation settled after his early bye week only to have him get benched a few weeks ago. Fitzmagic was the only solid stream available with all of the byes that week and a guy in front of me in the waiver order had two QBs on bye so I knew I wouldnít get him. I have a pretty good team but after several couple-of-point losses because of various and disastrous kicker production (I donít want to talk about it) I was 3-5 and desperately needed a win so I offered Kenyan Drake (coming off of two productive weeks in a row) to the RB-needy Brady/Goff owner and got Brady in return. Brady isnít going to be a league winner and I agree with you on QB position scarcity but Drake was my sixth RB (behind M. Gordon, S. Michel, N. Chubb, K. Johnson and A. Jones) so to me he was worth trading to get a likely top ten QB most weeks and to spare myself the hassle of streaming rest of season.
I appreciate the point James makes about the hassle of streaming QBs, especially in leagues with very short add/drop periods (like the FFToday Staff League). Streaming is easy if you can just make your selection any time you think about it between Wednesday and Sunday, but if you have to go through multiple waivers just to reach a short add/drop window, then you can end up wasting a lot of time hoping and dreaming for a particular QB only to end up settling for another at the last second. When I say that streaming is easy, I mean that itís easy to find QB1 production every single week by streaming. But streaming can also be a PITA.
I donít know what it is about Brady, but Hugh traded for him as well:
I traded Le'Veon Bell for Tom Brady back in Week 3, and it has worked out very well for me so far.

Our league is oldónewspaper and pencil oldóand our scoring system reflects that. We give 1 point per yard, passing, running, receiving, and 25 points for touchdowns. This was installed way back when, so it was easier for everybody to add up the scores of each player and team.

So in our league, QBs reign supreme, just on the numbers alone. They get paid the most on auction day, and even middle of-the-road types are more valuable than top shelf skill players. So a Drew Brees in his prime is easily worth 2 Todd Gurleyís any day [in this scoring system]. In fact it is sometimes best to dump a bench warming skill player, and grab a third or fourth QBónot because you can play more than one a week, but so the opposition can't play them against you.
Now that we know Bellís fantasy value is precisely zero, trading him for anything at all seems like a great choice. Making that trade back in Week 3 would have been incredibly bold in a conventional fantasy league, but it sounds like it was practically a no-brainer in the scoring system Hugh describes. By the way, I love to hear from readers like Hugh because almost everyone plays fantasy according to the same default settings on the same websites these days. Just thinking about a league with 25-point TDs is fun.

But you donít have to be in a league with unusual scoring for a QB to salvage your season, as Garyís experience proves:
I agree that drafting a QB early is foolish, but I don't like streaming them either, so I usually draft two who I think will be decent. In my league (12 teams, 0.5ppr) I decided to go RB-heavy in the draft, and I wound up with Bell (2nd pick), Mixon, R Freeman, C Carson, and A Jones. Quite a haul, I thought. I was one of the last to draft a QB and I took Marcus Mariota, and then Alex Smith later. After Mariota laid an egg in Week 1 I dumped him for Case Keenum. So, Bell does his disappearing act, Mixon gets hurt, and before you know it I'm 0-4. I need to do something, so I put Bell on the trading block seeking a quality QB1 in return, and manage to trade Bell, Keenum, and Tyler Boyd for Philip Rivers, Davante Adams, and Nyhiem Hines...I couldn't click "Accept Trade" fast enough! Rivers has been a consistent stud for me and now I'm 5-4 and in 4th place. Yes, I got Adams, too, but the driver behind the trade was getting a QB1 for Bell. So, to answer your question: I am SO glad I made a trade for a QB!
My thanks go out to everyone who wrote in. Iíve only included a handful of responses here, and clearly I underestimated the number of satisfied customers in QB trading circles.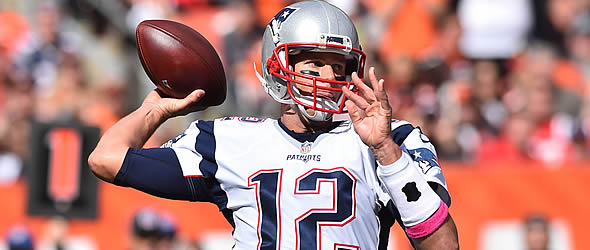 This week's question: Can you justify your single-QB format?

This week's question comes from Jeremy, who is sick and tired of the way quarterbacks are valued in fantasy:
This [lack of QB scarcity] is exactly why I moved our league to a 2 QB league a few years ago. How can arguably the most important position on the offense, not be integral in fantasy football? It wasn't right. So, I added QB as another option for the flex spot, while also tinkering (lowering) QB points so they were more in line with RB/WR points. Now most teams in our 14-team league start two QBs each week (except maybe during bye weeks). It has given a whole new life to the QB spot. We see QBs being carefully drafted and traded especially if someone is trying to fill in for a bye week. Now, that doesn't mean you have to have 2 QBs to win, the team two years ago won the league with just one starting QB the whole year.

There was some reluctance at first, but just about every owner has come to embrace the change now.
It is kind of weird that the most difficult position in professional sports turns out to be less of a differentiator in fantasy than RB or WR or in some cases TE. But the fact is the only positions I care less about in fantasy than QB are kicker and defense (of which there are precisely as many "starters" as there are QBs). Let's face it: Scarcity drives value in fantasy, and single-QB leagues generally don't create enough scarcity at QB as at the other skill positions on offense.

So why isn't everyone playing in a 2-QB league? Are people committed to 1 QB because that's how real football is played? Or is it because (like me) they're addicted to the depth they can achieve at other positions by streaming QBs? Please comment below or email me to let me know why you think most leagues are sticking with the single-QB model.



Survivor Pool Picks



Trap Game: Eagles at Saints

With 6 teams on bye, Week 11 presents a tight slate. The biggest spread has the Eagles as 9-point underdogs in New Orleans. Vegasí low opinion of the defending Super Bowl champs is understandable in light of their loss to an uninspired Dallas team in Week 10. The not-so-high-flying Eagles are now two games behind the Redskins in what is arguably the most disappointing division of the NFL. The 8-1 Saints, by contrast, havenít lost since their Week 1 visit to Tampa Bay and appear to be heading to the NFC Championship. Everything points to a Saints win: home-field advantage, talent, momentum. But thatís exactly why I wonít touch this one. Yeah, itís probably the safest pick of the week, but it makes my skin crawl to contemplate betting against the Eagles, who are better than their record indicates and probably looking forward to playing in a cozy dome rather than their chilly home. I have a hunch the Philly defense will jell this week and rattle the cage of Drew Brees, turning this into a let-down game from the Saints.

Pick #3: Cardinals over Raiders
(7-3; GB, NO, CHI, LAC, CIN, car, TB, IND, oak, phi)

Byron Leftwich, the newly appointed offensive coordinator in Arizona, has breathed new life into the Cardinal offense (and resuscitated hopes for owners of David Johnson and Larry Fitzgerald). The hapless Raiders donít have anything like a Byron Leftwich to be excited about. After losing Amari Cooper to Dallas and both Jordy Nelson and Martavis Bryant to injury, the Oakland receiving corps now consists of Seth Roberts, Brandon LaFell, and Marcell Ateman. Good luck with that, Oakland. The Raiders appear to be playing for the top draft choice in 2019 (i.e. tanking), but they canít afford to let the apathy show in their home games. However, as the visiting team in this one, look for Oakland to phone it in on speaker.

Pick #2: Buccaneers over Giants
(7-3; no, LAC, hou, GB, CAR, MIN, IND, PIT, KC, atl)

The Giants are 2-point favorites at home in this one, but I want the Bucs. The New York rushing game is next to last in the NFL, and the passing game (though statistically better) is painful to watch. Things should be especially rough on Eli Manning this week with former teammate Jason Pierre-Paul back in town and eager to show his old team what a mistake they made in dealing him to Tampa, where he has racked up 8 sacks so far this season (just 2 less than the Giants as a team). I hate picking visiting teams in survival pools, but I expect former Jet Ryan Fitzpatrick to feel more at home in Met Life Stadium than Manning on Sunday.

Pick #1: Panthers over Lions
(8-2; BAL, LAR, min, JAX, NO, GB, LAC, CHI, dal, KC)

The Panthers were a better team than the Lions before Golden Tate left Detroit, but not so much better that I would have considered betting against Detroit at home. That changed with Tateís departure. Matthew Stafford has been sacked 16 times in the past 2 weeks, and the Detroit coaches have proven that even when they find their way to a running game, they will immediately forget whatever they learned and relapse into the familiar pattern of desperation passingóonly with fewer downfield weapons than they used to have. Sure, Cam Newton has been uneven this season. But he remains a poised and gifted athlete with a versatile weapon in Christian McCaffrey. I donít see how the Lions can keep up.


---
Mike Davis has been writing about fantasy football since 1999--and playing video games even longer than that. His latest novel (concerning a gamer who gets trapped inside Nethack after eating too many shrooms) can be found here.