Last Week's Question: How do you justify your single-QB format?



My column for Week 11 featured Jeremy's question about single-QB leagues generating insufficient scarcity at the QB position. I was lucky to receive a wide variety of opinions in response, including this good-natured counterargument from Stefan:
Good question! I have sympathies for Jeremy's point. Even though our league never had 2 starting QBs, QBs are always scarce! We are 14 teams and all managers always keep a back-up QB in their team and never apply a QB streaming strategy. Not surprisingly, QB's get drafted quite early - I was the last to draft a QB this year (Luck in the 8th round) at a moment when others already drafted their 2nd! So QBs are scarce all year, the current free agents are fellas such as Mariota, Rosen, Carr, Jackson and Hill!

P.S. I forgot to say that we don't cap the TDs for QBs: 6pts per TD and 1pt per 25yds passing. Hence a good QB delivers 26-32pts per week. So you better make sure you have a good one in your starting line-up!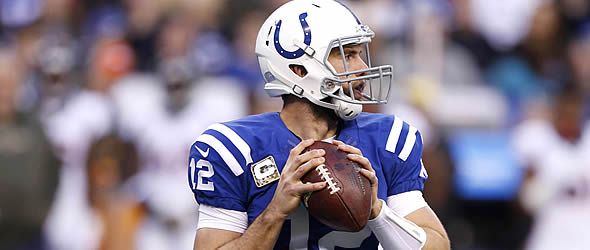 Going from a 12-team to a 14-team format will have an impact on scarcity at every position, and that impact will definitely be huge if all owners carry at least 2 QBs at all times. In my 12-team leagues, it rarely occurs to me to roster more than 1 QB. In my money league, I've used Andrew Luck (my 9th-round pick) as my starter all season (no matter the matchup). When he had his bye in Week 9, I picked up Dak Prescott. But I cut Prescott yesterday (even though he's a fine backup with a good playoff schedule) to make room for Sebastian Janikowski. My kicker (KC's Harrison Butker) is on bye this week, and I would rather leave an idle Butker than an active Prescott on my bench. In my experience, that's typical of what happens in 12-team leagues with only 6-8 teams carrying backup QBs. YMMV.

Another argument in favor of the single-QB approach came from Cheech, who doesn't think that 2-QB leagues require much in the way of strategizing from owners: "In superflex leagues you tend to just throw out the two QBs you have instead of evaluating the QB position weekly." I think that's a good point, but I'm less persuaded when he suggests that streaming QBs is hardly a cakewalk, even in single-QB leagues:
Streaming isn't as simple as picking any QB off the waiver wire. The idea that you have 10 great QB options to choose from and they're all equal and are all going to do great is false. Typically you have 2 or 3 options worth considering and there is a right answer and a wrong answer since usually at least one of those is going to bust.
My own response would be that you don't need 10 great options, but a reader named Michael responded to Cheech by outlining an approach that a lot of FFers use:
I tend to draft 2 middle-skill QBs in the middle rounds (9-12), then just play the one with the best matchup each week. If one breaks out, so much the better. If they both tank, you can usually find something on the wire. This way I can get 10 rounds of RB/WR/TE (usually 4-5-1) before worrying, while still getting Stafford or Rivers level skill.
I used to do the same thing as Michael. But these days I don't even bother with 2 QBs. I'll gladly take either Rivers or Stafford (both available late in most drafts) and rely on the wire in a pinch. This week, for instance, Mike Krueger has Lamar Jackson ranked higher than Aaron Rodgers. Is Jackson available in your league? How about Baker Mayfield (ranked ahead of Russell Wilson) or Chase Daniel or Nick Mullens (both ranked ahead of Andy Dalton)?

Will some of these guys bust in Week 12? Sure. But so will some of the QBs drafted in the early rounds. Drew Brees is an awesome QB, but he was a bad start in Week 4 & Week 8. Philip Rivers (who went far later than Brees in most drafts) hasn't had a dud game all year. That's everything you need to know about why I refuse to pay up at QB in a single-QB format.

Even so, Cheech's final point remains compelling: "It's not that 1 vs. 2 QB makes it more complex or more strategic; it just changes the strategy." That's fair, and in Hugh's estimation the tendency of NFL teams to rely on a single-QB offense is a pretty good reason for sticking with that model: "I believe that single QB formats are very much traditional and are the proper way to go."

NFL teams don't often have more than 1 QB on the field at a time, so perhaps it doesn't make a lot of sense for fantasy teams to tinker with that model. But tinkering with scoring can help separate the top 12 QBs from the rest of the pack. The post script from Stefan about awarding QBs 6 points per TD was amplified by a different Michael, whose league emphasizes big plays:
My league of 14 years has a big play TD bonus where TDs of 26-49 yards get an extra 2 points, 50-75 = 4 points and 76-99 = 6 points (in addition to the 6 points they get for the TD). All positions get this bonus. This gives more value to the QB and WRs you need to play as the big plays are more frequently pass plays. For this reason, among a few others, we go 1QB, 2RB, 3WR, 1 TE (no flex).
Thanks to everyone who chimed in. It turns out you don't have to justify a single- or double-QB format. It's fantasy football. Do what you want.



This week's question: What's the greatest number of flex players your league has allowed?



The question for Week 12 comes from Hugh, who seems to be talking to Michael when he asks:
Why are so many fantasy leagues so rigid in their weekly lineups? Almost all leagues use some variation of 2 rbs, 2-3 wrs, 1-2 qb's, 1te, 1 flex, etc. Lineups are qb's, def, kicker, and 5-6 skill players. So how about just allowing skill players to all be flex players?
My current league has allowed just this for the better part of two decades.

It makes it much easier on team owners to set lineups, cover bye weeks, have flexibility on auction/draft day, etc. It also seems to allow a bit more team personality. I may prefer a 4 back road grader, while my opponent has a 5 WR fleet, or a jumbo 2 back 3 te set. So what do you think?
I'll be surprised if many other leagues have tried the model Hugh recommends, so I'm broadening his question a bit. What's the greatest number of flex options you've ever had in a league, and what did you like or dislike about it? Of course, thoughts on Hugh's approach are welcome as well. Please post them as comments below or email them to me.



Survivor Pool Picks



Bonus Pick: Chargers over Cardinals

Since I've already used the Chargers in all three of my slots, they're not available to me in Week 12. However, I consider them the best pick of the week—better even than the Saints over the Falcons (in New Orleans) or the Patriots over the Jets (in New York). The Saints may be the best team in the NFL right now, but teams riding lengthy winning streaks routinely falter in matches against snakebitten divisional opponents. And even though I can't always avoid divisional matchups with the visitor as the favorite (as is the case for New England this week), I have worse luck with those contests in the AFC East than in any other division. Give me the AFC West Chargers vs. the NFC West Cardinals (with the Chargers at home) by a mile. Despite being 2 wins behind the Chiefs in their own division, the Chargers have looked like a playoff team all season. For them to make it as a wildcard, they need to win the games they're supposed to win (such as a home game against the worst offense in the league—especially with Joey Bosa back in action on defense).

Pick #3: Jaguars over Bills
(7-4; GB, NO, CHI, LAC, CIN, car, TB, IND, oak, phi, ari)

This game gives me the willies because I don't want to pick a Florida team in Buffalo in mid-November. But since I'm steering clear of the divisional matchups involving the Saints and Pats, I'll take the Jaguars (who are at the bottom of their division despite being favored to win it in the preseason) over the Bills (who are tied with the Jets at the bottom of their division exactly as everyone expected). These are 2 of the stingiest defenses in the league, and I frankly have no idea whether Jacksonville's Blake Bortles will outplay Buffalo's Josh Allen (who is being rushed back into action after an elbow injury in Week 6). My instinct here is to take Jacksonville simply because Doug Marrone has dropped 6 games in a row and could very well lose his job midseason if the Jags can't take care of business against the lackluster Bills.

Pick #2: Ravens over Raiders
(7-4; no, LAC, hou, GB, CAR, MIN, IND, PIT, KC, atl, tb)

The Ravens and Raiders both thrilled their fans in Week 11 with unexpected wins over the Bengals and Cardinals, respectively. The Raiders proved that they can win without Marshawn Lynch or Amari Cooper, and the Ravens showed us that when a QB runs far more than expected (as Lamar Jackson did), it can open things up for an undrafted rookie RB even if most people had never heard of him (Gus Edwards). These teams are both unpredictable, but I'll take the Ravens for 2 reasons: 1) They're at home; and 2) The team they upset in Week 11 is much better than the team the Raiders upset.

Pick #1: Colts over Dolphins
(8-3; BAL, LAR, min, JAX, NO, GB, LAC, CHI, dal, KC, car)

The Colts are 7.5-point favorites at home against the Dolphins, who have Ryan Tannehill back at QB. Expect Tannehill to struggle because he's rusty after more than a month on the sidelines and not all that great even when "oiled." His best game of the season came in Week 3 against the lowly Raiders, when he accumulated only 289 passing yards. In a season that routinely produces 400-yard games from QBs, it's worth noting that Tannehill didn't break the 300-yard mark once before being sidelined with a shoulder injury in Week 6. That makes for a pretty stark contrast with Andrew Luck, who has rediscovered the connection with T.Y. Hilton that made both of them fantasy studs before injuries tarnished their value. The Dolphins may have gotten off to a fast start in 2018, but I foresee a strong finish for the Colts, which will involve winning games against discombobulated outfits like Gase's crew from Miami.



---
Mike Davis has been writing about fantasy football since 1999--and playing video games even longer than that. His latest novel (concerning a gamer who gets trapped inside Nethack after eating too many shrooms) can be found here.