Week 2 of the Preseason allowed us to see some running backs in action and that's a good thing. There is generally more volatility at the RB position during the month of August as rankings and projections are formed. That means every piece of information helps so it's a good thing we got to some running backs in action this week. We found preseason morsels among other players and positions, too, and we'll break it all down for you beginning with the drama building in Big D...
1. The Pollard Bluff Is In Full Force
If you believe Jerry Jones (do those people exist?), the absence of Ezekiel Elliott at present is really no big deal because Tony Pollard is here to save the day. It's obviously laughable to suggest that Pollard can fill Elliott's shoes, but we did find out this weekend that Pollard has shoes of his own. The rookie out of Memphis ran the ball 5 times for 42 yards in work that included a 14-yard touchdown gallop. Granted, Dallas continues to have an outstanding offensive line, but that's kind of the point. Pollard has value certainly as a handcuff to Elliott, but he's probably worth drafting at this point whether you have Elliott or not. The thought here is that Elliott will be back in the fold soon, but Jerry Jones knows his squad will have a decent year running the ball even if Pollard is lead dog. Don't sleep on Pollard completely even if "Zeke Who" becomes "Zeke In Charge" once again.

2. The Colts Won't Cease To Exist Without Andrew Luck
Preseason is preseason, but it's still pretty cool that the Colts had three quarterbacks who threw for 100+ yards vs. Cleveland this past weekend and none of them were named Andrew Luck. Jacoby Brissett led things off with 80% of his ten passes being completed for 100 yards and a touchdown throw to TE Eric Ebron.

The news on Luck over the weekend was hopeful, but drafters have been wrestling with what to do with him and his receivers on draft day. That includes Ebron and fellow TE Jack Doyle, but the doubt revolves mostly around lead wideout T.Y. Hilton. Based on the performance of the three signal callers this weekend, the Colts skill position players shouldn't be docked severely due to the uncertainty surrounding Luck.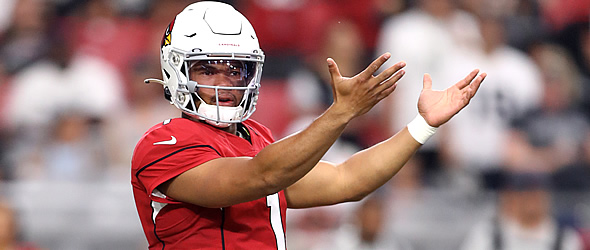 3. Kyler Murray is Still a Rookie Quarterback
The rage amongst fantasy enthusiasts this summer has been to try to project what sort of fantasy quarterback rookie Kyler Murray will be in his first season in Arizona. If his second preseason game was any indication, it may be time to slow down the express train to fantasy stardom just a bit. The stat line (3-8, 12 yards) was brutal and Murray missed several open receivers.

All that said, Murray is going to produce this season, numbers-wise, and here's why. The Cardinals defense looked like Swiss cheese versus a less than dynamic Raiders offense for most of the night indicating Murray's Cardinals are going to be playing from behind - a lot. In fantasy football, as most of our readers know, game flow dictates statistics. Remember how Blake Bortles was once fantasy relevant due to his garbage-time heroics? Murray has far more upside than Bortles ever had and he's going to have to keep throwing to keep Arizona in games. Continue to draft him with confidence, but remember that rookie mistakes will still impact his performance at times.

4. The Thompson Twins on the Scene in Kansas City
Even role players in an offense explosive as Kansas City's have value in the world of fantasy football and in the Chiefs' game against Pittsburgh on Saturday, it was a pair of Thompsons that bubbled to the surface.

RB Darwin Thompson is already being drafted late in redrafts and dynasty drafts alike and out-played Carlos Hyde in limited action over the weekend. Considering Damien Williams has no history of being a bell-cow back for more than a few games, Darwin is becoming a must-draft. Whoever ends up getting the most touches out of the backfield in Kansas City come late November/early December is going to be valuable.

Meanwhile, wide receiver Cody Thompson was targeted 11 times in the passing game and caught 7 of those for 69 yards. Mecole Hardman (who scored for the second straight week) remains the top target out of this receiving corps beyond Hill and Watkins, but Thompson has been turning heads since mini-camps in May. Watch how he does next weekend and consider making him a late round selection in deeper leagues if he once again finds openings in the 49ers' secondary.

5. Delanie Has Returned to the Building; Irv Smth Has Entered
How about a little love for a couple of tight ends? First off, Delanie Walker is 35 years-old and coming off a gruesome injury in early September of last year. Prior to that injury, he was easily the most reliable part of Tennessee's passing attack and stretched defenses downfield like few post-30 year old tight ends can. That's why his two catches, one of which was a touchdown, vs. New England this weekend was noteworthy. Walker is back playing at near full to full capacity. Given who he was less than a year ago and what he showed in limited action this past weekend, he's probably being undervalued in most drafts.

Another tight end deserving of consideration, albeit the late-round variety, is Irv Smith in Minnesota. The rookie out of Alabama hauled in five first half passes last night including a grab in the end zone. Kyle Rudolph is still a Viking, but Smith could give him a run for his money this season as a pass-catcher.

6. Yo Adrian!
Truth be told, everyone on draft day wants to draft the rookie, the up-and-comer, the third year WR with upside, the sexy "handcuff" and/or the intriguing dual-threat QB. No one gets excited about the 35-year old RB no matter how glorious his past may have been. That's where reality swoops in and if you pay attention, you might benefit. I had the privilege of watching Adrian Peterson's 4 carries for 32 yards in Preseason Week 2 and the "old man" definitely passed the eye test. Yes, I know I told you last week that Washington is something of a wasteland fantasy-wise (and it is) and yes, Derrius Guice should be able to play at some point early in the season, but Peterson rises above all stereotypes. He can still be a valuable asset on your roster both in terms of depth and maybe a spot start against a soft run defense. Keep him on your radar if you're drafting this week and don't allow yourself to get sucked into just making one "cool" pick after another.

7. Got a Big Roster? Save a Spot for Taysom Hill
I know Teddy Bridgewater is supposed to be the guy in New Orleans if anything were to happen to Drew Brees, but on Sunday, it was Taysom Hill who stole the show as the field general while Teddy struggled. Hill threw for two touchdowns and looked much more like an NFL quarterback and much less like a gimmick player that he was last season. Hill's remarkable ability to run the football, especially near the goal line, would make him a fascinating player to stash on a bench in case he is ever called into duty. Some leagues don't afford such luxuries, but if you're lucky enough to be in a league that allows for some gambles, Hill is simply fascinating as a fantasy prospect.

8. A Taste of Texas
Sometimes, preseason only gives you one look per game at the starters. You can choose then to either ignore that drive and suggest it's meaningless or take note/pay attention. We're recommending the latter. Deshaun Watson led the Texans down the field and capped an11-play drive with a TD throw to who else but DeAndre Hopkins. It was preseason. It was one drive. But, it was a foreshadowing of what is going to be a dynamic season for both players and for the Texans offense in general. The addition of Duke Johnson gives Houston some versatility out of the backfield and Watson is now fully recovered from his devastating injury as a rookie. If you draft Hopkins, drafting Watson later might be a great idea. This is an offense to latch onto and having its two most dynamic stars in your lineup could benefit you in ways that are hard to fathom. I'm a believer. Big time.

9. Rookie Rushers Continue to Impress
A lot of rookie running backs got a chance to carry the rock in Week 2 and several were quite impressive. Damien Harris got a heavy workload for the Patriots and turned it into 80 yards on the ground. Meanwhile, Justice Hill found the end zone in Baltimore to go along with some decisive running and 49 yards. Finally, rookies Josh Jacobs (Oakland) and Miles Sanders (Philadelphia) both ran for over 5 yards a carry in their respective outings signifying they're ready to take on an early season role for their teams and your fantasy squad. Jacobs remains on track to get the bulk of the work for the Raiders as his pass protection has been as impressive as his running. Sanders, meanwhile, will engage in limited touches initially, but could emerge as the main ball carrier by October depending on how Jordan Howard performs. Sanders is looking like a solid 6th-7th round gamble in re-drafts while Jacobs isn't making it out of Round 3 of late.

10. Jakobi Meyers, Act Two, and the Debut of Tanner Hudson
Lastly, a nod to the unheralded stars of the preseason. We talked up Jakobi Meyers last week and his encore performance versus the Titans was equally impressive with another 6 catches for 82 yards. The return of Josh Gordon to fantasy relevance again may leave Meyers as more of a dynasty prospect than anything else, but a late-round selection still wouldn't be a waste of your time.

Tampa Bay TE Tanner Hudson (who?) who caught 8 ball for 93 yards and a TD. Sure, the Bucs are more than a tad deep at that position, but remember the name should anything happen to O.J. Howard this year.

That's it for Preseason Week 2. Next week, it's "dress rehearsal".