Week 1 of the Preseason gave us our first look at players in game action in over six months. While veterans played sparingly, several rookies made debuts and other young players were called into duty. Did we learn anything from all of it? Of course we did…just remember it's preseason and what you see is not always what you get in September.
1. There Was Crisp Quarterback Play in the Big Apple
After awful QB display in the season opening Hall of Fame Game August 1st, it was great to see two quarterbacks look sharp in the Jets-Giants tilt Thursday night. The first of the two sharpshooters was Sam Darnold who looks ready to make a leap forward in his sophomore season with improved weaponry at his disposal. Darnold led an opening series touchdown drive which concluded with a TD pass to one of his new receivers; Jamison Crowder (might be undervalued in PPR leagues presently).

On the flip side, rookie QB Daniel Jones was all the rage after leading a "crisp" TD drive of his own on the Giants' second series of the game. The performances shouldn't alter Darnold or Jones's values all that much, but they did serve as a reminder that skill position players from both teams shouldn't be ignored with Jones likely to get playing time by mid-season. With Saquon Barkley and Le'Veon Bell likely to get little to no work in the preseason, at least this game offered us something.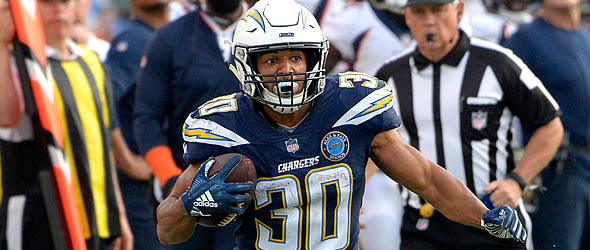 Melvin who? Austin Ekeler totaled 8 touches for 69 yards in the Chargers first pre-season game.
2. Austin Ekeler is a Must-Handcuff for Those Drafting Melvin Gordon
By the time we review preseason Week 2, Melvin Gordon may be happy again and standing on the sidelines for the only team he's ever played for. But, until that happens, it is quite clear that if you're going to draft Gordon, you're going to have to pay the Austin Ekeler tax. Yes, Justin Jackson scored the only rushing touchdown of the game for the Chargers, but Ekeler looked explosive running for 8 yards a pop on 5 carries and catching all 3 of his targets. Ekeler is going off of fantasy draft boards around the No.30-35 RB. If you pick Gordon, you'll need to consider Ekeler a high-end RB3. While he won't get the goal line work Gordon receives, he may be a better fit offensively for the Chargers between the 20s. Just don't get greedy and think he's going to fall any farther than what we're suggesting here. His play this past weekend showed that he's up to whatever task that confronts him come September.
3. Tennessee May be the First Team to Make a QB Change in 2019
The Titans have been patient with Marcus Mariota and rightfully so given the coaching changes he's had to deal with since becoming the starter in 2015. But, there's no denying what took place versus the Eagles in the first game of the preseason. Mariota spent an entire series checking down to Adam Humphries on extremely short passing routes. Sure, it was only one series, but Ryan Tannehill and Logan Woodside combined for 4 touchdown passes and nearly 300 yards. I know it's assumed that Tannehill will spend the rest of his professional career as an NFL backup, but he's still got a big arm and if he can re-develop some confidence, he could re-surface if Mariota continues to show an aversion or inability to make a downfield throw. Mariota has a cool back-story and I am rooting for him to succeed in Nashville…but I can't ignore the scribbles on the wall and neither should you.
4. David Montgomery's Stock Continues to Rise
History suggests that while backs with the special skill set that Tarik Cohen possesses hold value, they're not built for workhorse roles. As such, when Chicago signed Mike Davis this offseason and then added David Montgomery via the draft, it was a nod to the reality.

Our first look at Montgomery came early as the Bears were willing to trot him out over the weekend against the Panthers. And while he didn't do anything truly spectacular, he did rush for a 7-yard touchdown in addition to catching all three of his targets for 30 yards. In short, he looked ready to contribute right off the bat on a team with an above-average offensive mind running the show. Drafting rookie running backs always comes with some risk as some of these things were said about guys like Rashaad Penny and Royce Freeman (more on him later) last year. But, Montgomery is in a great situation to succeed and the clues offered up in his first preseason action suggest positive things for him in 2019.
5. Kenyan Drake's Role Remains Unclear
One running back whose stock is not on the rise is Kenyan Drake of the Dolphins. Rumors have swirled all summer about a plan to include Kalen Ballage heavily and on Thursday night, Ballage was the guy punching it in for a rushing TD. Sometimes, the stuff you learn in the preseason is based on stuff like who's getting carries inside the 5-yard line. With QB play likely to fall short of average in Miami, Drake or Ballage aren't going to be a high-end RB2s for fantasy purposes. But, Drake is still being drafted like a lower-end RB2, even in standard scoring leagues. I believe Ballage is very much in Miami's plans and his use on the goal line in a meaningless August game wasn't actually meaningless at all.
6. Rookie Receivers Look Ready to Step Up
I think we've learned by now that rookie WRs can contribute in a big way when they enter into needy offenses right out of college. This weekend, a couple of WRs who looked sharp were Deebo Samuel in San Francisco and Mecole Hardman in Kansas City. Samuel caught 2 passes for 61 yards and ran an end-around for an additional 14. With the current uncertainly around Dante Pettis, the No.1 and No.2 WR jobs are very much up in the air in San Francisco. Samuel is looking like a very smart late-round selection in redrafts and an ever greater stash in dynasty leagues.

Meanwhile, Hardman enters into a situation with two outstanding receivers already in the fold, but both (Hill, Watkins) are capable of missing time this season due to injury or misconduct. Hardman found the end zone in his very first action this weekend and it will be exciting to see how he develops with the league's most dynamic QB.

Keep an eye out for these two rookie receivers as August games continue…
7. Tampa Bay and Cleveland are Going to Bring It Through the Air
A lot of what you see in August is vanilla on the offensive side of the ball to maintain a sense of mystery, but some teams just can't contain themselves. So it was with Cleveland and Tampa Bay as both teams combined to throw for over 750 yards and 4 TDs. Jameis Winston is being drafted too low when you consider that he'll be throwing to the trio of Mike Evans, Chris Godwin, and O.J. Howard all season long. The Bucs are going to throw, throw, and throw some more and what you saw this past weekend is, in this case, exactly what you're going to see moving forward.
Ditto for Cleveland where Baker Mayfield came out razor sharp and ended up hitting Rashard Higgins for a first-quarter TD from over 20 yards out. Speaking of Higgins, keep an eye on him with Antonio Callaway now suspended for four games and injured to boot. There's room for three productive WRs in an offense like Cleveland's and Higgins could be a low-end WR2 potentially if Beckham and/or Landry were to miss time.
8. Dallas, Washington, and a Man Named Royce
No, we aren't talking about the Cowboys and 'Skins here. This notation has to do with Dallas Goedert and James Washington…who play for Philadelphia and Pittsburgh respectively. Making the second-year "leap" is something we talk about often in fantasy football, so when you see players poised to do that, they merit some ink.

The only thing standing between Goedert and being a top 5-10 fantasy tight end is Zach Ertz. He caught 3 passes for 50 yards versus Tennessee building upon success from late last season. Goedert is much more worthy of a fantasy pick than a lot of starting TEs in the league and you'd be wise not to pass him up in late rounds if he's still available.

James Washington also had a productive weekend hauling in 4 passes for 84 yards. If it's late in a redraft and you've got 2 WRs left to grab, you might consider taking Washington and Donte Moncrief. There are targets galore in Pittsburgh that someone has to soak up.

Finally, Royce Freeman is our third second-year player of mention after breaking off a 50-yard run on his second carry vs. Seattle. While Phillip Lindsay was impressive last season as the lead runner in Denver, Freeman may be able to turn the tables on lead dog status in 2019. Bump him up a few spots on your cheatsheet.
9. Washington is French for Fantasy Wasteland
Most of this article has been positive in terms of weekend preseason happenings, but I couldn't help but notice how out of sorts Washington looked on offense vs. the Browns. It's a group without a starting caliber QB or WR and two lead running backs either coming off a major injury (Guice) or playing on borrowed time (Peterson). Preseason games aren't going to change anyone's mind on who Washington is or isn't. Week 1 of the meaningless slate served as reinforcement for what is already known about the Redskins: Stay away from this team on draft day. Period.
10. Jakobi Meyers and Prestin Williams are Worth Keeping an Eye On
In years past, this was the Zach Zenner Award…it's the last of the ten things and it's focused on some deep rookie sleepers who could have an eventual impact in 2019. Look no further than Jakobi Meyers of New England (6-69, 2 TDs) and Preston Williams of Miami (4-97) this first week as both shined at the WR spot while getting great reviews out of camp. We'll continue to watch both as the month progresses and you should, too.

That's it for Preseason Week 1. We'll break down everything from Week 2 one week from today. Pay attention to the details of August…It will pay off this fall for sure!