If you've been playing fantasy football for several decades now, you know picking towards the top was the most desirable place to be as that's where the elite RBs could be found. But, as we move into this new decade, things are not as concrete and examining this new landscape remains a big part of preparing for your upcoming draft. This article's objective is to examine picking near the top, middle, and end in a redraft league and what that means for you moving forward. We'll start with having a pick in the top four…

Building a Team from 1.01 - 1.04
In a non-PPR league, I think this is still RB country. You are going to grab one of the four top running backs here and then wait and see what value lies in the second round and beyond. In a PPR league, however, Michael Thomas factors into your decision as a WR coming off of a 149-catch season.

Beyond that first pick, there is value to be found at all positions in the second and third round. Quarterback could be a consideration if your league-mates allow Patrick Mahomes or Lamar Jackson to slide that far. Running backs will have thinned out some, but there should be at least a couple of RB1s left to consider. At wide receiver, there are a couple of steady options prior to a drop in value, tier-wise. And, much like QB, at tight end, there are two elite options that could be there for the taking.

My suggestion is to hold off on quarterback or tight end until the third round. Mahomes, Jackson, Travis Kelce, and/or George Kittle would be great values then and worth the investment. Concentrate in the second round on adding a receiver if you grabbed a RB first or a RB if you took Michael Thomas.

In the fourth, there should be solid options at WR, but not so much at QB, RB or TE. If the top two QBs and TEs are both gone when you make your second selection, wait on both positions until at least the fifth round of the draft. So, picking from the 1.02 spot, here are some possible team compositions after four rounds:

Ideal Path:

1.02 - RB Saquon Barkley
2.11 - WR Chris Godwin
3.02 - QB Patrick Mahomes/Lamar Jackson
4.11 - WR Tyler Lockett

The "Michael Thomas" Path (PPR):

1.02 - WR Michael Thomas
2.11 - RB Austin Ekeler
3.02 - QB Patrick Mahomes/Lamar Jackson
4.11 - WR Tyler Lockett

No QB, No TE Path:

1.02 - RB Saquon Barkley
2.11 - WR Chris Godwin
3.02 - RB Austin Ekeler
4.11 - WR Tyler Lockett

I didn't include a Round 5 projection here as I think you begin to look at best player available. That being said, if your league forces you to start a minimum of two running backs, you MUST go RB in Round 5 if you only have one on your roster. If you wait to grab your second running back in Round 6, you're going to end up with a Ronald Jones type - solid RB3 option, but not starting material. One thing you don't want to do if you grabbed a QB or TE in Round 3… don't pick both a QB AND TE in the first five rounds. It will leave you too thin elsewhere.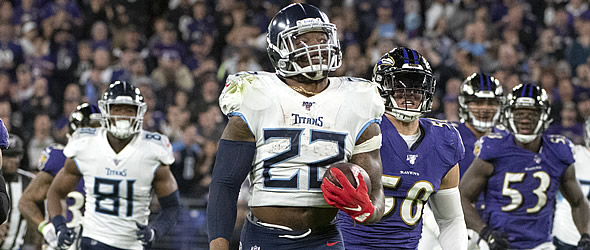 Building a Team from 1.05 - 1.08
Ah, the dreaded middle. The top tier RBs are gone, but several more risky options should remain along with the possibility of founding your team on a wide receiver.

In a non-PPR league, Derrick Henry is likely the top prize here whereas Alvin Kamara represents great value as a PPR running back. Both come with risk as was noted above. Kamara is coming off a season in which nagging injuries prevented a positive encore to 2018. Henry, meanwhile, logged 409 touches including the playoffs, and only garnered 18 receptions, so understand his value in your specific scoring system before pulling the trigger.

Michael Thomas might fall this far in non-PPR leagues and if so, he's one of safest picks in fantasy football. You could build a good foundation with him as your top pick, but the RB options don't look as promising in the middle of Round 3, so a selection of Thomas makes taking a RB in the second round a priority.

The opposite approach (RB-WR) doesn't hold water. Wide receiver is a deeper position and going RB-RB in the first two rounds would still leave you with solid options in Rounds 3 & 4. As for the quartet of Mahomes, Jackson, Kelce, and Kittle, I think all three will be gone prior to mid-third round, but if one drops, they'd be a great value there. Here's a look at a couple options when building a team from the 1.05-1.08 range.

Ideal Path:

1.06 - RB Derrick Henry or Alvin Kamara (PPR)
2.07 - RB Kenyan Drake
3.06 - WR Adam Thielen
4.07 - WR Courtland Sutton

"Michael Thomas"- First Path:

1.06 - WR Michael Thomas
2.07 - RB Kenyan Drake
3.06 - WR Adam Thielen
4.07 - RB Jonathan Taylor

If you have pick 1.07 or 1.08, the three targets noted could all be gone. That would leave you with the oft-injured Dalvin Cook as your best remaining option at RB and either Tyreek Hill or Davante Adams to consider at WR. In each of those scenarios, a second round RB selection seems critical based on how the talent falls off considerably at that position in the early part of the third round. If you have indeed acquired a pair of RBs and a pair of WRs after four rounds, the fifth round opens up to a number of options. You can consider QB, TE, or even a third RB or receiver if the opportunity is right. Some owners dread picking from "the middle", but I think it works just fine by sticking to one of these two game plans.

Building a Team from 1.09 - 1.12
Fantasy football has always been filled with owners who enjoy picking from the end of the first round. The reason for that has to do with what you can then get in Rounds 2 and 4 more than anything, but this season, what you lose in Round 1 may make this the toughest place to build a championship team from.

After the first six or so running backs are taken, the next 6-8 RBs look similar in value. So, you might be getting a player at 1.10 per se who isn't any better than the guy being taken at 2.07.

As such, unless one of the top six running backs slides to you, this is WR territory. The problem is, if the top three receivers have also been taken, you are left with a very imperfect first round pick. Julio Jones is steady in terms of full season numbers, but tends to get a lot of his fantasy points in just a handful of games. DeAndre Hopkins is playing for a brand new team and generally speaking, players transitioning to a new environment don't make for a very good first pick.

So, what's an owner to do? Ideally, I think you could go WR-WR with fallback options of WR-RB or RB-WR. The key to your draft the options available in Rounds 3 & 4. You're not in a position to go QB in those rounds, but you might look at a TE like Mark Andrews as an impact player. If so, make sure you've got two RBs in the first four rounds. Again, grabbing your second RB late in the 5th is poor strategy unless your league allows you to only start one player from that position.

Ideal Path:

1.10 - WR Tyreek Hill
2.03 - WR DeAndre Hopkins
3.10 - RB Melvin Gordon
4.03 - RB James Conner

WR-RB Path:

1.10 - WR Julio Jones
2.03 - RB Miles Sanders
3.10 - RB Melvin Gordon
4.03 - WR JuJu Smith-Schuster

The "Mark Andrews" option:

1.10 - WR Julio Jones
2.03 - RB Miles Sanders
3.10 - TE Mark Andrews
4.03 - RB James Conner

No matter what, I would urge you to give up on the dream of Mahomes or Jackson if you're operating out of this range. While you may draft the quarterback of your dreams, the other positions on your roster will suffer and you'll lean too heavily on monster games from the franchise QB to stay afloat. Again, don't leave the fourth round with only one running back. You won't like your options at that position beyond the mid-fifth whereas you will like your WR options at that time and into the next round as well.
So, if I have a choice, where do I want to be?
Some leagues will allow for some maneuvering with respect to obtaining draft position and if yours is a league like that, this appears to be a year to avoid the late picks of 1.09 to 1.12. Taking on those spots likely means making a first round pick that really isn't worthy based on perceived value.

Obviously, the first pick in the draft offers you the chance to pick your favorite player of all, but if you can't obtain that pick, I actually like picks 1.05-1.08 best. You're going to get a foundational player plus two impact players over the course of the next two rounds before the talent begins to thin. If you read this article last year, it was stated that picks 1.05-1.08 was absolutely NOT where you wanted to be. That goes to show how the landscape changes every year based on the new deck of cards being dealt as well as the value tiers that hold those cards in place.

Strategizing for your upcoming redraft is one of the most enjoyable parts of fantasy football. Here's hoping we gave you a jumping-off point here to take into account how draft position impacts strategy. Best of luck in 2020 and in your redrafts to come!