The 2021 preseason has now come and gone. It's a three game slate now, but plenty was produced in those three weeks that's worthy of note. We weren't quite sure how teams would use this final week, but as it turned out, plenty of significant fantasy contributors were in action. We begin with the story that everyone has been focused on for the last 36 hours or so….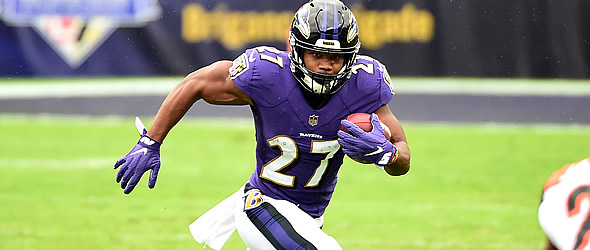 1. It Really is the Most Fragile Position of Them All

I understand why quarterbacks and receivers need to play in the preseason. Timing is a huge part of offensive precision and those preseason snaps, particularly when a QB is young or with a new team, serve a real purpose. I am questioning the role of a starting running back playing in the preseason after the loss of Travis Etienne and especially the season-ending injury suffered by Baltimore's J.K. Dobbins. The wear and tear on a running back over a (now) 17-game season is going to be enough without subjecting them to preseason snaps. So, what did we learn from a fantasy perspective? We learned that stock in James Robinson and Gus Edwards is now soaring. Both look to be high-end RB2s although the Ravens could still bring in a veteran (Todd Gurley?) to push Edwards. What we learned most of all, though, is that RBs get hurt more than any other position. When you're drafting in the next week or so, think DEPTH, DEPTH, DEPTH at that position. You will need it to be present in the end.

2. If You're Looking to Tap into a World-Class Rushing Attack, Look to the Bay

In this case, we're referring to San Francisco Bay where Kyle Shanahan knows how to run the ball effectively and with dominance. I have no idea how the 49ers will split carries between Raheem Mostert and Trey Sermon to start the season, but I know there's room for both as flex plays and if one gets hot and seizes the primary role, they could be a RB1 by October. I know that sounds bold, but this system is geared towards dynamic rushing totals. In their game this past weekend, Mostert gained over 7.5 yards per carry on seven totes and looked explosive doing so. Sermon gained over 5 yards a carry on the same number of touches. As a whole, the team scored 4 rushing TDs which shows the strength of their red zone offense. One word of caution, would be the role of Trey Lance around the goal line. He could vulture touchdowns much like Cam Newton has done in past years. Still, the 49ers will run the ball for 200+ yards on multiple occasions this season. Take that to the bank and cash in by way of picking up both Mostert and Sermon if at all possible.

3. Sam's Weaponry is Better Than Ever

While many teams did not utilize their starting offenses this weekend, one that did was Carolina and new QB Sam Darnold looked sharp. He completed exactly 76% of his passes including two TD throws to Robby Anderson and Terrace Marshall Jr.. A QB, even when they're not elite, can put up elite fantasy numbers when their supporting cast is great and there aren't words out there to describe just how significant Darnold's cast has been upgraded this year as compared to his last several years in New York. Anderson is better than the Jets ever realized and Marshall has the makings of being one of the most productive offensive rookies this year in the NFL. Add in the best pass-catching RB in the league, a solid WR1 (D.J. Moore) and an innovative head coach and it is becoming clear that Darnold has been severely undervalued in drafts. If you haven't drafted yet, consider him a high-end QB2 with the potential to be even slightly better. This offense is not one to sleep on.

4. Pass, Pass, and More Pass

It is difficult to admit that something you have said in the past needs to contradicted, but my job as a writer is to tell the truth, even when it might make me look bad. In our Week 1 recap, I noted that Buffalo needed to establish the run this year to become a more balanced offense. I propped up Devin Singletary as a possible beneficiary of that change. Truth be told, on a night that Buffalo wanted to simulate their regular season offense, they didn't run the ball. At all. For as long as Josh Allen was in the game, the Bills literally passed on every play making the running back position nothing more than a check-down proposition. Based on this observation, if anyone's stock is rising in Buffalo, it's Allen. He looks poised for a monster season especially in the early fall when weather conditions don't interfere with production. Then again, that didn't stop him last year in December either.

5. There are so many Mouths to Feed in Tampa

Surprisingly, Tampa Bay was another team this past weekend that took the entire offense out for a spin. And spin they did with Brady and company carving up Houston's hapless defense such that the trio of Mike Evans, Chris Godwin, and Antonio Brown were targeted 11 times. There is no disputing that with Brown onboard, Tampa's WR corps is second to none. That said, it's also becoming apparent that with Brady wanting to utilize Gronkowski in the red zone as well as Giovani Bernard in the James White-role, there are too many mouths to feed for any one player to be a true WR1, TE1, RB1…you name it. With Godwin operating primarily out of the slot, his usage will be the most predictable, but even so, depending on any one Buccaneer WR to be "the guy" on any given week is risky at best. Yes, those floors are raised, but the ceiling need to be lowered. Tampa is wealthy, but spreading that wealth is going to be the mantra.

6. More Positive Signs Emerge for Denver's Offense

Denver has received plenty of ink during the preseason from those that formulate fantasy articles and for good reason. The Broncos are looking to jump-start an offense that was sleepy last season. It was noted last week that Jerry Jeudy appears ready to take a leap forward and in Week 3 of the preseason, Courtland Sutton saw his first actual game action in over a year. In the midst of that return, he caught a touchdown pass. Sutton still would have been a likely WR2 or flex play on opening weekend had he not played on Saturday, but having played and contributed, confidence that he can contribute right away is growing. Throw in Melvin Gordon getting his first snaps of preseason and averaging 7 yards a carry, and Denver looks ready to emerge. Teddy Bridgewater is not going to set the fantasy world ablaze anytime soon, but his competency could lead the way to the Denver wider receivers being on the radar.

7. There Was Little Rest for Rookie Quarterbacks

Yes, the Jets wanted Zach Wilson to still have a good taste in his mouth from Week 2, so he took a break from the action…but, all the other first-round QBs were in action - some significantly. Trevor Lawrence, no longer mired is a conjured up QB battle, looked extremely sharp in a nearly flawless performance vs. Dallas. Additionally, Trey Lance and Justin Fields were utilized and once again displayed the capacity for scoring points in ways that don't involve passing. The most utilized QB of the weekend, however, was Mac Jones in New England as it appears he is being given a legitimate shot at starting in Week 1. Jones was frequently pressured in the game and did appear to be rattled in the pocket at times, but overall, he was productive once again. QB platoons are rare in the NFL, but at this point, both New England and San Francisco appear to be heading in that direction. Whatever the case, none of the rookies appear to be starting material for your fantasy team in Week 1, but come mid-October, that may change. They're all worth taking a flyer on at this point, particularly if you're comfortable with your projected starter. In the case of Lawrence, that will be a mid-round flyer as he's a solid prospect with no obstacles in his way.
8. There's No Ability like Availability

Let's face it: No one is excited about the prospect of drafting Sterling Shepard. We've seen who he is fantasy-wise and what he can and cannot do. That said, in case you haven't noticed, he's about the only pass-catching human being that is fully healthy right now for the New York Giants. The seemingly fragile Kenny Golladay hasn't played a snap this preseason after tweaking his hamstring on August 3rd. On top of that, both Evan Engram and Darius Slayton were dinged in this past weekend's game vs. New England and are questionable for Week 1. That would leave Shepard as the only Giant wideout with a lick of experience. That doesn't make him any more enticing as a draft pick, but it does make him a practical choice given his status. Picking WRs with upside is fun, but leave room on your roster for those who are guaranteed a decent share of targets.

9. Kenneth Gainwell is Carving Out a Role In Philadelphia. Meanwhile…

Everyone knows that Miles Sanders is not going to be utilized as a true work-horse back this season as he's been more effective when given complementary support. Many have assumed that support would come from Boston Scott in passing situations and Jordan Howard in short yardage situations, but now it appears that Kenneth Gainwell may be capable of being both. Gainwell averaged over six yards a carry on Friday night and hauled in all four of his targets on passing downs. It is entirely possible that Gainwell is set for a 1B role to Sanders's 1A and would instantly increase in value dramatically if Sanders was to miss any time. He's definitely worth a late-round selection as an undervalued asset.

10. …It Might be Time to Pump the Brakes on Michael Carter

Make no mistake, we want to believe in Michael Carter. I have drafted him multiple times this summer, thinking he was in an ideal situation to be given volume if nothing else. But, the numbers during the preseason paint a picture of a RB who is not ready to explode. On Friday, Carter could manage only 1.7 yards per carry on 7 touches while teammates Ty Johnson and Josh Adams fared much better, combining for 115 yards on 25 carries. Johnson's stock has been quietly rising throughout the preseason such that this could be a three-headed committee (if not four-headed). Not what you want to hear if you spent a high pick on Carter but his ADP is a bit rich for me despite having invested in him myself.
We are less than two weeks away from the real thing! Best of luck in formulating your fantasy teams between now and then.