The 2022 preseason has officially come and gone. Every NFL team took a different approach, but these past three weeks, we've tried to find meaning in all of it. Some teams have been deliberate in resting their starters and likely contributors. Others…well, they've given us some things to digest and report. And, for the third and final time…

1. Livin' On Tua Time

Sometimes a playerís fantasy value is tied primarily to his supporting cast. In his first two seasons in the league, Tua Tagovailoa has put up modest numbers in terms of fantasy football production while fending off rumors that the Dolphins arenít really committed to him. This preseason, they have allowed Tua to play as much as any starting quarterback in the league not named Justin Fields and the results overall have been encouraging. In Week 3 alone, Tua was a crisp 6/7 and threw for over 20 yards a completion. The biggest of those was a long (over 50 yards) strike to Tyreek Hill who actually had to come back to the ball to catch it. That statement brings us back to the original point. Tua may not be an elite quarterback, but he does have an elite supporting cast. At this point, he probably belongs in the Derek Carr/Kirk Cousins/Trey Lance tier as the preseason has given us a glimpse of a more fantasy relevant Tua than ever before.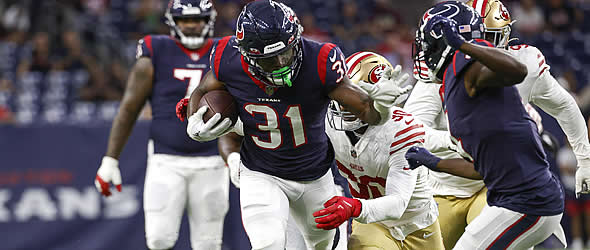 2. Dameon Tilí Your Dreams Come True

After getting the week off in preseason Week 2, Houstonís Dameon Pierce was back on the field Thursday night and the results from that look almost identical to what he did back in the preseasonís opening week. In the movie ďThe RookieĒ, Dennis Quaid plays the middle-aged Jim Morris who attends a major league try-out and throws nearly 100 miles an hour. Several days later, the scouts looking at him ask him to throw again to solidify what they saw previously. Same result. They knew after the second session that Morris was the ďreal dealĒ and thatís what appears to be the case with Pierce as well. He runs decisively and with burst and the likelihood of Houston giving him 15-20 touches a game is becoming more and more likely. If healthy all year, 1,000 rushing yards is not out of the question and if youíre in a keeper league, Pierce is a high priority get in your draft. The Texans may not excel this season, but they appear to have made a great mid-round selection in the form of DP.

3. Hereís Hoping New England Has A Great Defense

One NFL team that gave their offensive starters plenty of field time in Week 3 was the New England Patriots. However, those starters didnít give them much in return. As a unit, the Patriots offense produced 6 points on the night, threw for less than 8 yards a completion, threw for no touchdowns but two interceptions, and surrendered four sacks. Either Bill Belichick is playing the ultimate con game or this offense is in some disarray. With Matt Patricia somehow assigned to the unit, weíre banking on the latter. Donít get us wrong - as a whole, New England is well coached and may start to figure things out as the season wears on. But, expect a lot of 16-13 games and the offense overall is one to avoid. Buyer beware.

4. Lock-ed Out

This time last week, we didnít know who would win the battle in Seattle. After Drew Lockís miserable 3 interception game against Dallasí second and third stringers, the job was officially handed to Geno Smith. The question now is: What will the assurance that Smith is starting do for Seattleís fantasy prospects? Since coming to the Seahawks two seasons ago, Smith has thrown exactly 100 passes and completed 69 of them. Not bad. He has a 5:1 touchdown to interception ratio. Again, thatís solid. However, in the three games he started last season, Smith averaged 190 passing yards per game, taking every snap and possessing the same wide receivers he does now. While he might increase that to 200 yards per game this year, that still puts him near the bottom in relation to yardage. Heíll complete more passes than Lock, but low yardage totals for a QB mean low totals for his receivers as well. Bottom line: Smith winning the job doesnít move the needle for DK Metcalf and Tyler Lockett as weekly reliabilities, and they appear to be victims of a system not designed for them to succeed.

5. Brady And Julio Down By The Schoolyard

It seemed odd to have Tom Brady playing in the final game of the preseason and yet there he was tossing first quarter dimes to various pass catchers. One such dime went to Buccaneer newcomer Julio Jones for 20 yards and with Russell Gage still out and Chris Godwin being brought along slowly following a major injury, Jones is gaining some traction as a late-round pick in fantasy re-drafts. If anyone can resurrect Jonesí career, it is Brady and it is possible that if Jones can avoid the usual onslaught of soft tissue injuries, he might become a legit WR3 for fantasy purposes based primarily on the fact that the Bucs remain a pass-happy offense (as noted last week). With changes galore along the offensive line and Brady disappearing for half of training camp, throwing to another future Hall of Famer might just be one of the early seasonís more interesting storylines. Jones is definitely worth a pick initially as a bench stash but with upside.

6. RoJo: Not Vanquished Just Yet

Itís possible Ronald Jones will no longer be a Chief after the cut deadline on Tuesday. But, after carrying the ball 8 times for 43 yards and catching his only target on Thursday night, a decent performance coupled with the loss of RB Derrick Gore may allow Jones to make the roster after all. Make no mistake: This is an ďall or nothingĒ story. Either Jones makes the team and is used in such a way that heís fantasy relevant, or he doesnít make the team at all. He holds no value as a third-down back or special teams player, so heíll only be kept if the Chiefs have legitimate plans for him to run the ball in games. Again, watch the waiver wire on Monday or Tuesday to learn Jonesí fate. If he survives the cut, heíll still be worth a roster spot on your fantasy team, albeit not a prominent spot to open the season.

7. All Systems Go for Jameis Winston

No quarterback in Week 3 drew the attention of fantasy managers quite like Jameis Winston in New Orleans. After all, it was the first game action that Winston has been in since the devastating injury that ended his 2021 campaign early. In training camp, he suffered another injury which has led many to wonder if heíd actually open up under center for the Saints in two weeks when the games start to count. Wonder no more. Winston was a slick 4-4 for 59 yards through the air before giving way to Andy Dalton and Ian Book. While that might not seem like optimal production, it represents actual game action which was huge as far as easing the minds of those targeting him in upcoming redrafts. With new weapons Chris Olave and Jarvis Landry, no immediate suspension for Alvin Kamara, and Michael Thomas back in some form, Winston is being significantly undervalued in an offense that is going to surprise some people. Much like Tua, he probably belongs in the Carr/Cousins/ Lance tier making him a top shelf QB2.
8. The Bears are a Puzzle Wrapped In an Enigma

New coaching staffs often play starters more in the preseason in an effort to gain familiarity with players and how they perform in their system. So, itís no shock that Justin Fields has played more in August than any other QB. In his first preseason start, he was running for his life out of the pocket. In the second, it was more of the same. And this week? Well, if weíre being honest, it looked like a different unit as Fields threw three touchdown passes and completed nearly 90% of his throws. What gives? Well, the Browns were resting starters to be sure, but this is a new Bears system and itís entirely possible that it ends up being a much better fit for Fields in the end. Iím not suggesting that itís time to get on the Bears train (as if there is such a thing), but they may finally be trending in the right direction. Players like Fields, Montgomery, Mooney, and Kmet donít belong on ďdo not draftĒ lists. Draft with caution lists? You bet. But, the NFL is an ever-changing landscape and what we learned this weekend is that Chicago may not be lost after all.
9. Battle in the Big Apple (Or Lack Thereof)

Towards the middle of last week, rumors surfaced that Breece Hall isnít slated to be the lead back for the Jets after all - at least not to begin the season. Those rumblings set up a competitive dynamic in the NY-NY game on Sunday with Michael Carter as Hallís primary competition. Hall has struggled during the preseason to gain much traction having rushed for 29 yards on 14 carries in the combined games. Meanwhile, Carter was ineffective on Sunday as well (4-10) and he also lost a fumble. So, what are fantasy managers to make of it? Essentially, Hall is a high-risk start in Week 1 of the NFL season with usage anything but nailed down. The Jets are also highly likely to abandon the run if they continue to only get 2 yards per carry. It hasnít been an inspiring preseason for the rookie, but then again, JaíMarr Chase had a dreadful preseason last year and we all know how that turned out.

10. Three for the Road: Implications for Allgeier, Robinson, and Howell

Three players who enjoyed their weekend would be Tyler Allgeier, Demarcus Robinson, and rookie quarterback Sam Howell of Washington. The Commanders turned Howell loose for an entire game and the results were encouraging enough that Howell now appears to be a potentially solid stash in dynasty leagues moving forward. He did take five sacks, but Howell also passed for nearly 300 yards on a 70% completion clip and didnít throw a single interception. As for the other two players, both scored multiple touchdowns giving rise to the idea that Allgeier could be used quite a bit in the red zone and that Robinson could help fill a massive receiving void in Baltimore. Nothing about Devin Duvernay suggests heís ready to be an NFL teamís WR2, so Robinson (released during training camp by the Raiders) has a real shot to be just that with the Ravens. After a 4-catch, 135-yard, 1 TD night, heís officially on the fantasy football radar again.

In case you're wondering why I ignored the 7 points combined scored by the Bills and Rams, both teams rested everyone and went with extreme vanilla as the offensive flavor. The reason? These two teams kick off the regular season next week!