One of the most difficult tasks in drafting a fantasy football team is trying to decide between two players you essentially see as having nearly identical value. Knowing how to break such a "tie" can be important as often a pick comes down to a dilemma between Player A and Player B. The purpose of this article is to not only identify pairs of players that are considered of nearly equal value in 2022, but also take a look at the process of solving those dilemmas.

Our final installment in this three-part series focuses on running backs. In this case, we'll examine two runners who resurrected their careers last season and discuss the prospects for continued success vs. regression.

Coming into 2021, James Conner was thought to be a complementary RB in the shadow of Chase Edmonds, but as the season wore on, Conner morphed into being the primary option and a fantasy gold mine.

Likewise, Leonard Fournette was thought to be in a fairly even timeshare with Ronald Jones before emerging as the much better fit in Tampa Bay.

This season, both Edmonds and Jones have moved on to other teams giving Conner and Fournette a clearer path to fantasy stardom. But, can they take advantage of that opportunity?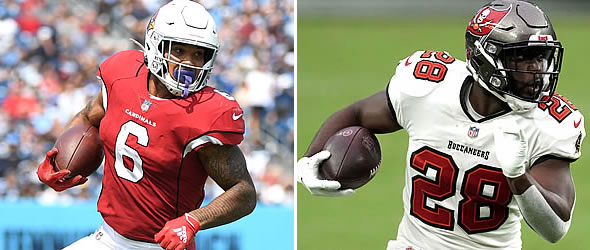 The Strengths
In case you missed it in 2021, Conner has a nose for the end zone. Conner's 18 total touchdowns was bested only by Jonathan Taylor and Austin Ekeler and included three in the passing game. In his second season in Pittsburgh, he did something similar amassing 13 touchdowns, so Conner's usage in the red zone and goal line situations wasn't unprecedented. He even missed two games towards the end of last season due to injury. The list of players who averaged more than one touchdown per game is a very short list and Conner is firmly on it. The Cardinals are unlikely to get away from what worked and with only Darrel Williams offering competition, look for the 202 carries Conner logged last year to see an increase this season. Some touchdown regression can be expected after a career year, but the increased workload should make up for it in terms of overall fantasy production.

Fournette wasn't just Tampa Bay's primary rusher last season. He was also one of the team's most valuable receiving options having been targeted in the passing game on 84 occasions and converting those targets into receptions over 82% of the time. Much like Conner's red zone prowess, Fournette's passing down production wasn't just a one-time occurrence as he was targeted 100 times in his final year in Jacksonville. Fournette handled 341 touches that season and has thus proven he can handle the bigger workload that will almost certainly come this season with Ronald Jones in Kansas City and only rookie Rachaad White in tow. With Tampa Bay no longer having Rob Gronkowski as an option within ten yards of the line of scrimmage, Fournette's looks as a receiving back should remain steady in 2022. Both runners are just 27 years old and entering into their sixth seasons. It might seem as if both have been around longer, but in reality, they are still very much in the prime of their careers.

The Weaknesses
The fantasy points that Conner produced last season were substantial enough to obscure some statistics that weren't nearly as flattering. Namely, they helped to hide the reality that he only averaged 3.7 yards per carry in an offense that should have yielded better production. After all, Edmonds (who was allowed to join the Dolphins) averaged 5.1 yards a carry every time he touched the ball last season. Additionally, Edmonds had more receptions than Conner in four fewer games. The Cardinals signed Conner to a contract this offseason that will pay him $7 million annually for the next three seasons because they love his work ethic and the hardcore effort he puts into every play. But, those traits don't always equate to fantasy numbers and the concern is that we've already seen his ceiling - with respect to touchdowns scored - but also, in general. Running backs who average 3.7 yards per carry with 200-plus opportunities do so because they don't have extra "wiggle" in their game. It's a recipe for less than 4 yards per carry again and likely less than 900 rushing yards total.

In contrast to Conner, Fournette actually posted the best YPC of his career in 2021 (4.5 yds). That said, he's never touched the kind of goal line and red zone output that Conner has in Conner's two biggest fantasy seasons. In three of his five years in the league, Fournette posted 6 or fewer touchdowns in each of those seasons. In Tampa, Tom Brady prefers to throw inside the ten-yard line and on the one-yard line, he has always been partial to the quarterback sneak. So, while Fournette did post 10 scores last season, that is seemingly his ceiling and appears unlikely to rise above it this year. Fournette averaged a paltry 6.6 yards per reception in 2021 meaning that he doesn't do a lot with his catches, yardage-wise. Conversely, Conner picked up 10.1 yards per reception in 2021. Further, the Buccaneers do like White and are likely to increase his usage throughout the season as his ability to pass protect improves.
The Verdict
It is amazingly ironic that these two running backs both signed nearly identical deals this past offseason (3 years, $7 million per). As such, they are not only seen as having the same value in fantasy football, but in the real world counterpart as well. Both are ideal fits as a RB2 on your fantasy squad if you prefer a strong 1-2 punch at that position and have already selected a RB1 in the first round.

If, however, you went WR in the first round of your draft, you would then be looking at one of these guys as your likely RB1. Considering neither is projected to rush for 1,000 yards, that is a bit scary. However, it is important to remember that consistent usage is almost a sure thing with both and there is little risk of either being outright replaced by another running back at any point during the season.

Projection-wise, Fournette has much more upside in the receiving department, particularly number of receptions, making him the preferred pick in a PPR format. That said, Conner did more with his catches, yardage-wise, than Fournette last season and thus his receiving yardage should be in the same ball park. Given that he scores more touchdowns, the recommendation in a non-PPR league would be Conner by a nose.

Projected 2022 Statistics:

Leonard Fournette - 950 rushing yards; 64 receptions, 445 receiving yards, 8 total TDs

James Conner - 875 rushing yards; 45 receptions, 415 receiving yards, 12 total TDs

Best of luck in your upcoming drafts!

More Tale of the Tape: Quarterbacks | Wide Receivers