One of the most difficult tasks in drafting a fantasy football team is trying to decide between two players you essentially see as having nearly identical value. Knowing how to break such a ďtieĒ can be important as often a pick comes down to a dilemma between Player A and Player B. The purpose of this article is to not only identify pairs of players that are considered of nearly equal value in 2022, but also take a look at the process of solving those dilemmas.

Our second installment in this three-part series focuses on wide receivers. The specific focus is on two receivers who are being looked upon to lead their teams in receptions and receiving yards, but who also face competition from up-and-coming teammates.

Once the top ten receivers are off the board, these two wide-outs will be on a very short list. Which is the better choice? Time to answer that via some analysis.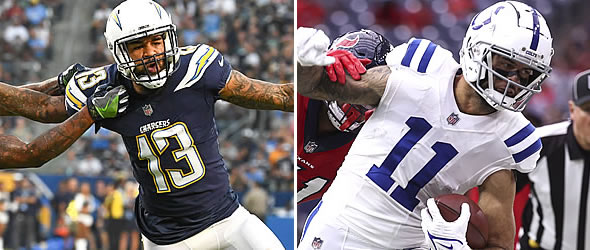 The Strengths
No offense to Matt Ryan, who will benefit this season from a much-improved offensive line, but Justin Herbert is a superstar, fantasy and otherwise. The fact that Keenan Allen gets to play alongside him enhances his stability and upside in ways that most wide receivers canít relate to. In Herbertís second season, Allen saw an uptick in targets, receptions (career high with 106), yards, and yards per reception as compared to Herbertís rookie year. All of that suggests that despite 2022 being Allenís tenth year in the league, heís still operating in his prime years in terms of on-field production. Only seven other receivers were targeted more in 2021 than Allen (157 targets) and with the Los Angeles receiving corps remaining essentially what it was last season, that number isnít likely to go down.
In short, there may not be a ďsaferĒ pick in the late third/early fourth round at any position than Keenan Allen. His age has yet to lead to a downturn in numbers and the offense he plays in is top five in terms of overall potency. Only twice all season (2021) was he targeted less than 8 times. Same asÖ Cooper Kupp.

On the flip side of this drafting dilemma is a much younger wide receiver entering into that magical third season - a benchmark that often signals arrival. Michael Pittman Jr. didnít just improve last year upon his rookie season. He more than doubled his first-year receptions. He more than doubled his first-year yards. He had more than 2x the number of targets in his second season. He had 6x more touchdowns. Granted, Pittman played in four more game in 2021 than he did in 2020, but the jump in production was still impressive given that the QB throwing him the ball was traded in the offseason.

Now, Pittman is looking at improved quarterback play with a history of turning talented wide-outs into super productive stars. One of those wide-outs (Julio Jones) was thought to be a target for Indianapolis in the offseason given his history with Ryan, but the Colts obviously felt comfortable with Pittman as their front man at the position. With a 5% improvement in completion percentage from Wentz to Ryan, it would not be a surprise if Pittmanís numbers in 2022 improved even further. Heís a good candidate for top-ten production at the position.

The Weaknesses
Pittmanís competition comes from some raw peers, but in Allenís case, it comes from arguably the 1B to his 1A in the form of Mike Williams. Williams got off to a torrid start in 2021 and while he cooled off during the second half of the season, the Chargers thought enough of what he accomplished to sign him to a new deal. Williams isnít likely to exceed Allen in catches or targets this season, but heís a better option in the red zone and he stretches the field much more than Allen (5 more yards per reception).

There is little to suggest that Allenís value floor will be much different, but his upside is firmly capped by what Williams brings to the table. Moreover, reports out of Chargers camp suggest that the 6í8 Donald Parham is coming into his own by way of his rapport with Herbert and his prowess in the red zone. Both Williams and Parham make it a near certainty that Allenís TD numbers wonít change all that much and could actually decline to levels experienced earlier in his career (8 touchdowns combined in his second and third NFL seasons).

Pittman doesnít have a Mike Williams to contend with, which is good. But, it could also be a bad thing faces increased double coverage, particularly if rookie Alec Pierce is slow coming out of the gate. Frank Reichís offense is notoriously challenging for young receivers which led to the re-signing T.Y. Hilton in 2021. But Hilton is not back with the Colts this year as drafting Pierce seemed to seal his fate.

Indianapolis is also hoping that the talented, but oft-injured Parris Campbell can stay on the field this season as heís missed 34 games due to injury in his three years in the league. Campbell has big play ability and his ability to stretch the field bodes well for Pittman. That said, if he were to miss time again, a double team week in and week out on Pittman is more than a possible outcome - itís a likely scenario. Having a legit WR1B or WR2 opposite you is actually a good thing more times than not and thereís no guarantee that Indy will find that fit, particularly during the first month or two of the season.
The Verdict
What statistic do we look at in order to help solve this neck-and-neck horse race between two outstanding pass catchers? In PPR leagues, much attention is paid to targets and rightfully so. Allen was targeted 28 more times than Pittman in 2021 (157 to 129) despite also playing in one less game. While Ryanís improved accuracy as compared to Wentz will lead to 6-8 more receptions for Pittman most likely, the presence of a world-class offensive line and running back will keep the Colts in ball control mode more than the Chargers who have to try to keep up with divisional foes with firepower galore.

Consider this: In six divisional games this season, Matt Ryan will square off against Ryan Tannehill, Davis Mills, and Trevor Lawrence. On the other side of that ledger, Herbert will face Patrick Mahomes, Russell Wilson, and Derek Carr. Those will almost all certainly be shoot-out games whereas the Colts could take their foot off the throttle, at least in games versus the Texans and Jaguars.

So, Allen is the clear choice, correct? Maybe. But, what if Allen turns out to be 1B to Mike Williams this season or worse yet, a complementary WR2. Thereís little danger of Pittman being relegated to such a status and thereís no denying his upside is through the roof given how much progress he made from Year 1 to Year 2.

In the end, it likely comes down to whether or not you believe Pittman can make the jump to double-digit TDs in an offense in which he will counted on more frequently in the red zone than Allen will be in L.A. The projection here is 9 TDs to just 5 for Allen, making Pittman the better choice in standard leagues and Allen more formidable when PPR is factored in.

Projected 2022 Statistics:

Keenan Allen - 108 receptions, 1,235 receiving yards, 5 TDs
Michael Pittman Jr. - 94 receptions, 1,200 receiving yards, 9 TDs

Next week: A Tale of the Tape involving two prominent RBs…