It's fair to ask after 11 years of writing this series how many Top 10 Risers I've correctly predicted along the way. To be honest, I didn't actually know until the thought occurred to me YOU all might want to, leading to some quick figuring. The answer is…more than I would have thought: 42.6%. It's a lot easier identifying 3 of 10 QBs, RBs, or WRs likely to fall from the Top 10 ranks every year, especially when a lot more than that usually do. It's significantly trickier trying to identify three replacements from a much larger group of candidates, to include a crop of brand new gridders. I should say trickier and more challenging, but also a heckuva lot more fun. Shall we?

A quick reminder of the Top 10 fantasy RBs from last season…

Note: All rankings are based on FFToday's Non-PPR league scoring.


Running Backs Most Likely to Rise in 2022:
Derrick Henry, TEN: Clearly, I havenít been padding my riser stats with low-risk predictions like this for the past decade plus. Nevertheless, when the most dominant rushing force in football somehow finds himself outside the Top 10 club, you press the easy button and welcome him right back in. No other running back currently playing the position could handle the kind of workload this beast does. And yes, I realize how ridiculous that sounds coming off a season when even Henry couldnít handle it. Ha!

Consider that in just eight games, the Titansí meal ticket carried the ball 219 times, or a staggering 27.4 times per contest. If youíre wondering, yes, that would have been the highest per-game rushing attempts mark in NFL history had it continued for nine more games. Put another way, Henry played fewer than half his possible games last year, but still finished Top 10 in carries! Oh, and if youíre thinking last year was likely to be in extreme outlier territory, he led the league in carries the year prior (378). Even accounting for the fact he does very little as a receiver, the obscene volume upside makes this Tennessee stud no worse than a Top 3 back.

Yes, itís possible the Titans could lessen the big manís load and try to preserve him for the longer haul. Itís also possible they realize, as anyone whoís watched him play already has, that he doesnít receive punishment like other backs. He distributes it. ESPNís Turron Davenport recently reported Henry showed up to off-season practices with ďa noticeably larger physique and no signs of limitations from the injury (fractured foot).Ē That simply isnít great news for AFC South opponents or really anyone trying to drag him down. But itís great news for us. Donít overthink it.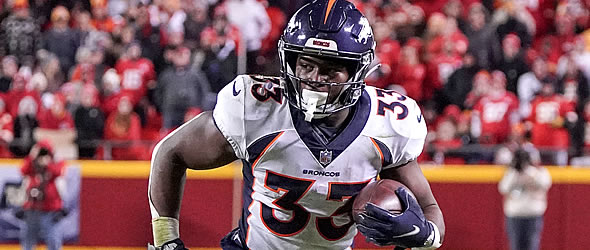 Javonte Williams, DEN: Excepting Mr. Henry and a handful of other bell cows (Jonathan Taylor, Najee Harris, and Joe Mixon), the vast majority of NFL squads now employ a committee approach to running the football. Only four backs in 2021 carried the pigskin more than 250 times and I just named three of them (Antonio Gibson was the fourth). Twenty years ago, during the 2002 season, 19 backs topped that 250-carry mark. The times arenít just a-changing. Theyíve already changed.

There are varying philosophies on how best to optimally distribute carries, but no team took the concept of sharing quite as literally as the Broncos. Both Melvin Gordon and his rookie running mate, Javonte Williams, carried the rock precisely 203 times last year. The former turned those into 918 yards and eight TDs while the latter parlayed his into 903 yards and four TDs. On paper, at least, Gordon appeared to be the slightly more productive back. Anyone who watched them play, however, knew better. Williams was the more dynamic receiver (15 more receptions for 100+ more yards and one more score) and also led the entire league in broken tackles, despite being only RB15 (along with Gordon) in rushing attempts.

Enter new head man Nathaniel Hackett, late of Green Bay where AJ Dillon and Aaron Jones came pretty danged close to a pure 50/50 split in 2021 (187 v. 171). Williams and Gordon arenít polar opposites like Dillon and Jonesómore variations on the same theme than a classic thunder and lightning comboóso it seems possible Coach Hackett would start favoring his most dynamic back a bit more. Make no mistake: That back is Williams and not the capable, but aging, Gordon. Iím expecting the former Tarheel to thrive and crack the Top 10 as an NFL sophomore.

Elijah Mitchell, SF: This sophomore isnít nearly as prized heading into 2022 (ADP 4.01 v. 2.01 for Mr. Williams), but itís a mystery why. Yes, Williams statistically outperformed his San Francisco counterpart last season, but it was very, very close. Only 119 total yards and one six-pointer separated them and Mitchell was the more efficient rusher of the two, tallying 60 more yards and one more touch on just four more carries. Did I mention he did that in six fewer games?

Itís true thereís been a fair amount of off-season drama in San Fran (looking at you, Deebo) and the offense which lines up this coming September will look a lot different than the one which let a trip to Super Bowl LVI slip away. In fact, if and when Jimmy G gets traded, heíll become only the ninth Super Bowl-winning QB (SB LIV) ever to be dealt after landing the Lombardi trophy. Regardless, itís Trey Lanceís show now and that could both help and harm Mitchellís value in 2022. It helps because thereís almost no chance the Niners wonít become even more run-heavy with a new, very raw QB under center (they were already the fourth most run-heavy team in 2021). It hurts because Lance himself may absorb those extra carries and, quite possibly, leech many more from Mitchell. Then againÖ

The off-season drama had a lot to do with the rushing attack and, more specifically, Deebo Samuelís unwillingness to feature prominently in it. What Lance taketh away, Deebo may giveth. It also doesnít hurt that the Niners let Raheem Mostert, a serious competitor for touches, walk this past spring. Itís never obvious how Shanny will divvy up the pie, but I like the former Raginí Cajunís chances of getting a nice fat slice in 2022.