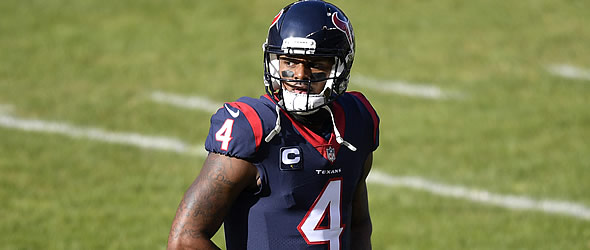 The NFL's raucous offseason delivered yet another bombshell headline last week with the trade of QB Deshaun Watson to the Cleveland Browns. Early in the week, Watson was reportedly entertaining interest from Atlanta, Carolina, New Orleans, and Cleveland, as well as others, but had limited his options to the Falcons and Panthers, according to sources.

Out of the mix but having already alienated their beleaguered franchise QB Baker Mayfield, the Browns doubled down, offering three first round picks, a third-round pick, and a fourth-round pick to Houston, and putting a five-year, $230 million, fully guaranteed contract offer in front of Watson's agent. It worked, and Watson became the newest member of the AFC North.

So now that the moving trucks are carrying all of Watson's stuff to Ohio, what does this mean for the three-time Pro Bowler's fantasy value, as well as that of his new teammates?

Cleveland Rocks

Let's start with the easy stuff. Watson clearly represents an upgrade for the Browns over Mayfield. A stellar athlete, and a legitimate dual threat behind center, Watson had established himself as one of the top QB's in the NFL, fantasy or otherwise, before missing the 2021 season due to his mounting legal issues. From 2018-2020 he completed over 68% of his passes, threw for over 4,000 yards twice, including 4,823 yards in 2020, and averaged well over 8.0 yards per attempt. He had 18 300-yard games in that span with an 85-28 TD-INT ratio. He also rushed for at least 400 yards in each of those seasons. Finally, he ranked among the Top 5 QB's in fantasy scoring every year from 2018 to 2020 (24.8, 25.3, and 27.2 fantasy points per game, respectively).

While Watson will probably need some time to knock off the rust, it's reasonable to expect that he will ultimately return to form, and the road will be paved by one of the best offensive lines in the NFL, a formidable running game that boasts three dangerous weapons in Nick Chubb, Kareem Hunt, and D'Ernest Johnson, and a Top 5 NFL defense - all luxuries he did not have at his disposal with the Texans.

On paper, it certainly seems as though he'll have a strong receiving corps to throw to as well, and everyone should benefit from Watson's accuracy, consistency and playmaking ability.

WR Amari Cooper recently arrived in Cleveland via a trade from Dallas, and while I have my reservations about his ability to carry the WR1 load, he is clearly as good as Brandin Cooks and better than anyone else Watson threw to in Houston.

Fellow wideout Donovan Peoples-Jones is a rising star who led Cleveland with 597 receiving yards and a team high 17.6-yard average per catch in 2021.

There is a chance that WR Jarvis Landry could be re-signed, and there is reportedly mutual interest between the Browns and Watson's former deep threat in Houston, Will Fuller. Adding those two to the mix would create a formidable stable of receiving options for the new QB.

TE David Njoku has signed a new deal and seemingly steps into a larger role with Austin Hooper headed off to Tennessee via free agency. Despite his obvious running ability, the Texans reduced Watson's designed goal line runs in recent years as he improved his red zone passing. That could mean good things for a big target like Njoku. Watson has also never had a receiver out of the backfield like Hunt.

That's All Great, But…

There's always a "but", isn't there? Fantasy owners have to recognize, that even with Watson at the helm, this is still an offense that is predicated on being able to run the ball. That's the way they're built. You don't build an offensive line with three 1st and 2nd rounders and put 2nd and 3rd round talents like Chubb and Hunt in the backfield and abandon the run. HC Kevin Stefanski has always been about running the ball to set up the play-action passing game (something Watson hasn't had to do a lot of). This could mean a drop in volume for Watson, and we could see a slight drop in accuracy as he adjusts to playing with his back to the defense. But opposing defenses will still have to account for him as a runner and a passer, which should create running lanes and big play opportunities for these backs.

Owners who have had Watson at QB for their fantasy team are also acutely aware that much of his production came late in games. With a struggling defense in recent years, Watson was forced into playing catch-up almost on a weekly basis, allowing him to rack up big passing numbers. That shouldn't be the case with his new team. The Browns' defense posted 43 sacks and 76 QB pressures in 2021 while forcing 20 turnovers.

It all works to potentially put a ceiling on Watson's fantasy production.

And Then There's the Looming Suspension…

It seems inevitable that Watson will serve some type of suspension for violating the NFL Personal Conduct policy. The Browns are all but expecting it and constructed the contract with suspension in mind, limiting Watson's year one base salary to just over $1M (the amount that will be fined during a suspension). Fantasy owners should expect Watson to miss 4-6 games. Mayfield should be shipped out one way or another in the coming weeks, and reports are that veteran QB Jacoby Brissett could be signing with Cleveland as Watson's backup, making him a smart handcuff option for those willing to take the hit on Watson early in the season.

Taking the Long View

Dynasty league owners may be wondering what Watson's supporting cast will look like a year or two from now. $230 million for one player doesn't leave much room under the current salary cap for a team that has basically given away all its' draft capital for the foreseeable future.

First, understand that the Browns have gone all in on the "Rams Model". Yes, giving up draft picks is unconventional in the NFL, but Los Angeles has now proven it can work. The good news for Cleveland is that the 2022 cap has been set at just over $208M, a $26M increase over last year, and it's expected to skyrocket even higher next year when the league signs its' new TV deal, and could climb as high as $260M by 2024. That will leave Cleveland plenty of resources to stock the roster around Watson via free agency for the next several years.

So, in a nutshell, the Watson trade should improve the fantasy stock of just about everyone on the offensive side of the ball for the Browns. But while Watson's value may take a slight hit in the short term, the move to Cleveland should give him an opportunity to climb to the top of the fantasy rankings over the next four to five years.