Editor's note: Predict the top ten picks of the NFL Draft for a chance to win FFToday prizes. Enter our NFL Draft Contest now.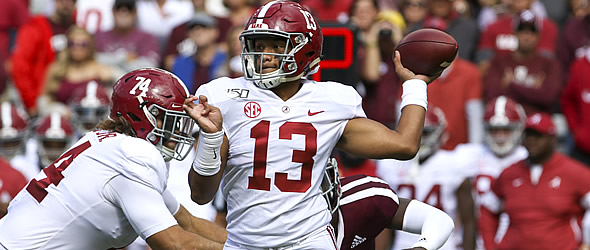 Eyes on the QBs: The Dolphins (No.5) or the Chargers (No.6) are likely trade partners with DET at No.3.
1. Cincinnati Bengals - Joe Burrow, QB, LSU
Joe Burrowís historic season led to him likely becoming the first overall pick in the 2020 NFL Draft. He possesses exceptional football IQ to go along with outstanding anticipation. Heís a quarterback that can throw his receivers open, while working around pressure in the pocket. Burrow can read the entire field, working through each of his progressions. Arguably his best trait is his accuracy, limiting mistakes while maximizing his opportunities.

Burrow doesnít have any burning red flags to his game, but he is already 24 years old. Still, his production against elite level competition allows us to overlook his age. Burrow doesnít possess great arm strength, but his accuracy and anticipation will likely make up for deficiencies at the NFL level.

The Bengals have holes along both sides of the ball. They benched Andy Dalton in 2019 for Ryan Finley, who is clearly not their quarterback of the future. Burrow is a player that has the upside to turn a franchise around, even with glaring holes at multiple positions. Heís a franchise quarterback, who can elevate the players around him and the Bengals will finally have a player that they can build their team around.
Previous Pick: Joe Burrow, QB, LSU
2. Washington Redskins - Chase Young, Edge, Ohio State
Chase Young is likely the safest and most complete player in this draft. Heís an outstanding defender in the run game, setting the edge without much give and is a game-changing pass rusher. He boasts elite hands at the point of attack, while possessing more than enough pass rush moves to keep offensive linemen guessing. Young has a great first step, quickness to match, outstanding bend, and elite speed to the quarterback. He doesnít solely rely on speed, possessing tremendous power when utilizing power techniques.

Young doesnít truly have any flaws but he could get better in coverage and space, but his athleticism will allow him to do that as he matures that part of his game.

The Redskins drafted their franchise quarterback last year and have plenty of holes to fill, but itís clear that an elite pass rusher in the NFL has the ability to change games. Young is arguably the safest prospect with the highest ceiling in the draft. He boasts Hall of Fame potential, and is the type of defensive game-changer Washington is in need of.

Previous Pick: Chase Young, Edge, Ohio State

3. Detroit Lions - Jeff Okudah, CB, Ohio State
Okudah enjoyed one of the best collegiate careers for a cornerback in recent memory. Heís an excellent man coverage corner, featuring elite quickness, athleticism, and ball skills. Heís a confident player that isnít afraid to crowd receivers. Okudah is aggressive, allowing him to jump routes and make plays that others may not trust themselves enough to make. He also played in a complex college system, making his transition to an NFL system that much easier.

Okudah sometimes trusts his instincts a bit too much. His speed allowed him to make up for this at the collegiate level, but that may not be the case in the NFL. He also will need to find more success as a zone coverage cornerback, although any team that drafts him should switch to a man-based scheme.

The Lions saw their star cornerback, Darius Slay, take a step back in 2019. Heís set to become a free agent after this season, and has already stated he wants elite cornerback money. Detroit could potentially pay him to pair him with Okaduh for what could be one of the best cornerback duos in the NFL, or they could use their rookie to take over as their shutdown option once Slayís contract is up.

Previous Pick: Jeff Okudah, CB, Ohio State

4. New York Giants - Jedrick Wills, OT, Alabama
Jedrick Wills is an outstanding prospect. He comes with tremendous technique, winning at the line of scrimmage from his first punch on. He also boasts tremendous power, allowing him success in both run and pass blocking. Along with his great technique, Wills has plus footwork. He is an outstanding pass blocker already in his young career, and a solid run blocker. He possesses the ability to get to the second level, as well. Overall, Wills is a smart player, who wins with technique to go along with solid physical traits.

Wills strictly played right tackle for Alabama. Scouts have wondered if he can make the transition to left tackle at the NFL level. One of the biggest concerns is that Wills doesn't possess great foot speed. While he has outstanding technique, he won't be able to move to left tackle if he struggles against speed rushers.

The Giants have plenty of holes that need to be filled on the defensive side of the ball. Isaiah Simmons would make sense here, but the team also needs to protect their first round franchise quarterback. There are multiple offensive tackles that could come off the board first in this draft. It's truly anybody's guess as to which of the top four tackles are selected first. Wills could immediately start on the right side before transitioning to the left side later on in his career. He's one of the safer options at this point in the draft.


Previous Pick: Mekhi Becton, OT, Louisville
5. Miami Dolphins - Tua Tagovailoa, QB, Alabama
Tua Tagovailoa comes with tremendous upside as a rhythm passer in the NFL. He is an intelligent quarterback that reads defenses before the snap, while making progressions after the play begins. Tagovailoa possesses tremendous accuracy to go along with elite-level touch. He also stays composed under pressure, making plenty of high-level throws with defenders in his face. Tagovailoa doesnít possess elite speed, but he finds ways to work around pressure in the pocket, while boasting enough mobility to extend plays.

Tagovailoa relies heavily on his accuracy and touch because he doesnít have elite arm strength. Still, his throwing power will be more than serviceable in the NFL. He has durability concerns, including a gruesome season-ending injury that has likely caused him to fall a bit in this draft. Furthermore, there are questions as to whether Alabamaís receiving group made the quarterback or if the quarterback made the receiving group.

The Dolphins started their ďTank for TuaĒ campaign at the beginning of the season. They didnít stick with it, though, ending up with the fifth overall pick. Still, they could get their quarterback of the future because of injury, although they may have to trade up, as his medicals have come back outstanding to this point.. Tagovailoa possesses the character and leadership that a team like the Dolphins could use.

There have been reports that Miami favors Justin Herbert over Tagovailoa, but I don't buy into those reports this close to the draft. It seems as if Miami is trying to get Tagovailoa to fall to the fifth pick, which may be working.

Previous Pick: Tua Tagovailoa, QB, Alabama

6. Los Angeles Chargers - Justin Herbert, QB, Oregon
Herbert has the prototypical size and arm strength for the NFL. He possesses the ability to make any throw on the field, while flashing elite potential at times. Herbert is an athletic player that has the mobility to leave the pocket and pick up first downs with his legs. He isnít overly consistent, but when he gets into rhythm, he finds plenty of success.

While Herbert has the upside of an NFL quarterback, he comes with quite a bit of question marks. His accuracy is less than stellar, struggling to consistently make high quality throws. Herbert struggles to progress through his reads, as well. While he possesses the arm strength to make elite throws, his inconsistencies could result in plenty of missed opportunities.

Philip Rivers is no longer the quarterback of the Los Angeles Chargers. They could search for his replacement in free agency, or they could look in the NFL Draft. Herbert was one of the top quarterback prospects last season, and thatís the case once again this year but heís somewhat of a clear third option behind Burrow and Tagovailoa. Herbert isnít as safe as the other options, but he owns franchise-changing potential if his skills are maximized at the next level.

Previous Pick: Justin Herbert, QB, Oregon

7. Carolina Panthers - Isaiah Simmons, LB, Clemson
Isaiah Simmons is a player that could fly up draft boards. Heís as versatile of a defender as anyone in recent memory. At Clemson, Simmons played 100+ snaps at five different positions. He could find success in the NFL at linebacker, slot corner, safety, or as an edge rusher. Simmons is an outstanding tackler, while boasting elite sideline-to-sideline range. He can guard at a high level in both zone or man coverage. His cardio is outstanding, and he possesses the football IQ to seamlessly maneuver from position to position depending on the team needs in each defensive package. Simmons pure upside was on full display, as he posted one of the best combine performances in recent history.

The Panthers have plenty of holes throughout their roster. They lost Luke Keuchley to retirement, leaving a massive hole at linebacker. They also need help at cornerback and potentially safety.

Simmons is a player that can fit nearly any role a defensive coordinator needs, and he has game-changing potential on his side of the ball. Simmonsí limitless versatility nearly guarantees heíll find success at the NFL level, and thatís something Carolina needs on defense.

Previous Pick: Isaiah Simmons, LB, Clemson

8. Arizona Cardinals - Tristan Wirfs, OT, Iowa
Tristan Wirfs is a gritty lineman from a school that consistently produces that type of player. He possesses an impressive frame, but that doesnít limit his foot speed. He ran a ridiculous 4.85 40-yard dash, flashing his pure athleticism throughout his other combine drills, as well. Wirfs comes with tremendous power, suggesting heíll find success against both speed and power rushers at the next level. He isnít an overly polished run blocker, but has flashed once he gets to the second level of defenses. His initial contact is generally successful, but he struggles to consistently finish plays in the run game.

Wirfs would be an interesting addition to the Cardinals line. They need help at tackle, which is where he projects by most scouts at the NFL level. With that being said, some have suggested that Wirfs will need to slide inside to guard. If thatís the case, Arizona could go with another offensive tackle option here, but Wirfs is the type of player that could protect Kyler Murrayís blindside for years to come.

Previous Pick: Tristan Wirfs, OT, Iowa

9. Jacksonville Jaguars - Derrick Brown, DT, Auburn
Derrick Brown is an NFL-ready player that is one of the best prospects in this draft. He has an elite combination of power, speed, explosiveness, and technique. Brown is a player that will be stout in the run game, while possessing plenty of interior pass rush upside. Heíll be a day one starter in the NFL, and has proven for years of experience in the tough SEC. While Brownís best attribute is his power, his elite cardio/motor is one of the biggest reasons heís projected to find success at the next level.

The Jaguars could use help on the interior defensive line. Taven Bryan seems primed to break out, but Brown would be a player that can completely change their defense. He boasts an outstanding ceiling, and heís one of the safest players in the draft. Similarly to Simmons, Brown could end up being a top-three pick in this draft, making him a steal for a team like Jacksonville that needs help at his position.

Previous Pick: Derrick Brown, DT, Auburn

10. Cleveland Browns - Andrew Thomas, OT, Georgia
Thomas was a three-year starter at left tackle in the SEC. He played in a pro-style offense at Georgia, accumulating plenty of high-level experience. He is already an outstanding run blocker, displaying tremendous power. He has found success as a pass blocker, flashing more than enough upside to find success on the left side of the line in the NFL. He boasts great hands as well, possessing a tremendous first punch that allows him to control defenders.

Thomas has struggled at times with his footwork. He has displayed enough foot speed to fix these issues with more coaching, although he tends to rely on his power.

The Browns offense took a massive step back in 2019. A large part of that was the play of their offensive tackles. Greg Robinson and Chris Hubbard both struggled, and it isnít guaranteed that either is back as a starter. Thomas has the experience to immediately slide into the starting left tackle role for Cleveland. He would be a massive upgrade for Baker Mayfieldís blindside, and could anchor the left side of the line for years to come.

Previous Pick: Andrew Thomas, OT, Georgia
11. New York Jets - Jerry Jeudy, WR, Alabama
Jerry Jeudy is an elite route runner, who possesses fluid hips. He understands the nuances of his routes, setting up defenders, while quickly getting in and out of his breaks. Jeudy has tremendous body control, allowing him to track the deep ball at a high level. He isnít overly dominant after the catch, but has the ability to make big plays on short routes. While it isnít the most important part of scouting reports, Jeudy is also a willing blocker, making him one of the most complete receiving options in this draft.

Jeudy doesnít have many flaws in his game, although he tends to let the ball get to his body. He needs to work a bit on his drops early in his career. Jeudy is often seen as the safe option as opposed to other high upside players in this draft, but he has all the makings of a WR1 at the NFL level.

The Jets have some talent in their receiving group, but they donít have a true number one for their franchise quarterback to rely on. Adding Jeudy would allow them to open up their offense, while giving Sam Darnold the next step for his development.

Previous Pick: Jerry Jeudy, WR, Alabama

12. Las Vegas Raiders - CeeDee Lamb, WR, Oklahoma
Lamb is another outstanding receiving option in this draft, who has flashed WR1 potential. He has the ability to help an offense at every level, possessing tremendous ball skills. Lamb is also an outstanding tracker once the ball is in the air. He has the potential to run a full route tree, adding tremendous YAC potential on short routes. Similarly to Jeudy, Lamb is a willing blocker, often helping in the Oklahoma run game.

Lambís combine will likely determine his value. Some have questioned his speed, and he could jump Jeudy as the top receiver if he performs well in the 40-yard-dash. Lamb is also a wide receiver that has to answer questions about the talent of his competition. The Big 12 is known as an offensive conference with less than stellar cornerbacks. Some may question whether Lamb can dominate NFL cornerbacks the same way he did to the Big 12ís options.

The Raiders are in dire need of a game-changing playmaker on the outside. After Antonio Brown left the team, Las Vegas was left with Tyrell Williams as their top option. Hunter Renfrow was a pleasant surprise in the slot, but Las Vegas needs a true number one option on the outside. Lamb has the potential to become that, making him a great fit.

Previous Pick: CeeDee Lamb, WR, Oklahoma

13. San Francisco 49ers - Javon Kinlaw, DT, South Carolina
Javon Kinlaw is an outstanding physical prospect. He has tremendous size on the interior defensive line. Kinlaw is an explosive player with incredible burst to go along with power and surprising lateral quickness. He boasts quick hands, and has the potential to be a player that can consistently disrupt plays in the backfield. Kinlaw also looked like a new player from 2019 to 2020, adding plenty of muscle to his frame. He has the potential to continue to add to his frame at the next level.

Kinlaw is a typical prospect that has all the physical traits, but needs to improve his technique. He struggles to efficiently use his hands to peel off of blocks or set the edge when needed. He keeps his pad level a bit high, allowing his opponents to control his body. Kinlaw also needs to work on his reads early on plays.

San Francisco traded DeForest Buckner for this pick. The thought is that they didnít want to pay for his new $84 million contract. That leaves a hole at defensive tackle, and they could simply draft his replacement. It would give the 49ers another dominant physical option on a rookie contract along the defensive line. He would help make up arguably the best defensive front in the NFL.

Previous Pick: Javon Kinlaw, DT, South Carolina
14. Tampa Bay Buccaneers - Mekhi Becton, OT, Louisville
Becton has absurd size, resulting in tremendous power at the point of attack. As is the case with bigger linemen, this size and strength helps Becton's power run blocking. He has the potential to be one of the better run blockers in the NFL. Surprisingly, Becton has the footspeed to reach the second level, as well. His size and power allows him to anchor his body in pass protection, while also possessing the speed to meet speed rushers before it's too late.

While Becton's strength is such an advantage at the moment, it could also be one of his biggest downfalls early on in his career. With his ability to rely solely on his power at the collegiate level, Becton lacks the technique and polish needed for the NFL level. He has struggled with his initial punch at times, and his strength won't make up for that in the NFL the same way it did in the ACC. Becton has also struggled with known weight issues, although that shouldn't be an overly large concern for coaches if Becton is committed to success at the next level.

The Buccaneers have more holes on defense, but they will be forced to protect Tom Brady. Becton solidified his stock as one of the best offensive tackles in this draft after running a 5.11 40-yard dash at 364 lbs. at the NFL Combine. He could potentially start early in his career, although he's a player that is best seen as a prospect with elite upside for the future. Becton has the potential to dominate at left tackle for years to come, and protecting Brady should be one of Tampa Bay's primary concerns this season.


Previous Pick: Jedrick Wills, OT, Alabama
15. Denver Broncos - Henry Ruggs III, WR, Alabama
Henry Ruggs III possesses elite speed, and will be able to take the top off of any defense in the NFL. That isnít the only good part about his game, though. Along with his speed, Ruggs is outstanding at tracking the ball and continues to add routes to his repertoire. His larger route tree is extremely important, as Ruggs is outstanding after the catch, and will be more than simply a deep threat at the next level.

Ruggs can make contested catches, but he too often allows balls to get into his body. He also needs to continue to add to his route tree, while working on his ability to get off the press. Solid press corners will disrupt his routes, limiting his speed and taking away the receivers best attribute.

The Broncos could add another cornerback in the draft or they could continue the run on wide receivers. Denver looks to be all in with Drew Lock, giving him plenty of offensive weapons. They have their WR1 in Courtland Sutton, while Noah Fant, Melvin Gordon, and Phillip Lindsay are complementary pieces. Ruggs would be the perfect deep threat to complement Sutton and Lockís elite arm strength. He could take Denverís offense to the next level.

Previous Pick: Henry Ruggs III, WR, Alabama
16. Atlanta Falcons - C.J. Henderson, CB, Florida
C.J. Henderson possesses the speed and traits to play man coverage, while boasting the smarts to find plenty of success in zone, as well. He's a player that isn't afraid to come off of his receiver to make a play. He also owns tremendous recovery speed, allowing him to jump routes and still find success, unlike slower cornerbacks in the NFL. Henderson has also proven that he can find success in press coverage, as he is a physical option at the line of scrimmage. Overall, he possesses all the tools to become the top coverage cornerback in this class.

There is one trait that the NFL will frown upon with Henderson - tackling. He isn't a willing tackler, and oftentimes looks as if he's trying to avoid the confrontation. Other cornerbacks have fallen in the draft simply because of their unwillingness to tackle, and that may be the case with Henderson.

The Falcons added Dante Fowler Jr., plugging their edge rusher hole for the time being. They could add another pass rusher here, but cornerback seems to be the more pressing issue. Atlanta has plenty of options to choose from, but Henderson makes the most sense. He's seemingly moving up draft boards at the moment, and has Pro Bowl potential with his coverage skills. The Falcons have their offense figured out, and adding another defensive piece with this selection is nearly a given.

Previous Pick: C.J. Henderson, CB, Florida
17. Dallas Cowboys - Cesar Ruiz, C, Michigan
Cesar Ruiz is the top interior lineman in this draft. He's an athletic big man that comes with plenty of power. He found tremendous success in the run game, moving the opposition, while making his way to the second level. Ruiz has plenty of power on his frame, but his quickness is just as big of an asset. He has the potential to become an outstanding center at the NFL level for years to come.

Ruiz doesn't have many flaws, but he needs to work on his communication, specifically for his position. Stunts and blitzes will only get more complicated in the NFL, and that was one aspect he struggled with at Michigan.

Dallas has a lot of holes they need to fill, but they have to find a suitable replacement for Travis Frederick. Ruiz is the best interior offensive lineman in this class, and he could immediately start at center for Dallas. This may be a bit high to take him, so Dallas should be looking to trade down if he is their plan, or this could turn into a reach.

Previous Pick: Kristian Fulton, CB, LSU
18. Miami Dolphins - Xavier McKinney, S, Alabama
Xavier McKinney is a versatile safety that can play a variety of positions. He has seen snaps as a deep safety, in-the-box safety, and slot cornerback. He can potentially play zone or man coverage, as well. McKinney is aggressive, attacking the ball in the air or the ball carrier in a downhill fashion. He boasts plenty of speed, but is known as a power hitter, who can play multiple positions at the next level.

McKinney's biggest struggles come when he's trying to tackle in space. Shifty running backs and receivers will be able to make him miss in do or die situations. With that being said, McKinney is known as a solid tackling option when maneuvering through traffic. He simply needs to work on tackling without help in space.
The Dolphins are in a complete rebuild, meaning they could go virtually anywhere with this pick. Brian Flores added Byron Jones to their secondary, but could still use help on the backend. Many scouts are split on who the top safety in this class is, but McKinney would add versatility to Flores' defense. He could immediately start because of that versatility, helping Miami's defense take the next step forward.

Previous Pick: Austin Jackson, OT, USC
19. Las Vegas Raiders - Trevon Diggs, CB, Alabama
Trevon Diggs is a cornerback that possesses tremendous size. He also boasts length as a defender, and the athleticism to cover quite a bit of ground in the secondary. This size will allow Diggs to shadow WR1s throughout his career, as well. He's already outstanding in zone coverage, displaying tremendous knowledge early in his career. He also uses his size when pressing his opponents, overwhelming them at the line of scrimmage.

While Diggs has flashed in press coverage, he isn't overly consistent in man coverage at this point in his career. He is also at his worst when playing off-man. The team that drafts him will need a plan in place for their defense to set Diggs up for success.

The Raiders are in dire need of consistency in their secondary. They have been drafting defensive backs for years, but none have turned into a shutdown cornerback. Diggs possesses the size to follow opposing WR1s around the field. He has plenty of experience in the SEC, and he's an outstanding piece for Las Vegas.

Previous Pick: Trevon Diggs, CB, Alabama
20. Jacksonville Jaguars - A.J. Terrell, CB, Clemson
A.J. Terrell is another cornerback that has been at his best in man coverage. He utilizes his length and quick feet to bait quarterbacks into questionable throws. Terrell is aggressive at the catch point, making every tight reception against him difficult. He has the potential to turn into a dominant press corner in the NFL, but he has the football IQ to play off and read the play, as well.

Terrell is a bit skinny, and will need to add to his frame at the next level. Once he adds weight and muscle, Terrell will be able to press any type of receiver in the NFL. At the moment, heíll struggle with bigger bodied receivers.

The Jaguars have a few holes they need to fill, and one of them is cornerback. Theyíre weak and aging at the position without featuring anyone that has hopes of turning into a CB1 later in their career. After getting rid of A.J. Bouye and Jalen Ramsey, Jacksonville is in dire need of help in their secondary. Terrell comes with tremendous upside, making him an elite fit for the Jaguars.

Previous Pick: Jeff Gladney, CB, TCU
21. Philadelphia Eagles - Justin Jefferson, WR, LSU
Jefferson is a fluid route runner, who thrives in reading coverages for option routes. He boasts quick hands, not hinting at when the ball is close to arriving. Jefferson also possesses a great catch radius, consistently making plays away from his body. He has flashed the ability to track deep balls, although he relies heavily on his athletic ability to get them. Jefferson helped his case at the combine, running a 4.43 40-yard dash with a 37.5 inch vertical and a 10í4Ē broad jump. This athletic ability has allowed him to find success both on the outside and in the slot.

While heís a physical specimen, Jefferson could struggle to release from press coverage early in his career. He also struggles with his quickness in and out of his breaks. He'll need to work heavily on his technique to be able to run a full route tree at the next level. Some have suggested that Jefferson benefited greatly from the LSU offense, and that he couldíve struggled in a more pro-style offense with a less efficient quarterback.

The Eagles are in dire need of a young, dominant receiver. Jefferson quickly climbed up draft boards, and heís seen as the fourth best WR in this class by a number of scouts. He has the potential to turn into a workhorse WR, although he may play the majority of his snaps in the slot. Still, Philadelphia looks to be moving on from Alshon Jeffrey at some point sooner rather than later, and Jefferson would make a great pairing with JJ Arcega-Whiteside to help continue Carson Wentzís development.

Previous Pick: Tee Higgins, WR, Clemson
22. Minnesota Vikings - Jaylon Johnson, CB, Utah
Jaylon Johnson has the physicality and size to matchup well with opposing WR1s. He has found success in press coverage, disrupting his opponents timing as long as he gets his hands on them. Heís a player that competes throughout routes, as well, attacking the ball and opponents hands, forcing them to make contested catches.

Johnson lacks the long speed of a top tier cornerback, though. He can often make up for this with his press, but if he misses at the line of scrimmage, he has virtually no way of catching a speed receiver. He has struggled to read plays at times, as well.

Minnesota allowed multiple cornerbacks - Xavier Rhodes, Trae Waynes, and Mackensie Alexander - leaving a major void at the position. Luckily, this is a deep draft for the position, allowing them to fill the void with this pick. The Vikings clearly need help at wide receiver, but their defense may be a bigger concern early in the draft. Johnson has the potential to shut down opposing WR1, but heíll need to work on a few aspects to his game to get to that point.

Previous Pick: A.J. Terrell, CB, Clemson
23. New England Patriots - Jordan Love, QB, Utah State
Love is an outstanding option from a physical standpoint. He has tremendous size, strength, and mobility for a quarterback. Love has a quick release with plenty of arm strength to make any throw at the next level. He also isnít afraid to extend plays with his legs, improvising on the spot. Furthermore, Love is a passer that is willing to attempt nearly any throw on the field, flashing unwavering confidence in his arm throughout games.

While he has all the physical traits, Love has struggled with his decision-making. Heís a player that trusts his physical tools far too much, often times testing defenses with throws that are easy turnovers. Love will need to greatly improve his pre-snaps reads, along with his ability to diagnose coverage at the next level.

Does anyone truly believe the Patriots are going to tank for the first overall pick and Trevor Lawrence next year? Bill Belichick is too good of a coach to have a true shot at the first overall pick, even if he uses someone like Brian Hoyer at quarterback. Instead, they can grab their future signal-caller in one of the most physically dominant quarterbacks in this draft. Love has all the tools to find success in the NFL, and pairing him with someone like Belichick could solidify his future.

Previous Pick: K'Lavon Chaisson, OLB, LSU
24. New Orleans Saints - Kenneth Murray, MLB, Oklahoma
Kenneth Murray is an aggressive linebacker with range and the athleticism to play sideline-to-sideline. He makes tackles even when he seems to be out of position. He plays fast from the start of the play, allowing him to hit the hole with explosion, although this also gets him into trouble at times.

Murrayís fast play is generally seen as a plus, but he misreads plays at too high of a rate for the NFL. He wasn't asked to play man coverage much at Oklahoma and while he is an athletic player, suggesting he will be able to, itís a bit of an unknown for the NFL. Overall, Murrayís play recognition will be his biggest concern for his future.

The Saints are one of the most complete teams in the NFL, although they have a few different ways they could go with this pick. New Orleans could use an upgrade at linebacker, although he could learn behind Kiko Alonso prior to drawing starts. It would be interesting to see if the Saints would ask Murray to play strong side linebacker for Alex Anzalone, who has struggled with injuries throughout his career.


Previous Pick: Justin Jefferrson, WR, LSU
25. Minnesota Vikings - K'Lavon Chaisson, OLB, LSU
KíLavon Chaisson is a player that could climb draft boards as we head towards late April. He has outstanding pass rushing tools, as he can win with both speed and power. Heís a player with outstanding bend as well, giving him a variety of ways to beat opposing linemen. Furthermore, Chaisson utilizes his power well when setting the edge in run support. His first step is outstanding, allowing him to get ahead of his opponents early in the play. Chaisson comes with coverage ability, flashing the tools needed to play both zone and man coverage at the next level. Heís a versatile option, as some believe heíll be able to play OLB or add weight and play with his hand in the dirt.

Chaisson missed the majority of the 2018 season with an ACL tear. While he proved that he was healthy during the 2019 season, this is still a major concern for the physicality of his position. Furthermore, Chaissonís injury stunted his development on and off the field a bit.

The Vikings traded away Stefon Diggs for this selection. It would make sense that they want to replace him, but they also have to replace Everson Griffin, who left in free agency. Minnesota needs help in the secondary, but adding a pass rusher is another way to help their secondary. Chaisson is one of the top edge rushers in this draft, making him the best selection at this pick after a run on cornerbacks and a deep receiver class.

Previous Pick: K'Lavon Chaisson, OLB, LSU
26. Miami Dolphins - Austin Jackson, OT, USC
Austin Jackson is a bit of a polarizing prospect, who is seemingly climbing up draft boards. Heís a bit of a project, but has all of the physical tools to be a capable NFL player in the future. Jackson possesses an outstanding frame to go along with solid lateral movement and mobility. He has flashed with his hands in pass protection throughout his career at USC, suggesting his ceiling could be at left tackle in the NFL.

While Jackson features the frame of an NFL tackle, he will need to fill it out for future success. Heís far too inconsistent with his footwork at the moment, and doesnít feature the strength to make up for it. Jackson too often loses control of his body, opening the door for pass rushers to find success. Itís these inconsistencies that have some NFL teams and scouts worried about his ability at the next level.

The Dolphins are in a complete rebuild, and they are in dire need of offensive linemen. If they draft Tua Tagovailoa with their first pick, they will need to keep him healthy, as he has struggled with injuries. With the top four offensive linemen off the board, Miami will have their pick of the second tier. Jackson isnít ready to be a day one starter, but he can develop into a solid left tackle with the right coaching. Heís a bit of a risky option, but it wouldnít be surprising if he jumped Josh Jones on draft day.

Previous Pick: D'Andre Swift, RB, Georgia

27. Seattle Seahawks - Josh Jones, OT, Houston
Josh Jones was a four year starter at Houston. He has all the physical tools to find success in the NFL. He boasts an outstanding build with the arm length to find success at tackle. He also flashes the foot speed necessary to find success as a left tackle at the professional level. Jones is at his best in pass protection, but he also flashed as a run blocker later in his career. While he is raw in some areas, he is experienced and has seen relatively consistent growth throughout his career.

Jones has all the physical traits to find success in the NFL, but he lacks nearly all of the technique. Surprisingly, he struggled to develop this even as a four year starter at Houston. Jones also lacks football IQ, and has struggled with his footwork in crucial situations. Heís an experienced physical specimen that needs to be molded into an NFL-caliber tackle at the next level.

The Seahawks have allowed Russell Wilson to mask how bad their offensive line actually is. This says quite a bit because they are still generally seen as one of the worst offensive lines in the NFL. Jones comes with quite a bit of risk if he canít change his technique, but he also comes with tremendous upside. He could be a consistent lineman for Seattle if they are able to progress him early in his career.

Previous Pick: Josh Jones, OT, Houston

28. Baltimore Ravens - Zack Baun, OLB, Wisconsin
Zack Baun is a complete player. He has found success in run defense, pass rushing, and coverage at Wisconsin. Baun also has a plus motor, chasing down plays in pursuit. He has great hips and solid flexibility as an edge rusher. Baun also flashed the ability to read plays, while finding success specifically in zone coverage.

He lacks experience as an edge rusher, as he only saw major snaps at the position in 2019. Baun also lacks ideal size for the position. He'll need to add weight at the next level, but his lack of size could hamper his ability to get off of block in the NFL. This could be a major concern in run defense.

Baltimore is a team that can go a number of ways with this selection because of their roster. Baun is a player that could spell Jaylon Ferguson or he could find himself in a different linebacker position down the road. Baltimore isn't a team that needs immediate help, allowing Baun to develop into the type of player they want. He'll likely find success on limited snaps as a rookie, though.

Previous Pick: Kenneth Murray, MLB, Oklahoma
29. Tennessee Titans - A.J. Epenesa, DE, Iowa
A.J. Epenesa was seen as an elite prospect prior to the season, but he fell off a bit in 2019. He's a lengthy player that boasts tremendous power. He utilizes this power in his pass rush moves, although he has gotten better with his hands throughout the season, as well. Furthermore, Epenesa is outstanding at setting the edge, as his size and power allows him to hold his ground, even against bigger linemen. Similarly to many players from Iowa, Epenesa is a player that is willing to do the dirty work in the trenches.

While he boasts tremendous power, Epenesa isn't an elite athlete. He doesn't possess a great burst for a pass rusher either. Essentially, Epenesa is seen as a solid prospect, who isn't capable of turning into an All Pro player.

The Titans added to their pass rush in free agency, but they could still use help from someone like Epenesa. He's a safe option for a solid team, and would immediately help their defense. While he isn't likely to turn into a dominant pass rusher like Tennessee could be looking for, he will help other pass rushers on the defense. He makes a great option late in the draft.

Previous Pick: Terrell Lewis, Edge, Alabama
30. Green Bay Packers - Patrick Queen, LB, LSU
Patrick Queen is a linebacker that can play sideline-to-sideline. Heís an athletic player that sets the tone early in games. He also boasts a great combination of strength and speed. Queen is outstanding at navigating through traffic, as well. He can find the ball carrier while shedding blocks. Queen also comes with the upside to play both man and zone coverage at the next level and possesses the upside to become a three-down linebacker.

Oddly enough, Queen had plenty of ups and downs throughout his career at LSU. He wasnít always seen as a starter, but ultimately found plenty of success when gaining the job throughout the year. Queen plays with a bit too much aggression at times and if his first read isnít correct, he could take himself out of plays.

The Packers have a major hole at middle linebacker. Blake Martinez doesnít look like the answer, and Green Bay will certainly need to fill that hole if he leaves in free agency. Overall, they need someone that can make plays against the run if they want to make a run for the Super Bowl, and Queen could be that player.

Previous Pick: Patrick Queen, LB, LSU

31. San Francisco 49ers - Brandon Aiyuk, WR, Arizona State
Brandon Aiyuk is likely a boom or bust option at the next level possessing elite big play ability. Heís slippery after the catch, elusive on returns, and possesses more than enough speed to be a viable deep threat. Heís long for his height, which could help increase his catch radius down the line.

College teams wanted to move Aiyuk from receiver to cornerback after he transferred from JUCO college. He struggles with physicality throughout his routes. He doesnít naturally catch with his hands, making contested catches difficult for him. He lets the ball get into his body far too often and will need to work on the nuances of playing the position.

The 49ers lost Emannuel Sanders to free agency, and it looks as if Deebo Samuel will be their WR1 for the future. He was somewhat expected to be used as a gadget player, and that slot is seemingly open. San Francisco has taken plenty of chances on receivers before, including Samuel and Jalen Hurd, who were seen as anything but sure-fire receivers in the draft. Aiyuk will open the field for Samuel, and his big play ability with manufactured touches could be a difference-maker in this offense.

Previous Pick: Brandon Aiyuk, WR, Arizona State
32. Kansas City Chiefs - Jeff Gladney, CB, TCU
Jeff Gladney is an outstanding prospect, who could get lost in the shuffle of a dominant cornerback draft. Heís a player that possesses the footwork, speed, and physicality to find success in man coverage. Gladney competes every play, performing well at the point of attack. He could add to his frame a bit, but features the upside as a player to shadow opposing WR1s for years to come.

Gladney is serviceable in zone coverage, but can look to improve that aspect in the NFL. He needs to read offenses a bit better, allowing him to faster process route combinations, resulting in more potential turnovers.

The Chiefs offense will find success regardless of their players as long as Patrick Mahomes is under center. That allows Kansas City to focus on defense here. They could add depth at cornerback. They also donít have anyone that has the potential to become a shutdown cornerback at the professional level. Insert Gladney. He has the experience to start from day one, but could become a shadow corner in the NFL, as well.

Previous Pick: Jonathan Taylor, RB, Wisconsin