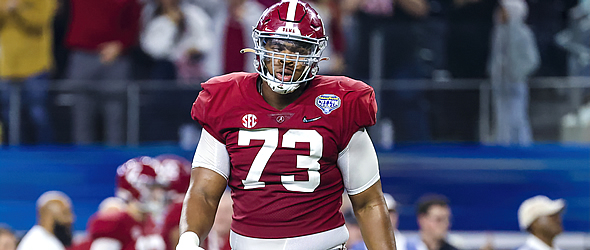 1. Jacksonville Jaguars - Evan Neal, OT, Alabama
There are essentially four players on the table with this pick. Aiden Hutchinson and Kayvon Thibodeaux would immediately make defensive impacts in Jacksonville. With that being said, they have to protect their franchise quarterback, Trevor Lawrence. Neal and Ikem Ekwonu are the two clear-cut top offensive tackles in this draft. The Jaguars could lose Cam Robinson to free agency, and Neal could immediately slide into the starting lineup. He'll protect Lawrence's blindside for years to come, and it'll be difficult for Jacksonville to miss on this pick.

2. Detroit Lions - Aidan Hutchinson, DE, Michigan
Detroit needs a pass rusher, and they'll have the opportunity to draft one of the top two options in this draft. Hutchinson has a high-motor with tremendous technique at this point in his career. He recorded 14 sacks with 16.5 tackles for a loss in his senior season at Michigan. Hutchinson will be an elite piece for Dan Campbell's defense as Detroit continues to rebuild. He'll stay in the state of Michigan and is one of the safest prospects in this draft class.

3. Houston Texans - Ikem Ekwonu, OT, NC State
New head coach Lovie Smith heaped praise on Davis Mills, calling him their quarterback heading into the season. This is far too early in this particular draft to select his replacement, meaning they'll have to shift their focus elsewhere. Although the Texans have several holes, they should be focused on giving Mills every opportunity to find success early in his career. Houston could look to further their rebuild by trading Laremy Tunsil, opening a massive hole at tackle. Ekwonu could immediately step in and fill that hole. He could be the top overall pick in this draft, and he'd be a top player for the Texans for years to come.

4. New York Jets - Kyle Hamilton, S, Notre Dame
The Jets could go with several players here, and a safety could be a bit of a reach. With that being said, Hamilton comes with elite versatility and has the potential to become one of the best play-making safeties in the NFL. He boasts plenty of range, tremendous ball skills, and can play around the line of scrimmage. In only seven games at Notre Dame last season, Hamilton recorded 34 tackles, including 2 for a loss, with 3 interceptions and 4 pass deflections. Generally, safeties aren't selected this high in the draft, but there are very few players at the position that can change the game the way Hamilton can.

5. New York Giants - Kayvon Thibodeaux, Edge, Oregon
The Giants could luck their way into an elite pass rusher with this pick. They struggled to consistently get pressure on the quarterback last season, ranking in the bottom third of the NFL in sacks, hurry rate, and pressure rate. Thibodeaux was seen as the clear favorite for the first overall pick before the season. He returned to form in 2021, posting 49 tackles, 12 for a loss, and 7 sacks for the Oregon Ducks. Thibodeaux comes with as much upside as any pass rusher in this draft class and he'll pair well with Azeez Ojulari, who enjoyed a solid rookie season. Although there are some concerns with Thibodeaux's overall ability, he's going to be an elite pass rusher from early in his career, which is exactly what the Giants need.

6. Carolina Panthers - Charles Cross, OT, Mississippi State
The Panthers are in an extremely interesting position. They need a quarterback, but there have been reports that they have made calls about Kirk Cousins. This is a bit too high to select a quarterback in this draft, so Carolina can either acquire a veteran or trade down if they want a QB. Since I'm not projecting trades here, I'm shifting my focus elsewhere. Instead of taking a quarterback, they can get an outstanding pass-blocking left tackle. Once Carolina gets their quarterback of the future, they'll have his blindside protected for years to come with Cross.

7. New York Giants - Devin Lloyd, LB, Utah
The Giants drafted a pass rusher earlier in the draft, and they get another versatile player here. Lloyd is a sideline-to-sideline middle linebacker, but he comes with significantly more versatility than the majority of players at his position. In 14 games as a senior at Utah, Lloyd recorded 111 tackles, including 22 for a loss, 7 sacks, 4 interceptions, 6 pass deflections, and 1 forced fumble. He also recorded a pair of touchdowns last season. Lloyd will sure-up a position of need, but he can also add to their struggling pass rush from a more unconventional position.

8. Atlanta Falcons - Jermaine Johnson, Edge, Florida State
The Falcons featured arguably the worst pass rush in the NFL last season. They ranked last in pressure rate while also ranking in the bottom five in hurry and knockdown rate. Johnson at this pick would be a reach at this point in the process, but he's the best remaining edge rusher. Atlanta could go with a cornerback, which would make more sense in terms of most big boards. The emphasis should fully be on adding a pass rusher here, though. Johnson recorded 70 tackles, 17.5 for a loss, and 11.5 sacks for Florida State last season. He also looked outstanding at the Senior Bowl, and Johnson could continue to climb as the offseason continues.

9. Denver Broncos - Ahmad Gardner, CB, Cincinnati
The Broncos have several positions they can select with this pick, as there are plenty of holes to fill on their roster. With the top offensive tackles and edge rushers selected, they can shift their focus to the best cornerback in this draft. Gardner recorded 3 interceptions and 4 pass deflections over 13 games as a junior. Although those numbers aren't overly impressive, he wasn't targeted often, as Garnder allowed single-digit catches last season. He has the potential to become a shutdown cornerback for the Broncos, and he'll make an elite pairing with Patrick Surtain in their secondary.

10. New York Jets - Trevor Penning, OT, Northern Iowa
With the best offensive tackles off the board by their first pick, the Jets added to their defense. It's time to get some protection for Zach Wilson if they want to give him a chance to perform well in New York. The Jets need help along their offensive line, and Penning is a versatile option. He can step in and start on day one. More importantly, he boasts the potential to play tackle or guard in the NFL. His versatility will immediately help New York, and they can find out what they have in their young quarterback.

11. Washington Commanders - Kenny Pickett, QB, Pittsburgh
The Commanders tested out Taylor Heinicke last season, and he doesn't appear to be their quarterback of the future. There's a chance that Washington could return to the playoffs sooner rather than later if they have more production from the position. We also know that this is a position that generally gets drafted earlier than the talent suggests. There are plenty of concerns about Pickett's hand size after the NFL Combine, but there will be a team to take a chance on his tape. Malik Willis is the other option here, and these two could swap before it's all said and done.

12. Minnesota Vikings - Derek Stingley Jr., CB, LSU
The Vikings are in dire need of a high-end cornerback after consistently missing on them in recent years. Stingley looked like an elite talent throughout his freshman season, and he was touted as the next elite cornerback prospect. Stingley's success tailed off over his last two seasons, although it's only been 10 total games. He flashed enough as a freshman to be considered in the top half of the draft, and he could be the difference-maker Minnesota's been looking for on the backend of their defense. The question is whether the Vikings are willing to take the risk on him or if they'd rather select a safer prospect who doesn't boast as much upside.

13. Cleveland Browns - Drake London, WR, USC
This is going to be a popular pick, but it makes too much sense to ignore. Baker Mayfield's been an erratic passer throughout his career. London stands 6'5 tall with tremendous range as a pass-catcher. He totaled 88 receptions for 1,084 yards and 7 touchdowns in 8 games before being injured last season. The Browns best receiver is an aging Jarvis Landry with Donovan Peoples-Jones working behind him. London could immediately take over as the WR1, and he is the best receiver in this draft for Mayfield.

14. Baltimore Ravens - Tyler Linderbaum, C, Iowa
The Ravens are a team that generally drafts the best player available, although they separately need help on the interior offensive line. Luckily, Linderbaum is one of the best center prospects in recent memory, and he is arguably the best player available at this point in the draft. He can immediately step in for the departing Bradley Bozeman as an upgrade at the position. Linderbaum is athletic enough to handle any style of play Baltimore needs from him, and he would make the offense with Lamar Jackson that much more dangerous.

15. Philadelphia Eagles - George Karlaftis, Edge, Purdue
The Eagles struggled to get pressure on opponents throughout last season. They ranked in the bottom-11 of the NFL in pressure percentage. They also ranked second-last in sacks. Karlaftis only recorded 4.5 sacks last season, although he also had 10 tackles for a loss and 2 forced fumbles. The key here is that Karlaftis consistently got pressure on his opponents, suggesting the sacks should follow in the NFL. He'll immediately be an upgrade for Philadelphia, as they'll need to find new ways to get pressure on opposing quarterbacks if they are going to continue to blitz at one of the lowest rates in the NFL.

16. Philadelphia Eagles - Trent McDuffie, CB, Washington
The Eagles have several needs on their defense, and they can use their first two picks to fix the biggest ones. Although their struggles to get pressure hurt their secondary, they need to upgrade at the cornerback position. McDuffie failed to record an interception last season, but he did record 6 pass deflections. Most impressively, he hasn't given up any touchdowns over his last 15 games. McDuffie is seen as a relatively safe prospect at this position, and he could immediately help Philadelphia's secondary with his ability to play in the slot or outside.

17. Los Angeles Chargers - Travon Walker, DE, Georgia
The Chargers need help along their offensive line, as protecting Justin Herbert should be a priority this offseason. With that being said, there aren't any offensive tackles that warrant consideration at this pick. Instead, they can shift to their defense and find some much-needed help. Los Angeles struggled against the run last season, and Walker would help bolster their front seven. He's a massive defensive end that would immediately improve the Chargers' run defense. Walker can also add a bit of a pass rush, as he's coming off of a season with 6 sacks to go along with 7.5 tackles for a loss. Although Los Angeles would rather protect their franchise quarterback at this point in the draft, Walker could immediately fill a massive hole on the defensive side.

18. New Orleans Saints - Treylon Burks, WR, Arkansas
A quarterback is a viable option for the Saints here, although it seems more likely that they add a veteran to try to make a Super Bowl push this season. They need more weapons on the outside, though. Michael Thomas will return, and he'll be a massive upgrade, but the Saints are still without a solid complementary option to him. Burks looked outstanding as a junior at Arkansas, posting 66 receptions for 1,104 yards and 11 touchdowns over 12 games. He added 112 yards and 1 touchdown on the ground as well. Some people have compared Burks to Deebo Samuel, and while that comparison may be a bit of a reach, it shows the potential the Arkansas receiver can have in the NFL.

19. Philadelphia Eagles - Garrett Wilson, WR, Ohio State
The Eagles added two key defensive pieces earlier in this draft, meaning they can shift to the offensive side of the ball here. They could add Kenyon Green to help fix their offensive line, but it could be more important to get Jalen Hurts more weapons. Garrett Wilson is coming off of an outstanding season at Ohio State, posting 70 receptions for 1,058 yards and 12 touchdowns over 11 games. He flashed game-changing potential throughout his collegiate career, and Wilson would be an elite option to pair with DeVonta Smith in their offense.

20. Pittsburgh Steelers - Malik Willis, QB, Liberty
The Steelers need to replace Ben Roethlisberger to return to a playoff-caliber team. Willis is doing extremely well in interviews, which could skyrocket his draft stock. Over his last two seasons at Liberty, the quarterback threw for 5,107 yards with 47 touchdowns and 18 interceptions. He added 1,822 yards and 27 touchdowns on the ground as well. Willis is seen as a bit of a project, but we've seen dual-threat quarterbacks completely turn franchises around in recent years. He could be the next in line.

21. New England Patriots - Kyler Gordon, CB, Washington
The Patriots took a surprising step forward with Mac Jones at quarterback last season. They still rely heavily on their defense, though, and J.C. Jackson could leave in free agency. The Patriots could use their first-round pick to select his replacement, allowing the team to continue to rely on their defense while the young quarterback continues to progress. Gordon recorded 2 interceptions and 7 pass deflections over 12 games for Washington last season. He's a player that boasts the ability to cover WR1s in the NFL once he finds his footing, and that's the type of player New England would love to select here.

22. Las Vegas Raiders - Jordan Davis, DT, Georgia
The Raiders were above average against the run last season, although they could lose several interior defensive linemen in free agency. Davis is a massive defensive tackle, who could fill the void of any departing player. He ended last season with 32 tackles, 5 for a loss, and 2 sacks. More importantly, he can eat up multiple offensive linemen, giving others along the line more opportunities. Las Vegas could go a variety of ways with this pick, but Davis can fill a massive hole if they can't re-sign some of their interior defensive linemen.

23. Arizona Cardinals - David Ojabo, Edge, Michigan
The Cardinals were able to get plenty of pressure on opposing quarterbacks last season, but they also blitzed at one of the highest rates in the NFL. Ojabo broke out in his second season at Michigan, recording 35 tackles, 12 for a loss, and 11 sacks over 13 games. He's the type of player that boasts true difference-making pass rush upside if he hits his ceiling at the next level. The major concern here is his run defense, although Arizona may be willing to look past that as Ojabo develops early in his career.

24. Dallas Cowboys - Kenyon Green, OL, Texas A&M
The Cowboys need help along their offensive line, specifically in the interior. Green is expected to play guard in the NFL, and he could be a day one starter for Dallas. With that being said, he boasts the upside to move out to tackle if need be. Green played four different positions throughout his college career, and we've seen versatile linemen be drafted at a premium in the past. I expect that to be the case once again for Green during the draft.

25. Buffalo Bills - Devonte Wyatt, DT, Georgia
The Bills could always look to add to their receiving group with this pick, but the offense looks comfortable at the moment. They're expected to lose several defensive linemen in free agency, and they may want to use this pick to select a replacement. Wyatt is a massive defensive tackle that could force attention off of Ed Oliver in the middle. He could also take off any pressure of all of the pass rushers around him. Last season, Wyatt posted 39 tackles, 7 for a loss, and 2.5 sacks for Georgia. He was part of one of the best defensive fronts in the NCAA last season, and he's one of several players for Georgia that could be drafted in the first round.

26. Tennessee Titans - Chris Olave, WR, Ohio State
The Titans have several holes they can fill, but they desperately need more wide receiver depth. Julio Jones is an aging option, and the group as a whole struggled without A.J. Brown last season. Dez Fitzpatrick could continue to progress, but there are several elite options in this draft, specifically available at this pick. Olave's found success in each of his last three seasons for Ohio State. He posted 65 receptions for 936 yards and 13 touchdowns over 11 games as a senior last season. Olave can immediately help Tennessee's passing game, and he'll add another great young receiver to pair with Brown when Jones leaves.

27. Tampa Bay Buccaneers - Jameson Williams, WR, Alabama
The Bucs are in a terrible situation entering the offseason. Tom Brady retired and they're expected to lose multiple key players to free agency. One of those players is Chris Godwin, who's been one of the top receivers in the NFL. Mike Evans is still in town, but they're going to need to add to their weapons for whoever is under center. Williams transferred from Ohio State, posting 79 receptions for 1,572 yards and 15 touchdowns over 15 games in his only season with Alabama. He may have been the first receiver taken in this draft if he didn't suffer a serious injury. I don't expect that to bump him out of the first round, though, and Williams would be a steal for Tampa Bay.

28. Green Bay Packers - Boye Mafe, Edge, Minnesota
Could the Packers take a wide receiver here to hopefully keep Aaron Rodgers happier? Sure, but when have they ever done that in the past? Instead, they can add to their pass rush with this pick. Green Bay ranked as roughly an average defense in terms of pressure last season. Mafe's a relatively raw prospect, who consistently improved at Minnesota. He finished his senior season with 34 tackles, 10 for a loss, and 7 sacks. The Packers recently took a chance on Rashan Gary as a raw pass rusher, and he's finally performing well for Green Bay. They could take a similar chance on Mafe in this draft.

29. Miami Dolphins - Nakobe Dean, LB, Georgia
The Dolphins desperately need help along the offensive line, but they could look at add the anchor of their defense here. They need help at linebacker, and Dean would immediately slide into the starting role. There have been rave reviews about him as a leader at Georgia, and he could bring that temperament to the NFL. Dean ended his junior season with 72 tackles, 10.5 for a loss, 6 sacks, 2 interceptions, 5 pass deflections, and 2 forced fumbles. He'll add versatility and leadership to a defense that can carry the team to the playoffs.

30. Kansas City Chiefs - Dax Hill, S, Michigan
The Chiefs are going to need help at safety, specifically if Tyrann Mathieu leaves in free agency. Even if Mathieu stays, there will be holes in the Kansas City defense that Hill can contribute. Hill ended last season with 69 tackles including 4.5 for a loss and 0.5 sacks. He also ended last season with 2 interceptions, 8 pass deflections, and 1 fumble recovery over 14 games. Hill can fill the void at safety or he can shift over to their slot corner position. His versatility can help Kansas City's defense immediately.

31. Cincinnati Bengals - Bernhard Raimann, OT, Central Michigan
The Bengals are coming off of a Super Bowl run that most people didn't see coming. It's still clear that they need massive help along their offensive line. Joe Burrow enjoyed a phenomenal season, but he's going to need to stay upright to continue that success throughout his career. Luckily, Raimann fell to them at this spot. He hasn't had the most consistent process thus far, but he can immediately start at right tackle or guard for the Bengals. He is an option that could turn into a solid lineman in the NFL, and that's exactly what Cincinnati needs at this point.

32. Detroit Lions - Jahan Dotson, WR, Penn State
The Lions have several holes they need to fill, and they drafted an edge rusher earlier in this draft. They can shift their focus to their offense with their second pick. Amon-Ra St. Brown broke out as a rookie last season, and he looks to have an outstanding future in Detroit. With that being said, they don't have any upside at the position behind him. Dotson isn't the biggest receiver, but he comes with plenty of explosion, great hands, and tremendous route-running skills. He posted 91 receptions for 1,182 yards and 12 touchdowns in 12 games for Penn State last season. Dotson would make an outstanding pairing with St. Brown for years to come.