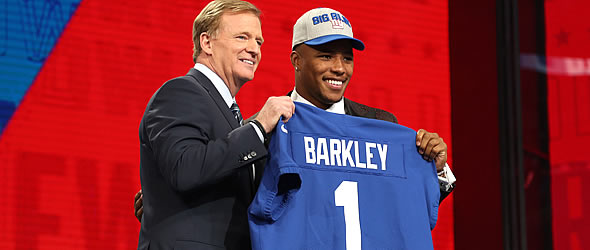 With Barkley a good bet for 300+ touches, he could easily end up being the top fantasy RB in 2018.


For the third year in a row, we saw an NFL team select a running back within the top four picks of the NFL Draft. Suffice it to say the last two have gone considerably well for fantasy football. I could delve into why it is imprudent to take a running back in the first round for an NFL team, but all you care about are the fantasy implications, so we can table the real life discussion for another time.

In 2016, I wrote about why Ezekiel Elliott was well worth a first round fantasy pick. In 2017, I wrote about why Leonard Fournette would not be as good a fantasy prospect as Zeke, but still very much worth a mid-second round pick. I'm two for two on evaluating the top rookie RB for fantasy purposes and both times I've been high on the idea of spending an early round pick on the rookie. So how do I feel about Saquon Barkley? I kind of spoiled it in the title, but I'll repeat it here anyway: Barkley is a better fantasy prospect than both Elliott and Fournette and is worthy of a higher ADP than each had their rookie years. I believe Barkley is capable not just having a better rookie year than both Elliott and Fournette, but a better 2018 as well.

In 2016, Elliott's ADP was 1.08, the overall RB3. In 2017, Fournette's ADP was 3.03, the overall RB13. In 2018, Barkley's ADP is currently 1.07 and the overall RB6. So Barkley is being drafted higher overall than his predecessors, but in between the two at the running back position.



At the Top



The big three at the position are basically set in stone. It's Le'Veon Bell, Todd Gurley, and David Johnson in whatever order you'd like. I am of the belief they should be the top three picks in every league (PPR and half-PPR). It is generally accepted that the next running back off the board should be Zeke, followed by Alvin Kamara. I would like to submit that Barkley can justifiably be selected before either of them - as high as fourth overall.

The reason Bell, Gurley, and DJ are in a class above is because of their status as true bell-cow backs. They are three-down backs that catch passes and handle all the goaline work. Zeke is a notch below because of his lack of involvement in the passing game. He's an okay pass catcher, but doesn't have the receiving chops of the big three. However, Zeke may legitimately push 400 carries so volume is not a concern, making him still right up with the big three, but just a slight bit lower.

Fournette has similar concerns regarding passing game usage, but also has similar volume guarantees as Zeke. As for Kamara, he is an elite pass catcher, but he's not a three-down back. After Mark Ingram was suspended, the immediate reaction was that Kamara would spend at least a quarter of the season in a three-down role. That's not going to happen. Kamara's snap share will increase from the 44.3% he saw last season and his opportunity share will increase from the 38.5% he saw last, but we know his efficiency will regress. He is coming off the most efficient season in NFL history and is unlikely to average 6.1 yards per carry. Kamara is going to be excellent and a surefire RB1, but he is being overvalued in the fantasy community due to the Ingram suspension. Sean Payton is going to increase Kamara's usage over the first four weeks, but he's not going to be a three-down workhorse – someone else, perhaps Terrance West, will mix in on early downs and the goaline in the interim.

The Case for Barkley

Regardless of Barkley's actual talent, he's a second overall NFL draft pick joining a team where describing their incumbent running backs as "hot garbage" would be an insult to garbage. Barkley enters 2018 with absolutely zero competition. He is locked into 300 touches with 350-touch upside. And given the draft capital invested, we know the Giants are going to use him heavily.

My primary way of illustrating how great Barkley can be as a rookie is by what I call the Melvin Gordon Corollary. I do not think Melvin Gordon is a particularly good running back as he's proven over his three-year career to be an inefficient compiler. Nevertheless, he has posted back-to-back top six finishes in PPR fantasy points on volume alone. So, by the Melvin Gordon Corollary, Saquon Barkley's floor is Melvin Gordon. If Barkley is nothing special, but sees 300+ touches, he can easily post something like Gordon's 2017 season where he totaled 1,105 rushing yards, 476 receiving yards on 58 receptions, and 12 total touchdowns. Perhaps Barkley's touchdown floor is a bit lower. Worst case scenario, Barkley is Melvin Gordon and likely a low-end RB1. If you knew you were getting low-end RB1 production, wouldn't that be worth a mid-first round pick?

Now let's consider the fact that Barkley might legitimately be a generational talent. Athletically, he's the best RB prospect of all time. He's 6 feet tall, 233 lbs, and ran a 4.40 40-time. Per playerprofiler.com, he has a 99th percentile speed score and 96th percentile burst score. He is a 99th percentile SPARQ-x athlete. He carried the ball 272 times as a sophomore at Penn State, proving he can handle a significant workload. And most importantly, Barkley is an excellent pass catcher. He totaled 102 receptions over his 38 college games. Fournette only caught 41 passes in 32 college games and Zeke just 58 in 35 games. What if Barkley is a more athletic and more talented Melvin Gordon with the same workload? That's legitimate overall RB1 upside.

I understand there are concerns. Barkley is still a rookie. He's on a team with an aging, declining quarterback and an offense loaded with talent around him in Odell Beckham Jr., Evan Engram, and Sterling Shepard. I just have a very hard time seeing how Barkley fails and a much easier time seeing how he exceeds all expectations.

The main outlook I am preaching this year is situation + opportunity > talent. Barkley has all three. As we know, there is nothing more valuable in fantasy football than an elite RB so don't hesitate to pull the trigger on Barkley in the middle of the first round.