Every year, rest assured someone at some point during each of your drafts will utter some variation of the words "value pick." But what exactly is a value pick? What is value? Value is a relative term that changes based on public perception. When I consider value, I'm looking for a positive return on my investment. Just because a player has an a fourth round ADP and is still sitting there in the sixth round does not make him good value. At the same time, taking a player a round or two above his ADP is not necessarily bad value. Everything is relative. My goal in every pick I make is to take a player I believe will have a higher ADP the following season.
Last season, DeAndre Hopkins had a third round ADP. This year, he has a first round ADP. Hopkins gave owners one hell of a positive return on investment. On the flip side, DeMarco Murray had a second round ADP. This year, he's retired, and not because he went out on top. That's the type of pick we hope to avoid.
Let's take a look at which QBs I expect to outperform their ADPs and which I expect to fail.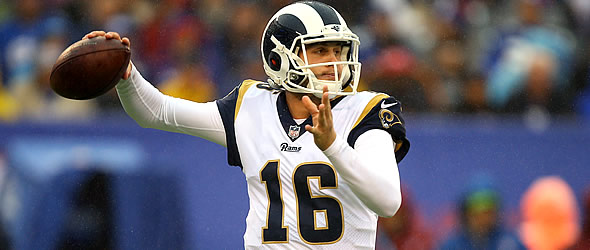 Jared Goff's current ADP is another example of how deep the quarterback position is in 2018.
Undervalued
Jared Goff, Rams
ADP: 11.02, QB15
The case for Goff being undervalued: Quarterback of an ascending offense with an excellent head coach, coming off a low-end QB1 finish in a breakout season.
The case against Goff being undervalued: He was extremely efficient last season despite throwing fewer than 500 passes and the offense still revolves around Todd Gurley.
Verdict: It really all boils down to cost. Quarterback is so deep this year that it just makes sense to wait until the double-digit rounds to grab a player that has already proven he can be a QB1. I am not suggesting that Goff is somehow a top six fantasy player at his position, although he certainly has that type of upside. I am merely suggesting that Goff is a QB1 that is not being drafted as a QB1. Goff will now be entering his second year in Sean McVay's offense and will only be given the opportunity to do more as he continues to improve. The Rams didn't bring in Brandin Cooks just to be window dressing. Goff is going to have the chance to throw and I would expect him to exceed 500 pass attempts and 4,000 yards this season. Goff should at least be a low-end QB1 and is an excellent late-round QB target.
Dak Prescott, Cowboys
ADP: 13.07, QB20
The case for Prescott being undervalued: He was the overall QB1 for the first seven weeks of last season and comes with a high weekly rushing floor.
The case against Prescott being undervalued: Who exactly is he throwing to?
Verdict: This is probably the biggest slam dunk of my overvalued/undervalued series. Dak Prescott as the QB20? In the words of Cris Carter, Cmon Man! I realize that from Weeks 8-16, Prescott was the QB27, and that is an incredibly low floor, but consider the circumstances. Prescott plays for a complete nothing of a head coach. That's both good and bad. It is good because Jason Garrett won't actively hurt the Cowboys chances of winning. It is bad because Garrett has no ability to make adjustments when adversity hits. That is exactly what happened when Tyron Smith went down and Dez Bryant showed no ability to separate or make contested (or even simple) catches. The entire offense worked against Prescott last year, but the underlying tape and metrics show a quarterback with an excellent command of the offense that very often made the correct pre-snap reads, correct audibles, and correct decisions. Presecott is still an excellent player with a bright future and he was an elite QB1 for roughly 1.5 seasons! That has to count for something. At the bare minimum, he warrants consideration as a mid-to-high QB2, especially given that we know he has top five upside. I really can't envision a scenario, even with the Cowboys depleted receiving corps, where Prescott doesn't beat his QB20 ADP.
Overvalued
Deshaun Watson, Texans
ADP: 4.10, QB2
The case for Watson being overvalued: His 9.3% touchdown rate is unsustainable and we've only seen a seven game sample size.
The case against Watson being overvalued: The Texans have a bad defense and Watson could eclipse 550 pass attempts to go along with an excellent rushing floor.
Verdict: The problem with Deshaun Watson is that he was a bad quarterback last season that produced elite numbers due to volume and luck. Watson threw 13 interceptable passes and had 14 danger plays in just seven games. Those numbers extrapolated over a full season are Deshone Kizer level bad. A lot of Watson's production also came in garbage time after he played terribly for more than half a game and lit it up with his team down multiple scores. I have no doubt that Watson will throw a lot of touchdowns and a lot of interceptions. He will be a fantasy QB1. But the overall second best fantasy quarterback? What exactly would warrant taking a bad real life quarterback that has less than half a season of production over numerous veterans that have been fantasy QB1s their entire careers like Russell Wilson, Drew Brees, and Tom Brady? Putting aside the fact that there is no quarterback I would take in the fourth round and only one, Aaron Rodgers, that I would take in the fifth, Watson is overvalued by multiple rounds. He should be going in the late single-digits. Even if Watson has an excellent year, he will have a very difficult time matching his ranking or ADP.
Carson Wentz, Eagles
ADP: 6.11, QB5
The case for Wentz being overvalued: He had an unsustainably high touchdown rate and may not be ready for Week 1.
The case against Wentz being overvalued: He's a third year quarterback coming off what would've likely been a 40 touchdown, 10 interception season had he not gotten hurt.
Verdict: Wentz is difficult to evaluate because I'm still not entirely convinced he will be ready for Week 1, which will significantly impact his ADP. However, I do think his health concerns are already somewhat baked into his price. If he were fully healthy, he would probably be a fifth round pick, which would result in him appearing on this list anyway. Wentz threw a touchdown on 7.5% of his passes last season. Wentz is a true gunslinger with 23 money throws, but also 32 danger plays, fourth and seventh in the league respectively, in just 13 games. He did so with some of the worst receiving help in the league. His wide receivers ranked 32nd in target separation at just 1.10 yards. Once again, it comes down to price. This is simply too high for a quarterback that belongs in the "pack" with Kirk Cousins, Jimmy Garoppolo, Ben Roethlisberger, Matthew Stafford, etc. Wentz is clearly nowhere near as bad as the QB we saw in 2016. He is also nowhere near as good as the QB we saw in 2017. The answer, as always, lies somewhere in the middle but the price leans towards recency bias. Wentz will be just fine for your fantasy team if he plays, but a single-digit round pick is better spent on another position.