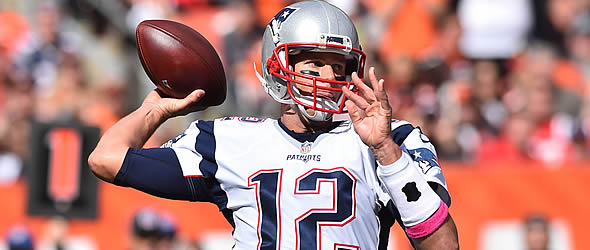 Here we are with Tom Brady now a member of the Tampa Bay Bucs. Where does this leave us?


I never thought this day would come. Maybe it was vividness bias. Maybe it was denial. I watched Tom Brady play his entire career with the New England Patriots. Weíve seen plenty of Hall of Fame quarterbacks switch teams late in their career including Joe Montana, Peyton Manning, and Brett Favre. At age 43, it just seemed incomprehensible that Brady would have any reason to continue his career for a different team. What exactly does he have left to play for? Yet, here we are with Brady now a member of the Tampa Bay Bucs. Where does this leave us?

While Brady did spend a couple seasons with Randy Moss, I donít think itís a stretch to say that Mike Evans and Chris Godwin are, by far, the best receivers heís played with. This is great for Brady, but are we sure receivers were the problem for him in New England? Heís 43 years old. He might just be fading.

Brady has seen his completion percentage drop for three consecutive seasons. His 60.8% completion percentage in 2019 was good for third-worst of his career ahead of his 2003 and 2013 seasons and his 24 passing touchdowns were also his fewest since 2003.

By many measures, Brady was one of the worst quarterbacks in the league last season. He finished 27th or lower in true completion percentage (which factors out drops and unpressured throwaways), play-action completion percentage, red zone completion percentage, pressured completion percentage, and clean pocket completion percentage. But, with weapons like Evans, Godwin, and perhaps a resurgent O.J. Howard, itís hard to just write Brady off. If Evans and Godwin are going to both be fantasy WR2s or better, it seems unlikely Brady will be as mediocre as he was in 2019.

Brady also benefited from 20 years in the same system with the same coach and obvious rapport with Julian Edelman. Godwin and Evans are better than Edelman, but Brady needs to develop chemistry with them. That could be tough if OTAs and training camp are impacted by the ongoing pandemic.

I would be surprised if Brady emerged into anything more than a high-end streamer. With that being said, he gets drafted every season and there will be enough people buying into unprecedented late-career resurgence due to the increased weaponry. However, you wonít find Brady on any of my fantasy teams.

For the Bucs, the move from Jameis Winston to Brady is an obvious upgrade. If your goal is to win football games, Winston is not your guy. However, fantasy is not reality and this is a clear downgrade for Mike Evans and Chris Godwin. Winston led the NFL in pass attempts last season with 626 and while Brady did have 613 pass attempts himself, itís hard to imagine that being the plan for a 43 year-old pocket passer.

More importantly, while Bradyís physical abilities have eroded, his brain has not. Brady is not going to throw the ball to the other team as much as Winston did. Not even close. Interceptions may seem bad for fantasy because your receivers canít accumulate fantasy points while the offense is on the sidelines, but Winstonís propensity to turn the ball over kept the Bucs in a constant state of needing to chase points. That kept Winston throwing. Brady will have the Bucs in neutral to positive game script far more often than Winston, which will naturally lead to fewer opportunities for his two high level receivers.

Both Evans and Godwin got hurt late season and missed the final couple games. If you extrapolate their numbers, Evans was on pace for 145 targets and Godwin 138 targets. They both deserve those lofty totals, but Iím not sure they can both get there. The most likely party to suffer is Evans, who benefitted from Winstonís recklessness in launching the ball downfield. Not only does Brady not do that, but Bradyís deep ball isnít what it used to be. Godwin is much more in line with Bradyís comfort zone. I would definitely move Godwin ahead of Evans in your 2020 ranks if you havenít already as Evans will likely slip from WR1 status.

I want to briefly touch on O.J. Howard. Bradyís arrival really shouldnít move the needle on Howard at all. If you still believe in the talent and think Howard can overcome his disastrous 2019, then he will be a good value regardless of who is at quarterback.
The Patriots
Itís been Tom Brady for nearly every game of the past 20 years. In 2020, it will be someone new. It might be Jarrett Stidham, who is most famous for appearing in relief of Brady in a blowout and promptly threw a touchdown to the other team, resulting in Brady returning to said blowout seemingly out of spite.
It is possible the Patriots sign or trade for a veteran like Cam Newton or Andy Dalton or take a quarterback in the upcoming draft. For the first time since before Drew Bledsoe, the Patriotsí quarterback situation is a complete unknown. That makes it very difficult to project the impact on Julian Edelman, who, as of now, is the only relevant Patriot pass catcher.
New England spent a first round pick on NíKeal Harry in the 2019 draft, but Harry missed the majority of his rookie season due to an injury suffered in training camp and failed to fire when he did get back on the field. Phillip Dorsett is currently a free agent and even if the Patriots do bring him back, heís nothing more than a rotational player. With Ben Watson retiring and Rob Gronkowski now a member of WWE, the Patriots currently donít roster a tight end of consequence. How do you feel about Mohamed Sanu? The only excitement surrounding him last season was because of Tom Brady. As of right now, there is not a single Patriotsí pass catcher you care about besides Edelman.
So what do we do with a 34 year-old slot receiver who has played his entire career with the same quarterback? I think itís safe to say Edelman is an elite slot receiver and he sure didnít look his age last season, but how much of his success is attributed to his connection with Brady? I am certainly not enthusiastic about Edelman and his lengthy injury history playing with a new quarterback.
Ultimately, losing Brady downgrades everyone on the Patriots. As poorly as Brady played last season, it seems unlikely the replacement will lift the offense to bigger heights. We canít even begin to make specific projections regarding the fantasy values of Patriots skill players until we have some clarity on their quarterback situation. That is something potentially weeks, if not months away. For now, we wait and see.