Rest assured someone at some point during each of your drafts will utter some variation of the words ďvalue pick.Ē But what exactly is a value pick? What is value? Value is a relative term that changes based on public perception. When I consider value, Iím looking for a positive return on my investment. Just because a player has an a fourth round ADP and is still sitting there in the sixth round does not make him good value. At the same time, taking a player a round or two above his ADP is not necessarily bad value. Again, everything is relative.
My goal in every pick I make is to take a player I believe will perform at a level above where I drafted him. Last season, Stefon Diggs had a sixth round ADP. This year, he is a second-round pick entirely due to his performance. Diggs gave owners one hell of a positive return on investment. On the flip side, Odell Beckham Jr. had a third round ADP. This year, heís going in the sixth round. Thatís the type of pick we all hope to avoid.
Letís take a look at which WRs I expect to outperform their ADPs and which I expect to fail.
Undervalued
Diontae Johnson, Pittsburgh Steelers
ADP: 5.07, WR22
The case for Johnson being undervalued: Heís a proven target hog set for monster volume once again.
The case against Johnson being undervalued: The Steelers want to run the ball more and their offense could collapse at any moment given Ben Roethlisbergerís fading ability.
Verdict: I went back to look at last yearís names and I canít for the life of me figure out why I didnít include Diontae Johnson. Anyone following me over the past couple years knows my affinity for Johnson. He was a value last season and heís a value once again.
Johnson finished as the WR21 in 2020, averaging 14.9 FPts/G. Thatís just 2.0 FPts/G fewer than Justin Jefferson for those keeping score at home. The thing about that number is itís actually misleading and not representative of how productive Johnson actually was. He only missed one game due to injury, but he left two of them early (and Iím not even counting the game where he was benched in the first half due to drops). If you remove the two games where Johnson played just 9% and 24% of the snaps respectively, he averaged 16.9 FPts/G. If you recall a couple sentences above, thatís exactly what Jefferson averaged and he finished as the WR10.
Johnson gets knocked for his low average depth of target and essentially being a glorified extension of the run game. To that I say, ďWhatís wrong with that?Ē We know Johnson is talented and capable of making downfield plays. We also know he doesnít need them to be a WR1 in fantasy. Johnson was targeted 10+ times in a whopping 10 of 15 games.
Even though the Steelers brought back JuJu Smith-Schuster and have an emerging Chase Claypool, Johnson is the established alpha target hog on this team. He is the guy Big Ben looks for. He is the guy Roethlisberger trusts. Even if Johnson experiences a dip in total targets due to a more run-heavy offense, he is still severely underpriced as the 22nd wide receiver off the board. Johnson is basically an auto-draft for me once we get to the fourth round.
Courtland Sutton, Denver Broncos
ADP: 7.01, WR31
The case for Sutton being undervalued: Heís an incredible athlete that profiles as a true alpha who was set to breakout before an ACL tear ended his sophomore season.
The case against Sutton being undervalued: Heís coming off an ACL tear and has suspect quarterback play looming.
Verdict: This is an ADP I just canít understand. Courtland Sutton is 6í3, 218 lbs with elite agility and a massive catch radius. Jerry Jeudy exists and is going to be targeted heavily as well, but Jeudy is not the alpha that Sutton is. Make no mistake about it, Sutton is the WR1 on the Broncos.
Drew Lock could definitely hold Sutton back, but I expect Teddy Bridgewater to win the starting job and we just saw Bridgewater sustain Robby Anderson, Curtis Samuel, and D.J. Moore as fantasy relevant despite not being fantasy relevant himself.
Sutton was better than many realize in 2019 even though he finished as merely a mid-WR3. He hit double-digit fantasy points in 11 games and had six games of WR1 level production - about 15 FPts/G puts a wide receiver as a mid WR2.
Sutton can easily catch 80 balls for 1200 yards and 10 touchdowns. He posted a 72-1112-6 line as a sophomore in 2019 which is nowhere near his ceiling. Last yearís WR31, Corey Davis, averaged 13.8 FPts/G, which is almost exactly what Sutton did as a rookie. Worst case scenario, you get par value for Sutton. Best case, you get a WR1 at a WR3 price. Sutton is one of the most mispriced players in fantasy this season.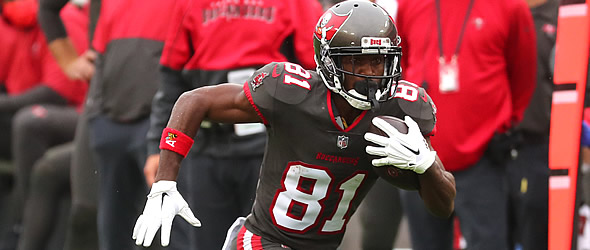 Antonio Brown, Tampa Bay Bucs
ADP: 9.05, WR41
The case for Brown being undervalued: He was the best WR in fantasy for half a decade and has shown no drop off in ability.
The case against Brown being undervalued: Regardless of Brownís talent, he needs volume and thatís unlikely to come sharing the field with Mike Evans and Chris Godwin.
Verdict: I canít see any world where Antonio Brownís ADP remains outside the top 36. Itís just not going to happen. Even so, AB is going to remain a value for a while because of how incorrect his ADP currently is.
Brown may be 33 years old, but weíve known for years that his skill set would age very well. He proved it last season, posting a 45-483-4 line in exactly half a season. We can extrapolate that to a 90-966-8 line for a full season.
Brown averaged 14.6 FPts/G, which was good for a WR23 finish. He did this on a new team after essentially not playing football since 2018. With a full offseason to be integrated into the offense, why are we not higher on Brown? Even if Evans and Godwin remain the clear top two options, Brown proved he could be a low WR2/high WR3. But what if Evans or Godwin gets hurt? What if Brown just becomes Tom Bradyís favorite target because heís still that good?
Thereís just zero risk associated with drafting AB outside the top 36 and is the exact type of player you should target as your WR4 Ė no risk/high reward. If Brown became the alpha in Tampa Bay and posted a 100-1300-12 line, absolutely no one would be shocked. That remains in his range of outcomes. Draft AB and party like itís 2016.
Overvalued
DK Metcalf, Seattle Seahawks
ADP: 2.05, WR5
The case for Metcalf being overvalued: He took a massive step forward last season, but a further step forward is already baked into his price.
The case against Metcalf being overvalued: Heís one of the most talented WRs in the league and profiles as an elite alpha.
Verdict: Last year, Metcalf averaged 17.1 FPts/G, finishing as the WR9. He had a phenomenal season, but it was a bit of a tale of two halves for Metcalf (which corresponds with Russell Wilsonís annual second half disappearing act). Over the first eight weeks of the season, Metcalf was the WR3, averaging 20.6 FPts/G. From Weeks 9-17, Metcalf was the WR23, averaging 14.1 FPts/G. It seems awfully ambitious to induct him into that top five when heís only done it for half a season, which included a massive 40-point week.
There are reasons to be optimistic about Metcalf, including Seattleís new offensive coordinator who should place more of an emphasis on playing faster and passing more, but Metcalfís price is already assuming that and more. Metcalf is a surefire WR1, but I have him more on the low-end than the high-end. In the late second/early third round, Iím all over Metcalf, but I just canít take him ahead of Calvin Ridley, Justin Jefferson, and A.J. Brown.
Adam Thielen, Minnesota Vikings
ADP: 4.12, WR18
The case for Thielen being overvalued: Heís 31 years old coming off a season buttressed by a career high touchdown total.
The case against Thielen being overvalued: He didnít show any decline in ability and there remains a consolidated target share in Minnesota, of which Thielen has a huge part.
Verdict: I always find it fascinating when a player goes from the undervalued section to the overvalued section in the course of one season. Adam Thielen was one of my biggest hits in 2020, but he really shouldnít have been. I got lucky to get that ďcorrect.Ē
I expected Thielen to be an alpha WR1 with a massive target share. Instead he was outshined by Justin Jefferson, managing just 108 targets in 15 games. He caught 74 passes for just 925 yards. Thielen just happened score a touchdown on 19% of his receptions. Prior to 2020, Thielenís career high in touchdowns was nine. He had 14 last season. While Kirk Cousins definitely looks to Thielen in the red zone, it would be foolish to bank on another outlier touchdown rate for Thielen.
If you believe Thielen can get back to the 2017 or 2018 version that saw 140+ targets and about 1,300 receiving yards, then by all means, draft Thielen. My inclination is that 2020 is a harbinger of things to come with Jefferson being the primary option and Thielen taking more of a backseat. Thielen will still be useful and if he falls far enough, heís worth drafting because I donít think the talent is declining much, if at all, but without a sudden bump in targets, if we return Thielen to a more reasonable touchdown total of eight, he posts just 14.3 FPts/G. Those are low WR2/high WR3 numbers. That has value, but not when Iím paying a mid WR2 price.
When drafting any player in fantasy football, weíre looking for plausible upside. At WR18, it feels like the best case scenario is par value, making Thielen a suspect pick in the late fourth/early fifth round.
Michael Thomas, New Orleans Saints
ADP: N/A
The case for Thomas being overvalued: He had June ankle surgery and is set to miss at least a month of the season and then return to a team without Drew Brees under center.
The case against Thomas being overvalued: If he does return earlier and healthier than expected, Thomas could result in some lopsided fantasy teams that got a WR1 at a WR3 or WR4 price.
Verdict: Let me first address Michael Thomasí ďN/AĒ ADP. The reason Iím not listing an ADP is because with the news of his ankle surgery just a couple weeks old, ADP is still adjusting him down from where it previously was. At the time I sat down to write this, Thomas had a WR19 ADP.
The reason I feel comfortable putting Thomas on this list is because of 2019 A.J. Green. Remember that summer? Green injured his ankle in late July, but many fantasy managers thought they were slick in the fifth or sixth round drafting a potential WR1 that theyíd get back after a little over a month of the season. Green didnít play a snap that year.
We know players are going to get hurt. We know we are going to have to deal with injuries throughout the season. We canít prevent our players from getting hurt, but we can prevent ourselves from drafting players that are already hurt. I donít really care where Thomasí ADP ends up settling because thereís no realistic way Iíd ever draft. Heís not going to go as low as he should given the nature of his injury and his uncertain timeline for return.
The Saints now possess arguably the least talented group of pass catchers in the NFL. Their quarterback is either going to be Taysom Hill or Jameis Winston, neither of which is capable of carrying an offense without any semblance of a supporting cast. Alvin Kamara canít do everything (but heís certainly going to try).
Thereís a very realistic chance that the Saints start out 2-5, accept this is a lost season, and just hold their franchise wide receiver out so heís healthy for 2022. Thatís in Thomasí range of outcomes and that alone is enough to justify completely avoiding him.
But even if Thomas does return, we donít know when that will be. Preliminary estimates have him out until at least Week 4, but that very well could be Week 6, Week 8, or later. If he does return, what is he returning to? How effective will he be when he is thrust into game action freshly recovered from a serious ankle injury? Who will his quarterback be and will the offense be good enough for Thomas to produce at a level high enough to justify him burning a spot on your bench for up to half a season?
There are not many paths to Thomas panning out, but a whole bunch of ways this can go sideways. You will thank yourself if you just avoid the headache altogether.