1. Missing: Chris Hogan



One of the early disappoints of the 2018 has been Chris Hogan whoís been non-existent in the Patriots passing game. Heís totaled 8 catches in four games on 15 targets. He bailed out his owners in Week 2 with two touchdowns but with Julian Edelman set to return from suspension and the recent signing of Josh Gordon, itís going to difficult to feel good about inserting Hogan into your lineup moving forward. Heís currently the WR60 in PPR leagues.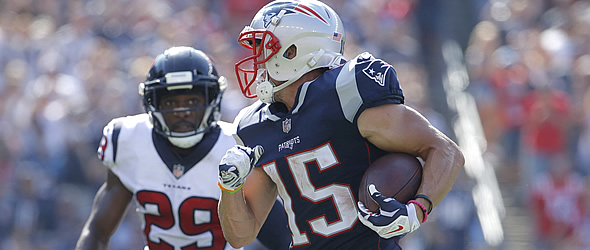 2. Throw, throw and throw some more

With 47 more attempts last night, Ben Roethlisberger has 186 pass attempts through four games. Keeping the pace, heíll finish with 744 pass attempts for the season. The Steelers arenít alone in their pass-happy ways. Also on pace for the 700 pass attempt club are the Vikings and Colts with the Ravens not far behind. For reference, Tom Brady led the league with 581 pass attempts last season. Weíve seen a number of teams adjust their offensive philosophy, realizing that running the ball is a losing play in most situations. These gameplan changes along with more and more rules favoring the offense are going to lead to record offensive stats in 2018.

3. Julio will never score another TD

Alright, I might be exaggerating a bit, but the last time Julio Jones scored a touchdown in a regular season game was Week 12 of 2017 when he blew up for 253 yards 2 TDs against the Buccaneers. Dripping salt into the wound is the fact the Julioís running mate, Calvin Ridley, leads the league in receiving touchdowns (6) and fantasy points (63.7) among wide receivers in standard scoring leagues. Julio owners can take solace in the fact that he leads the league with 502 yards which includes a meaningless 50-yard reception in the final seconds against the Bengals this week. Wouldn't it might be fun to see Julio end the season with 1800 receiving yards and a goose egg in the TD column?

4. I thought the tight end position was dead?

We saw resurgence from the tight end position this week with Jared Cook, George Kittle and Zach Ertz all topping the 100-yard mark and 13 different tight ends scoring touchdowns. Admittedly, some finding the endzone were not fantasy options (Geoff Swaim, Logan Paulsen, Jordan Leggett, Darren Fells) but Kelce, Burton, Ebron, Eifert (ouch!), Brate, Gates and Graham were all serviceable plays this week.

5. Surprise scratch

Week 4 saw eight running backs top the 100-yard mark which is the most 100-yard rushers in any week this season. One of those was Seattleís Mike Davis who got the start when Chris Carson was a surprise inactive against the Cardinals. Davis proceeded to rack up 21 carries and 4 catches while first round pick Rashaad Penny played on special teams and occasionally took a handoff from Russell Wilson. Head coach Pete Carroll stated after the game that Davis has earned a spot in the rotation moving forward. OK, sure thing Pete. I mentioned in this space back in Week 2 we shouldnít be taking any hints from Pete Carroll regarding player usage. Iím not rushing out to pick up Davis off the waiver wire.

6. Brutal ending for Eifert

The Bengals tight end has had rough NFL career, missing 22 games the last two years due to various injuries. Heíll miss another 12 games this season after suffering a broken ankle in Week 4. Eifertís usage appeared to be ramping up with 8 targets in Week 3 and four catches for 38 yards on 4 targets against Atlanta. The Bengals will move forward with Tyler Kroft and C.J. Uzomah at tight end. Kroft led the tight end group last season with 404 yards and 7 TDs.






7. Banged up Packers



The Green Bay receiving corps is dealing with injuries to a couple of its starters. Randall Cobb wasnít close to playing this week (his words, not mine) and Geronimo Allison left in the third quarter with a concussion. If Allison isnít able to get cleared for Week 5, we could see rookie Marquez Valdes-Scantling with an increased role in the passing game. Before you jump on your waiver wire, donít be surprised if Ty Montgomery gets more looks in the passing game if Cobb and Allison are scratched. Heís played the position in the past and fits into the trend of coaches using their running backs as receivers.