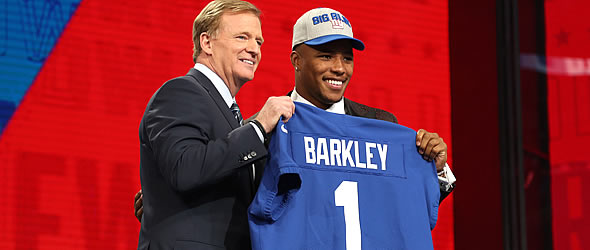 Barkley should be the clear 1.01 pick in dynasty formats and is worthy of a first-round pick in redrafts.
1.01 - QB Baker Mayfield, Browns
Mayfield has been described recently as a more mobile Drew Brees, and that is exactly what he's going to need to be to justify this selection. The 2017 Heisman Trophy winner is as accurate as they come in the short and intermediate range and he can make plays with his legs, but I am of the belief accommodations - such as a heavy use of RPOs (run-pass options) and shotgun - will need to be made in order to help him succeed - not exactly what fans want to hear about a No.1 overall pick. The good news is that Mayfield is known for his competitiveness and leadership abilities, which may be exactly what the Browns need as they try to continue the process of escaping the stench of 1-31 over the last two seasons. Cleveland's upgraded supporting cast and Mayfield's legs should help the former walk-on be a worthy fantasy QB2 the minute he overtakes Tyrod Taylor, but the uncertainty of when that move happens figures to make Mayfield a late-round fantasy pick at best.
1.02 - RB Saquon Barkley, Giants
Perhaps the most complete running back prospect I have ever seen, it is conceivable Barkley can have a Marshall Faulk-like impact on this offense. Barkley is ridiculously elusive for a 230-pound back, but he also bring the power, which often gets lost when people only watches highlight tapes. The Penn State product averaged nearly six yards per carry for his career despite suffering from poor line play. The most common knock against Barkley is his number of negative runs, but the same was said about Barry Sanders. Barkley understands he has the ability to make something out of nothing. Assuming the Giants keep improving their line - they added OT Nate Solder in free agency - Barkley shouldn't need to do the same thing in the NFL nearly as often. He is also a natural as a receiver, which means he will be the unquestioned three-down back in New York for as long as he wants. He should be the clear 1.01 pick in dynasty formats and is worthy of a first-round pick in redrafts.
1.03 - QB Sam Darnold, Jets
Darnold may not be the same elite prospect that Andrew Luck and Carson Wentz were, but it is quite possible the Jets may have stopped one of the league's longest revolving doors at the quarterback position. His anticipation and creativity are well ahead of most of today's college quarterbacks and he looks every bit the part of an elite prospect when he knows he has time to throw or is on the move. He also consistently makes something out of nothing. On the downside, there are far too many examples of him forcing the action and using poor mechanics, although the fact those instances didn't appear nearly as often on his freshman film suggests he felt the need to carry the offense from time to time because of some poor line play and the loss of playmakers such as JuJu Smith-Schuster. Darnold will have the luxury of learning at his pace if he needs a bit of time - which may not be such a bad idea considering he has roughly 1 1/2 years of starting experience and is entering the NFL following his redshirt sophomore season - but he's a near-lock to start the second half of the season once it is clear he has moved past Josh McCown. His dynasty value will be determined as more quarterbacks come off the board, but he's going to be worth investing in. As of now, he should be expected to produce at a low-end QB2 level whenever he is named the starter.
1.07 - QB Josh Allen, Bills
As soon as Buffalo completed its trade with Tampa Bay for the No.7 overall pick, this selection became an obvious one. In order for quarterback to succeed in western New York during the winter, he needs arm strength, and Allen has more of that than any player in the draft. The Wyoming product isn't ready to be the Week 1 starter and would be well-served to play behind AJ McCarron for most of the 2018 season to work on his footwork, which will help address the accuracy issues critics seem to believe he cannot overcome. Allen is not necessarily going to tear it up as a rusher, but he can run quarterback power like Cam Newton does and Carson Wentz did in college. Also working in his favor is the fact he has some bigger receivers to throw to in Buffalo, which should also help him with some of the aforementioned accuracy issues in the same way it has helped Newton. Allen doesn't have much redraft appeal, and he figures to go after the rest of the "Big Five" quarterbacks in this draft in dynasty formats.
1.10 - QB Josh Rosen, Cardinals
It says something about today's NFL that the most pro-ready quarterback is the last of the four "blue-chip" players at his position to come off the board. Following the retirement of Carson Palmer, the Cardinals plugged their hole at the position by landing Sam Bradford and Mike Glennon in free agency. Given Bradford's injury history, Rosen - who has his own durability concerns - may be under center before the end of September. At any rate, the former tennis player is the most fundamentally sound signal-caller available, throws the best ball and is the least likely of the ones taken thus far to bust. Rosen joins a team with a bit of a questionable supporting cast beyond David Johnson, as Larry Fitzgerald is nearing the end while Brice Butler and Ricky Seals-Jones may be the best secondary options he has. The odds are very strong he will be making multiple starts early in 2018 if Bradford goes down yet again, and he should be a serviceable QB2 in fantasy if/when that happens.
1.24 – WR D.J. Moore, Panthers
The Panthers traded Kelvin Benjamin during the 2017 season in part because they wanted to improve the speed they had at receiver. Mission accomplished. Moore is probably the closest thing to a potential WR1 as there is in this draft. He played with eight different quarterbacks in three seasons at Maryland, so cut the kid some slack if his college numbers don't jump off the page. Moore is a 6-0 receiver who boasts a 40-inch vertical who runs 4.4, but he also presents a bit of a dilemma. On one hand, he is a nightmare for defenses because he is a freaky athlete who has no fear running routes over the middle and becomes a running back in the open field with his ability to break tackles. On the other hand, the aforementioned explosiveness seems to disappear on deeper routes and 50-50 balls against respectable competition. Moore is a work in progress as a route-runner, but he is a physical receiver who will generate yards after the catch. He's not a great bet to make a huge impact right away, but I expect him to become a WR1 in time. He figures to be a high-upside WR4 for redraft fantasy purposes and will likely go in the middle part of the first round in most rookie drafts.
1.25 – TE Hayden Hurst, Ravens
Hurst will be 25 years old when the season starts, but it's hard to fault Baltimore for taking the draft's most well-rounded tight end. The South Carolina product is pretty much everything a position coach could hope for from a prospect in the current spread-happy offensive world of college football and, as such, the most NFL-ready tight end available. Hurst has a certain fluidity to his route-running, quick out of his release and can make an out cut better than some of the Day 1 and Day 2 receivers that I have evaluated. As is the case with most rookie tight ends, Hurst isn't going to be worth drafting in most redraft formats, although Baltimore has a history of keeping the position involved in its offense, so he could be worth a bye-week look. In rookie drafts, he will probably go somewhere in the middle of the second round.
1.26 – WR Calvin Ridley, Falcons
A prime example of a situation where the team made the great pick even if doesn't fill an immediate need or help fantasy owners. Ridley was described by his coach (Nick Saban) as a faster version of Keenan McCardell and I compared him to Emmanuel Sanders, which should give folks a pretty good idea of his floor. Ridley is perhaps the best and most advanced route-running prospect I have seen in years. On the downside, he doesn't possess great size (6-0, 190) or look like he has the frame to add much more muscle. For that and other reasons, I pegged him as a 1A/1B type wideout who can lead a team in receiving but is better served to be a complementary receiver. That is exactly what he should be in Atlanta, where he will likely push Mohamed Sanu into a third receiver role before the end of next season and benefit from all the attention Julio Jones receives. It's hard to pound the table for him as a potential WR3 in redrafts this season, but he's got a chance. In dynasty, his landing spot figures to make him a mid-to-late first-round pick.
1.27 – RB Rashaad Penny, Seahawks
Seattle rarely fails to surprise in the NFL Draft and Penny is the latest in that line of selections. Running back has been a problem spot for the Seahawks for years, but Chris Carson showed enough in a short time last year to at least get another chance to prove he could play a full season. I'd even argue he's a better player than Penny. Getting past my displeasure with the pick, Penny will contribute immediately as a returner and broke 82 tackles as a runner and receiver - over 20 more than any of his draft classmates - and led all running backs in this draft class with 3.32 yards per carry when contacted at or behind the line of scrimmage. As those metrics suggest, the 2,000-yard rusher from a season ago is between-the-tackles grinder, but he frustrated me with his inability to pull away from the second-level defenders. Given the draft capital invested, he will be the favorite to be the early-down workhorse for a rebuilding Seattle team. I specify "early-down" because he is merely an average receiver at best at this point and the worst blocker I evaluated in this class. It would not surprise me in the least if he ends up sharing the workload with Carson for the foreseeable future, with Carson getting more work on passing downs. Penny figures to be a low-end RB2 option at best for redraft fantasy purposes in 2018, while he figures to come off the board within the first five picks in most rookie drafts.
1.31 – RB Sony Michel, Patriots
The last time New England selected a running back in the first round was 2006 (Laurence Maroney). For a team who utilizes the backfield committee perhaps more than any other team (and for a prospect who reportedly has a bone-on-bone condition in his knee that scared some potential suitors), the selection of Michel is a big wow. On the surface, the Patriots need a replacement for Dion Lewis and Michel certainly should be able to do that although he is more of a powerful runner than a make-you-miss one. At the very least, he is every bit as explosive. Michel often gets compared to Alvin Kamara, but his initial burst and powerful running style makes him more like Kareem Hunt. Even though the Patriots spent a fair amount of draft capital to land him, fantasy owners can assume (probably justifiably) Michel will get thrown into New England's three-or four-man committee backfield. Maybe he ends up taking over the role the Patriots wanted Mike Gillislee to fill last year, but New England is a poor landing spot for Michel for fantasy purposes because of the team's RBBC approach, making him a flex option at best as he fights for work with Rex Burkhead and James White. Unsurprisingly, he goes from a potential 1.02 pick in rookie draft to more of a mid-to-late first-round pick.

1.32 – QB Lamar Jackson, Ravens
Baltimore provided some potential foreshadowing for this pick when it signed Robert Griffin III recently. I didn't put Jackson as my top-ranked quarterback because I feared a team might draft him in a panic, but this is a good landing spot for him in that he will not be rushed with a serviceable veteran like Joe Flacco around. With that said, Flacco has been a replacement-level starter ever since Baltimore's last Super Bowl run and does not present much of an obstacle for Jackson when the coaching staff determines he is ready, likely no later than the start of the 2019 season. The 2016 Heisman Trophy winner's accuracy is a bit hit-or-miss, but he's a much better and more accurate passer than most give him credit for because it is too easy to pigeonhole him as a "running quarterback". To that end, Jackson is an incredible athlete and is best-suited for a wide-open attack similar to the one Bill O'Brien created for Deshaun Watson last season. Because he figures to be an annual threat for 600-plus rushing yards, Jackson should be the first quarterback off the board in rookie drafts. His redraft value is a bit hazy at the moment, as the Ravens could easily use 2018 as a redshirt year to further work on his fundamentals behind Flacco. If he finds the lineup due to an injury to Flacco, his running ability alone could make him a potential QB1 in 12-team redraft leagues.

---
Doug Orth has written for FF Today since 2006 and been featured in USA Today's Fantasy Football Preview magazine since 2010. He hosted USA Today's hour-long, pre-kickoff fantasy football internet chat every Sunday in 2012-13 and appears as a guest analyst on a number of national sports radio shows, including Sirius XM's "Fantasy Drive". Doug is also a member of the Fantasy Sports Writers Association.