One of the jobs of a good fantasy analyst is not telling readers who to select in their drafts, but rather to provide them with as much relevant information as possible to make sound decisions. After all, they are YOUR fantasy teams.

Change is one of the few constants in this world and the NFL (and fantasy football, by extension) is no different in that regard. To that end, it is often helpful to see if we can identify when and why a particular event took place in the previous season when looking ahead to the next one. Unfortunately, false narratives are often created and certain myths are embraced as fact by the fantasy community for any number of reasons, including but not limited to wanting the easy answer to be the right answer.

Last week, I took a look at the AFC to see if there is there some level of truth to the narratives and maybe even debunk some myths. This week, I'll dive into five situations in the NFC that require more examination since they had a dramatic effect on how last season played out and figure to impact fantasy owners again in 2020: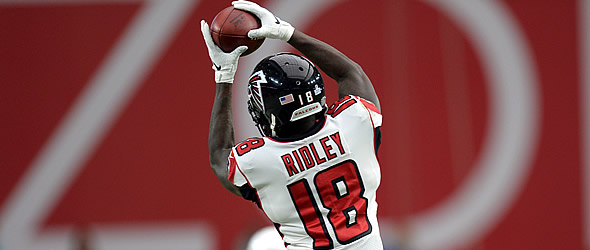 Just how good was Calvin Ridley during the second half of last season? Is he ready to emerge as a low-end fantasy WR1 despite playing opposite Julio Jones?
Much has already made about Ridley being a low-end WR1 in fantasy this year. Some are even suggesting he could be this year's Chris Godwin. Much of that optimism is likely the result of what the third-year pro did after Mohamed Sanu was traded prior to Week 8 and before Ridley was lost for the year after suffering an abdominal injury in Week 14. Over that six-game stretch, he scored 106.7 of his 197 fantasy points for the season (12.9 PPR points/game before; 17.8 after).
Let's see how legitimate those expectations are by taking a look at the Falcons who averaged at least three targets before or after Sanu was traded:
Falcons RBs/WRs/TEs averages before and after Sanu trade
 Player
Tgt (Pre)
Tgt (Post)
Tgt % (Pre)
Tgt % (Post)
Austin Hooper
7.9
6.0
19.5%
7.4%
Calvin Ridley
6.3
8.2
15.6%
20.2%
Devonta Freeman
4.6
5.3
11.3%
8.6%
Julio Jones
8.9
9.4
22.0%
19.3%
Mohamed Sanu
6.0
NA
14.9%
N/A
Russell Gage
1.1
6.8
2.8%
16.9%

Let's look at the other Falcons before circling back to Ridley. Atlanta quarterbacks averaged just over one more pass attempt after the trade (42.9) than they did prior (41.7). Gage, who essentially replaced Sanu as the primary slot receiver, predictably enjoyed the biggest bump across the board. Hooper took the biggest hit from a target share perspective, although it should be noted he only played three games after Sanu was traded and before Ridley got hurt (sprained MCL). Still, if we do nothing more than just double Hooper's target share to account for the missed games, he would have still experienced about a four-percent drop. Jones missed a Week 13 contest against the Saints with a shoulder issue, resulting in his slightly lower-than-expected target share post-trade. Freeman sat out two games with a foot injury, depressing his target share as well.

So did Ridley take advantage of all his teammates succumbing to injury or did he take the next step into evolving as a 1B to Jones' 1A? Both things can be true - as is typically the case - but the answer is probably much more the former than the latter. On the plus side, he went for 8-91-0 on 10 targets in Week 13 against the Saints in a game where he was the obvious go-to guy for Matt Ryan with Jones out. On the other hand, his five biggest fantasy games last season came in spots that seem relatively obvious now (Eagles, Texans, Buccaneers, Panthers - twice). That's not to suggest he wasn't good against more stout competition, but a Godwin-like third season may be a tall order if Hayden Hurst proves to be a capable replacement for Hooper and Jones stays healthy. With that said, Ridley figures to remain the primary beneficiary of Jones attracting so much attention in the red zone, so expect another healthy touchdown total to go along with 75-plus catches. A WR1 season may be a bit of reach unless he experiences even better touchdown luck than he has enjoyed to this point of his career, however.



---
Doug Orth has written for FF Today since 2006 and been featured in USA Today's Fantasy Football Preview magazine since 2010. He hosted USA Today's hour-long, pre-kickoff fantasy football internet chat every Sunday in 2012-13 and appears as a guest analyst on a number of national sports radio shows, including Sirius XM's "Fantasy Drive". Doug is also a member of the Fantasy Sports Writers Association.