One of the jobs of a good fantasy analyst is not telling readers who to select in their drafts, but rather to provide them with as much relevant information as possible to make sound decisions. After all, they are YOUR fantasy teams.

Change is one of the few constants in this world and the NFL (and fantasy football, by extension) is no different in that regard. To that end, it is often helpful to see if we can identify when and why a particular event took place in the previous season when looking ahead to the next one. Unfortunately, false narratives are often created and certain myths are embraced as fact by the fantasy community for any number of reasons, including but not limited to wanting the easy answer to be the right answer.

Last week, I took a look at the AFC to see if there is there some level of truth to the narratives and maybe even debunk some myths. This week, I'll dive into five situations in the NFC that require more examination since they had a dramatic effect on how last season played out and figure to impact fantasy owners again in 2020: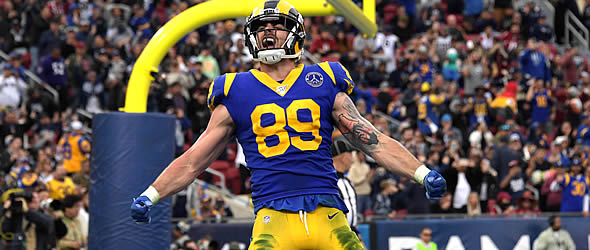 What explanation do we have for why Tyler Higbee was such a force down the stretch? Is he capable of performing in a similar fashion this year?
Up until last season, five tight ends in NFL history (Zach Ertz, Jason Witten, Tony Gonzalez, Jordan Reed and Rob Gronkowski) had scored at least 100 PPR fantasy points over the final five weeks of the regular season since at least 1950. Only one (Ertz in 2016) managed at least 40 catches over that stretch, and no one had ever amassed 500 receiving yards. That is, until Higbee - the same player who entered last season with 60 career catches in 48 career games and totaled 26 receptions for 212 yards over his first 10 games of 2019 - went on a five-game run unlike any we have ever seen from a man at his position.
Some of the credit goes to Brandin Cooks and Gerald Everett for getting hurt at opportune times.
LAR production before/after Everett injury
 
Cooks
Everett
Higbee
Snaps (W 1-12)
61.3*
39.6
35.3
Snaps (W 13-17)
46.0
4.0**
68.4
Tgts (W 1-12)
6.3*
5.4
3.0
Tgts (W 13-17)
4.6
0.0**
11.2
Rec (W 1-12)
3.9*
3.4
2.6
Rec (W 13-17)
2.6
0.0**
8.6
* - First seven full games before suffering a concussion
** - Logged offensive snaps in only one game after returning from injury
Let's begin with part of the reason why it happened. Cooks missed two games with his concussion and played an average of 45 offensive snaps from Week 12-17 (averaged 61.1 over his first seven games before suffering the concussion early in Week 8). In the same week Cooks returned (the Monday night blowout loss to Baltimore), Everett got hurt. Higbee's historic run began the following week and continued until the end of the season as Everett played only four offensive snaps the rest of the way. Beginning with Everett's first missed game in Week 13, Higbee averaged 68.4 offensive snaps (he had played no more than 48 and averaged 35.3 prior to that).
It's important to note that while Cooks only technically missed two games, he saw his role in the offense decrease considerably upon his return in large part because HC Sean McVay began to lean on 12 personnel (one back, two tight ends) more often. This was done in part to give the running game a chance against the plethora of five- and six-man fronts that defenses began employing with great success near the end of 2018 and help out the Rams' overmatched offensive line. Combined with Everett's exit the following week, Higbee quickly turned into a full-time player. With Cooks' involvement in the offense declining and a timeshare with Everett no longer an issue, the Western Kentucky product was presented with the kind of volume that tends to win fantasy titles. By the time Everett returned in Week 16, it made little sense to try to reintegrate him into the offense.
The departure of Cooks theoretically opens up a bunch of targets that haven't been there for tight ends in the McVay era. Although the team has talked up Josh Reynolds as a capable replacement for Cooks, it's fair to assume making him a consistent part of the offense isn't going to be a high priority. The promise of more 12 personnel after years of leading the league in 11 personnel should allow for more consistent playing time for Higbee as well. NFL Films analyst Greg Cosell pointed out in his film review this spring that the Rams made it a priority to get Higbee into positions to take advantage of his run-after-catch ability late in the season.
However, there are warning signs Higbee will struggle to rival the production he enjoyed down the stretch. Let's begin with this quote from McVay to USA TODAY in April:
"Really, really excited about what Gerald Everett's going to do. I think Tyler Higbee did a phenomenal job, but I think Gerald Everett's a guy that I've got to do a better job of utilizing his skill set because he's a difference-maker. But he's got to get the opportunities and I think that starts with some of the things I know I can do a better job of."
Sure, this could easily be coach-speak, but can fantasy owners just dismiss about the first 11 weeks of last season when Higbee and Everett were both healthy for the most part? Higbee was a virtual afterthought in the offense over that time, attracting more than four targets only twice in nine games (he missed Week 3 due to injury). Over that same span, Everett saw at least eight looks four times. He was the better fantasy play in eight of the team's first 10 games. His 136 yards receiving in Week 5 against Seattle was five shy of tying a team record for a tight end.
The Rams' surprising choice to not address the offensive line this offseason is also an issue. Higbee has consistently graded out as a better pass-blocker than Everett, who was drafted in 2017 to be a Reed clone. If the Rams struggle to find consistency in the running game again this year and wind up in second- and third-and-long situations too often, Higbee will almost certainly be the one asked to hang out with the offensive linemen. It should also be noted that four of Higbee's five huge performances late last season came against the three most forgiving fantasy defenses against tight ends, including two games against an Arizona defense that almost seemed oblivious to the position at times.
Let's not pretend as if Higbee is a sure thing in fantasy in 2020 based on last year's finish. Enough is working against him to cast doubt on his ability to meet expectations as a mid-level fantasy TE1. The Rams aren't the Eagles, who have not only supported two tight ends in fantasy for multiple years but also done so in part because the receiving corps has been questionable at best over that time. The Rams have two 90-catch players in Robert Woods and Cooper Kupp. The more likely outcome in 2020 is that Higbee settles in as a back-end TE1 - one who will surrender a few more targets to Everett than his fantasy owners want to acknowledge.
---
Doug Orth has written for FF Today since 2006 and been featured in USA Today's Fantasy Football Preview magazine since 2010. He hosted USA Today's hour-long, pre-kickoff fantasy football internet chat every Sunday in 2012-13 and appears as a guest analyst on a number of national sports radio shows, including Sirius XM's "Fantasy Drive". Doug is also a member of the Fantasy Sports Writers Association.