One of the jobs of a good fantasy analyst is not telling readers who to select in their drafts, but rather to provide them with as much relevant information as possible to make sound decisions. After all, they are YOUR fantasy teams.

Change is one of the few constants in this world and the NFL (and fantasy football, by extension) is no different in that regard. To that end, it is often helpful to see if we can identify when and why a particular event took place in the previous season when looking ahead to the next one. Unfortunately, false narratives are often created and certain myths are embraced as fact by the fantasy community for any number of reasons, including but not limited to wanting the easy answer to be the right answer.

Last week, I took a look at the AFC to see if there is there some level of truth to the narratives and maybe even debunk some myths. This week, I'll dive into five situations in the NFC that require more examination since they had a dramatic effect on how last season played out and figure to impact fantasy owners again in 2020: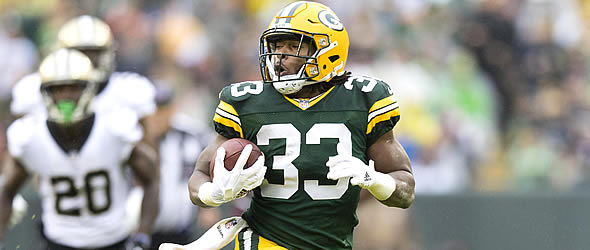 Much has been made about what will happen to Aaron Jones following the addition of AJ Dillon. But is that even the biggest threat to Jones' fantasy prospects this year?
Packers GM Brian Gutekunst has been widely panned for his approach to the draft this spring, selecting Aaron Rodgers' successor (Jordan Love) and "two fullbacks" (247-pound AJ Dillon and tight end Josiah Deguara, who the team reportedly hopes will evolve into a Kyle Juszczyk clone).
That's OK, he can make it up it the passing game, right? After all, the lack of another prove receiver on the roster makes it likely that Jones is primed to take another step forward in the passing game. After all, he nearly doubled his previous career highs with 68 targets and 49 receptions in 2019.
As many have noted throughout the spring and summer already, Jones will lose snaps to Jamaal Williams and Dillon because the Packers seem more committed to sharing the wealth than assigning work based on talent or merit. What the fantasy community has either largely ignored or missed is just how much of Jones' numbers in the passing game came while Davante Adams missed four games with an ankle injury last year.
Jones' 2019 averages w/ and w/o Adams
 
Car
RuYd
RuTD
Tgt
Rec
ReYd
ReTD
FPts
Jones (w/ Adams)
15.1
67.8
1.0
3.4
2.3
16.2
0
16.5
Jones (w/o Adams)
13.8
67.8
1.0
6.8
5.5
70
0.8
29.3

Somewhat amazingly, Jones averaged the same amount of rushing yards and rushing scores in the 12 games that Adams played as he did without Rodgers' favorite target. The major difference, however, was Jones' involvement in the passing game. Jones had 86 more receiving yards in four games without Adams than he had in 12 games with him! All three of his receiving TDs came in those same four contests. His target rate doubled (3.4 to 6.8). His fantasy point average nearly doubled as well (16.5 to 29.5). Both of his 40-point PPR fantasy efforts came over that stretch as well.


Jones' 16-game pace w/ and w/o Adams
 
Car
RuYd
RuTD
Tgt
Rec
ReYd
ReTD
FPts
w/ Adams
241.3
1084
16
54.7
36
259
0
263.6
w/o Adams
220.0
1084
16
108.0
88
1120
12
468.4

It's rarely ever a great idea to much stock into pace totals like the one above, but I feel it was worth it in this case to highlight just how wide the disparity was. Jones' production without Adams around would make Christian McCaffrey proud. With Adams, he would have finished as the overall RB6, which doesn't sound too bad until we consider he scored once every 15 touches - a level usually reserved for the likes of Alvin Kamara. Although he has been quite efficient from a touchdown perspective throughout his three-year pro career, that's a hard ask for any back to repeat.

Also working against Jones is the likelihood none of his teammates will fare as poorly as they did last season statistically. Allen Lazard may not move the needle as Adams' primary sidekick, but he'll improve on last year's 35-477-3 line if he can play in all 16 games. Devin Funchess should match and will likely exceed the 26 catches and 452 receiving yards from Marquez Valdes-Scantling. Sternberger should match or exceed Jimmy Graham's 38-447-3 offering. The point of bringing up each of the last three players is that Jones probably won't be replacing their production. If anything, there will be less of the "production pie" available to him.

Jones proved late in the season - including both playoff games - there is plenty of opportunity for him and Adams to produce in the same game, and it should be noted the former saw solid albeit inconsistent involvement in the passing game with Adams around down the stretch. Nevertheless, Jones is a running back who appears to be getting squeezed for carries, some goal-line work and possibly even as a receiver - just about every way a back can produce fantasy points - coming off a very efficient season. Regression is coming, it's just a matter of how much. So while Jones is too talented to be a complete disappointment in fantasy this year, a non-RB1 season is well within the range of outcomes if Green Bay doesn't prioritize getting him the ball.



---
Doug Orth has written for FF Today since 2006 and been featured in USA Today's Fantasy Football Preview magazine since 2010. He hosted USA Today's hour-long, pre-kickoff fantasy football internet chat every Sunday in 2012-13 and appears as a guest analyst on a number of national sports radio shows, including Sirius XM's "Fantasy Drive". Doug is also a member of the Fantasy Sports Writers Association.