One of the jobs of a good fantasy analyst is not telling readers who to select in their drafts, but rather to provide them with as much relevant information as possible to make sound decisions. After all, they are YOUR fantasy teams.

Change is one of the few constants in this world and the NFL (and fantasy football, by extension) is no different in that regard. To that end, it is often helpful to see if we can identify when and why a particular event took place in the previous season when looking ahead to the next one. Unfortunately, false narratives are often created and certain myths are embraced as fact by the fantasy community for any number of reasons, including but not limited to wanting the easy answer to be the right answer.

Last week, I took a look at the AFC to see if there is there some level of truth to the narratives and maybe even debunk some myths. This week, I'll dive into five situations in the NFC that require more examination since they had a dramatic effect on how last season played out and figure to impact fantasy owners again in 2020: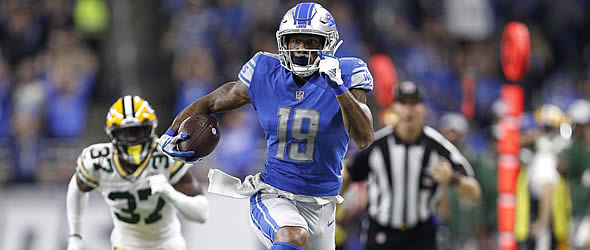 Does Kenny Golladay deserve to be considered a fantasy WR1? If so, does that mean people are sleeping on Marvin Jones?
Good luck trying to find someone who doesn't have Golladay ranked as top-10 fantasy receiver. It's not hard to understand why considering the 26-year-old amassed a career-high 1,190 yards and scored a league-high 11 receiving touchdowns in his third NFL season despite playing without Matthew Stafford for half a year. Even better, he is entering a contract year and could easily find himself in a significant number of negative game script situations this year. The combination of his talent, his quarterback and likely volume is enough to build a strong case for him to come off the board in the top 30 picks of most fantasy drafts.
If there is a case that can be made for Golladay going that high, then it is fair to wonder what exactly Jones has done to offend the masses. Durability has been a bit of issue lately, but the truth of the matter is very little has separated the two when they've been on the field together with Stafford under center. Here's the tale of the tape with and without Stafford the last two seasons:
Golladay and Jones w/ and w/o Stafford 2018-2019
 Category
KG (1)
MJ (1)
KG (2)
MJ (2)
KG (3)
MJ (3)
Targets
62
57
31
34
61
62
Catches
35
42
18
20
39
35
Rec Yds
640
535
368
244
601
508
Rec TDs
7
6
3
3
4
5
F Pts
145.3
131.9
72.8
62.4
123.9
115.8
Pos rank
WR11
WR15
WR18
WR28
WR23
WR27
(1) eight games with Stafford in 2019
(2) five games without Stafford in 2019
(3) nine games with Stafford in 2018
One of the more common criticisms for Jones is his hit-or-miss nature, which is understandable since he scored four of his nine touchdowns last season in one game and two in another. However, if the majority of owners work under the same expectation of a WR3 as I do, I want a player who is consistently able to provide double-digit fantasy points with the potential to hit big at least two or three times per season. Last year, Jones scored at least 10 fantasy points in eight of 13 games (61.5 percent) and at least nine fantasy points in 10 of 13 (76.9). He scored at least 19.9 fantasy points four times (30.8 percent) but was held below seven points three times (23.1).
Golladay's biggest selling points in a debate involving Jones are his durability and usage near the end zone (he led the league with 13 targets inside the 10 in 2019). Using the same WR3 criteria I laid out above - even though he is getting drafted as a WR1 this year - Golladay reached double figures in 12 of 16 games (75 percent) and scored at least nine points 13 times (81.3). He eclipsed 19.9 fantasy points five times (31.3 percent) but was held below seven points three times (23.1).
Few would argue against Golladay being a stud. Given the likelihood he is now just entering his prime at age 26 (turns 27 in November), it might be only a matter of time before he is ready to join the elite group of fantasy receivers. Jones is almost certainly nearing the end of his prime years entering his age-30 season, doesn't have the best track record for durability and is almost certain to lose some short and intermediate work to the likes of T.J. Hockenson. But won't Golladay absorb some of that hit as well? It's not as if all of Golladay's production comes from his work downfield.
As is the case far too often in fantasy debates, owners tend to defend the players they like while building false narratives for players they consider boring and/or inconsistent. Jones does not have a flashy name and may have disappointed fantasy owners a time or two in the past, therefore they diminish his contributions. Even after accounting for where they are in their careers and upside, there isn't much recent evidence to justify taking Jones six rounds later than Golladay.
---
Doug Orth has written for FF Today since 2006 and been featured in USA Today's Fantasy Football Preview magazine since 2010. He hosted USA Today's hour-long, pre-kickoff fantasy football internet chat every Sunday in 2012-13 and appears as a guest analyst on a number of national sports radio shows, including Sirius XM's "Fantasy Drive". Doug is also a member of the Fantasy Sports Writers Association.