Managers typically find themselves in one of three spots in the week before the fantasy playoffs begin:

(1) "get this over with so my team enjoy its first-round bye"
(2) "I'll do whatever you want (insert name of player or deity here), just get me into the postseason"
(3) "please end the existence of my terrible team already!"

Hopefully, most readers find themselves with a 3:1:1 ratio or better for every five teams they manage. All of the preparation and knowledge in the world will not help your team overcome significant injuries to your top option at every fantasy position. However, if you are fortunate enough to diversify your player portfolio enough in August and September, then there is a good chance you have more of the first two teams above and less of the last kind.

Our job is far from over regardless of how well our fantasy teams are doing, however. The truth of the matter is there is almost always someone on the waiver wire - assuming the trade deadline has passed as it has in the overwhelming majority of leagues - that is (or will be) an upgrade over what you currently have. In other cases, the path to winning is making sure that a potential league-winner is on your bench and not in the lineup of another owner.

Every transaction for the rest of the season should either push your team closer to a title or, to a lesser extreme, keep a fellow owner from doing the same. December may be the month of giving in reality, but it is the best time to be selfish in fantasy. Now is not the time to be a taker and not a giver. With the odds of at least half of your league having checked out by now reasonably high, it makes your job that much easier.

Unlike the long-running reality TV series of the same name, my "Undercover Bosses" this week won't be focused on high-level executives learning more about their company. What I am looking for are potential bosses (as in players doing something with stylish confidence or authority) who are either floating under the radar or otherwise unknown quantities. Discussing high-upside backup running backs such as Alexander Mattison or "third" receivers who are already logging significant snaps such as Van Jefferson serves no purpose, so those kinds of players will not appear below.

Players are listed from the least likely to be a "boss" to the most likely. After each player's name, I will list his matchups during the fantasy playoffs (Weeks 15-17 in the majority of leagues).

WR Lil'Jordan Humphrey, Saints (@TB, MIA, CAR)

Pinning hopes on a Taysom Hill-led passing attack is not any fantasy manager's idea of fun. With that said, there are at least two reasons why Humphrey is worth consideration in deeper leagues. His usage - both in terms of snaps and targets - has been on the rise over the last three weeks. He has taken advantage of those opportunities as well, catching six of his eight targets for 100 yards and two touchdowns. Given the current state of the New Orleans offense, that is not too shabby.

There is a much more significant reason or two to stash Humphrey in leagues where there is not a lot left on the waiver wire at receiver. Humphrey has been playing almost half of his snaps in the slot recently. At 6-4 and 225 pounds and on a team lacking a proven option at tight end, there was already reason to believe Humphrey was making a push to be the big slot HC Sean Payton has long favored. Then the most important domino fell earlier this week when Deonte Harris was handed a three-game suspension. While Harris was not living in the slot per se, he was sharing snaps with Humphrey. That's not a small thing, as Harris had emerged as the most dynamic receiver in this offense.

While Humphrey probably will not become a full-time player even with Harris' absence - the Saints are much more likely to utilize two or three tight ends more often to aid Hill as a runner - he seems like the most likely Saint to benefit from Hill's presence. Why is that? Because Hill already is not a great deep-ball thrower and is now dealing with a finger injury that is likely to make him less likely to throw to vertical receivers Tre'Quan Smith and Marquez Callaway.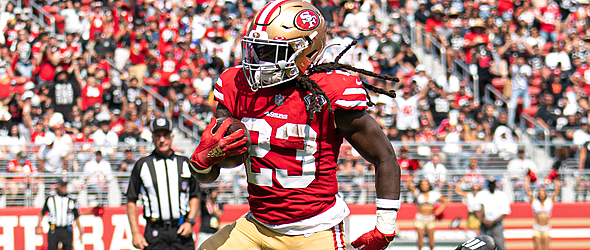 RB JaMycal Hasty, 49ers (ATL, @TEN, HOU)
Hasty is a long shot to crush the fantasy postseason. If Elijah Mitchell (concussion, knee) can clear the league's concussion protocol in time for Week 14 and stay healthy the rest of the way, Hasty probably will not play more than a handful of snaps in any game outside of maybe some garbage time action. Jeff Wilson appears to be the main backup to Mitchell, which means Hasty needs two obstacles removed from his path to see anything more than third-down work. About that …
Mitchell has already missed time this season due to shoulder and finger injuries, so there is at least a small chance he could get nicked up again. Wilson had his surgically repaired knee flare up on him in Week 13 despite playing a meager 13 snaps (three on offense). Although Wilson has reportedly already dealt with this issue before and insiders have noted that it tends to resolve itself in a couple of days, it's not a given San Francisco wants to put more on his plate after he failed to get much going in a Week 11 start versus the Jags. The 49ers are concerned enough about their running backs that they worked out three free-agent runners on Tuesday (Dec. 7) and signed one of them (Brian Hill) on Wednesday.
Beyond the injury statuses of Mitchell and Wilson, the major reason why Hasty is even worth considering is the fantasy playoff schedule I have been touting since the summer. The Titans have done a good job limiting running back production for most of the season, but they appear to lack the offensive firepower to force San Francisco to throw more often. The Falcons and Texans rank fifth and sixth, respectively, in terms of most fantasy points allowed to running backs. Like Tennessee, they also lack the weapons to get the 49ers out of their comfort zone on offense. Finding the winning lottery ticket in this backfield might be tricky given the specifics of the current situation, but it is worth taking a low-risk flyer on someone like Hasty if he happens to be the last man standing in Week 16 or 17.
RB Ameer Abdullah, Panthers (@BUF, TB, @NO)
OC Joe Brady was fired over the weekend, supposedly for his unwillingness to run the ball as much as HC Matt Rhule would have liked. Prior to Brady's departure, Abdullah has emerged as a trusted option on passing downs since joining Carolina. So why is he here if the team wants to run more?
Had Christian McCaffrey (ankle) been able to finish the season, he would have had his hands full trying to carry fantasy managers through the fantasy playoff gauntlet that features the Bills, Bucs and Saints. While Buffalo has occasionally given up gaudy rushing production this season, it remains in the top third of stingiest defenses against fantasy backs. Tampa Bay and New Orleans rank first and third, respectively, in terms of most rushing yards allowed to running backs. (Both have given up eight total TDs to the position.) What it means is that the deck is stacked against Chuba Hubbard to get much done for his fantasy managers, even if he handles 15-18 carries per game.
The likely struggles of the running game should mean more pass attempts than Rhule or new OC Jeff Nixon would prefer. If Carolina sticks with the same setup it had during McCaffrey's first absence this season, then Abdullah could end up logging more snaps than Hubbard during the fantasy playoffs. No one will mistake Cam Newton for being Mr. Checkdown - especially when he can still make plays as a runner - but it is not a big ask for Abdullah to see the same kind of work in the passing game moving forward that he did around the time CMC was easing his way back into the lineup. In fact, I would argue he could be significantly more involved given the level of competition Carolina will face over the final three weeks of the fantasy season. There is potential flex value here.
WR Nick Westbrook-Ikhine, Titans (@PIT, SF, MIA)
The Titans must have upset the football gods. The only non-linemen on offense to play in all 12 games are QB Ryan Tannehill and backup TE MyCole Pruitt. Tennessee could be getting healthier soon, as Julio Jones (hamstring) was designated for return from IR over the weekend. Whether he will return this week or not is another story. A.J. Brown (chest) cannot play again until Week 16. Marcus Johnson (hamstring) is done for the year.
While nothing is ever guaranteed anything in the NFL, a 200-yard passing day is generally a low bar for a quarterback to reach. Assuming that can be the expectation until Jones and Brown return, Westbrook-Ikhine is a great bet for at least 50 yards receiving each week for an offense that may have no choice but to give major snaps to rookie Dez Fitzpatrick and Golden Tate. The second-year Indiana product delivered consecutive useful fantasy efforts before the team's Week 13 bye, filling Jones' complementary role in Week 11 before assuming the No. 1 mantle and scoring a touchdown against the Patriots one week later.
At worst, Westbrook-Ikhine is locked into a complementary receiver role for at least the next two weeks. Given how snake-bitten Jones has been and the uncertainty of Brown's return, he could finish the regular season out as the go-to guy. The Steelers, 49ers and Dolphins do not present the easiest path to fantasy glory, but receivers with double-digit target upside have value almost regardless of their situation. Tennessee will try to remain a power running team for as long as it can each week, but the odds are reasonably strong that Tannehill will need to throw a bit more often down the stretch than he did with a healthy Derrick Henry.
QB Tua Tagovailoa, Dolphins (NYJ, @NO, @TEN)
In his last three full games since returning from a finger injury, Tagovailoa is the overall QB8. He's not posting prodigious rushing numbers (seven yards) or throwing for a ton of yards (249-yard average), but what he is doing is avoiding turnovers (one interception) and making the most of his volume (80 percent completion rate).
Let's not get crazy: among quarterbacks who have played at least two games during his "hot streak," Tagovailoa is the QB14 in terms of fantasy points per game. With that said, the past is not what any of us should be concerned about here. After the Dolphins come off their Week 14 bye, they finish the fantasy season with the Jets, Saints and Titans. Miami has not run the ball well all year, while its final two opponents - New Orleans and Tennessee - are among the best in the league at stopping it. In other words, volume should not be a problem for Tagovailoa during the fantasy playoffs. That volume combined with the allure of facing three defenses that rank inside the top nine of fantasy points allowed to quarterbacks should be enough to get last year's No. 5 overall pick at least one three-touchdown performance.
Maybe the defense continues to play at such a high level against three offensively challenged teams that Miami doesn't ask Tagovailoa to throw it 40-plus times in any one of those games. Considering the state of the Dolphins' rushing attack, however, it seems likely he will get there once and maybe even twice. With Jaylen Waddle already proving to be a tough cover and DeVante Parker back in action, Tagovailoa has the playmakers to do more than just play efficiently. He may not end this final stretch as the one under-the-radar quarterback that goes toe-to-toe with Tom Brady or Kyler Murray during the fantasy playoffs, but the odds of him putting up a dud in any of his next three outings are relatively low.
RB Jordan Howard, Eagles (WAS, NYG, @WAS)
Howard (ankle) deserves to be lower on this list if Miles Sanders (ankle) isn't ready after the Week 14 bye. He could also be virtually useless in December if all is well with Sanders, he is forced to share time with Boston Scott/Kenneth Gainwell and Jalen Hurts (ankle) is ready to handle his typical rushing workload (about 10 carries per game). However, a funny thing happened while Sanders was on IR and Scott was drawing starts in his absence: Howard was getting a consistent workload and doing something with it each time. The Eagles' backfield distribution in Week 11 against the Saints indicated Howard could have some staying power moving forward (10 carries versus 16 for Sanders). Maybe Scott's six rushing attempts in that game were nothing more than him not getting "hot" fast enough. It just felt as though Philadelphia thinks Howard's ability to run between the tackles meshes well with what Hurts and Sanders give the team on the perimeter.
Outside of the uncertainty of Sanders' health and Howard's role when he returns - likely Week 15 - the other big drawback is the same one he has had throughout his NFL career: he offers nothing in the passing game. The remaining schedule is not favorable either with two games left against Washington and one against the Giants, but the Eagles have already proved they can run on any defense if they want. He may end being nothing more than a touchdown-dependent flex option during the fantasy playoffs given his limitations, but he could also wind up as a high-volume RB2 if Sanders has yet another issue with his ankle.
RB D'Onta Foreman, Titans (@PIT, SF, MIA)
While the effectiveness of the Tennessee offense declined greatly the second that Derrick Henry got hurt, the general plan of attack has not. The Titans want to run the ball and do so with power. Foreman is the only back on the roster that can provide that thump. For all the good things that Jeremy McNichols does for the offense, he has rushed for less than 300 yards in his career since being drafted in 2017. The same can also be said about Dontrell Hilliard. Making matters worse for both players is they are essentially the same kind of player - more of a scat-back and less of an early-down pounder.
Foreman's career exploits are not much better than that of his teammates, but his 19-carry showing in Week 12 against the Patriots suggests the Titans are ready to put the fortunes of their running game in his hands. Yes, Hilliard ran for more yards against New England, but 68 of his 131 yards came on a draw play that broke for a touchdown late in the first half. If Tennessee is going to do anything between now and the playoffs - when Henry is expected back - it should be on the shoulders of Foreman, if only because of the ridiculous amount of injuries the team has suffered at receiver.
The Titans' playoff schedule does not look to be overly kind to running backs, but there aren't many players who can make such a claim in a given year anyway. Absent a series of lightweights to push around, the most fantasy managers can ask for is volume. Tennessee churned out 270 yards on the ground against a good New England defense in its last time out, giving us all the proof we should need that the Titans can run on just about anyone. Fantasy managers should expect the Titans to run at least 30 times in most of its remaining games, and I suspect Foreman will get the bulk of the opportunities on early downs and at the goal line. Pittsburgh and Miami aren't explosive enough offensively to get Tennessee away from what it wants to do, making the 49ers (Week 16) the only fantasy playoff opponent that could force Tennessee to abandon the run. If the Titans run as much as I think they will, keep the games as close as I think they will and use Foreman in the way I outlined above, he has RB2 upside.
TE Ricky Seals-Jones, Football Team (@PHI, @DAL, PHI)
The reaction to Seals-Jones (hip) this week has been lukewarm at best in my fantasy leagues. Managers may not want to use a roster spot on a player right now if they don't know if he will go in Week 14, but Washington's starting tight end usage has been one of the most predictable things in football this year. Whether it has been Logan Thomas, Seals-Jones or rookie John Bates, the starter has typically played anywhere from 90-100 percent of the snaps.
Even if we assume Seals-Jones' hip isn't quite ready for Week 14 - he was limited in practice on Wednesday (Dec. 8) - he should be cleared by Week 15. With Thomas (knee) done for the year, the coast is clear for RSJ to feast. Why feast? It does not get much better than a full-time tight end seeing Philadelphia twice (Weeks 15 and 17), which has been a sieve against the position. The Eagles allowed at least one tight end to reach double-digit fantasy points in six straight weeks until the Giants and Jets ruined the fun over the last two games, but even their tight ends found the end zone. If Washington is truly interested in exploiting its biggest mismatch in those weeks, Seals-Jones could easily finish as a top-five tight end during the fantasy postseason.


WR K.J. Osborn, Vikings (@CHI, LAR, @GB)
There is one major reason Osborn appears this late: not nearly enough has been made about Adam Thielen's high-ankle sprain. If a high-ankle sprain is what he is dealing with, it is hard to imagine he will be back in Week 15. Week 16 should not be considered a lock either. High-ankle sprains may be harder on running backs than receivers, but they are also not the type of injury that receivers return from seamlessly in two or even three weeks. There is a real chance Thielen may not look like himself for the rest of the regular season.
Osborn isn't going to be a one-for-one replacement for Thielen and he sure won't be the same kind of red zone fiend. However, I paid a decent price to make sure I landed Osborn in a handful of deeper leagues this week and I did so with the expectation that I will start him as a flex through at least Week 15. Osborn has already proven he can be a capable sidekick, even if defenses don't go out of their way to contain Justin Jefferson during Thielen's absence. If opponents overcompensate for Jefferson over the next week or two, Osborn would be a strong candidate for 10 targets. In the four games in which he has drawn at least seven targets, last year's fifth-round pick has scored at least 14.6 fantasy points three times.
Expectations should be set at about 4-5 catches on 7-8 targets for however long Thielen is out since Jefferson could easily see another target or two and Tyler Conklin could as well. With that said, it should surprise no one if Osborn finishes inside the top 36 receivers during the fantasy playoffs IF Thielen is slowed as much by his ankle injury as I think he will be.
WR Russell Gage, Falcons (@SF, DET, BUF)
It almost feels like cheating to put a player averaging 20.1 fantasy points over the last two games into this kind of column, yet I have been able to snag him in two high-stakes or experts' leagues over the last week and didn't have enough FAAB to grab him in another. Gage has attracted at least seven targets in four of his five starts since a Week 8 dud that could have been due to a groin injury. Gage is not the kind of player that managers should expect to carry them through the fantasy playoffs, but circumstances sometimes mean more than individual talent. As long as Cordarrelle Patterson continues to give Atlanta some semblance of a running game and defenses continue to view Kyle Pitts as the Falcons' primary receiving threat, opponents will probably settle for Gage and his 10.5 yards per catch.
While Buffalo does not appear to be the easiest matchup for Gage in Week 17, he should benefit from the absence of Tre'Davious White (ACL). San Francisco and Detroit are average matchups at worst for Gage, who saw many snaps in the slot (26) as he did out wide last week. While he has lined up in the slot almost as often as he has on the perimeter for the season, expect Gage to be used in much the same way Calvin Ridley was being deployed before his departure. Gage cannot be expected to replicate Ridley's numbers week in and week out moving forward, but his recent usage gives him WR2 upside for as long as defenses pay more attention to Patterson and Pitts.
---
Doug Orth has written for FF Today since 2006 and been featured in USA Today's Fantasy Football Preview magazine since 2010. He hosted USA Today's hour-long, pre-kickoff fantasy football internet chat every Sunday in 2012-13 and appears as a guest analyst on a number of national sports radio shows, including Sirius XM's "Fantasy Drive". Doug is also a member of the Fantasy Sports Writers Association.