3.02 - QB Kellen Mond, Vikings
Team Fit: Mond's biggest positives are his experience (47 games, 44 starts, 1,548 career dropbacks per Pro Football Focus) and the fact he was coached by Jimbo Fisher, who is notoriously demanding of his quarterbacks. His biggest drawback is that despite all of his experience, Mond's career completion percentage is still just a hair under 60 percent (although it did improve each year and topped out at 63.3 percent in 2020). Even with that improvement, it would be wrong to suggest he possesses anything more than average accuracy. He makes up for it a bit with his ability to make plays with his feet and throw on the run. To that end, he is one of only three quarterbacks in SEC history to pass for at least 9,000 yards and run for 1,000. Where he struggles is the more nuanced parts of the position - such as putting some air on his deep ball (he does have a big arm though) - his accuracy throwing to the intermediate part of the field and overall awareness of what the defense is trying to do to him. His ability to move and throw on the run should be a good fit in new OC Klint Kubiak's offense, but he'll sit behind Kirk Cousins for the foreseeable future.
What does it mean in redraft? Almost nothing. Cousins is locked into the starting job in Minnesota.
Where should I expect him to go in my rookie drafts? Check back next week.
3.03 - QB Davis Mills, Texans
Team Fit: Mills was the top-ranked quarterback recruit in the country in 2017 (ahead of Tua Tagovailoa), but his college career never got on track due to multiple knee injuries. Thus, he enters the league after playing only 14 games in college (11 starts) and has not played more than eight games in any season. Surprisingly, he still does offer some mobility, but it's fair to say he isn't the same player who rushed for 23 scores in high school. Relative to how much he was actually on the field, the Atlanta native may have as much experience under center and working out in a traditional play-action passing attack as any Day 1 or Day 2 quarterback not named Trey Lance. Mills' addition is probably a necessary evil for a team that doesn't know where it stands with Deshaun Watson or what his future is.
What does it mean in redraft? Very little. Even if Watson is suspended for the season, Mills will almost certainly serve as Tyrod Taylor's backup. In that scenario, there's an outside shot he could see some snaps last in the season, but it wouldn't be worth much.
Where should I expect him to go in my rookie drafts? Check back next week.
3.14 - WR Josh Palmer, Chargers
Team Fit: The Chargers became dangerously thin at receiver near the end of last season after Keenan Allen and Mike Williams got hurt, but there's more to this pick than that. Williams is in the final year of his contract and has struggled to live up to his first-round draft stock because of injury. Palmer is quite possibly his long-term replacement. The native of Ontario, Canada is not unlike Williams in that he does most of his damage downfield and in contested-catch situations. While Palmer never caught more than 34 passes or topped 484 receiving yards, he did flash the kind of potential that he could take over as a starter opposite Allen as early as 2022. How so? Three of his four touchdown catches this season came against high-end cornerbacks in Patrick Surtain, Tyson Campbell and DJ Daniel. The quarterback play at Tennessee was not particularly good, so he will benefit greatly from having Justin Herbert slinging him the rock.
What does it mean in redraft? WR5 initially. Williams has not able to stay healthy, so Palmer should be able to take over for him if that continues. Until then, he figures to work along with Williams on the perimeter while Allen mans the slot in three-wide packages. Given the combination of his skill-set and Herbert's talent, Palmer could move into the WR4 conversation later in the season.
Where should I expect him to go in my rookie drafts? Check back next week.
3.18 - TE Hunter Long, Dolphins
Team Fit: Long is an interesting pick for a team that already has Mike Gesicki in the fold, but the latter is entering the final year of his rookie contract. The Boston College product is not in the same class athletically as Gesicki (few are), but he was still the featured receiver in the Eagles' passing attack. He projects to be a dependable short and intermediate target in the Austin Hooper mold. It's more likely than not he is a 20-30 snap player as a rookie while the Dolphins decide on Gesicki.
What does it mean in redraft? TE3. Gesicki should be given every chance to prove himself in 2021.
Where should I expect him to go in my rookie drafts? Check back next week.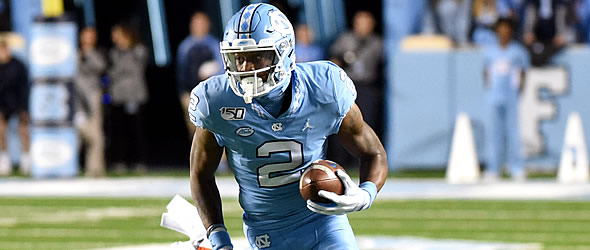 3.19 - WR Dyami Brown, Football Team
Team Fit: Brown might have as well been Randy Moss against Virginia last season, going off for 11 catches, 240 yards and three touchdowns. That kind of production wasn't always the case for Brown, but he is at his best when he can put his 4.44 speed to work vertically. He is not merely a deep threat, although that is primarily how North Carolina used him (18.4-yard average depth of target, per Pro Football Focus). Perhaps one of the reasons why the Tar Heels were reluctant to expand his route tree was due to the fact he was credited with 15 drops over the last two seasons (although only four came this year). It seems likely his initial role with Washington will be the same as it was in Chapel Hill, and it will be up to Brown to get a bit strong and sharpen his route-running ability if he hopes to be anything more than that. He could emerge as a starter down the road, but those issues are some of the issues he will need to get corrected.
What does it mean in redraft? WR6. Terry McLaurin and Curtis Samuel are locked in as starters, so Brown's most likely avenue of playing time is beating out Cam Sims and/or Antonio Gandy-Golden as a field-stretching specialist.
Where should I expect him to go in my rookie drafts? Check back next week.
3.20 - TE Tommy Tremble, Panthers
Team Fit: Tremble's primary responsibility in Carolina - much as was the case at Notre Dame - will be to pulverize edge defenders and linebackers in the running game. As long as he continues to excel in that area as he did in college, he'll have a job in the NFL. There is upside for more, however. Tremble had the misfortune of playing behind two of the top tight end prospects (Cole Kmet and Michael Mayer). The former three-star recruit is more athletic than his blocking tight end reputation would suggest; his triangle numbers (4.6 speed, 36-inch vertical and 122-inch broad jump) and footwork suggest he could eventually emerge into a weapon in the receiving game. Ian Thomas has not taken over the job as expected, so there is an opening for Tremble to step in and serve as a short-area option for Sam Darnold.
What does it mean in redraft? Very little. Carolina is once again three deep with quality receivers following the selection of Terrace Marshall Jr and figures to feed Christian McCaffrey another 100 or so looks again in 2021.
Where should I expect him to go in my rookie drafts? Check back next week.
3.22 - WR Amari Rodgers, Packers
Team Fit: Once upon a time, Aaron Rodgers was happy and had a buddy in the slot named Randall Cobb. Amari Rodgers doesn't quite profile as the next Cobb, but he may be the most significant addition at receiver the Packers have drafted since Davante Adams. On the downside, the Clemson product may be limited to slot duties at the next level. The Tennessee native plays like a running back after the catch (17 broken tackles on 77 catches this year) and is built like one to boot (5-10, 212). What he lacks in superior athleticism, he makes up for with toughness and worth ethic (it took him just over five months to return from ACL surgery in 2019). In that way (and a few others), he's similar to Deebo Samuel.
What does it mean in redraft? WR5. Amari Rodgers won't have it easy trying to steal slot snaps from Allen Lazard or Marquez Valdes-Scantling, but there's no question he brings the receiving corps a level of toughness it doesn't have.
Where should I expect him to go in my rookie drafts? Check back next week.
3.25 - RB Trey Sermon, 49ers
Team Fit: Interesting, interesting, interesting. It took a while for Sermon to get comfortable in the Ohio State offense following his transfer from Oklahoma and an equally long time for the Buckeyes' coaching staff to commit to him, but it was a beautiful thing when they came together. Assuming the comfort levels of both sides was the reason why he enjoyed a historic postseason run and that version is the one NFL coaches can expect moving forward, Sermon is almost certain to outperform his draft position. The former four-star recruit forced 33 missed tackles on 116 rushing attempts and could have shed even more tackles if he lowered his pad level more often. He did a better job of this - and running with impressive power - during the aforementioned run when he put up 524 yards rushing (to go along with 65 receiving yards) in wins over Northwestern in the Big Ten championship game and Clemson in the CFP semifinals. Sermon fumbled only twice in 455 carries over his college career, including zero on 170 attempts over his last two seasons. Sermon, who comps favorably to James Robinson and Damien Harris, is no stranger to running in a zone-blocking scheme and was handpicked by a regime that doesn't tend to spend early picks at the position.
What does it mean in redraft? RB4, but with significant upside. Sermon will likely begin the season behind Raheem Mostert and Jeff Wilson, but the former is pushing 30 and the latter just started to emerge late last season.
Where should I expect him to go in my rookie drafts? Check back next week.
3.26 - WR Nico Collins, Texans
Team Fit: In an offseason that Texans would just as soon forget, Collins offers a glimmer of hope. Houston, which is not exactly loaded with draft picks this year, gave up a total of three third-day picks to make the move to get him. The Michigan product is a bit of a size-speed-weight specimen (6-4, 215, 4.42-40, 34 1/8-inch arms), but he wasn't able to turn that into much production. How much of that was Michigan's offense? How much of it was due to an inability to separate? In other words, he's a developmental prospect with substantial upside and downside. The Texans don't need Collins right away despite their personnel blunders over the last two offseasons, but if he can develop like they hope, he would give the offense a much-needed big body alongside Brandin Cooks, Keke Coutee and Randall Cobb.
What does it mean in redraft? Very little. There's a chance he will see immediate action as a red zone threat, but he's almost certain to be limited to about 20 plays per game (at most) in 2021.
Where should I expect him to go in my rookie drafts? Check back next week.
3.28 - WR Anthony Schwartz, Browns
Team Fit: The addition of Schwartz is about one thing: getting safeties to back up off Jarvis Landry and Odell Beckham Jr. and keep an eighth man out of the box. Schwartz boasts 4.26 speed, which is the overwhelming reason why Cleveland was willing to burn a third-round pick on him. Unfortunately, he needs development in just about every other important aspect of being a receiver, as his ball skills, route-running and ability to play through contact are all below average.

What does it mean in redraft? Very little. He may hit once or twice in 2021, but good luck trying to predict those spots.

Where should I expect him to go in my rookie drafts? Check back next week.
3.34 - TE Tre McKitty, Chargers
Team Fit: McKitty is the rare skill-position prospect who played more games (seven) than he caught passes (six) last season, but it's hard to hold that against him. Colleges consistently do a poor job of incorporating tight ends into their offenses. With the Chargers, McKitty will have a realistic shot of competing with Donald Parham for the right to start in 2022 should Los Angeles move on from Jared Cook after the season. Despite his lack of production, McKitty was invited to the Senior Bowl and showed well. He does not lack for athleticism and is a decent bet to develop into a solid starting tight end down the road.
What does it mean in redraft? Almost nothing. Cook will serve as the bridge for at least this season and maybe longer. As long as he is around, McKitty is unlikely to see much time on the field even if he beats out Parham.
Where should I expect him to go in my rookie drafts? Check back next week.
---
Doug Orth has written for FF Today since 2006 and been featured in USA Today's Fantasy Football Preview magazine since 2010. He hosted USA Today's hour-long, pre-kickoff fantasy football internet chat every Sunday in 2012-13 and appears as a guest analyst on a number of national sports radio shows, including Sirius XM's "Fantasy Drive". Doug is also a member of the Fantasy Sports Writers Association.