Well, this has truly been a crazy season. Almost 90% of pool participants have been eliminated so with that in mind people, please remember that I am trying to give you what I believe are your three best choices while avoiding the whammy.

Upset Specials: Dallas over Philadelphia and Denver over LA Chargers

Both are divisional games and with so much riding on these early season matchups, you can through the tendencies out the window and expect the unexpected. In addition, you have injuries with Dallas that they have been able to hide in the last four weeks, while Denver has been extremely strong defensively. Be cautious in using either the Eagles or Chargers unless you have to.

#3 (Third Choice): Tampa Bay over Pittsburgh
(3-2: BAL, cin, PHL, DAL, kc)
Welcome to the NFL Kenny Pickett. You had a first-class seat to a stellar game from Josh Allen. Afterwards, you could see Allen telling Pickett that he will have better days and wished him well in the league.

However, things aren't going to improve for the rookie, or the Steelers, anytime soon when The Goat brings his Buccaneers to town. It used to be said that this particular Florida team couldn't win a game below 40 degrees. Well, good news!!! It will be warmer than that this week. Add on a 6th ranked Bucs defense that has shut opponents down, and the only thing Pickett will be looking forward to is the handshake with the legend at the end of the game.

Tom has plenty of weapons to throw to (Mike Evans, Chris Godwin, Russell Gage) even if Julio Jones sits. But it just may be Cade Otton (TE) who may become his security blanket. The rookie is 6'5", 247 lbs, and a Gronk clone. With Cameron Brate (concussion) practicing but still questionable, and more of a blocking tight end, Otton should get another chance to connect like last week. If so, he could be this year's find at the position.

Either way, take the visiting team as the Steelers youth get a lesson from the 2021 Super Bowl Champs.
#2 San Francisco over Atlanta
(3-2: NO, BUF, kc, det, PHL)

The 49ers have Jimmy Garoppolo back under center after the season-ending injury to Trey Lance and he is managing the offense just like he has in years past. This time, maybe management will appreciate his skills and understand that a mobile quarterback isn't what you need if you have other playmakers on your roster like Deebo Samuel, George Kittle, and Brandon Aiyuk. Why? Because their shut down defense is the best in the NFL giving up only 250 yards a game and an average of 12 points per game.

Meanwhile, the Falcons defense has been toasted for double the number of points and almost 350 yards a game. Based upon the averages alone, we should take the 49ers. Cordarrelle Patterson (knee) is on IR and they now have Caleb Huntley and Tyler Allgeier splitting his workload. But it is the loss of Kyle Pitts (questionable to return this week), the lack of a true No.1 receiver and lackluster play from Marcus Mariota that won't be enough against the 49ers defense.

Look for a closer game than last week's visit to Carolina, but San Francisco will be 2-0 against NFC South opponents by the end of the week.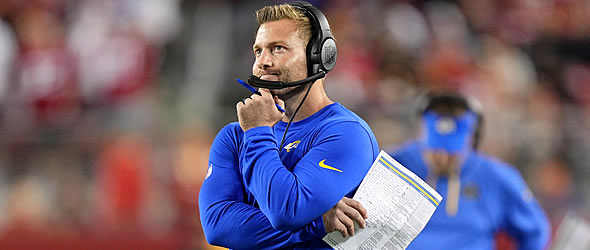 #1: LA Rams over Carolina
(2-2: den, lac, GB, BUF)
The Super Bowl Champs don't look so super right now at 2-3. Gone are Odell Beckham Jr. and Robert Woods who helped take the pressure off Cooper Kupp. Last year's 8th ranked scoring offense is now 29th in the NFL and struggling to keep up with the likes of Atlanta, whom they only beat 31-27. However, the sledding should get easier moving forward.

Beginning with Carolina. The reason why Matt Rhule was fired wasn't just because he wanted Baker Mayfield at the helm, it was that basically… his team was dead last in total offense with no creativity. If you drafted D.J. Moore in the top five rounds as a WR1/2, you know exactly what I am talking about.

The Rams' defense should get a breather in comparison to weeks past, when they went quickly back on the field because of three and outs and face backup quarterback P.J. Walker. Chalk up a win for the Rams and which gets back in the hunt in the NFC West.