We keep hearing how NFL teams are "deemphasizing" the running back position. Fantasy owners must do the same thing. Face it, it's a passing league, not a running league. League management has made it easier for teams to pass the ball and they would be foolish not to take advantage.
Need proof?
Over the last three years of this week's analysis (2015-17), the league averaged 18,027 passing attempts for 121,117 yards and 789 TDs, while the first three (2002-04) averaged 16,713 attempts for 106,362 yards and just 624 TDs.
If you look at the graph below, you will clearly see that the average fantasy points for top running backs has decreased over the years. This is across the board. It's not just the top-5 running backs. It's not just the top-12 running backs. Even the top-24 running backs average has fallen over the past 16 seasons. And that's every one of your 12-team league's starting running backs.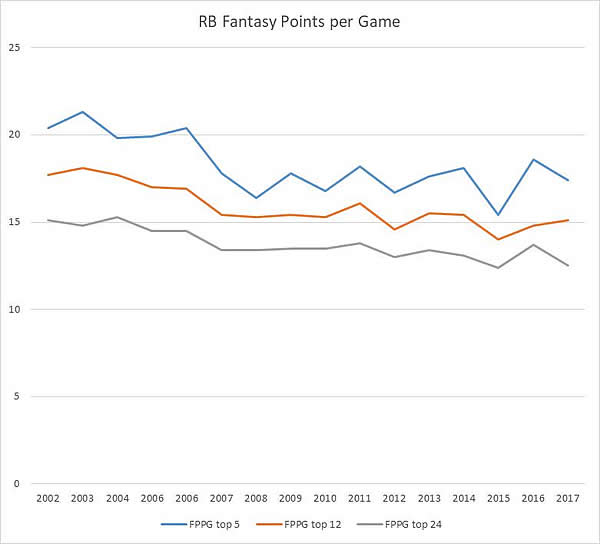 In 2002, the top-five running backs (Priest Holmes, Ricky Williams, LaDainian Tomlinson, Clinton Portis and Deuce McAllister) averaged 333.2 rushing attempts. Last season, the top-five consisting of Todd Gurley, Le'Veon Bell, Kareem Hunt, Kamara and Melvin Gordon averaged 255.2 attempts. Even if we remove outlier Kamara (just 120 attempts) and add No. 6 Mark Ingram's 230 attempts, the average is only 277.2. That's 56 less carries per back per season!
Still, every fantasy team must start two running backs each week, so let's see which ones we can trust to produce big fantasy totals for 2018.
It's going to be easy to trust the "big three" from last season – Gurley, Bell and Ezekiel Elliott, so we will skip to some of the guys you might be questioning. As with quarterbacks, no rookies are on the list since they are inherently risky, even Saquon Barkley.
David Johnson, Arizona – I trust Johnson. It wasn't his legs that left him sidelined for 15 games, it was a wrist injury. With it likely that he'll be playing behind a rookie quarterback (after the inevitable Sam Bradford injury), Johnson should be both a workhorse running back and a primary safety value for a young Josh Rosen.
Alvin Kamara, New Orleans – Everyone is assuming Kamara will get a larger workload in 2018 and that may be true for the first four games when the Saints will be without Ingram (four-game suspension), but I think he'll see a similar workload to 2017. So the question is whether he will be as explosive in 2018 as last season when he scored five receiving touchdowns and one kickoff return. I trust Kamara will be solid, but not sure he'll put together another top-five season.
Kareem Hunt, Kansas City – When Hunt was good, the Chiefs won games (105.2 ypg in 10 wins) and in the middle of the season when they got away from him, the team suffered (45.8 ypg in six losses). Add an inexperienced second-year quarterback and Andy Reid will get Hunt the ball early and often. I trust Hunt.
Dalvin Cook, Minnesota – We only saw him for four games before his season came to an end, but Cook looked like he was a fantasy star in the making. Despite the presence of Latavius Murray, Cook will be the No. 1 rushing option and with Jerick McKinnon headed west, he is also the best pass receiving back. New quarterback Kirk Cousins is adept at throwing to backs. I trust Cook to have a good season.
Joe Mixon, Cincinnati – Fantasy owners expected more from Mixon in 2017, but he performed like a typical rookie - some good games and a lot of not-so-good games. He averaged just 3.5 ypc. The OL is still not good after the free agent losses of Andrew Whitworth and Kevin Zeitler a season ago. Rookie center Billy Price will help, but with the usual suspects still involved in the offense, I don't trust Mixon to make a huge step forward.
Jerick McKinnon, San Francisco – The move to the 49ers appears to help McKinnon's fantasy value, but he's not a workhorse back and the team will realize that soon enough. He's only cracked 200 rushing attempts one time in his career … at Georgia Southern. He reminds me more of a Kevin Faulk-type than Marshall Faulk. I do not trust McKinnon, though he should be viable in PPR leagues.
Jay Ajayi, Philadelphia – Ajayi is a really good running back, but I don't trust his knees. I also don't trust his workload as HC Doug Pederson will try to protect those chronic knees.
Christian McCaffrey, Carolina – I trust McCaffrey in PPR leagues and was set to go "all-in" on the Stanford alum until the team added C.J. Anderson, who topped 1,000 yards last season, to the roster.
Derrick Henry, Tennessee – As with McCaffrey, I was set to push Henry far up the projection chart until the team signed talented former Patriots RB Dion Lewis. This is going to be a shared situation which means, barring injury, they will each be low-end RB2 backs.
Lamar Miller, Houston – I do not trust Miller. In fact, I think there is a good chance a healthy D'Onta Foreman (Achilles) steals the starting job. Last season Miller produced just 3.7 ypc, the worst of his career, while the rookie Foreman averaged 4.2 ypc. Miller's large contract makes him vulnerable.
Marlon Mack, Indianapolis – Mack is the current starter, but that's not a huge pat on the back considering the competition. He's more of a third-down back than a workhorse and his 3.8 ypc tell you he's not ready for your fantasy lineup. He's not a very good blocker either and considering Andrew Luck needs to stay healthy for this team to compete, it's impossible to trust Mack.
Kenyon Drake, Miami – I like Drake and he finished the 2017 season strong, but the Dolphins backfield also includes off-season signee veteran Frank Gore and rookie Kalen Ballage. There are too many questions involving this offense to trust anyone on the Dolphins.


---
Steve Schwarz served as the fantasy sports editor of The Sports Network and is the 2014 FSWA Football Writer of the Year.