Week 7 marks the mid-point for many fantasy leagues. How many of you correctly guessed that the leaders at their positions would be; Lamar Jackson, Christian McCaffrey, Chris Godwin, Austin Hooper and Zane Gonzalez. If you predicted all five correctly before the season, I need some investing advice.

Byes: Carolina, Cleveland, Pittsburgh, Tampa Bay.

Truths

"The truth will set you free, but first it will piss you off." - Joe Klaas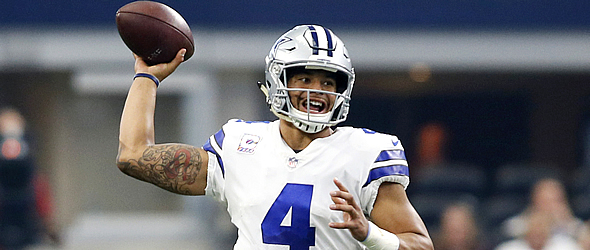 1) Reality has set in for Dak Prescott.
Fact. After racking up the stats playing the Giants, Redskins and Dolphins in his first three games (nine TDs, two INTs), it's been a much different story over the next trio (two TDs, four INTs). Now, in Week 7, he could be without Amari Cooper. Before the fantasy regular season is over he'll also face the Vikings, Patriots and Bills and the Bears in the first round of the fantasy playoffs.
2) Barring an injury to Melvin Gordon, Austin Ekeler is no longer a viable RB1 or RB2.
True. Pre-Gordon, Ekeler averaged 20 touches per game and 27.25 FPts/G. Since Gordon's return he has averaged 14 touches and 15.1 FPts/G and even that is inflated by a fluke 16-target, 15-catch game. It's too late to trade him to all but the most oblivious owner, so you will have to wait and hope he finds his niche again.
3) Dalvin Cook's "off" day against Philadelphia is nothing to worry about.
Any "sane" offensive coordinator is going to choose to throw against the Eagles horrible secondary rather than attack on the ground against the No.4 run defense. Going forward, the Vikings face three weak run defenses; Detroit (ranked 30th), Washington (26th) and Kansas City (28th) and Cook should return to form. Don't sell low. Show patience and you will be rewarded.
4) Christian McCaffrey is about to go into a "slump."
I guarantee he won't score a touchdown in Week 7. OK, that's a joke since he's on a bye this weekend. But the following two weekends won't be easy either. After the break, CMC faces San Francisco (ranked No.1 against RBs in PPR leagues) and Tennessee (12th). But, hey, there is good news … he doesn't have to face the Buccaneers again this season. While he's averaging 30.2 FPts/G this season, he averaged just 14.5 FPts/G against Tampa Bay and 38.08 against everyone else.
5) The Los Angeles Chargers offense is a mess.
True. It all starts on the offensive line and the Chargers haven't been able to block anyone for weeks. It's taken a toll on both running backs and deep threat Keenan Allen. The running game can't get going since the full-time return of Melvin Gordon and Allen has seen a precipitous drop in his opportunities and production over the past three weeks. Gordon is averaging 2.5 ypc after his holdout and Ekeler isn't much better at 2.6 ypc. That's because of absences to 40-percent of the starting OL; Mike Pouncey (neck) and Russell Okung (blood clots). After seeing 42 targets over the first three games, Allen has seen just 18 over the last three and failed to crack 50 yards on into the end zone. Oh, and the next three opponents are Tennessee, Chicago and Green Bay, who rank fifth, third and 10th in scoring defense, respectively. It may get worse before it gets better.
Lies
"99 percent of all statistics only tell 49 percent of the story." - Ron DeLegge II
1) In 2019 the Patriots pass defense is second to none.
While it is true that they have yielded just one touchdown pass, picked off 14 balls and are allowing just 12.0 FPts/G to opposing quarterbacks, consider their opponents to date. The list includes Ben Roethlisberger and the seven dwarfs; Ryan Fitzpatrick (Doc), Josh Rosen (Sneezy), Luke Falk (Sleepy), Josh Allen (Bashful), Matt Barkley (Dopey), Colt McCoy (Grumpy) and Daniel Jones (Happy). The road gets much tougher with Sam Darnold, Lamar Jackson, Carson Wentz, Prescott, Deshaun Watson and Patrick Mahomes over the next seven games. That's five of the top-10 in fantasy scoring per game. I think eventually the 49ers, Broncos, Bills and Bears will finish ahead of New England in pass defense.
2) Kyle Allen is playing great.
He's led the Panthers to a 4-0 record and forced management to decide between Allen and Cam Newton going forward, but for fantasy owners he's been below average posting 18.4 FPts/G which is only good enough to rank 23rd. That's behind Case Keenum and Jimmy Garoppolo. It takes 22 FPts/G to rank in the top-12.
3) Matt Ryan and Jameis Winston are failing this season.
While they only have three wins combined, Ryan and Winston's fantasy rank is fourth and ninth, respectively. Ryan is one of two quarterbacks to have thrown for 2,000 yards (the other is Mahomes) and he's averaging 28.8 FPts/G. Winston is one of two quarterbacks with double-digit interceptions, but he's averaging 23.4 FPts/G. Neither is going to be replaced, at least not this season, because the backups are Matt Schaub and Ryan Griffin/Blaine Gabbert.
4) Those who picked up Mason Rudolph after Ben Roethlisberger went down have been "Wally Pipped" by Devlin Hodges.
False. For those football-only fantasy guys, Wally Pipp was the New York Yankees first baseman in 1925 when he was beaned by a fastball and headaches forced him to the sidelines. Lou Gehrig played the next 2,130 consecutive games at first base. Hodges stepping up is a nice story, playing well in a loss to Baltimore and leading the team to a win over the Chargers, but when Rudolph is ready to return from his concussion he'll be the Steelers starting quarterback. Rudolph is already back at practice and hopes to clear the league's protocol after their Week 7 bye in time for Week 8 against Miami.
5) Rob Gronkowski will return to help your fantasy team in 2019.
Nope. OK, we know he hasn't official signed his retirement papers, but Gronkowski took a beating while playing and once again on Tuesday closed the door to playing. "I'll give an answer," Gronkowski said today. "When I retired, I retired for a reason: because I needed to step away. So it would be a no." Even if he were to come back to help his buddy Tom Brady win another ring, it would likely only be for the playoffs. The real one, not our fantasy world. The Patriots, at 6-0 and obviously don't need him to win another AFC East division title. If you have been holding out hope and stashing him on your roster you can let him go.